Are you tired of a cluttered and disorganized desktop that makes it hard to find the needed files? Do you want to make your workstation more efficient and visually appealing without breaking the bank? Then you're in luck! Today, we're going to introduce you to a fantastic free alternative to the popular desktop organization software Fences.
Fences is an excellent tool for organizing your desktop icons, but let's face it, not everyone wants to pay for such software. In addition, that's where iTop Easy Desktop comes in!
iTop Easy Desktop is a top-notch, free desktop customization software for Windows that will revolutionize the way you work. With iTop Easy Desktop alternative to Fences, you can keep your desktop clean, tidy, and visually appealing without spending a penny.
This article will explore the key features of iTop Easy Desktop and why it's the best free alternative to Fences for Windows desktop organization.
So, grab a coffee, sit back, and let's dive in!
Fences – Desktop Organizer For Windows
Fences is a popular desktop organization software that Stardock Corporation developed. It allows Windows users to organize desktop icons into designated " fences " areas. These fences can be resized, repositioned, and customized to fit the user's needs.
However, despite its popularity, Fences has some limitations that may not make it the best choice for all Windows users.
Firstly, Fences is not free software, and users must purchase a license to use it. This can be a drawback for those looking for a free alternative.
Secondly, Fences can be resource-intensive, causing slow performance on older or low-end computers.
Finally, some users may find Fences too basic for their needs and prefer a more feature-rich desktop customization software.
iTop Easy Desktop as an alternative to Fences
iTop Easy Desktop is a free and powerful desktop organization software. It's a lightweight, easy-to-use software that offers many of the same features as Fences but with a focus on simplicity and efficiency.
One of the main reasons that iTop Easy Desktop is considered the best alternative to Fences is because it's free to use. Unlike Fences, which requires a paid license, Easy desktop is free, making it accessible to everyone, regardless of their budget.
In addition to being free, iTop Easy Desktop is also lightweight and simple. Unlike other desktop organization software that can be resource-intensive and slow down your computer, iTop Easy Desktop has a streamlined design that won't cause high memory usage or other performance issues.
Whether you're a beginner or an experienced computer user, iTop windows desktop organizer is an excellent choice for anyone who wants a well-organized desktop without the hassle and expense of paid software.
iTop Easy Desktop Vs Fences
| | | |
| --- | --- | --- |
| Feature | Stardock Fences | iTop Easy Desktop |
| Purpose | Desktop Organization | Desktop Management Software For Windows |
| Functionality | Organizes desktop icons | Organizes desktop icons into customizable boxes |
| Price | $19.99 (Single License) | Free |
| Platforms | Windows | Windows |
| Parallel Support | N/A | Supports multiple devices |
| Quick Search | N/A | Included |
| Private Box | N/A | Included |
How to use iTop Easy Desktop for desktop organization?
Step 1: Go to the iTop official website and download the iTop Easy Desktopmanagement software.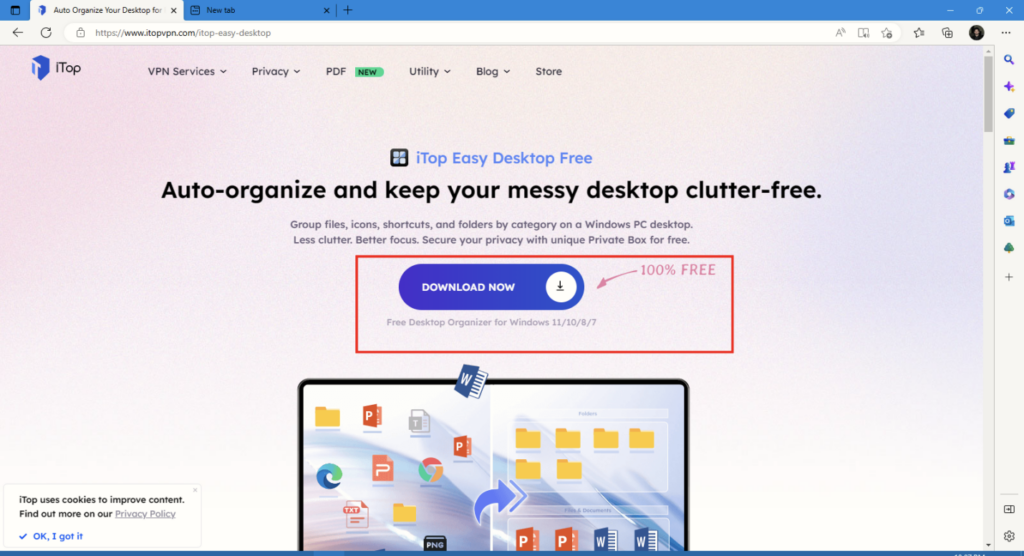 Step 2: After downloading the software, you can choose between custom and express settings. If you want to choose your settings, go with the custom option.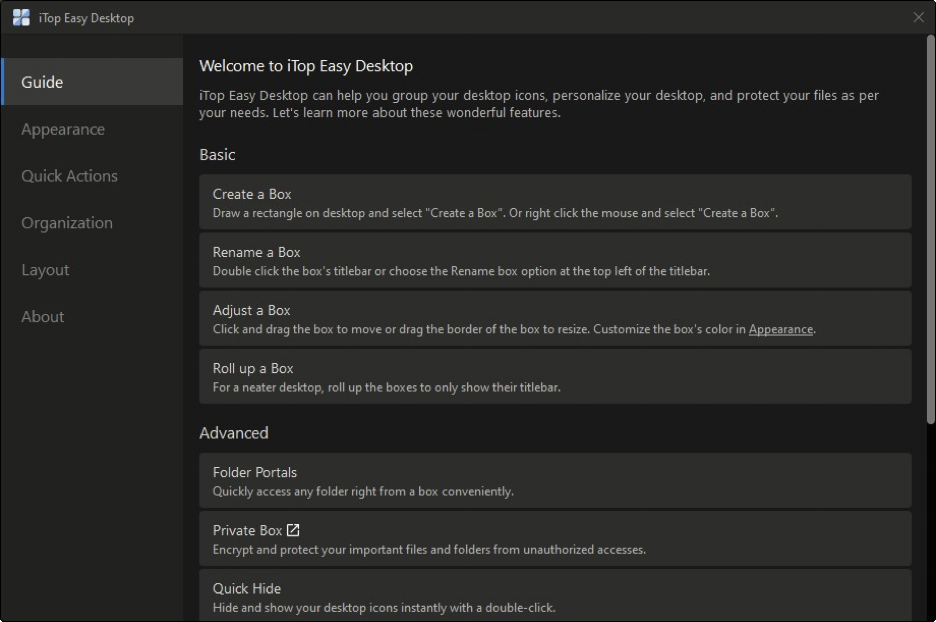 Step 3: Head to your desktop and select the icons you wish to group into boxes with iTop Easy Desktop. As you can see, the current state of the desktop may appear cluttered and disorganized.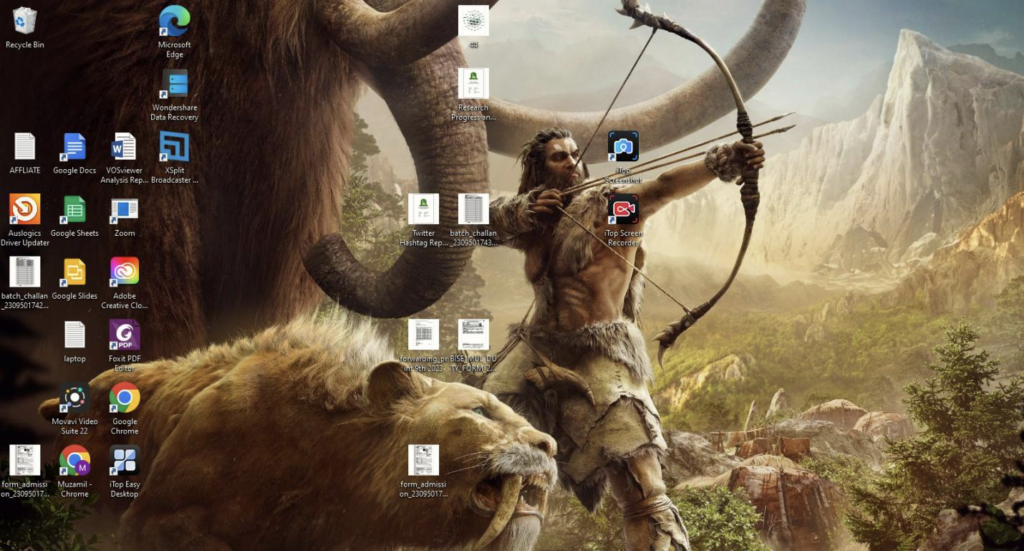 Tip: By separating the icons into individual groups, we can easily create and manage organized and distinct categories for our desktop icons
Step 4: The next step is to create a box for your icons. Select the icons you want to group, and then click the option to create a new box.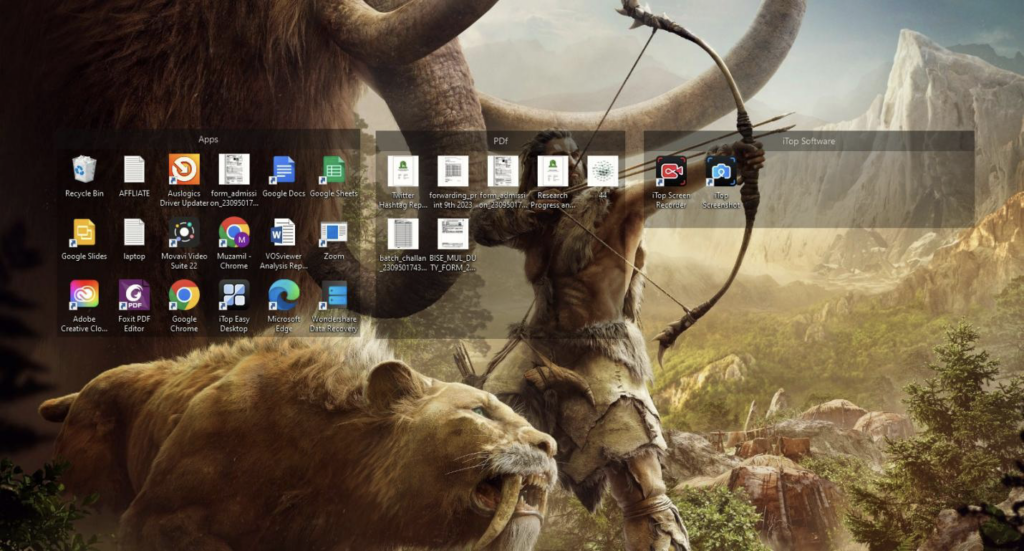 As you can see, now the icons are categorized into three tabs, including PDFs, iTop Easy Desktop Software, and Apps
After grouping your icons into boxes, you can further personalize and enhance your desktop organization by customizing the appearance of the boxes. You can change the color, add a name, and adjust the font to your liking. This makes your desktop look more visually appealing and helps you identify and access the boxes you need more easily.
For this, you can open iTop Easy Desktop Windows customization software and navigate to appearance. There you can customize the setting as you like.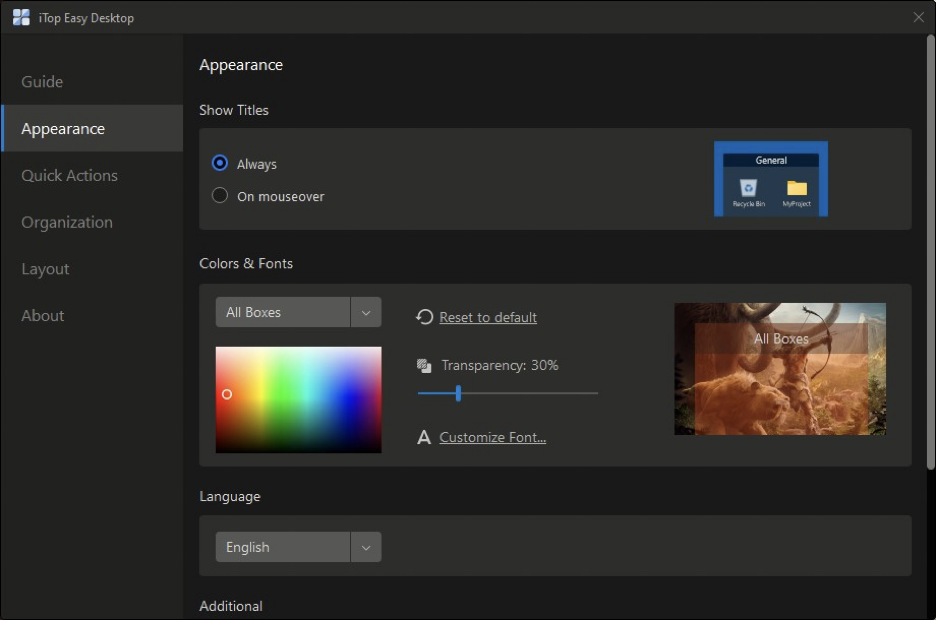 You can also customize the appearance of the icon boxes by changing the colors, names, fonts, etc. This allows you to personalize the organization of your desktop and make it easier to find and access the icons you need.
Conclusion
In conclusion, iTop Easy Desktop is a useful tool and a free alternative to Fences for Windows for organizing your desktop and making it more efficient. By following these simple steps, you can use it to its full potential and enjoy a more organized and streamlined workspace.