Bluestacks is one among the top performing Android Emulators for both Windows and Mac OS. Bluestacks is a heavy application and it requires a lot of memory space and Graphically the system should be of top notch. Here comes the main problem, If your computer is not having 2GB of Virtual Memory (RAM) or above the Installer won't let you install Bluestacks on your Computer. In the same way, if your computer or Laptop is not having good Graphics support then it might not respond to it in the way it should.
In this article, you will the solution to the issue which will not allow you to install Bluestacks if your System is having less than 2GB of RAM. That means, Let's say that your system is only having 1GB or even 1.5GB of RAM then you will not be able to install the software. Also, here we are sharing a trick that will make the performance of Bluestacks way better even without having the need to have an external GPU connected.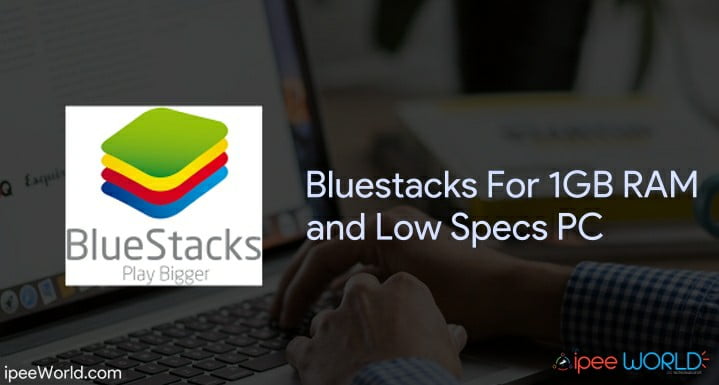 You might have encountered with a lot of errors like "Graphics card should be updated", "Graphics card not supported" or "Insufficient memory or hardware error" while installing Bluestacks on your PC/Laptop. These kinds of issues usually occur when you are trying to install Bluestacks on Low specs PC and or outdated or lower version of Graphics card is used.
Without wasting any more time, let's jump right into the article.
Bluestacks for 1GB RAM Computer
In this article, we will be discussing 2 methods by which you can install Bluestacks on your low specs PC.
Edit Bluestacks to Install without 2GB RAM
In this method we are going to edit the offline installer file of Bluestacks with a Third party software, Let's check How!
1. Download the software Orca : Download Orca Now.
2. Now download the Offline installer Of Bluestacks from Here.
3. Now Install Orca which we downloaded.
4. Right click on  Bluestcks Offline installer and choose "Edit with Orca" option.
Now a new window of Orca software will open
5. Click on "Launch Condition" and select "Installed Or Physical Memory >= 1024"
6. Now delete the above-said option and press OK
7. Now go to "InstallExecuteSequence" and select "CheckMsiSignature".
8. Delete this option also and click on OK button
9. Now go to "Property" and double click on the "TRUE" value of GLMODE. Replace it will "FALSE" and press enter.
10. Now press on the Save button in the Orca software and close Orca
Now, As usual, install the Offline Bluestacks installer which is edited with Orca
Now it will Install without any problem and you will be able to open the software on the go.
Download Edited Version of Bluestacks for 1GB RAM
In this method, you can easily download the latest version of Bluestacks which is edited for Systems with less than 2GB of RAM. All you wanted to do is simply head over to the link given below and download the offline installer package. Once the download is completed Open the installer and complete the installation as usual. This time around, you will not encounter with errors like Low Graphics issue or Virtual Memory issue.
Here is the download link to save the offline installer of Bluestacks for Computer with less than 2GB of RAM.
Bluestacks for Less than 2GB RAM
You can follow any of the methods mentioned above and you are all good to go.
Conclusion
So, guys, this is exactly how we install Bluestacks on PC without even having the need 2GB of RAM or high graphics. This method will come really handy when you don't have graphically up pc or system, build. Make sure that you downloaded the offline installer package of Bluestacks because the editing method mentioned above will only work with the offline installer and not the online installer. And again if you don't want to edit the installer and get into coding then you can easily download the pre edited version of bluestacks and simply install it and you are all good to go.