Do you guys want to change IMEI Number of your Android Smartphone easily? If yes, then this article is just for you. There are a number of reasons for which you want to change IMEI Number of your device. Whatever the reasons be If you want to change the IMEI Number of your Android Device then follow the easy step by step instructions mentioned below.
No matter what device you have, whether it be an Android Smartphone of Samsung, LG, OnePlus or pretty much anything, You can change IMEI Number to a fresh new one. You can easily start spoofing apps after changing the IMEI Number. We will need to install a small application to get this job done. I will leave links to the App in the download section below. Grab it from below and enjoy it.
There are a ton of apps in the Google Play Store that works only one time on a single device. The majority of them will be Air Time Recharge Apps and Apps related to freebies. They track the IMEI Number of your device to detect duplicate installs of the same app on the same device. There are a lot of people who install the same multiple times to get rewarded. So, avoid that App Developers started recognizing duplicate install by detecting the IMEI Number.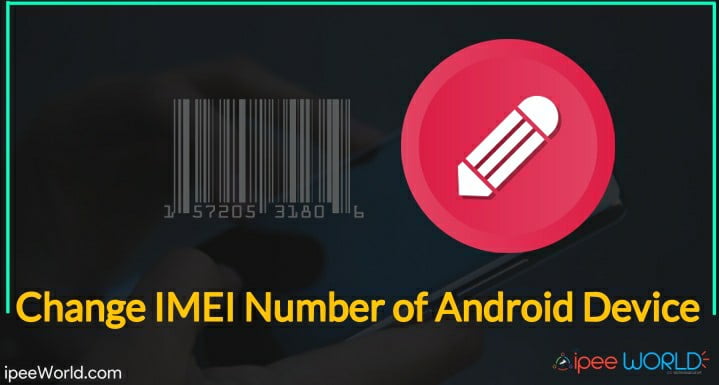 || [mks_icon icon="fa-times" color="#dd3333″ type="fa"] || This Tutorial is just for educational purpose only. Changing IMEI Number of Phones/Smartphones are illegal in many countries. So, Do it at your own risk. || [mks_icon icon="fa-times" color="#dd3333″ type="fa"] ||
What is IMEI Number?
The word IMEI Stands for "International Mobile Equipment Identity". Each and every phone will be having a unique tracking number by which authorities can track your phone. If you are having a smartphone with Dual Sim option then your device will be equipped with two IMEI Numbers. That is one IMEI number for the first Sim and the second one for the other. This way, the authorities will be able to track us using individual sim numbers, too.
Read: Must Try Apps for Rooted Smartphones
Why Change IMEI Number?
As mentioned earlier, there may be a number of reasons why you wanted to change the IMEI Number, Most probably you may need to install an App(With IMEI Number Detection) the multiple times to collect the reward or for any other purpose. Without changing the IMEI Number, If you try to install it again, It shows that the App was installed on this device earlier. After changing the IMEI Number if you try to do the same task, you will succeed. Interesting, right?
Now let's move onto the original procedures for changing the IMEI Number of your Android Device. No matter if it is a Smartphone, Tablet or even PC/Laptop running Android. The app link will be mentioned below.
I will share a couple of tricks for different kinds of devices. Follow the f=guide for your device from the instructions mentioned below.
How To Change IMEI Number Of Android
Change IMEI Number Of Android Device
I will share Tricks for changing the IMEI Number of both Rooted and Non-Rooted Android Devices. Jump right into the second method if your Mobile phone is rooted and Jump to the option right below If your Android Device is not rooted. Well, You can also check How To Root Android in less than 5 Minutes.
How to find the current IMEI Number of my Phone?
Before changing the IMEI Number, I suggest you to write down or note the current/original IMEI Number somewhere. This helps you if something goes wrong and you want to revert the changes. I will provide three working methods to Check IMEI Number of Android smartphones.
Check IMEI Number using Phone Dialer
You can use your Phones Dialer to know what is my IMEI Number. It's just simple as dialing to a number and you get the IMEI Number and in the popup that appears.
Open Dialer
Type the given code "*#06#" without quotes(")
You are not even required to tap the call button. As soon as you type in the code, a popup will automatically appear with the IMEI Numbers and Serial code along with the Barcode. Be sure to copy it down for future reference.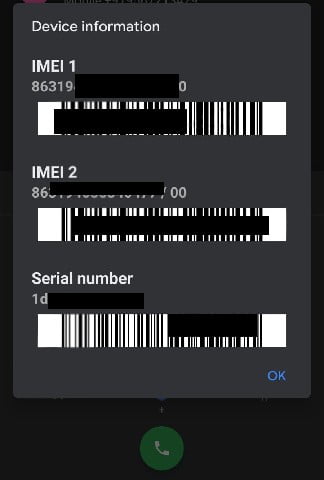 Open your Phone's Backpad
If your device comes with a removable battery then you can get all the info about IMEI Numbers just by removing the Backpad and Battery. There will be a sticker behind the battery compartment, which will have all the info. Just copy it down
Check your Smartphone's Retail Box
If you have your Smartphone's Box lying around you then you will find the IMEI Code on any side of the box. There will be a sticker with Barcode and some huge Number clouds. Just go through it and the IMEI Number will be there for sure. Just write it somewhere or use Google Lens to directly copy the text from the Box itself.
#1 Method: For Non-Rooted Device [Mediatek Chipset]
This trick is for those who have not Rooted Android Device.
First of all, Download the App called My Uncle from the link mentioned below
   Download My Uncle App
Install and Open the App.
Once the App is opened, Go to Engineer Mode > Engineer Mode (MTK)
Click on CDS Information (Scroll Down to find)
Tap on Radio Information and select the option Phone 2
Now, Enter the New IMEI Code you like (15 Digits)
For example type AT+458542547985216578
Now select send at command
Exit the App
Restart your device to get a new IMEI Number.
This is how you change the IMEI Number of a Non-Rooted Android Device.
#2 Method: Rooted Device
This method if for those who are having a Rooted Android Device.
Requirements:
Your device must be Rooted
Your device should have Xposed installed, up and running.
Working Internet Connection and App mentioned below
Also Read: 5 Best RAM Cleaner Apps for Android to Boost Performance
If you have all the prerequisites mentioned above then you are all good to go. Just follow the instructions and download the IMEI Change Exposed Module to do it in a jiffy.
Download the IMEI Changer App from the link below
  IMEI Changer
Open the Dialer, and Dial to *#06#
Now, it will show your current IMEI number. 2 IMEI Number will be shown if you are having dual Sim.
Copy this IMEI Number to use it later, You can later restore it,
Open Xposed > Modules
Check the IMEI Changer option
Reboot your device, And you will get your current IMEI Number
In the New IMEI Number field, Type any random number you wanted to use.
Now apply the changes
Restart your Android Device to reflect the changes
Voila! You are done.
This is exactly how you can change the IMEI Number of both Rooted and Non-Rooted Android devices including smartphones, tablets and PC/Laptop running Android. As mentioned earlier, Changing the IMEI Number is illegal and is subject to Cyber Laws, Doing so will be illegal. We share this article as part of educational purposes only. So, try it at your own risk.
Wrapping Up
So, this is exactly how you can change the IMEI Number of Android Smartphones or any other Android Devices. This trick will be really useful when you wanted to manipulate your Device's IMEI Number for any reason. I got a lot of messages asking how to change the IMEI Number of the Device to install Freebie apps multiple times in the same single Android Device. After getting a lot of messages, I finally decided to write this article for everyone who is searching for tricks to change the IMEI Number of any Android Device. I hope you guys found this article useful. Be sure to share this article with your friends and let them know about this trick, too. Also, be sure to check other cool articles about Android Tips and Tricks at the Exclusive Android Category.