Crack Screen Prank Apps for Android and iOS are used to prank people by making them think their phone's screen is cracked, but in reality, it's not. For this to work, you need to manually install this app on the victim's phone. Somehow you should manage to grab their phone for a couple of minutes, do everything mentioned in this article and you are all good to go.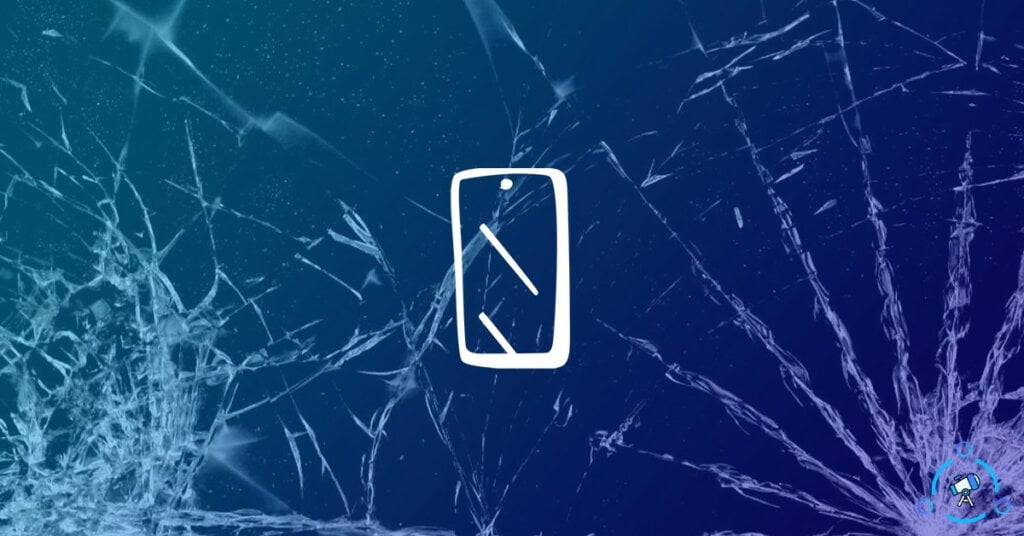 Cracked Screen Prank apps are available for both Android as well as iOS. So, in short, it doesn't matter what phone the victim is using, you can apply this trick on any smartphone and prank them easily. I have managed to find a good number of screen prank apps for both Android as well as iOS.
Now go through the list, find the app, and execute your plan to prank your friends or known ones.
Cracked Screen Prank Apps for Android and iOS
Let me make one thing clear. You need to physically access the phone of the victim for this trick to work. You need to manually install the app on their phone and then prank them. It's not something that can be done by using your phone only.
A good number of apps mentioned in the article are actually available for both Android as well as iOS.
Broken Screen Prank – Android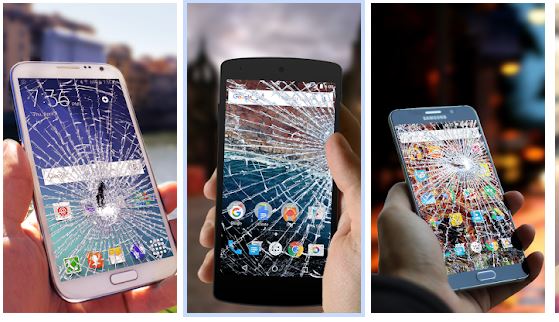 This is the first app in our list. The reason why I included this to the top is because of how realistic is this. Apart from the visual effects the app also comes with some amazing screen cracking sound effects as well. You can install the app silently on your friend's phone and then try to bend or crack the phone in front of them. The cracking sound makes things look more realistic.
Apart from the cracked screen effect, fire screen and electric screen prank effects are also available on the app.
Broken Screen Wallpaper – iOS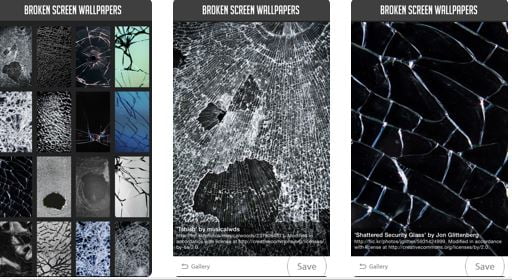 This is a broken screen wallpaper effect app for iPhones and iPads. Mind you this is not the most realistic app out there. When compared with Android, it is very hard for us to find these sorts of apps for iPhones. I did a lot of research and did not find that many realistic apps.
As the name itself suggests, this is a wallpaper app for iOS with a broken or cracked screen effect, The originality of the app is something subjective. This app allows you to find some wallpaper that has a broken screen effect.
Broken Screen Prank – Android
Don't get confused with the name of the first app. First and this app is both having the same name. But this app comes with little more features that you might love. One thing I liked the most is that there is a timer option in this app. You can set the timer for 5, 10, 15 seconds and then stimulate the effect after that.
There are three ways to invoke the prank effect on the victim's phone. The first is by shaking the phone, the second is by a crack on touch and the last one is by using the timer option.
Amazing Broken Display Prank – Android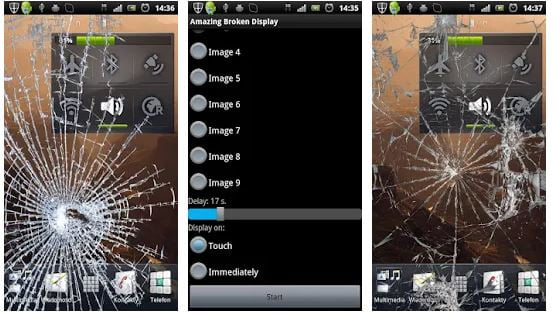 Amazing Broken Display Prank is an Android-only app that stimulates a broken screen effect on your phone. This app does not work on top of other apps or the home screen itself. Instead, this app comes with a set of 9 images from which you can choose any image of your choice. It is a pre-configured image with the crack effect already applied.
Just select the image of your choice and you are done. The effect will make anyone think the screen is actually broken or cracked.
Crack Your Screen Prank – Android
I like this app for a couple of reasons. The first one is the fact that this comes with a different sort of a cracked screen effect. When you take a look at the effect available on all other apps on the list, it looks the same. But when it comes to this app, it shows that the actual internal display itself is cracked and that specific part of the display will be blacked out.
I like the effect on this app as it looks a lot realistic. The app is already having more than a 4-star rating on the Google Play Store from more than 70K+ people who have used the app.
One of the great applications to prank your phone by showing them a cracked screen on their phone.
Broken Glass live wallpaper & prank app – Android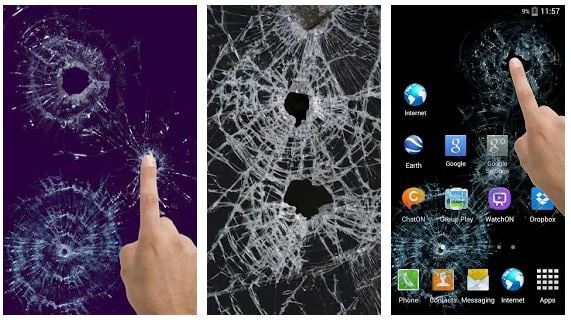 This is actually a broken screen wallpaper and prank app for Android. The app for Android comes with four sets of the cracked screen background. You can choose one of your choices and then use it as the background. At the first glance, anyone will think the actual display is broken. Do note one thing that if a lot of icons are present on the screen then the effect won't look that realistic. So make sure that you keep a screen which has less amount of app icons for it to look more realistic.
The live wallpaper effect makes the effect to only be visible at points when you touch on the display, The crack effect will appear only on the spot where you touched your finger.
These are some amazing cracked screen prank apps that you can use to prank your friends or family members easily. You need to have access to their phone for a couple of minutes to install the app and apply the effect. Once done, everything is completed. You can successfully prank anyone using these apps. Only a few apps are actually available for iOS but when it comes to Android we have a wide variety of options.