Download Pending Play Store error is one that makes every Android user hate whatever they are doing. A few days back, When I tried to install an App from the Google Play Store it was showing Download Pending then I waited for more than 1 hour and keep on showing the Download Pending error. At first, I was not having that too much knowledge about it. But, later on, I managed to fix it myself.
You may be some among them who face this weird issue on Play Store "Download Pending". Today in this article I will show you how exactly you can fix Play Store Download Pending error in less than 5 minutes or so.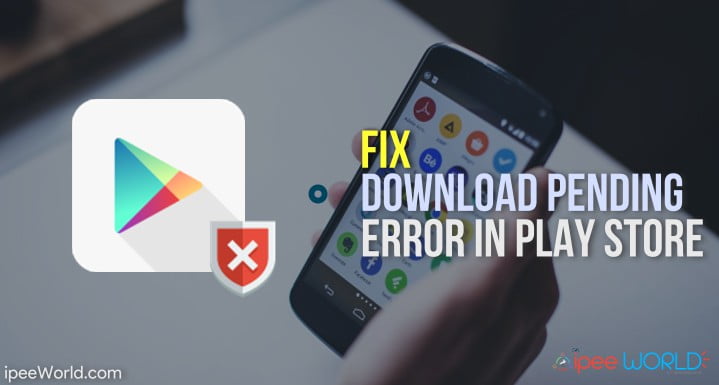 When I did a research about this error. There are mainly two things that I found maybe causing the issue. The first one is Server connectivity issue. This is the main reason why it keeps showing Download Pending. Play Store send a request to Google Server but didn't get any return signal. The other one is slightly off topic, That is a small miss setting in Play Store Settings. Well, we will discuss everything as Post progress and let's see how to get rid and solve Download Pending in Google Play Store.
Fix Download Pending in Play Store
This is how the Error will look like when ae are about to download any new Apps and Games to our Android device or even at the time when we are updating an app which is already installed in our device.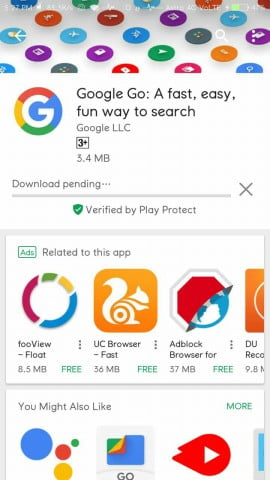 So, without further a delay lets quickly get into the topic and see working methods to fix Download Pending problem in Play Store. Also, see how you can get free Play Store redeem codes to buy Apps for free.
I will share a few tricks by which you can get rid of this error.
Method 1: Clear Data
The first method is to clear Data of Google Play Store. Follow the steps to get started with this trick.
Go to Settings
Now go to Installed Apps page
Select Google Play Store from the list of installed apps.
Tap on "Clear Data" button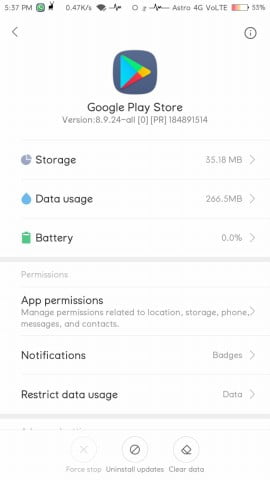 Now a popup will appear asking you to confirm it once again, Tap OK
Wait for a few seconds until all cached and other files of Play Store are removed.
Now, Open Play store and try to Install any new app and the problem will be fixed.
Method 2: Update Google Play Store
An old or outdated version of Google Play Store can also be a reason for this error. I strongly suggest you guys to update Google Play Store to the latest version and see if the problem persist.
You might ask, How can I even download and update Play Store when I am not able to download any Apps through it.
First of all, Download the latest version of Google Play Store from any third party APK Sharing sites. You may easily find it by Googling the exact same keyword.
Once you download the latest version of Google Play Store APK, tap on it and hit the Install button.
It will ask whether you want to overwrite the existing app, simply tap on OK
Wait until Google Play Store gets installed on your device.
Now, try opening Google Play store and see if the error is still there. This will fix the issue to a great extent.
Method 3: The Last Method to try
If you have already tried all possible method and still the problem persists. Then the last and final method is to do a factory reset on your device. Doing a Factory Restore of your device will wipe all your Installed Apps/Games and Data. Only try this if you are sure about what you are doing
As mentioned earlier, Doing a Factory Rest will completely vanish all the data on your phone and your device will be like a fresh piece taken out of a Box. You will have to add all your Details including Email, Name, etc from start to end and also install every app one by one after you set up your device. This is the last method that I have to suggest you.
To factory reset your device:
Turn off your Device
Hold the Volume Up and Power button at the same to open Android Recovery screen
From there select "Factory Reset or Wipe Data" option
Select Yes – Deletes all Data and Files.
Wait until the process is done.
Tap on Reboot Now and it will boot your device.
If you don't want to Factory reset your device then the best method for you is to sideload the APK to your device. This means you will not be able to download any apps from Google Play Store. But you can download the APK File from any third party site and then sideload it to your device. See How you can download APK File directly from Google Play Store
Bottom Line
Well, these are some of the best Tips and Tricks to Solve the Download Pending issue in Google Play Store, I have gone through this situation and Clear Data method worked for me. So, that was not a big deal for me. But, if that method didn't work for you then I have also mentioned some alternate methods which will help you to solve the Play Store issue of "Download Pending" Be sure to share this guide with your friends who are facing this issue on Google Play Store.