ES File Explorer is one among the best File manager application for Android devices. For any reason, if you are looking for some Best ES File Explorer Alternatives then this article will get you covered. You will find about 5 different apps like ES File Explorer to do easy file management and data transfer with ease.
We all do various file management in our Android device. To do cut, copy, paste or change the location of a file, etc for all that you need a File Explorer App. Almost all Android devices out there come with some form of a File Explorer. MIUI, EMUI, Color OS, etc all have a dedicated File Manager app pre-installed straight out of the box. But these File Managers might not be that effective as it should be.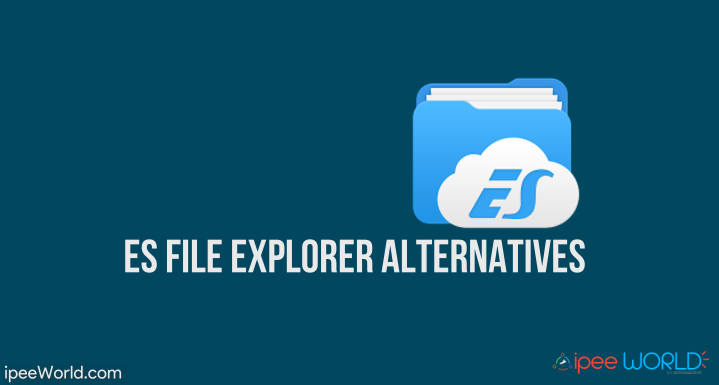 If you want to get advanced control over your files and do complex operations on them then you should get some advanced and dedicated File Managers like the ES File Explorer, File Manager by Google or something like that. With no doubt, ES File Explorer is one among the best File Explorer app out there with so many features that everyone loves. So, let's see some ES File Explorer Alternatives.
Why use Apps like ES File Explorer
There are a number of reasons why you don't want to install ES File Explorer but something different. Recently, the ES File Explorer app was removed from the Google Play Store for violating some of their guidelines. If you are someone who is doubting the authenticity of this particular app then you can try some apps like ES File Explorer that will help you do files management easily.
ES File Manager is features rich and is the best File Manager, but there are tons of other apps with similar and different features, too. Read the article below and find ES File Explorer Alternatives and also check some RAM Cleaner Apps for Android.
ES File Explorer Alternatives
I will list some best apps that are available on the Google Play Store with similar features that are available in the ES File Explorer.
1. File by Google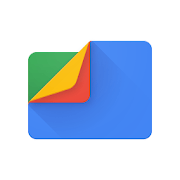 Files by Google is Google's own File Manager app for Android. As the ES File Explorer, Files by Google is just more than a regular File Manager app. You can do all sort of operations on any files like cut, copy and paste, you can move files easily, etc. Apart from all these, this comes with some utility settings and features that will help you to free up space on your device and a whole lot more things.
Junk Files option let you analyze your Phone's storage and then clean it by deleting useless files thus, in turn, freeing up a good amount of storage in your device. The Image viewer in the app is really good that reviewing the images are made simple with this option. Effective categorization makes it easy for you to navigate and find files without visiting the file directory. And the Speed promised by File by Google goes all the way up 480 Mbits per second.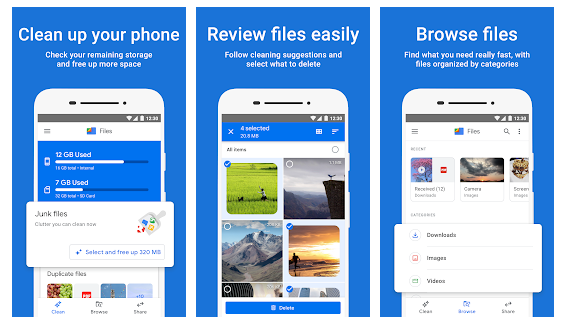 Google Drive integration makes it really simple for you to easily add cloud backups. You can create and upload backup to your Gmail Account's GDrive with a single tap. This option is a lifesaver for people with low space on their phone.
In short, File by Google is an awesome alternative to ES File Explorer with amazing features that you will love for sure.
2. File Commander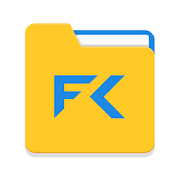 File Commander is a popular File Manager app for Android with over 100 million+ active installations and an average rating of 4.5. If you are looking for a little bit of advanced File Manager app then this is for you. File Commander is unique in a lot of ways and all your sensitive data and files can be stored in an encrypted form to keep it safe from others. The user interface and options, etc are very simple to use and you can almost all features that are available in the es file explorer apk.
The developers of this app are also proving you FREE 5GB of cloud data storage to keep your data backups in the cloud. You can store up to 5GB of data for free. Apart from their cloud service, you can upload and keep your data backup in third party services like Google Drive, OneDrive, DropBox, etc. You can toggle on Auto Sync option and every file will be automatically synced with the cloud service that you chose.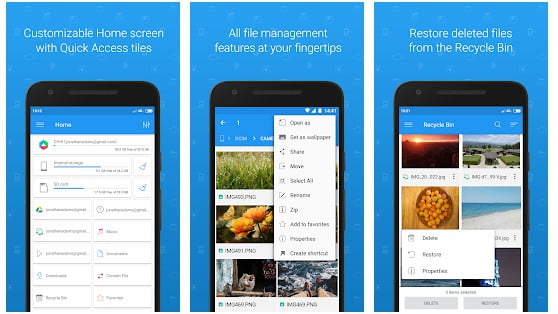 Storage Analyzer, Secure Mode and File converter are other interesting features by this app. You can convert to and out 1200+ different file formats and secure your files with a pass using secure mode to keep it away from others. Storage Analyzer will analyze your storage for unwanted files and help you to keep your device storage in a good condition.
3. File Manager by Astro
File Manager by Astro is a simple File Manager and Cloud Manager for Android platform. The biggest and biggest highlight of Astro File Manager is that it is 100% Ad-Free and offers everything for free. It lets you do all sort of file operations like Editing, Renaming, copying, location changing, moving, etc.
Additionally, it got some interesting features, too. You can easily unzip or unrar any ZIP and RAR files within the file manager and that lets you free up the storage of using another unzipping app. This file manager is also heavily optimized for Cloud Storage management. You can connect your third-party cloud data storage provider with the app and upload backup in realtime.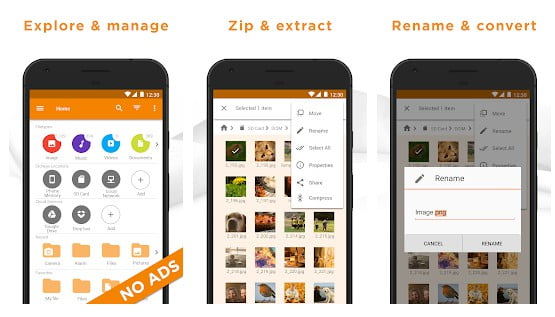 File manager, SD Card Manager, Cloud Manager, Compress files, Manage Apps, etc are some interesting options that are available on the app, be sure to check them out as well.
4. Amaze File Manager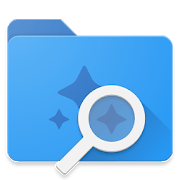 Amaze File Manager is a free and open-source file manager that has no ads or in-app purchases. You can cut, copy or paste files, uninstall apps and clean up your storage space. Swiping from the left will introduce the options panel with all the settings and features. All the files and data are arranged in either grid or list view. You can adjust the viewing style within the app itself.
As mentioned earlier, it is 100% open source so there are no features that are locked for in-app purchases. The user interface and features are quite easy to use. You can download the app from the Google Play Store and it has more than 100 thousand+ reviews on Play Store.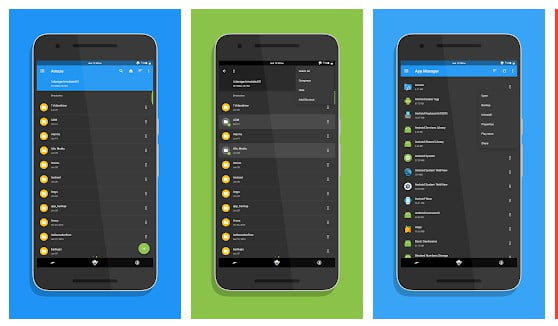 AES Encryption and Decryption of files for security, App Manager to open, backup, or directly uninstall any app, etc are some amazing features offered by this app.
5. Solid Explorer File Manager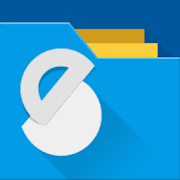 Solid File Manager or Solid File Explorer is the next app in our list. This has a lot of resemblances with the ES File Explorer and you will find all the features you are looking for. Password protection is the highlighted feature of this app. You can easily set a master password and lock important and personal data within the app. You can only view or do operations on these file by entering the password.
Additionally, you can also set your fingerprint as the password for increased safety. The apps have got really good and interactive UI with elegant design. You can find all the options and settings in place easily.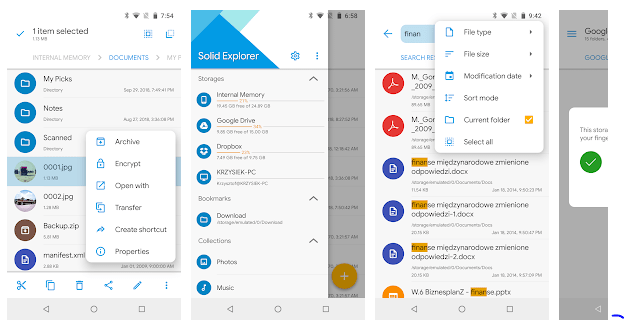 The apps come with ads and in-app purchases which is the only downside of this particular app, if you are interested, you can go check this out in Play Store.
Final Words
These are some amazing and feature-rich apps that are similar to ES File Explorer. Majority of the apps mentioned in the list contain all the features that are available in ES File Explorer and some apps even have features that the pro version of ES File Explorer lacks. You can download the apps from the Google Play Store and all the apps are having millions of active installations with good rating.