Hey Guys, Today I am sharing a new trick with Fake Love Calculator to Prank your Friends at next level and make fun of them. Fake Love Calculator Prank trick helps us to find anyone's Lover's or Crush's Name instantly with a simple Email trick. Below, I am sharing details about a Simple website that helps us to implement this trick. This trick is really simple and handy. Once your friend has visited the page and entered both their Names, you will get both names in your Email or in the Website.
Your Friend may or have a lover, partner, crush. You ask him/her about their name and they are not willing to tell you the name. So, does that mean we can't find their name? No. This is exactly where Fake Love Calculator Prank Trick comes into the scene. This website helps us to identify anyone's crush's name through a simple Email.
Interested…? Read and Find How. The site we are going to use today in this article is a simple and free Website. It is created by some simple PHP codes and nothing serious in it. So, if you are worried about any Malicious activities or Viru, don't worry it is completely safe and secure. All you want to do is just follow the step by step instructions mentioned below. So, with that all being set, let's get started.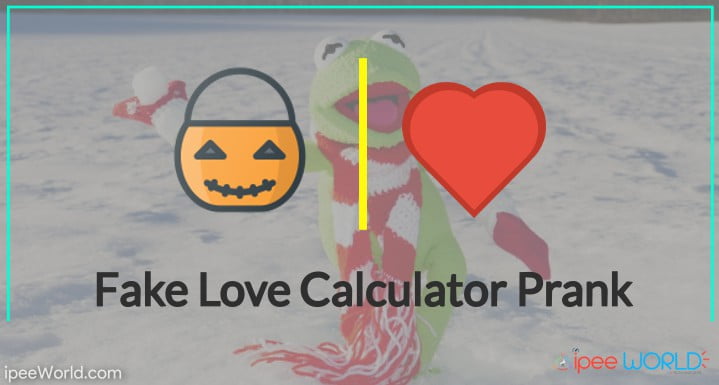 Fake Love Calculator Prank
So, let's see how this Fake Love Calculator website works. It's really simple, All that happens is, you need to register on the site mentioned below. Don't worry it is completely Free, safe and secure. Once you have created an account on their site, from the dashboard copy the unique link. Now, share that link with your friends. Now starts the real game…
Once your friend has received the Link, He clicks on it. It will take him/her to a page where the person needs to enter his name and his lover's name. Once he has entered both their names, instantly you will get an Email with both of their names.
Now, you might be doubted whether your friend will use this calculator or not? Over 90% of Friends who are seriously in love will definitely use this tool. If they are serious, they are completely out of control. We are using this Loophole for this trick.
How To Prank Your Friends With Fake Love Calculator
All you want to do is, simply follow the step by step instructions mentioned below and see how to implement the trick.
Step 1. Click on the below given button and visit Love Calculator Prank website.
Step 2. Once you are on the site, Register for a new account. You will see some field to enter your Name, Email, and Password.
Step 3. Enter those details and continue.

Step 4. Now Again Login to your account with account details.
Step 5. On the dashboard, you will find a unique link only for you. That's the link you need to share with your friends and known ones.

Step 6. Copy the Link and share it with your Friends or anyone.
You can send them on WhatsApp, Facebook, Email, etc or directly share those in Some WhatsApp Group so that you can Prank more friends with a single message.
Wait for your friend to visit that link and enter that person's and his/her crush name there.
Now, Assume that He/She has entered their Name.
Step 7. Once he has entered both their names, You will the details on the website(Simply Reload the page) and also you will receive an Email to your registered Email Address about their names.

Step 8. Once your friend has entered their name, A screen will tell that it was a prank done by you. and He will be successfully pranked. 🙂

Hahaha 🙂 You have successfully pranked your friend and known his/her crush's name. Now you can tell him/her that you have found his/her name and amaze them. Even tease him/her 🙂
Alternative Sites
Here are some alternatives to the site mentioned above. For some reason if the website mentioned above don't work for you or if anything goes wrong then you can easily use the websites given below. These websites work exactly like the above one.
Final Words
This is how we use Fake Love Calculator to prank friends to know their lover's name. 95%+ Of your Friends will fall in this prank. So, this is one among the good method to prank your friend. Also, have a look at the SMS Bomber trick to prank your friend at the next level. Send continuous and unlimited SMS to your friend and prank him. Make his phone full of dumb. Also be sure to try our WhatsApp Bomber.
Be sure to share this article with your friends on Facebook, Twitter or anywhere you like and let them know about this trick, too. Do Comment down below, If you have doubt or need any suggestions.