You might have seen something called PXIMouse running in the background and wondering if it is a virus or keylogger? If you open Windows Task Manager, chances are, you will find a task related to PXIMouse running. If you are confused if PXIMouse is a virus, then this article is for you.
Similar to PXIMouse, there is something called TiltWheelMouse.exe as well. Both these programs are related to the mouse you use on your computer. In simple terms, we can tell that these programs are simple mouse drivers that make your mouse sensor work on your computer.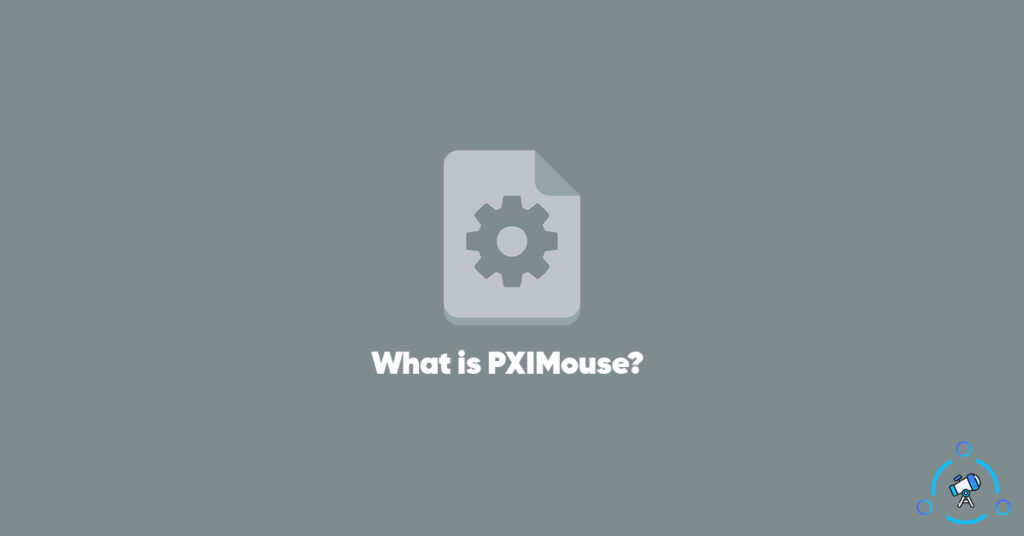 Still, you might be wondering what is PXIMouse? is it a virus? or should I get rid of PXIMouse? Read the article to find more. A lot of people also have confusion regarding Steamworks Common Redistrubutales, you can check about them as well.
What is PXIMouse?
For starters, PXIMouse is a driver for your mouse. This tiny piece of software makes sure that the mouse works properly on your computer. It facilitates the communication between your mouse sensor and your computer.
Generally, PXIMouse is found on computers using a mouse having a sensor developed by a company called PixArt Imaging Inc. This is a company manufacturing mouse sensors for leading companies like Logitech, Steel Series, etc.
So, long story short, PXIMouse is not a virus. But this need not always be true.
There are chances that hackers or attackers might be using some virus in the name of PXIMouse to trick you. Using a simple solution given below, you can easily find if it is a normal driver file or a virus/keylogger.
How to Find If PXIMouse is a Virus?
Here, I am going to list multiple methods to find if PXIMouse or TiltWheelMouse is a virus or not. It's simple and takes no more than 2 minutes to check. Once the checking is done, you can have peace of mind and leave PXIMouse intact.
Check for PXIMouse File Location
Since it is a system driver, normally, the PXIMouse file is found on the Windows folder in the C drive. This is the place where all system-related files are stored. If you found the PXIMouse file on C/Windows then there is nothing to worry about. Or if it is stored elsewhere then you might have to dig deep to find the origin of the file.
Step 1: Open Task Manager
Step 2: Go to the Processes section and look for PXIMouse task. Once found, right-click on it and select the option called Open File Location.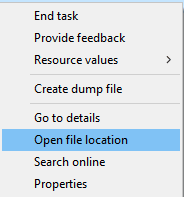 Step 3: Now Windows File Explorer will open up showing the location of the file. If the directory opened in the Windows folder on C drive, then it's okay as it is the place where driver files are usually stored.
Or if the file is stored in some other random location then you might want to scan the file for viruses. We have two options here. The first one is to use the built-in Windows Defender and scan PXIMouse for viruses. And the second method is to use an online service to check if the file is a virus or not.
Scan with Windows Defender
Scanning with Windows Defender is simple and straight forward. Follow the simple steps mentioned below.
Right-click on the PXIMouse file you found and select the option 'Scan with Windows Defender'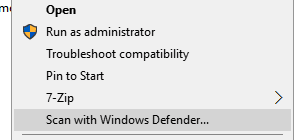 Wait for a few second for the software to scan the file for virus
Once the result has come, if it found no problem then you are good to go. If Windows Defender found a virus in the file then immediately follow the next section of the article to remove the file from your computer.
Scan with VirusTotal
If you are not already aware, VirusTotal is a free online tool that we can use to scan files for viruses, keyloggers, malware, adware, etc. In this section, we are going to scan the PXIMouse file with VirusTotal to see if it contains anything problematic.
Go to VirusTotal website
Click on the upload button. Now it will ask you to select the file to scan. Just navigate to the location where you found the PXIMouse file and then select it.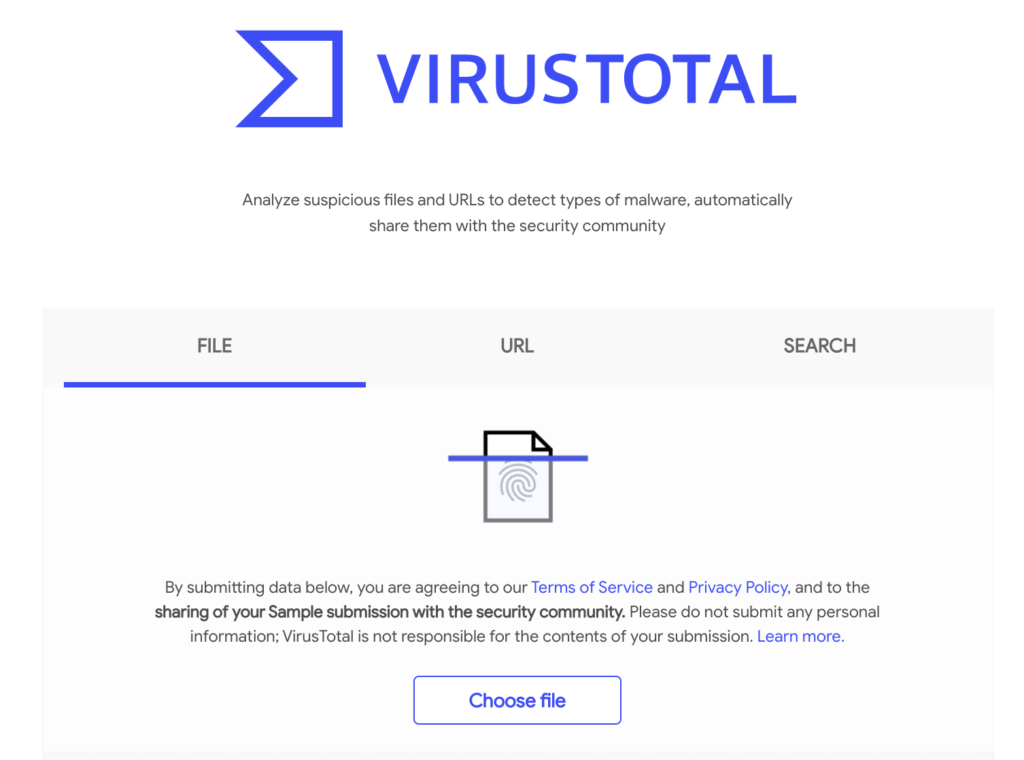 Confirm Upload after selecting the file
Now, you will have to wait for some time until the tool scans the file with all available antiviruses.
After the scanning is done, if you find messages like "No security vendors flagged this file as malicious" then you are all good to go and thus confirmed, PXIMouse is not a virus.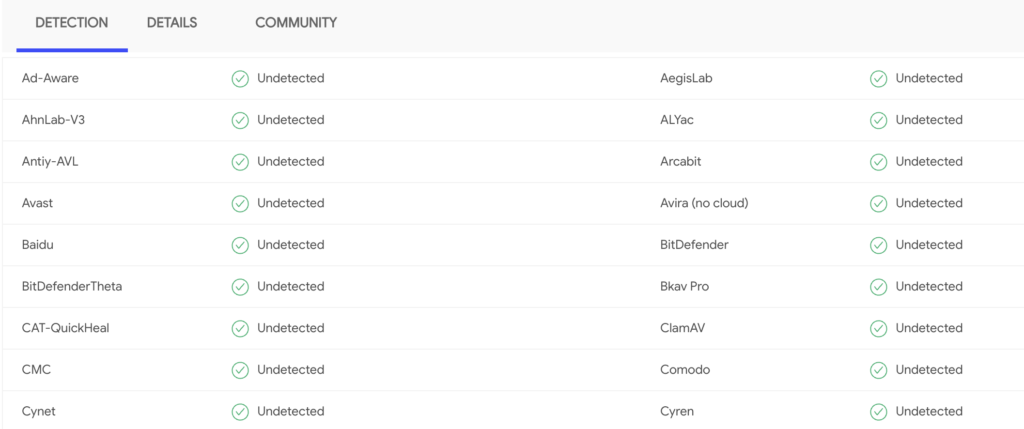 But if VirusTotal found that the file is a virus then jump to the next section to see how to remove PXIMouse from Windows easily.
How to Remove PXIMouse from Windows?
In this section, we will see how to remove and delete the PXIMouse file from our computer. Do remember that you should only remove the file if it is a virus. If both Windows Defender and VirusTotal detected the file to be problem-free then you shouldn't be deleting the file from your computer. Removing so will result in your mouse not working issues. Be careful about the same.
Should I Remove PXIMouse?
Well, as mentioned earlier, only remove the file if it is a virus. You can try any two methods mentioned above to see if the file is a virus or not. If it is not a virus then there's no point in removing the file. Doing so will cause more harm than good. Understand what you are doing.
Step 1: Open Task Manager and find PXIMouse task process
Step 2: Right click on the file and select Open File Location to view the file's location in Windows File Explorer
Step 3: Now come back to Task Manager and right-click on the file once again and click on the option End Task. Now, it will end the process.
Step 4: Go back to Windows File Explorer and find the PXIMouse file there. Simply click the delete button to instantly delete the file.
Step 5: Now, go to recycle bin and permanently delete the file from there, too. Now you have successfully removed PXIMouse from your computer. It is recommended that you scan your entire computer with Windows Defender to see any other malicious programs exist in your computer or not.
This is how we remove PXIMouse from Windows in less than a minute. Again, do remember, only remove the file if it is a virus.
You can follow the troubleshooting guide if Windows Taskbar is not working on your PC/Laptop.
Final Words
This is everything you need to know about PXIMouse. In most cases, this is just a mouse sensor driver for your PC. The driver file basically makes the mouse usable on your computer. Even accidentally removing the file from your computer will make the mouse fail and it won't work at all. Or sometimes, some features like the button or scroll wheel do not work. Do not go ahead and blindly delete the file if it causes no problem to you.