Did you send a wrong message to a different person on WhatsApp? or just want to recall or unsent a Message that you already sent in WhatsApp? Whatever it is, today in this article you will find how you can recall a sent WhatsApp message easily without any hassle. It's been a long time since users are waiting for WhatsApp to roll this feature. But wait… This feature is not live yet, but today in this tutorial you will find How you can use this Message Recall feature in WhatsApp before it officially launches on the Official version of WhatsApp.
As mentioned earlier, there are a lot of situations where we wanted to revoke a sent WhatsApp message. Maybe, we might send a message to the wrong person. So in these situations. If the receiver has not read the message, then we can recall the sent message and delete the message from the receiver's phone as well.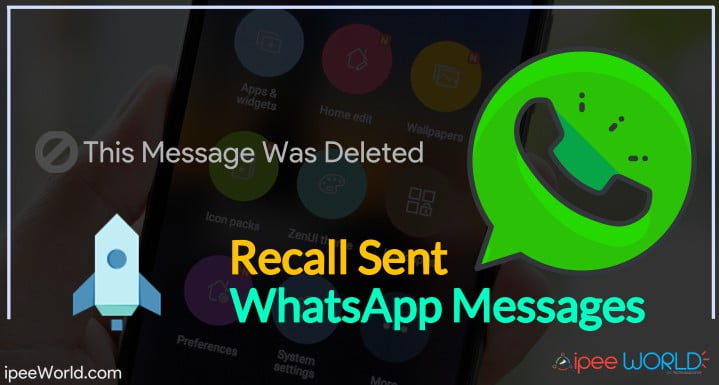 If you want to get access to all these features that are about to reach the stable version then you can try using GBWhatsApp or FMWhatsApp, the two best Android WhatsApp mods available these days.
As said earlier, the Recall Messages feature is not live on WhatsApp yet. WhatsApp is about to roll out the new feature by the next new update. So, the official version of WhatsApp that is available on the Google Play Store won't help us in doing the job done. Refer below to Recall Sent WhatsApp messages easily.
Recall Sent WhatsApp Messages
You wanted to send a little bit of an awkward message to your friend. And you sent it. After sending the message you realize that you sent that message to your Mom or Dad, what will you do if they have not yet read the message. Well, that's exactly why you are here on this Page.
You have two options to get the Recall feature in WhatsApp. The first one is by installing the GBWhatsApp and the second one is by installing the latest Beta Version of WhatsApp which is not available for everyone. You can download the Beta Version of WhatsApp from the Play Store only if you have already enrolled in the Beta Program of the specific app.
Check: 5000+ Best WhatsApp Group Names List Funny, Family, Cousins, Friends
Now, this feature has rolled out to the official stable version and everyone who downloaded the latest version of WhatsApp from Play Store can experience this feature in their smartphone.
Here we will be talking about the GBWhatsApp method. So, without further ado, let's get started.
How It Works
This is how senders chat will look like: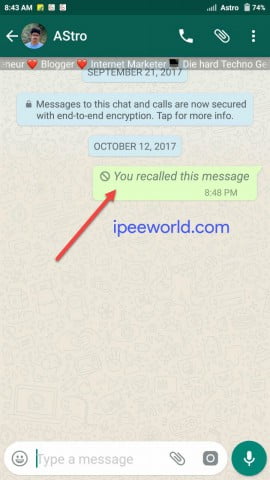 This is how the Receiver's Chat will look like: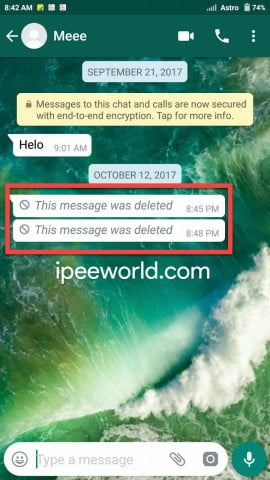 Recall Messages With GBWhatsApp
For this trick to work, you will need a modified version of WhatsApp called GBWhatsApp. You can download the App from the link given below. I have written everything about GBWhatsApp including its Pros and Cons, so read it before you download it. So, let's get started.
Download the Latest Version of GBWhatsApp
Once you downloaded the app, Install and Open it up.
Import existing backup and create an account.
Now send a message to anyone you would like to.
Once the message gets delivered, follow the below-given steps.
Tap and Hold on the message that you wanted to recall.
Click on the three dots [mks_icon icon="fa-ellipsis-v" color="#dd3333″ type="fa"] icon and tap on Recall button.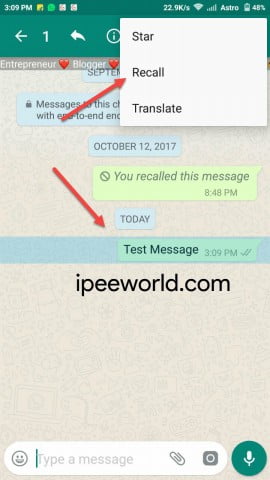 Now a small popup box will ask whether you want to recall the message or not.
Just hit the Recall button and you are all good to go.
Read: [1000+] Ultimate WhatsApp Group Invite Links Collection
Video Tutorial
You can watch the video tutorial mentioned below to get more in-depth details on the same.
Recall WhatsApp Messages with Beta Version of WhatsApp
Let's see how to use the Beta version of WhatsApp to recall sent WhatsApp messages in no time.
Download the Beta Version of WhatsApp from the link below
Download Beta Version of WhatsApp
Install and Open it up (If you get an unknown source warning, just go to security settings and enable Install Unknown Sources)
Send a Message
Tap and Hold on the Message you want to recall
Click on the Trash button [mks_icon icon="fa-trash-o" color="#dd3333″ type="fa"] from the top bar options
Now hit on "Delete For Everyone" option to permanently delete the message for both receiver and Sender
That's it
You have now successfully recalled or unsent a WhatsApp message. Whenever you accidentally sent a message to a wrong person, you can always use this method to call them back and revoke the message.
This feature is not live on the Official WhatsApp yet, so, for the time being, you can use any one of the tricks mentioned above. After WhatsApp officially rolls out this feature, you can use it on your Official WhatsApp from Google Play Store. You can download the Beta version of Latest WhatsApp from the link given below. And again, If you wanted to enroll in the WhatsApp beta program, just follow the steps mentioned below:
Open Google Play Store
Search for WhatsApp and tap on the official WhatsApp icon
Now scroll down and you will see a section telling WhatsApp Beta Tester
And tap on I'm In button.
Voila!! Now you are a part of WhatsApp Beta Testing Program
Wait for a few hours and a notification will appear telling that there is a new Beta Version available.
|| [mks_icon icon="fa-star" color="#dd3333″ type="fa"] || Do remember that Beta versions are not the final edition, they might not be stable. You may get some issue with them, so you can report it to WhatsApp Team ||
Final Words
So, I hope you guys found this tutorial useful. Next time when you wanted to delete or recall a sent WhatsApp message in less than a second, Simply follow the instructions mentioned in this article. This is a really great trick that helps us a lot. GBWhatsApp is a cool WhatsApp mod that lets us do this kinda stuff. Be sure to share your opinion about this article below in the comment section. Also be sure to share this article with your friends and let them know about this trick, too. Stay tuned for more amazing contents and see you guys soon.