Hi, Guys Do you want to Irritate/Disturb or Annoy your Friend for any Reason.If yes then this Post is for you. With the blog given SMS Bomber Online or SMS Flooder, You can Send Unlimited Amount of SMS to your Friend's Mobile Number and make him Disturbed using the simple trick given below.
For this trick to work you don't need any SMS Bomber App or any other Applications.A Script Developed exclusively by IPEE World allows you to Send Unlimited FREE SMS to your Friend by entering His/Her Number on our Online SMS Bomber Script or Website.Similarly, you can also irritate your Friend on WhatsApp by Crashing it also This is 100% Safe and Easy.
There are some specialties that make our script different from others, they are: This SMS Flooder will work even if DND or Do Not Disturb service is activated on the Mobile Number. A majority of the users will have enabled DND on his/her phone, So it will work even if DND is active. Works with all operator and service porivder as well.
There are many Online websites claiming SMS Flooders but all of them won't work, Now we are here with one of the Best SMS Flooder/Bomber which you can use for FREE.You are not required to Download any App or APK.
SMS Bomber Online
This Sms Bomber/Flooder is specially made for Mobile Numbers.This SMS Bomber only works in Indian Mobile Number Because the APIs we used in this Script is only made for Indian Mobile Numbers.We have tested this SMS Bomber ourselves and found no Bug and is Working Perfectly Fine.So, If you want to prank your Friend who is using an Indian Mobile Number, you can safely use this Trick.
Another Interesting part about this Bomber Site is that This Script will work if DND is activated on your Friend's Mobile.Isn't that Cool!
Features of this SMS Bomber Script:
100% Safe SMS Flooder/Bomber Website
Even works on Slow Internet Connection
Send Messages in less than a second
Unlimited number of SMS per Day
Works if DND is Activated
Works with all Operators in India
No Missing Issue
and Much More!
How To Send Unlimited SMS using SMS Bomber:
1. At First, Visit SMS Bomber Page
or
2. Now, in the first Box, Enter your Friend's Number.(Type the Number of a Person that you Personally Know, IF Anything goes wrong, we are not Responsible for Anything.)
3. In the Second Box, Enter the count of SMS to be sent.
4. and Finally, Click on the Submit Button.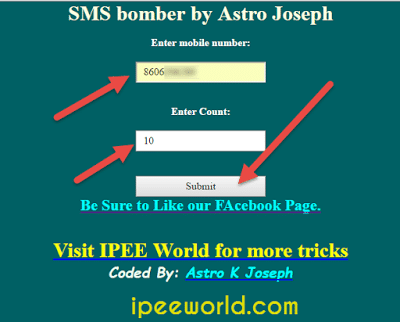 5. **BOOM** Your Friend will start to Recieve Messages in his/her phone.The number of SMSes he/she receives depends on upon the count you mentioned earlier.
Preview – How SMS are Received on your Friend's Phone
Now your Friend is In Trouble and Have FUN! 🙂 🙂
This is the easiest way to send Unlimited SMS to your Friend without paying anything.Now your friend's phone will be a trash of useless Messages.Now He/She will be in Trouble.
Developing an SMS Bomber website is not an Easy task, It requires and a lot of time, Coding Skill and much more – Take second to share this Post on your favorite Social Media.
Rules – You need to Follow
You will not use this trick for an illegal purpose.
You will not use this trick on some you don't know personally.
We will not take any Responsibility, of anything happened due to this trick.
How to Protect your Phone from SMS Bombing:
Open Messages on your Phone.
Long tap on any Message from where you are getting too manySMS.
Click on the Block Button.
Updates to the Script:
You can now send up to 1000 SMS at a time (Not recommended)
New Link Added
Cross Support
Responsive
UI Update 2.0
Now you are done, You will no more receive such Messages in your Phone after that. 🙂
Final Words
So, Hope you guys enjoyed this Awesome trick to Prank your friend by sending unlimited amount SMS without any technical knowledge.This is our very first SMS Bomber Script we Developed.Now we are currently Developing a MissCall Bomber, which will be Soon Available.
This SMS Bomber or SMS Flooder will work with any Mobile number. No matter the service provider, state or anything, This script works with any. Do remember, once you click on the submit button, then the changes are not able to revert. For example, if you type the count as 15, then the SMS will only stop after sending 15 SMS to victims Mobile Number. How cool is it?
Be sure to share this script with your friends on Facebook, Twitter, Google Plus or anywhere you like.  Comment down below, if you have any doubt or anything, We will catch you at the soonest.
SMS Flooder
Summary
100% Working SMS Bomber and SMS Flooder to send unlimited SMS and prank your friends.