Undoubtedly, WhatsApp is the most installed Messenger App. It is having more than 1 Billion Installs on the Google Play Store alone excluding the iPhone users. WhatsApp team members are working really hard to bring essential and useful features to the app. At the time of its launch, WhatsApp was not having the features called Status/Stories, but now it has. More and more new features are being introduced by them every single day.
But one feature that almost all WhatsApp users expect to come live with the app, is not live yet. We are still not able to Message other WhatsApp members without adding them as our contact. Only if we add any people to our phone contacts, we can message them. But, there are a lot of situations where we actually don't want to save the number of a particular person, but wanted to send a one time message. What will you do at this time? Well, that's exactly why you are on this page/ Read to find more.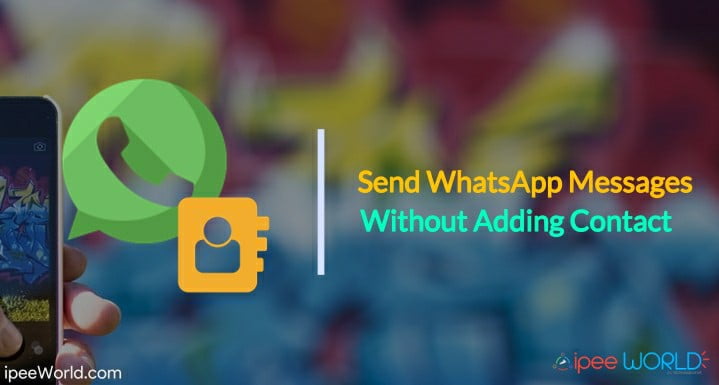 At most cases, we don't want to save the mobile number of Electrician, Delivery Man or Plumber, but may want to send them a message. This trick comes really handy in those situations. Well, Let's find How?
Send WhatsApp Messages without Adding Contact
Follow the step by step instructions mentioned below to get the job done.
If you are an iPhone user, then you have no luck. This trick is exclusively for Android devices only. As of now, iPhone users have nothing to do with it. No Third Party apps are available on the App Store to do this. Let's see if WhatsApp is going to introduce this feature on the official version.
First of all, we need an app to do this task. So, download the App called Click2Chat from the link mentioned below. It's available in the Google Play Store. Links are from Play Store.
Install the App and Open it up.
You will see a field to enter the WhatsApp Mobile Number and to change the country code. Type in the Mobile Number and Country code in the field provided. In the message field, Type the message that you wanted to send to them.
Once you have done everything, tap on "Send Now" button to send the message.
You can also schedule the message at a specific time. For that, you are required to tap the option called "Send Later"
Now, you have successfully sent messages to a WhatsApp number which is not on your Phone Contacts.
Open WhatsApp, and you will see that number in your Chats, Next, onwards you can simply message them directly from the WhatsApp app itself. No need to open the Click2Chat app and do it again. Once, you have done adding the number through Click2Chat, next time onwards you can directly message that number from WhatsApp itself.
Final Verdict
So, this is exactly how you can send messages to any WhatsApp number without adding them to your Phonebook or Contacts. In order to do this, you are required to install and third party app called Click2Chat. This app is free on the Google Play Store. Just install the App and follow the instructions, that's it.
Hope this trick worked for you, If you wanted to share anything or have any doubt, feel free to comment down below, We will catch you at the soonest. Also be sure to share this article with your friends and let them know about this trick, too.