This video is not available in your Country is one of the most encountered problems in YouTube. If you are regularly using YouTube then you might have come across this error. To be honest, I do get this error message every time when I try to watch videos that are not available in my Country. I, furiously click on the video to watch it and suddenly Boom! A message appeared telling that The uploader has not made this video available in your Country, Do that mean I can't watch that video? Never…
It is not because of YouTube that you are getting this Error message, The actual uploader may not have made a particular video available in your country, So YouTube has nothing to do with this issue.However, there are some tweaks that you can apply to watch any video from Youtube without any issue. At certain situation, the Government itself block some Videos through Internet Service Provider.
Not all videos uploaded to YouTube are accessible to everyone.Just like other Google services, YouTube also allows the uploader to set Geo-Restriction on their videos for particular country or region. He/She can set Geo-Restriction on any video he/she likes. Maybe the one who uploaded the video doesn't want to show that particular video to visitors from India or China(any other country!)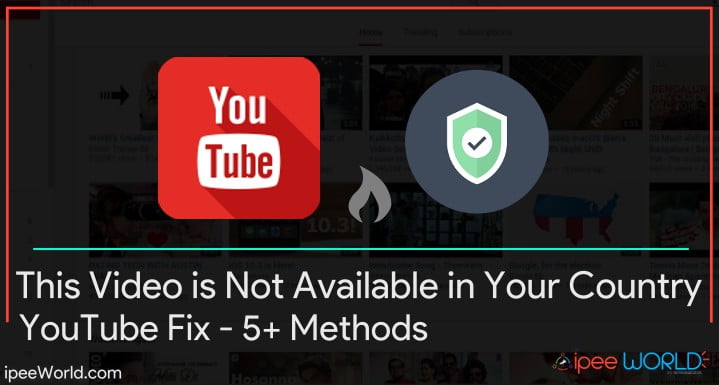 It's very disturbing for every YouTube users who face this issue. Now I am sharing three unique methods to fix this YouTube error and watch any Video anytime from YouTube without any Error.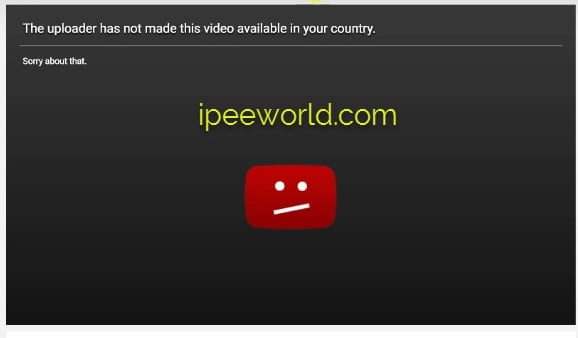 What will you do if you get this screen while trying to watch any of your favorite YouTube Video? Yes, that's exactly why you are here. Let's see how to fix This Video is Not Available in Your Country Problem in any country, anytime, anywhere. No Downloads! No Installs!.
This Video is Not Available in Your Country Fix
1. By Changing URL Structure
This is the most simple Trick to watch blocked videos in your Country. The easiest yet time-saving trick is this. It won't work on the YouTube App, you should use any Web Browser instead. If you are trying to watch Video from the YouTube App, don't worry, I will show you How you can watch any Geo-Restricted Video from any country within the Mobile App as well.
For using this trick, all you want to do is, Just change the existing Video URL structure to a new one, Just replace /watch?v= to /v
For example, if you want to watch a video with URL: https://www.youtube.com/watch?v=XXXXXXXXXXX simply change it to https://www.youtube.com/v/XXXXXXXXXXX.
Just enter the modified URL into the address bar of your Web Browser and watch the video without any error.
2. Download Videos From YouTube:
Another easy method for bypassing this issue is to Download the video from YouTube and then watch it.There are tons of free websites and software available to Download and save Videos from YouTube in one click.Today for this trick also we are using one such free website called SaveFrom.Net.
SaveFrom.Net is a simple online service that allows you to download Videos from YouTube in High Quality with High Speed. As their servers are located in different countries, Geo-Restriction will not be applicable to them.
For Downloading Videos from YouTube, Simply type en.savefrom.net in the address bar and hit Enter.
Paste the Link of the particular video you want to Download and press go button.
Choose the Quality of the Video
And finally, Click on the Download button.
After the download is complete you can watch it using any Media Players.
Similar Sites list Savefrom.Net:
3. Use Any VPN or Proxy service:
You can also use any Proxy or VPN Service in order to bypass geo-restriction in YouTube.
When you are using a VPN or Proxy service, you will be anonymous and your original IP Address will be Hidden.The websites you visit can't track your Original IP and your identity remains hidden.
You have two ways of being anonymous: one is by using a VPN Software and the other one is by using any Proxy Website.
You can download any Free VPN software from the Internet like ZenMate, etc and use it. Here I'm going to show you How you can visit sites using Proxy Website which is simple when compared to VPN Apps.
Choose any Proxy website from the list mentioned above and type the URL of the particular video you want to watch in the URL field and watch it without any problem.
Use any of the Proxy/ VPN service mentioned above and bypass This Video is Not Available in Your Country error in YouTube.
4. Use VPN Apps – For YouTube Mobile App
If you are using the YouTube Mobile App, then the above method using Proxy websites won't work. In this situation, we are going to use VPN Apps for Our Device. Whether your Mobile is Android or iOS, use any of the App mentioned below and Bypass Geo-restriction in YouTube.
Android Apps
iPhone Apps
Download any of the App mentioned above, as per your device
Install it
Open and activate any Random VPN Server location
If you are from India, activate the USA and If you are from the USA activate India or some other countries
Now, Open the YouTube app and yo will be able to watch the Video without any problem.
Final Words…
So, guys, These are the simple ever working methods to watch Geo-Restricted videos from any Country. You can try all three methods mentioned above. This Video is Not Available in Your Country in no way.
Next time when you see any error message like "This video is not available in your Country" or " The uploader has not made this video available in your Country" just use any trick mentioned above and you can bypass it.
Share this article with your Friends on Facebook, Twitter, WhatsApp, G+ or anywhere you like. Comment down below, if you face any problem.