Back in the days, it was so hard for us to communicate with people speaking other languages but with the advancement of tech, it has become easier than ever. A ton of translator websites and apps are available on the internet to make things easier for us. Well, today in this article, You will find the list of best offline and online translator apps for Android and iOS.
While selecting a translator app, it is a must that it should have the highest accuracy possible and also extra features like the ability to scan and translate text from images in real-time, support for a good number of languages, etc. And all apps should have the ability to automatically detect any language and convert it to a specified language that you selected.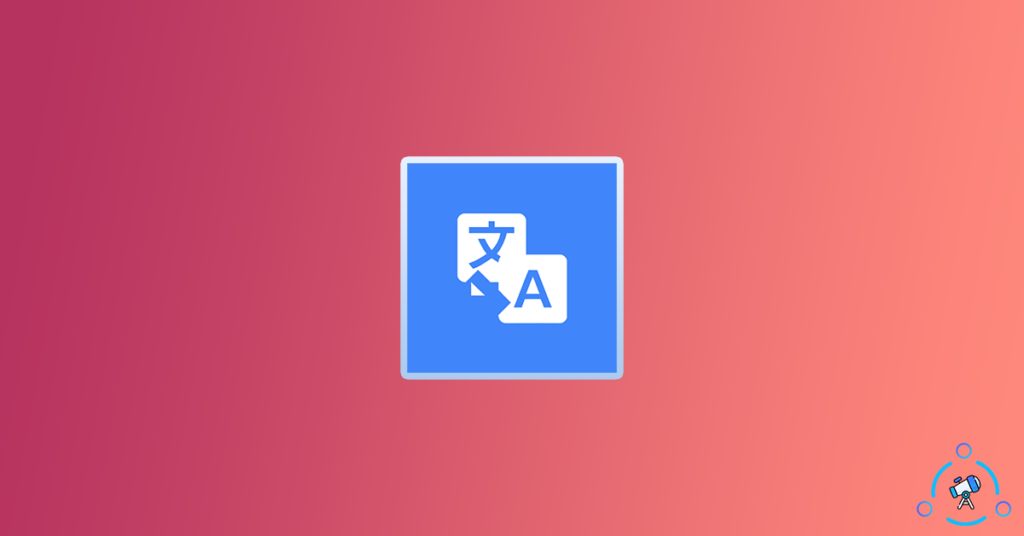 Core features of all apps mentioned in the article below are free to use and you can download it from the Google play store or Apple App Store for your device.
Best Translation Apps for Android and iOS
A lot of apps that we discussed are available for both Android as well iOS, while some of them will only be exclusively available to either Android or iOS. Make sure to go through the list of features and options it has to offer to find the best translator app out there. Some specific apps might be really good at converting some specific languages and if that is the case then try to find apps that are really good when it comes to the language that you want to translate
Google Translate
Without any doubt, Google Translate is the best translator app for both Android and iOS. At the time of writing this article, the app supports about 59 different languages all across the globe. Furthermore, the app works offline without internet access too. Offline access makes it easy to translate content without having an active internet connection. This will come in handy when you land in a new country and you don't have access to the internet.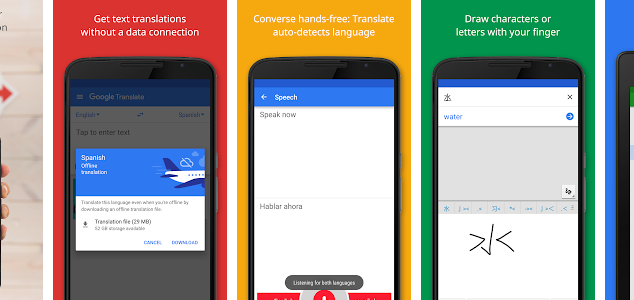 Google translate also comes with the option where you can use your phone's camera to translate text on the poster, paper, book, etc in real-time. You can also use Google Translate to translate messages or chats as well. The web version of Google Translate is also available. You may also use Google Lens available on GCam to search for content directly from a photo as well.
Highlighted Features:
Supports 108 languages for online translation
Supports 59 languages for offline translation
Tap to translate option
Voice based translation available
Realtime camera translation
Conversation mode translation
Google Translate – Android || iOS
Apple Translate
If you are an Apple user then you have a translator app on your device already, we are talking about Apple translate. Apple translate is Apple's own translator app that comes with support for up to 11 languages. And the best part, it works offline too.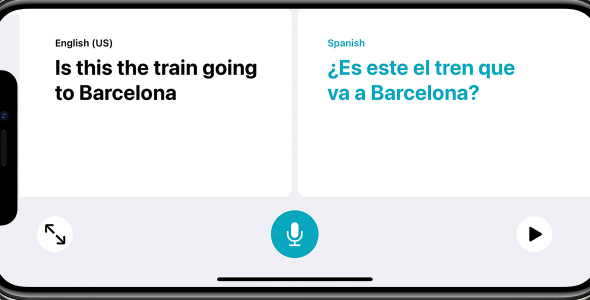 In the Apple translate app you have two options to translate. The first one is by manually typing the text and the second even is by using voice. The voice method comes in handy when you want to translate something really fast. When it comes to language support, it might not be that great but if the language that you are looking for is included in the app then it works without any issue.
Apple translate is exclusive to Apple devices and it is not available for Android. If you are an Apple user then no need to download the app as it is already available on your device. Just type Apple Translate and find it.
Highlighted Features:
Comes with every Apple device
Simple App Layout
Supports 11 languages
Don't need to download if you are an Apple device user
Microsoft Translator
Microsoft Translator is the app that comes with support for a good number of languages. It supports as many as 70 different languages. You can translate to and from any of the 70 languages using Microsoft's Translator. The app is available for both Android as well as iOS.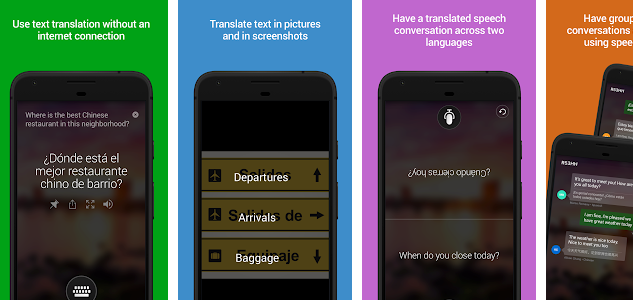 Some highlighted features of the Microsoft Translator app include screenshot translation and conversation mode. The app will also work offline even without an internet connection. Do note that only text-based translation works offline and for other translations like conversation mode you will need Internet access.
Highlighted Features:
Supports 70 plus languages
Camera translation
Multi person conversation translation
Phrasebooks
Offline support
Voice translation
Translate content from other apps
Microsoft Translator – Android || iOS
iTranslate Translator
iTranslate Translator comes with support for more than a hundred languages. Don't mind that 'i' in the name of the app, it is available for both Android as well as iOS. There are some unique features to this app that it makes it special.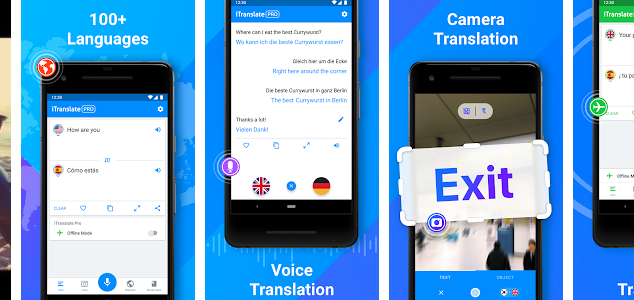 The dictionary feature is something that I like a lot and it is not available on all other apps. Using the camera you can translate the text as well as the names of objects too. For example, you can click a picture of a book and get the translated version of the book in a specified language using iTranslate Translator.
iTranslate Translator is a premium app and it comes with seven days free trial. The lowest plan comes with a price tag of $2.99 per month.
Highlighted Features:
Supports over 100 languages
Dictionary & Thesaurus
Sharing options
History
Voice selection option
iTranslate Translator – Android || iOS
U-Dictionary
U-Dictionary is yet another great translation app for Android and iOS. At the time of writing this article, the app comes with support for 108 languages, of which, 44 of them support offline translations. U-Dictionary is both a Dictionary app as well as a translator app, it combines the power of both in a single app.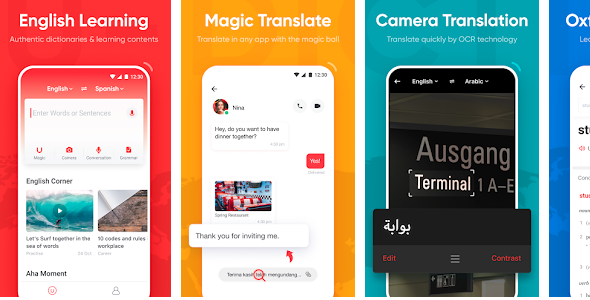 Apart from the dictionary and translation function, the app also comes with some other things like articles, quizzes, writing tasks, etc to improve your language skills as well. The app is 100% free and you can download it from the Google play store or Apple App Store.
Highlighted Features:
Both Dictionary as well as Translator app
Offline translation for 58 languages
Official Oxford Dictionary in 12 languages
Conversation Translation
Word Games
Funny Videos
Yandex.Translate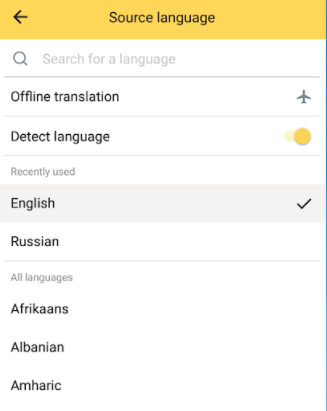 Some of you might be already aware of Yandex. Yandex is a giant search engine in Russia. The same company has a Translator app that is very similar to Google Translate. When comparing the number of support for languages and features, the app might not be that good as Google Translate.
Yandex Translate supports up to 90 languages online and a bunch of languages for offline translation. Italian, French, English, Spanish, etc are a few languages that work even while you are offline. Apart from regular text-based translation, Yandex Translate also lets you translate by voice and camera as well.
The dictionary option in the app lets you find word meanings and synonyms as well. You can access the translation history from the history section and refer to it anytime. The UI of the app is simple and is easy to use.
Highlighted Features:
Supports 90+ languages
Offline Translation available
Comes with Dictionary
Simple UI
Available for both Android and iOS
Yandex.Translate – Android || iOS
Naver Papago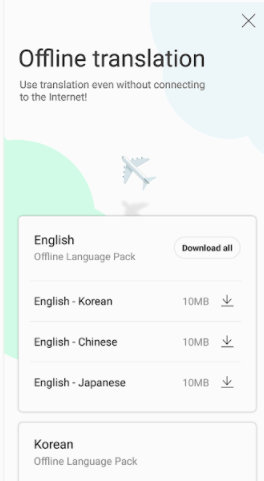 Naver Papago is an AI-based translation app that uses a neural network to translate various languages. When it comes to the number of languages supported by the app, it might be low. But it does a great job in translating those supported languages. The UI of the app is very simple and gets the job done fast.
Similar to other translation apps, Naver Papago comes with image translation, offline translation, voice translation, etc. The conversation mode translation lets two people talk simultaneously in different languages and translate the same in real-time. Naver Papago also comes with a Dictionary where you can find word meanings and synonyms.
At the time of writing the article, Naver Papago supports 13 languages and they are Korean, English, Japanese, Chinese (Simplified/Traditional), Spanish, French, Vietnamese, Thai, Indonesian, Russian, German, and Italian.
Highlighted Features:
AI based translation app
Supports 13 languages
Offline translation available
Image and Voice translation
Dictionary
Final Words
These are some working translation apps for both Android and iOS. These apps come really handy when you reach a new place where you don't know the language or during a conversation with one of your international friends or clients. Google Translate and Microsoft Translator is my personal favorite because it works most of the time and comes with some really great features as well. Microsoft Translator comes with support for up to 70 languages as well.
It's always nice to have a translator app installed on your phone as it will be super helpful in needy situations.