You all know that UC Browser is the fastest and best Android Web browser that millions of people around the globe use, Maybe you also one among them. Every internet users are loving the UC Browser because of the features provided by it and easy to use.  UC Browser comes with many new add-ons and extensions that no other Mobile Browsers apps do not have. We can use UC Browser itself for the requirement of 5-10 Different Apps. Because, UC Browser is not just a Web Browser, It has a lot more features that everyone might don't know.
As mentioned earlier, UC Browser is just more than a Web Browser. The Add-ons and extensions prebuilt in the App make it different from any other Web Browser. Google Chrome also has Android Version. Google Chrome for Android is just a simple Web Browser with limited features. But, UC Browser for Android is something just more than that of a Web Browser.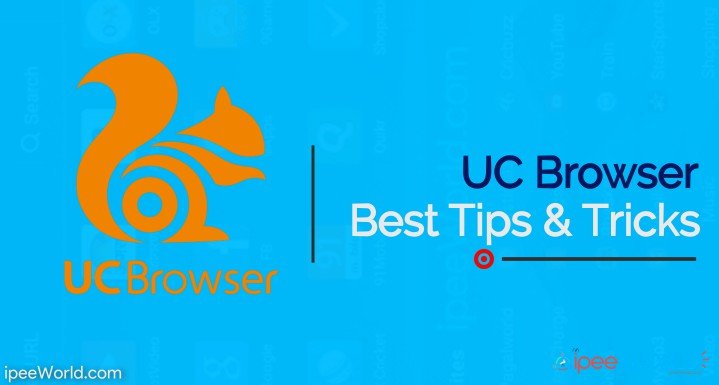 Today in this article I will show you the best UC Browser Tips and Tricks to make your Internet Surfing even easier. The majority of UC Browser users are not at all aware of this cool UC Browser Tips and Tricks. Som this article is exclusively for those who don't know the hidden features of UC Browser. So, with that all being set, let's quickly jump into the article and continue.
Startup Homepage with shortcuts to many popular Websites:

UC Browser Tricks and Tips
Many of the tips mentioned in this article will be something new for you and will increase the efficiency if using UC Browser for sure.
Download UC Browser
1. Block Ads
You may have noticed some websites with full of damn ads, Only for making money and not for serving readers well. In such situations, we will be fed up with bad and ugly ads or other kinds of self-installing apps, too. Sometimes these Ads automatically change our Browser settings and Change Homepage to a different Website.
In this case, the UC Browser helps us a lot for getting rid of damn ads and make your surfing so thrilled. You can activate Ad Block from the settings of UC Browser. Next time onwards you won't see any annoying Ads anymore.
To activate Go to Tools > Ad Blocker and Enable it.
2. Snapshot Feature
Sometimes you want to take screenshots of individual web pages for sending it to your friends or for another learning purpose. Usually, anyone can take a full screenshot by pressing power and volume down button and lollipop users can take a part screenshot by the menu at the top.
But what if you want to do some quick basic editings, Then go with Snapshot options, This option let you capture a screenshot and do basic editing. You can also add funny characters and other text on the captured image before saving it.
To take a Snapshot or Screenshot only go to Tools > and Click on Screen Shot option. Now you can crop and select how many portions you need in the screenshot, Now do basic editing and send to your friends or someone.
3. Night Mode
Oh, man. Ever loved feature from UC Browser, This only feature itself make me an addicted user to UC Browser. You more or half time and I use mobile to surf the internet at night. So there won't be any light when doing it in the evening so in this situation looking and reading the text in high contrast and brightness will lead to severe eye problems.
So make use night mode feature from UC Browser, This option will automatically make backgrounds black thus save your eye from severe eye problems.
To enable Night Mode, Click on three horizontal line icon at the bottom of the page and click on the Night option.
4. Variety of Themes
Customization is another part that is fascinating. In UC Browser you can change the theme of the layout, Change background and add a new one, Adjust contrast and brightness, too. You can use your Images and Photos taken by you or downloaded from the Internet as background. I have changed the background to a custom one, and you can see it in the Preview screen above.
For adding background you can use an image with you or even you can use best images from UC Store itself for free,
To activate a custom theme, all you want to do is click on the three horizontal line icon at the centre bottom of the page and tap on Themes option. Now choose a theme you like the most and change to it.
5. Use Desktop Website mode in Mobile
Sometimes we want to view a Website in Desktop mode so that we can have the much elite edition of the Web page. In such a situation, UC Browser can help you. Google Chrome for Android has this feature. In this same way, UC Browser also has the same characteristic.
6. Speed Dial Option
You may have noticed that by default there are some websites shortcuts the in the start page of UC Browser. If you want to, you can add a new one by removing the old one by long-pressing an icon. Now enter website address and name to configure it. This feature comes in handy when you regularly want to visit a site for an update like Gmail or something. So, you can visit your favourite site within just a tap. You can add any of your favourite Websites to this shortcut list and access it with a single tap.
7. Social Sharing
If you do like a website very much and want to share it with your friends you can do directly share it with UC Browser.C lick on the share button and choose the medium for sharing that's it.The specific page you shared will start to appear in your social profile timeline. Not all website will have a sharing option enabled in it. In such a situation, you can use the built-in feature of UC Browser to share a Webpage on your Social Media Profile with a single tap with this share option in UC Browser. With UC Browser, Sharing made simple.
8. Search For Any Word In The Page
Do you know that you can find a particular word in a webpage on UC Browser? Suppose you are trying to find a word in the page(Let it be your roll number of some exam you were written, now you are searching online for the rank) It will take a lot of time to find a Word by going through the whole page manually. That's where this feature in the UC Browser for Android comes in handy.
9. QR Code Scanner
Suppose you want to scan QR Code of any product, you can easily do it with your very own UC Browser. UC Browser has the QR Code Scanner option in it so we can scan any QR code to find information in it.
To access QR Code Scanner in UC Browser, simply go to the Tools Section > Select QR Code Scanner.
10. Save any Website
UC Browser also got a feature to save any of your favourite Website into your Mobile. Once you have saved a Website page, you can use it in Offline mode. No need to connect to the Internet Again. A thunk that you got access to Wifi for some time and you want to read an article on a website. So, you can save that page in UC Browser and access it later.
To save the page for offline reading go to, Tools> Page Save
Note: To access the Tool page of UC Browser all you want to do is just tap on the three horizontal lines at the bottom of the page and swipe to the second page, there you will find an option called Tools. Tap on it, and you will be taken to the Tools page of UC Browser.
Final Words
So, these are the top 10 best UC Browser Tips and Tricks, Hope you guys enjoyed this article. Share it on Facebook, Twitter or anywhere you like and let your friends, too know about this secret tips and tricks.