YouTube is the largest Video Sharing site on the planet and is one of the best platforms with all the features that you will ever need. It's equally focused on Creators as well as regular viewers. On average, almost 5 billion videos are watched by different users from all around the globe. The platform is currently having move than billion+ active monthly users and that's definitely a huge number. For some reason, if you are looking for some good YouTube alternatives then this article got you covered.
With the recent policy updates, YouTube has made it hard for content creators to monetize YouTube Videos and they have imposed strict rules and regulations for it. Now it's a pain for Content Creators to keep up with their terms and who knows when they introduce a new set of terms. It's a nightmare for YouTubers out there. This is the situation where people start searching for Site Like YouTube with similar or better features and options.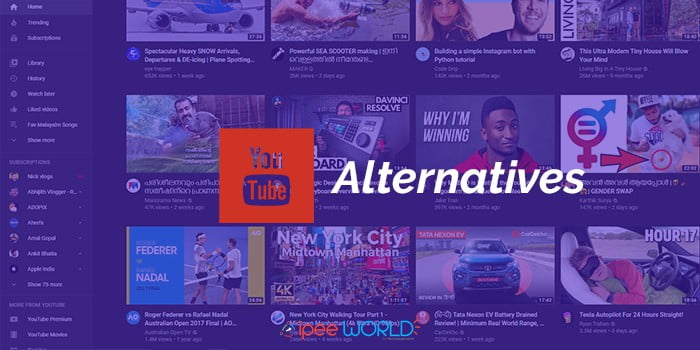 If you are someone who is looking for some amazing site like YouTube with almost the same or better features then this article is just for you. The list is categorized in no particular order. You can go through all of them and find the one that you feel is good. Even there are sites with the same YouTube-like interface with little or no difference at all.
Read: 10 Best CouchTuner Alternatives
Free YouTube Alternatives
Here is the list of best YouTube Alternatives for video content hosting and streaming.
1. Dailymotion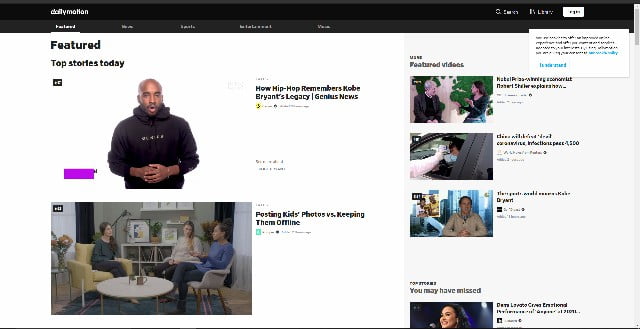 Opening up Dailymotion, at first, you will be taken to the features section page where you will find top videos for that particular day. It is more like a blog styled website on the homepage but you have all the necessary features that you will ever need. On the top navigation bar, you have options like Login, Search and Library. The UI of the website is not that similar to YouTube but it's really good and it is easy to find and explore new videos.
The copyright policies of this streaming website are not that hard as YouTube, so it's a relaxation over there. The rules and guidelines are also not that much of a big deal. If you are a content creator then you can have peace of mind while uploading your videos and all that. As of now, Dailymotion lets its users upload a maximum of 60 mins length videos of max 4GB in size at 1080 resolution. These limits are more than enough for regular users. If you want to upload content longer than I hour then you will need to split the whole video into parts and then upload it differently.
On the homepage, you can find trending videos and featured videos in your particular region. It will tailor your view according to the country you visit. The web player is good and you will find other related videos underneath the original video and there is no sidebar video suggestion like one on YouTube.
2. Vimeo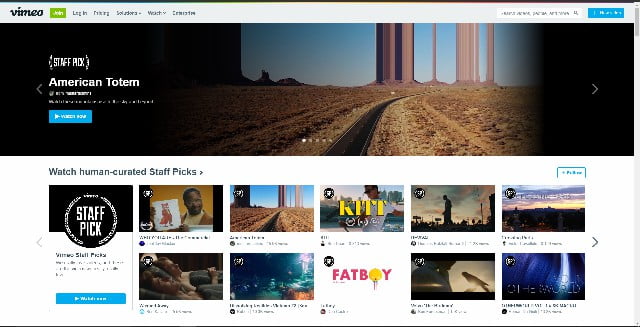 Vimeo is a video streaming and hosting site specifically focusing on Professionals from any fields like Film making, Music, etc. The main moto of Vimeo is to let you showcase your work to the world. Vimeo is not a regular video sharing site where you will find random videos about anything. It is more focused on publishing quality content from original content creators. As a matter of that, there are certain guidelines imposed by them.
Vimeo works like the Freemium model for content creators. You can start a free account and start uploading content, no issues there. But there is a limit of 500MB size per week in the free account and if you want to expand the size limit then you will have to pay them monthly. The base plan starts at around $7 per month and lifts the size limit from 500MB to 5GB, making a total of 250GB video content for a year. If you are are an intense user then you can also take a look at their higher plans with no limits at all.
Vimeo lets users upload HQ 4K videos with support for HDR. The original quality of the video is preserved here. It's really good for videography related people to show off their work without any quality loss. Viewers can donate to the creators and that way you can make money. Ads also supported.
Read: Watch Movies Online
3. DTube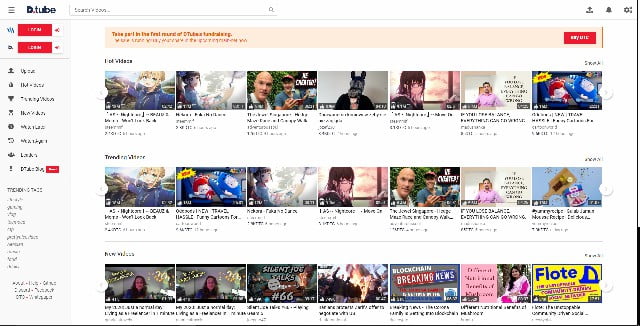 DTube is something very similar to YouTube in terms of the user interface but not the way it works. At first, when you visit the website, the layout, color scheme, and overall UI look pretty similar to that of YouTube. The sidebar, video tiles, upload options, account settings, all look pretty similar. On the homepage, you will find recommended content for you, apart from that they have a trending page and watch a later section similar to YouTube where you can add videos to watch later.
Dtube is a decentralized website with an emerging blockchain-based system. You will find little or no ads in this platform yet has flexible options for uploaders and viewers make earnings. Firstly, you can upload videos to DTube and get rewarded for the same in Dtube rewards. If you are a viewer, you also get a chance to earn money by commenting on videos and that you can increase the engagement for sure.
All the rewards are based on Steem cryptocurrency and you can convert it for real money.
4. Facebook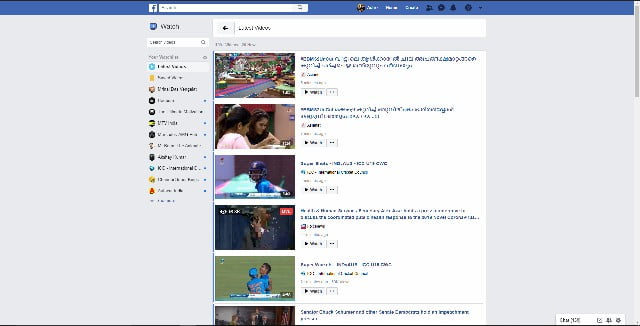 Yes, you heard it right. Facebook is the largest Social Media site out there. Apart from Images and Status, Facebook is a huge library of video content, too. After the introduction of Ad Breaks for Facebook videos and Facebook for Creators, the video side of things got active on FB. Now a lot of people upload quality videos to Facebook and make passive income from it. Facebook is also concentrating on Videos now more than ever and has become one of the best sources to watch videos on demand.
People upload different sorts of content to Facebook and just with a Facebook account, you can also watch it from anywhere. If you are a content creator then you can upload your videos, show ads and then earn money from Facebook videos. As a viewer, it is a great platform to watch videos and get rid of your boredom. You can follow your favorite creators and get updates from them in your notifications panel.
5. Metacafe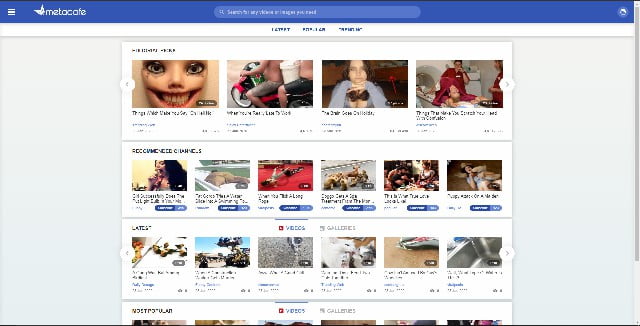 Metacafe is a short video sharing platform that focuses on sharing videos that are less than 90 seconds in duration. This site is for everyone who wants to spend their time watching funny videos or short videos that are informational. The quality of the videos available in this platform is not that great and you often get misleading videos that are clickbaity. The UI is good and you can navigate around the site without any problem.
6. Veoh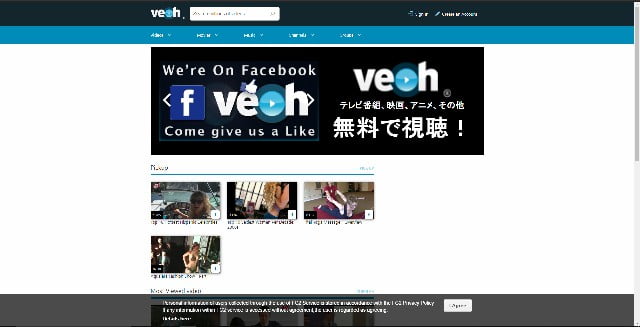 Veoh is yet another YouTube-like site with plenty of features and options for viewers and video uploaders. For video uploaders, you don't have a length limit. You can upload videos of any duration and that won't be a problem at all. From a viewer point of the side, you can find high-quality full-length content for free. You can even find full movies online without any restrictions and that too for free.
The web player of Veoh is also pretty nice and the best part is that you can embed it on any website using the embed code and watch contents from Veoh player directly on other websites. Apart from all these from the web player you can select the quality, get the link, and even rate the video on 5 stars.
Read: Best Wayback Machine Alternatives Sites
7. Internet Archive Video Collection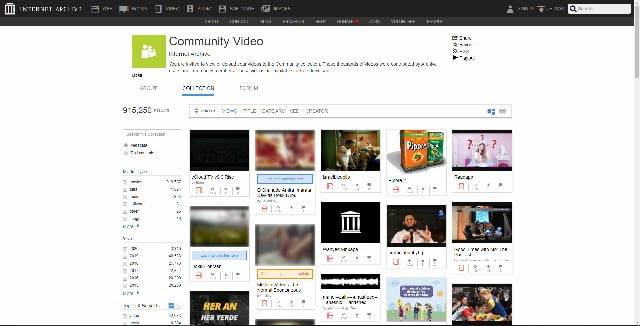 Videos section from the Internet Archive is one of the best sites to get old movies, videos, tv shows, series, etc. You can get all these contents for free. Internet Archive is a community-supported platform and pretty much anyone can upload any sort of videos to the platform and publish it for viewers. You may not find new content as of now, the majority of the content on the Internet Archive will be old, but you surely videos on any relevant topic you are searching for.
8. IGTV – (App Only)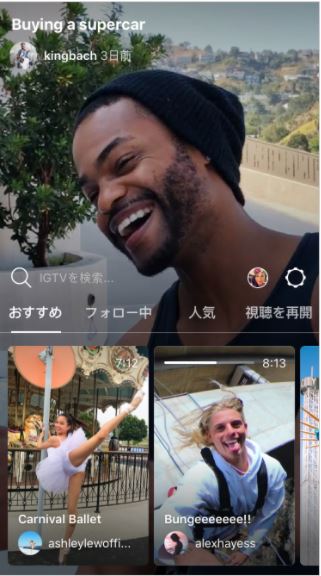 If you are an Instagram user, then you might already know about IGTV. IGTV is a built-in video streaming platform built right into the Instagram app itself. One thing to keep in mind is that IGTV is specifically designed for smartphones and tablet devices, it might not perfectly fit desktop computers. But that doesn't mean you can't use IGTV on a computer. You may want to use Android Emulator to run IGTV on a PC.
Things are pretty similar to YouTube, anyone with an Instagram account can upload videos to IGTV and share it. Visiting the profile will show you the entire list of videos uploaded by that particular person.
Download Instagram app to use IGTV on your smartphone right now.
9. 9GAGVideo

9GAGVIdeo is yet another video streaming platform similar to YouTube with millions of users all around the globe. You will find some amazing videos on 9GAG for sure. The best part is that it comes with a mobile app for Android and iOS along with the website version.
9GAG is not specifically a video sharing platform. But it comes with a dedicated space where you can find tons of videos. Along with videos, you can also find some cool multimedia content as well.
Conclusion
These are some good sites like YouTube that you can see as a perfect replacement for YouTube. Whether you are a content creator or regular viewer, if you are looking for some YouTueb alternatives then these are options that you can consider. In terms of quality and userbase, no other platform directly competes with YouTube. But, if you still want to move then you can have a look at our list of similar sites like YouTube.