If you have a smartphone, I bet you that you also have installed WhatsApp on it. Not only you, but there are also billions of users are using WhatsApp to being connected with their friends, Family, and relatives. WhatsApp is world's most massive Messaging App which can be found on any Android/iOS smartphones easily. The reason for loving WhatsApp by a good number of users is that it is fast, secure and easy to use.
If you are one of the users of WhatsApp, read further this post. I have come with a new WhatsApp Hack. By which you can send blank/empty messages to your WhatsApp friend and prank them. Isn't it cool? Ready to prank them? Continue reading- Recently we also share some tips and trick on WhatsApp like Deleting a Send WhatsApp Message, Download GBWhatsApp and Send Any Files with WhatsApp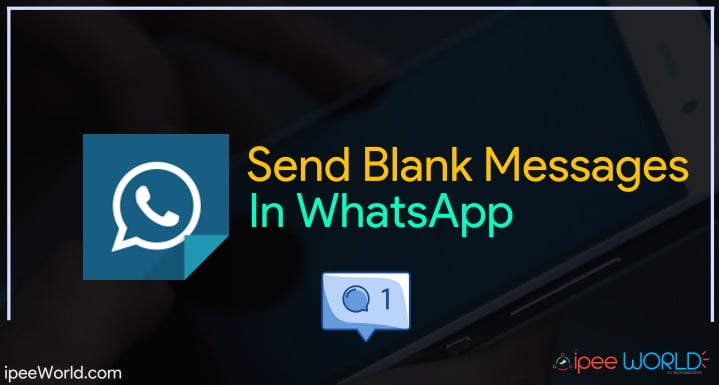 So, Guys, There are two methods available on this post, You can try this hacks to make fun of your friends using any of the methods. Bet me you'll love both methods.
[With App] Send Blank messages in WhatsApp

[Without App] Send Blank messages In WhatsApp
Both methods are working fine, So don't need to have a headache for an outdated way.
With these methods, you can prank your friends easily. They will wonder that why they are getting blank messages from you. They will ask for it. Just say them that you have sent them a correct message. It is a bug in your WhatsApp, Please Uninstall it and Download again from Play Store. :p
If you are perfect WhatsApp freak, also do check out these Cool WhatsApp Group Names
How to Send Blank Messages In WhatsApp
Here I am sharing two methods. You can try both. Both Ways are easy. You have just to follow the steps.
First Method [With App]:
To use this method, you need a third party app called "Empty." Download this App from play store and follow the below steps-
Download and Open the App- Download Empty App from

Here

You'll see a Sending button on it, click on it. (See the Picture below)

Choose your WhatsApp contact which you want to send empty messages. You can see empty space in the picture below.

Now, Simply Click On Send Button.

It is very easy to use. The second Trick requires notepad for a while.
Second Method[Without App]
This method working on WhatsApp Web. if you are using WhatsApp Web only then WhatsApp will not identify an unidentifiable character.
In this method, you need to type an unidentifiable character to send bank message to your WhatsApp friend. Here in these steps, mentioning an unidentifiable character. It can not be identified by WhatsApp. Follow below steps-
Copy this Character in double quotes-

" ﱞ"

Now Open your WhatsApp Web. Select a person or group where you want to send an empty message.

Just Paste the character. (Make sure your removed double quote)

Now you can see that sending button is enabled as shown in the picture.

Now hit that Send button.

Your message will be sent.
Note: Once you send empty message, you can do it in your Mobile WhatsApp. Just Copy the empty message on your phone and send to other 😉
Do this trick and be smart among your friends.
Final Words:
So, guys, this is one of the most used methods to send blank WhatsApp messages to anyone. This trick comes in handy whenever you wanted to prank your friend or just want to talk nothing 🙂 Hope you loved this WhatsApp Hack. Now prank your friends by sending them blank messages. They will surely wonder about empty messages. These methods are completely safe. You can send messages as many as you want. Be sure to share this article with your friends on any social media and also be sure to comment down below, if you have any doubt or suggestions to put forward