Trace Mobile Number: Do you want to search and find the details of Mobile Number, Trace them or even find the details about the Owner? Is yes, continue reading.  For many reasons, we want to find the name and details about the actual Owner of Mobile Number. If you have the Mobile Number with you, then finding details about it is not at all a tough task. For this trick, all you need is the Mobile Number.
In my case, One of my friends was messaging me in WhatsApp without revealing his real Identity. I too, don't know who it is. He was actually chatting with me on WhastApp and was telling each and every information about time. That time, I understood that it was one of my friends. When I told the same to him, he challenged me to find him. After doing a little bit of research, I did found some working methods to Trace Mobile Number with Owner Details. I messaged him with every Data I got and he just got shocked.
India is one of the countries with most Mobile Users. within a few years, India will be the top country to have Most Mobile users. Major service providers in India are Idea, Vodafone, Jio, BSNL, etc. There may be situations where you want to find the details about a Mobile number. This trick is especially for who are trying to Trace Mobile Number with owner details as well.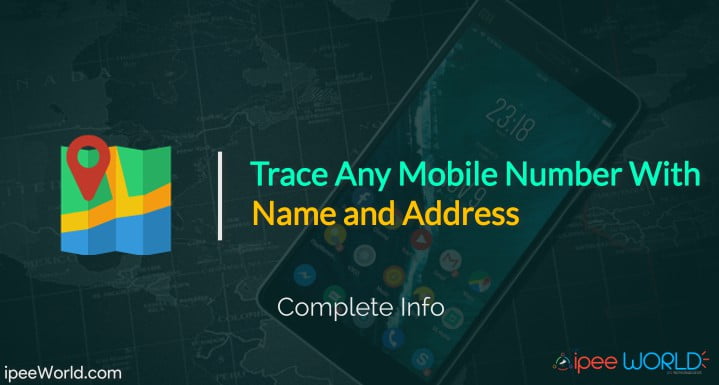 How to Trace Mobile Number Details With Name & Address?
Below, I'm sharing few among the top working methods to Trace Mobile Number. You may be receiving hundreds of Calls daily. You may not have everyone's number in your device. In every country, the number of Spam Calls a day is being increased. Many spammers simply call at our mobile number and simply misuse it. Do you want to find the real person behind number with all information in it?
All you need is just the Mobile Number, If you have the Mobile Number with you, then tracing the information about that particular Mobile number is just a piece of cake.
With that all being set, let's get started. 🙂
TrueCaller
The first method in this article is with the help of TrueCaller. Some of us will be using TrueCaller on our smartphone. TrueCaller helps us to Check Name, Owner Name, etc details about a Mobile Number. Their Application is available for all leading OS like Android, iOS, Blackberry, Windows and even Symbian. If you are a user who is using Laptop or Computer, Don't worry, they have their Official Website as well. Website too works like Mobile App that helps us to trace any Mobile Number.
Now you might be wondering How Truecaller can Trace Mobile Number? At least 7 out of 10 Smartphone users will have TrueCaller installed on their Phone. Some leading manufacturer also pre-install the App into the phone, so TrueCaller will be there right out of the Box. When a person who has TrueCaller installed in hid device, Saves a Number to his device. That number will be transferred to TrueCaller's server. Now anyone having the mobile number can search the TrueCaller database and sort out details about a Mobile Number. And, of course, they are 100% legal as well.
1. Visit TrueCaller's Official Website
2.  From the Drop-down menu, select the country you are from.
3. Enter Mobile Number in the field provided.
4. Click on the Search button.
5. Now a popup will ask you to Login/Register (Simply click on the Login with Google button to instantly Login to TrueCaller)
Boom! All the Information about that particular Mobile Number appears on the screen.
Note: Those who are not interested in having your number on the TrueCller's server then you can go this page and remove your number. We cannot find details about people who have removed their number from TrueCaller, So we will try alternate methods.
Site2SMS
Site2SMS is a popular website for sending unlimited Free SMS to any Mobile Number. You are not required to pay anything in order to use their service. If you are not having enough balance (Free Recharge Apps) to send SMS, then you can use this service. Along with SMS they also provide Free Calling option too.
Site2SMS is another great platform trace Mobile Number with Owner details. And that too, for Free. All you want is just the Mobile Number
Enter the Mobile Number in the place provided
Click on the Trace Mobile Number button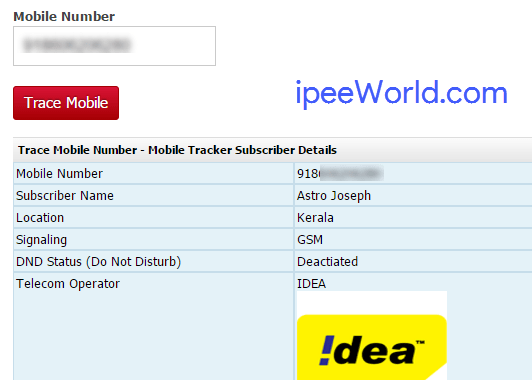 Now the information about that specific mobile number will appear on the window.
FindAndTrace
FindAndTrace is a unique web-based software specially made for Tracing Mobile Numbers with owner details. Unlike any other website, This one gives a number of information about a single Mobile Number including Name, Operator, Telecom Circle and what not?
Other than Tracing Mobile Numbers, FindAndTrace can do a number of other things as well. some among them are:
Features you should Consider:
Trace Mobile Number
Trace Vehicle
Find Pincode
Trace Landline / Directory
Trace Bulk SMS sender
Find STD Code
BANK IFSC CODES
Mobile numbers database
Owners / Callers Name
How To Trace Mobile Number?
1. Visit FindAndTrace website
2. Enter the Mobile Number and Click on Submit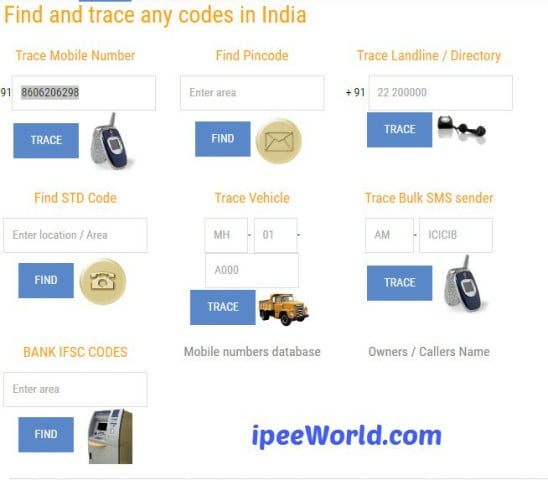 Voila!! All the information about the specific Mobile Number will be displayed.
India trace
IdiaTrace help you to trace any mobile number with exact Map. Once you enter the Mobile Number to the field provided, information about the number will appear on the screen. Information from Operator to Map are available on Indiatrace.
Visit Indiatrace Website
2. Enter the Mobile Number
3. Click Submit button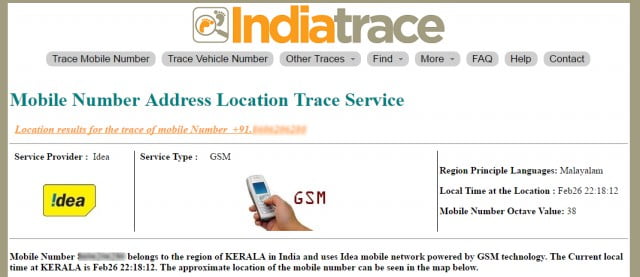 Now all information will be displayed.
BharatiyaMobile
BharatiyaMobile is another great website to trace mobile number. Other than Mobile Number Tracing they have another wide variety of services too.
Trace Mobile Number
STD Codes
FM Stations
PIN Codes
Vehicles Trace
Trace IP Address
Go to BharatiyaMobile website
2. Enter the Mobile Number in the space provided
3. Click Trace button

Details about that particular number will appear.
So, guys, these were the most popular yet working free Mobile Tracing services available. Apart from these websites, There are numerous other websites claim to Trace Mobile Numbers. Some of the other websites used for Trace Mobile Number are:
Other Services:
Wrapping Up
So, These are the top working Free Mobile Number Tracing Websites. You can use this wbsite to Trace Mobile Number and find information regarding the owner Telecom operator, Telecom Circle, Type of SIM, Exact Location on the Map and much more stuff. These free services will help you to determine whether a phone clall is fake or not one.
Share this list with your friends onFacebook, Twitter, G+ or Wherever you like. Comment down, below your suggestions about this article.