This Copy Of Windows Is Not Genuine is one of the most frequently met problems while using the Windows Operating System. I get tons of messages asking which are the OS that I am primarily using and Which is the best OS to et started with? Windows, macOS and Ubuntu/Linux are the most popular OS available. In these three OS, I will surely recommend Windows to anyone asking me the same question. Now, Why Windows and not MacOS? There is a couple of reason why I opt Windows, 1. Apple officially does not distribute any version of macOS to install in PC (Find How To Install macOS in PC) and Windows os the most flexible yet good Operating System that I have used in my life. macOS is exclusive for Mac and Macbook users and not for common people. And again macOS is not that flexible compared to Windows as well. (I Will only suggest Windows to Newbies, Mac, actually is really awesome, If you start using it, you will really love Mac OS as well.)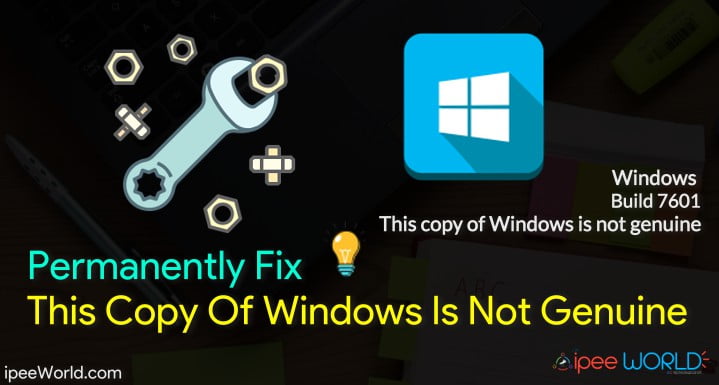 Read: Best FREE Video Players for Windows PC
I know it's annoying for each and every user who encounters with this copy of windows is not genuine error. Today, I am writing this article to help everyone who is facing this error in the Windows OS. This Error usually occurs in Windows 7 Operating System, So, you guys might be tired of hearing Windows 7 not genuine error over and over again. So, this tutorial is for all who face this copy of windows is not genuine and Windows 7, not genuine error. Windows 7 users with Build 7600 and 7601 often come across this error. So, let's see How to Permanently Fix this copy of windows is not genuine error in Windows.
Effect of This copy of Windows is not genuine Error
After you came across this error, you guys might have observed some gradual changes in your Computer, right? Let's see what are them.
You cannot Change Wallpaper of your desktop
No Customization option
Makes Computer/Laptop soo lazy and Slow.
Often PC gets hanged.
A Small "this copy of windows is not genuine" error message at the bottom right portion of the screen.
If you try to watch a movie, any video or view any Photo, then the Watermark will be there throughout
Error Screen Preview: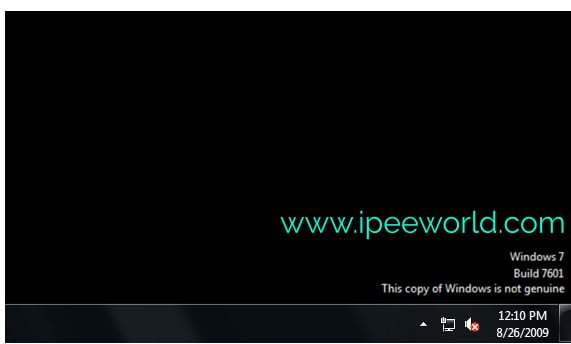 Read: Disable Microsoft Compatibility Telemetry to Fix High Disk Usage
How to Fix "This Copy of Windows Is Not Genuine" Error
Below, I am listing working 3+ Methods to get rid of How to Fix "This Copy of Windows is Not Genuine" Error or windows 7 not genuine error. Read them carefully and follow the instructions to get rid of them instantly.
This Copy of Windows is Not Genuine – Fix with SLMGR -REARM Command
Step 1: Go to Windows Search and type CMD. If you are using Windows 8 or 8.1, then Go to Charms Bar > Click on Search > Type CMD > Right Click on CMD and Click on Run as Administrator option.
You can also press Ctrl+R to open Windows Run, Type CMD in Run Box and CMD will open immediately.
Step 2: Now, Right Click on CMD and Click on Run as Administrator.
Now, the CMD (Command Prompt window will open). Make sure that you open CMD in Administrator mode, or else it won't allow us to make changes to system files.
Step 3: Once CMD is opened in Administrator mode, simple type SLMGR -REARM (If this code doesn't work, then also be sure to try SLMGR/REARM) and press enter.
Step 4: Now you will get a message to restart your PC to changes to take effect.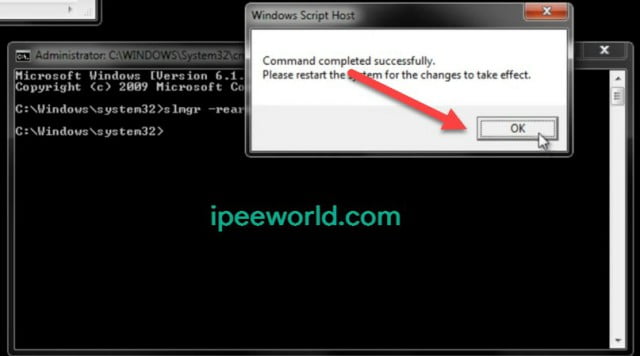 Step 5: Now Restart your computer and See the Change.
Step 6: Once, you restart your computer, You will observe that the error has now been fixed.
Fix Windows 7 Not Genuine – Uninstall Update KB971033
Here, in this second method, we are going to remove a Windows update in order to fix Windows 7 Not Genuine error. You can easily remove the component by following the instructions below and hopefully it should work for you.
1. Open Control Panel
2. Go to Programs > Programs and Features and on the Left Side Bard click on View Installed Update
3. Now, See if there is any KB971033 Update listed in the Update list.
4. If you found one, Right Click on it and click on Uninstall
5. Now, Process by clicking Yes
6. Restart your computer/ Laptop and see the changes.
Now, you have successfully fixed Windows 7 Not Genuine error.
Method 3 – Deleting slui
1. Go to Windows installation Hard Drive (Usually C)
2. Go to Windows > System32.
3. Now, search for slui file.
4. Once found, delete it.
5. Click on Continue Button.
6. Open CMD
7. Type slmgr– rearm
8. Hit enter.
9. Restart your Computer and Here it goes.
Final Words
I hope you guys found this article useful and helped you to fix This Copy Of Windows Is Not Genuine. Above mentioned are the working method for fixing the Windows 7 Not Genuine error in less than 3 Minutes. It is really annoying to the error message every time we log into windows. And after a specific period of time, it will start to show Warning Messages as well.
Once you implement any of the trick mentioned above, The Watermark will disappear and you can start using it before. If any method doesn't get it right for you, then go with the other methods mentioned in the article. It will surely solve your problem. The Error This copy of Windows is not Genuine commonly appears in the Pirated version of Windows. Windows is proprietary software and try to use the Official version from Microsoft and don't use any pirated or counterfeit Edition
So this is how you fix it!
Be sure to share this article with your Friends on Facebook, Twitter, G+, WhatsApp or anywhere you like.
Comment down below, if you face any problem or your doubts.