Vizio has some excellent TVs with support for streaming applications and various smart features. But sometimes, Vizio TVs run into issues like TV producing no sound output.
It is now a prevalent issue faced by many Vizio TV users. If your Vizio TV sound is not working, this article is for you.
I have found some fixes that will quickly help you fix sound issues with your Vizio TV.
Why Is My Vizio TV Sound Not Working?
Sound issues are not isolated when it comes to Vizio Smart TVs. There are several common reasons why sound output might fail on your Vizio TV. Let's look at them.
Software Glitch
Most of the time, the sound is not working on your Vizio TV because of some software glitch. It can be easily fixed by a soft reset or sometimes a factory reset.
Outdated TV Software
Another common reason speakers fail to work on a Vizio TV is outdated TV software. If some issues or bugs are present in your TV's operating system's current version, then issues like sound problems will arise.
Broken Speaker
A faulty speaker ends up producing no audio on Vizio Smart TV. High-voltage fluctuations, broken speakers, etc., can cause speaker failure.
TV Hardware Failure
Several other supporting hardware components need to function correctly for your TV speaker to work. If some of those components fail to work, Vizio TV might not have sound.
How To Fix Vizio TV That Has No Sound
The simple solution to fix a Vizio TV with no sound is soft resetting it. Unplug your Vizio TV from the wall socket and wait for a minute. Hold the power button for 45 to 60 seconds before connecting it again. Turn on the TV, and the sound should work now.
Now let's discuss multiple detailed methods to fix a Vizio TV with sound issues.
Soft Reset Vizio TV
Soft resetting your Vizio TV is the easiest and must-do thing if the sound doesn't work. It is a simple process by which we eliminate temporary software glitches that might be stopping your Vizio TV from giving sound output.
Firstly, unplug your Vizio TV from the wall socket.
Wait for about a minute, and press and hold the power button on your Vizio TV for 45 to 60 seconds.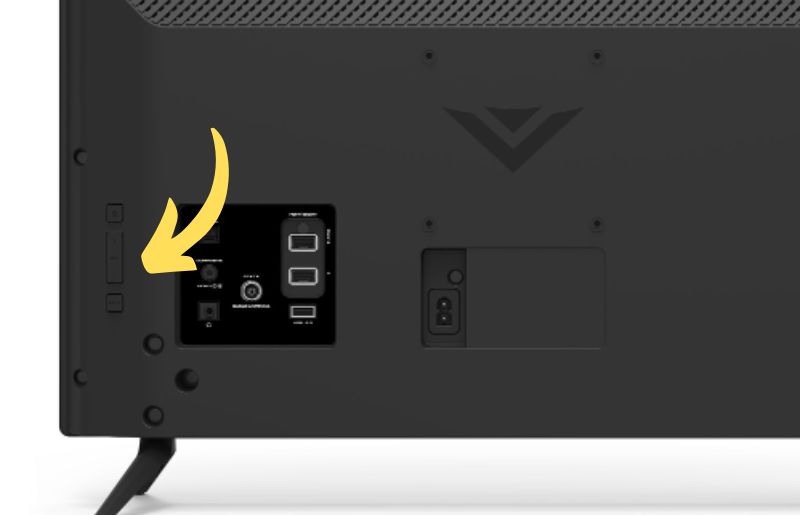 Now reconnect your Vizio TV and turn it on.
This should help you fix software glitches that stop Vizio TV from producing sound output.
Check Connections
Faulty cable connection and cable management can sometimes cause issues with the sound in your Vizio TV. You must ensure that the power cord and HDMI cable are correctly connected to your TV.
You need to remove both the power cord and HDMI cable from your Vizio TV.
Now connect the power cord to your TV and ensure it is snugged into the power port. Connect the HDMI cable and make sure it is seated well as well.
Sound won't work properly on your Vizio TV if the cables are not connected correctly. The simple fix is to remove the cable and connect it again. Make sure it's secured well, and there is no loose contact.
Check If Speaker Is Broken
If your Vizio TV's speaker is broken, the TV won't give any sound output. Well, there is a simple way to see if the issue is with your TV's inbuilt speaker.
If you have an external speaker, plug it into your TV and play some content. See if you can hear sound from the external speaker.
If you hear the sound from the external speaker, the issue is with your TV's speaker. You will need to take your TV to the nearest service center to get it diagnosed and repaired.
Update Your Vizio TV
Vizio TV automatically updates its software whenever a newer version is available. But at times, the automatic software update might fail. If your Vizio TV is running an older version of the operating system, there might be some bugs and other issues causing audio problems.
You must ensure your Vizio TV is running on the latest version. Let's see how to update your Vizio TV software.
Press the Menu button on your Vizio TV remote.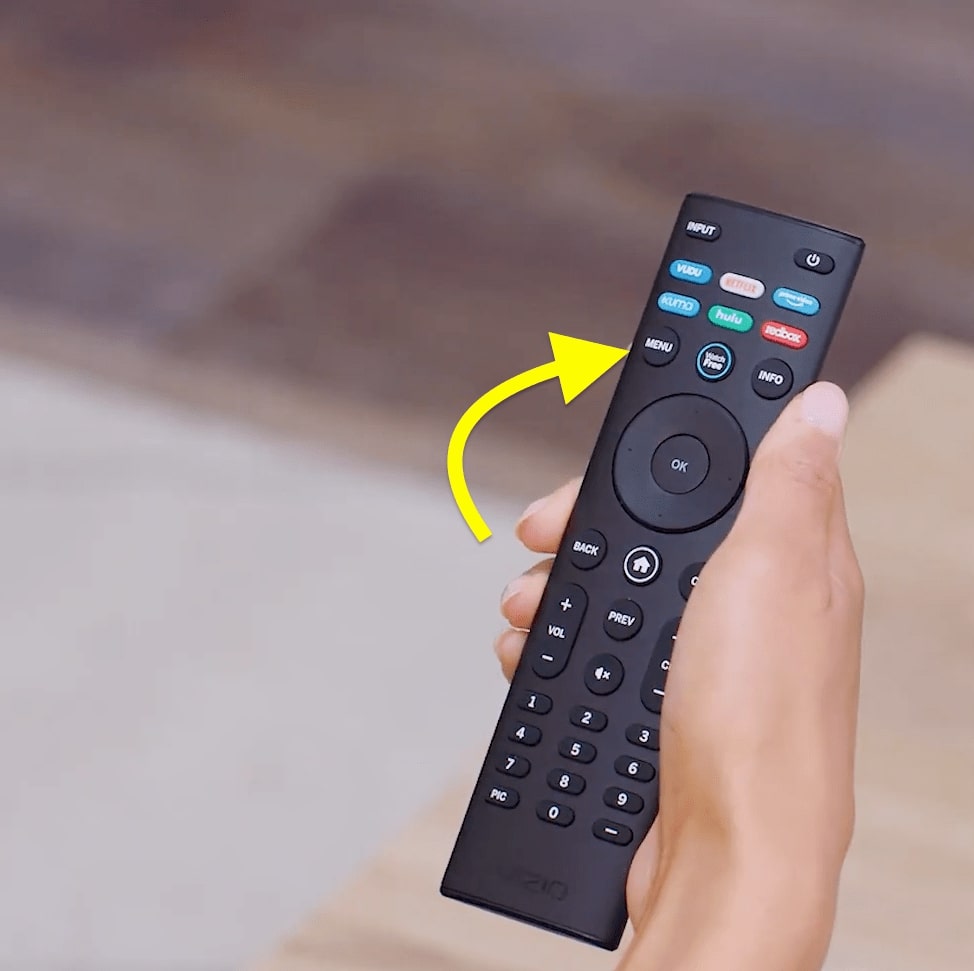 Scroll down and click on Admin & Privacy. (If your Vizio TV is a bit old, then it might be listed as System)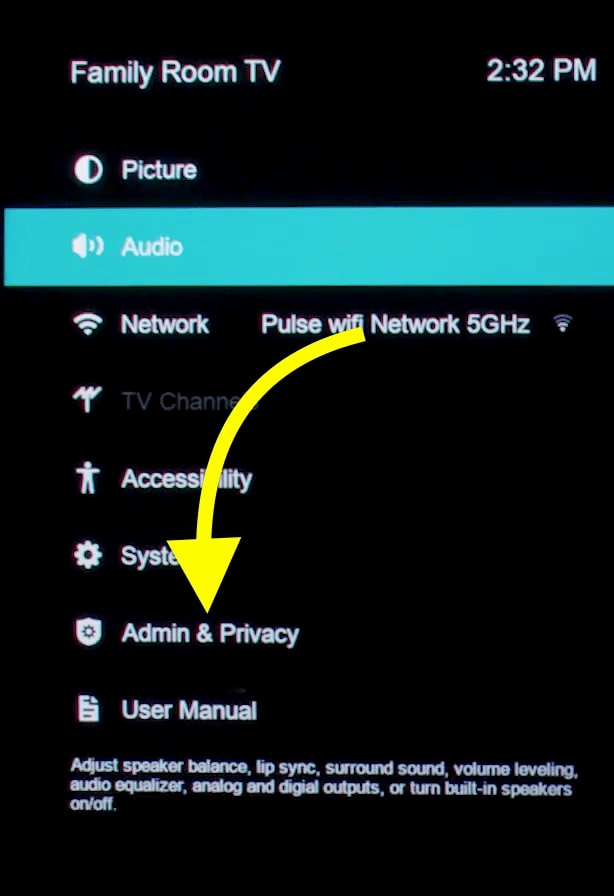 Under Admin & Privacy options, click on Check for Updates.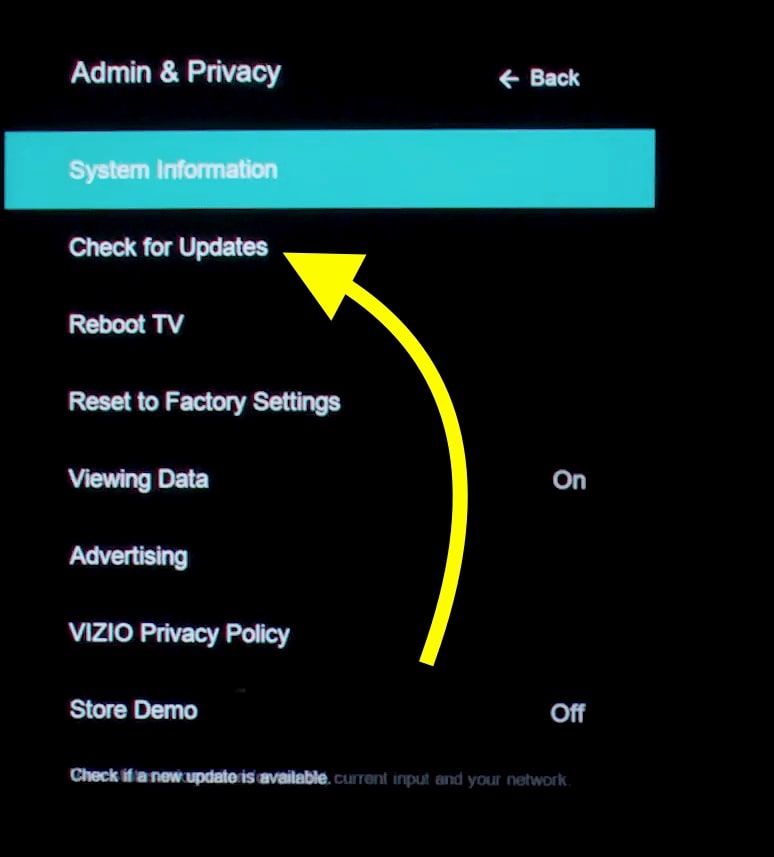 A popup will appear asking if you want to check for updates. Select Yes to proceed.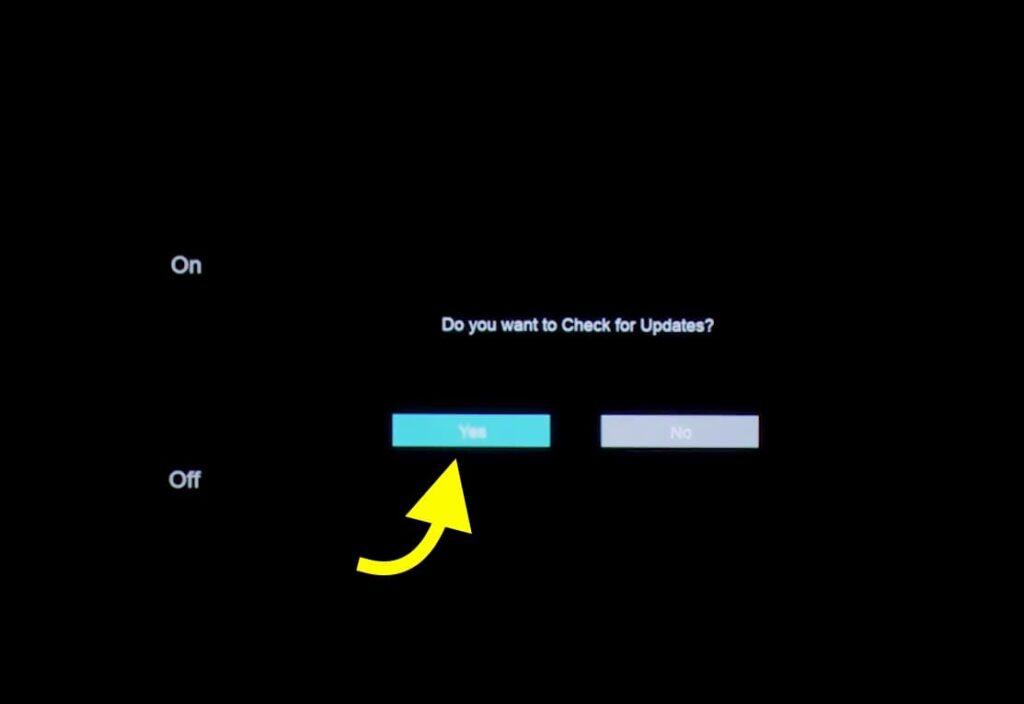 Wait for some time for the TV to find the new update. The firmware update process will take some depending on the Internet speed.
Do not turn off your TV during the firmware update process.
Factory Reset Vizio TV
Factory resetting your Vizio TV will clear all the custom configurations and set every setting to factory default. It is the last troubleshooting step if your Vizio TV does not have sound output.
Follow the steps below to factory reset your Vizio TV
Press the Menu button on the TV remote
From the menu, click on the second-last option, Admin & Privacy
Click the third option that says Reset to Factory Settings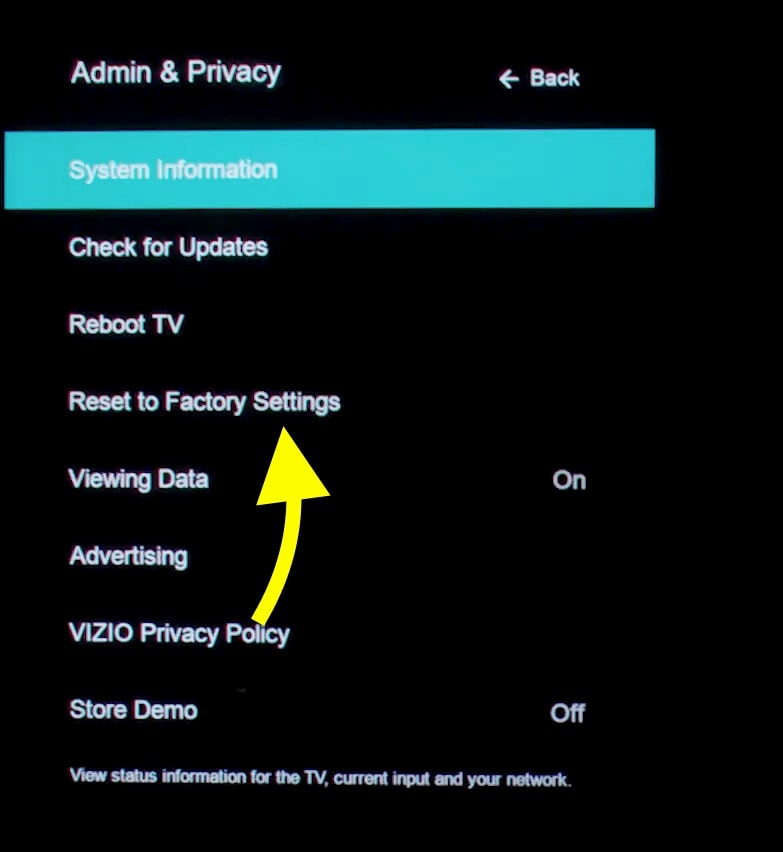 Wait for it to complete. The whole process will take several minutes to complete.
Once finished, you'll need to set up your Vizio TV from the beginning.
Get In Touch With Vizio TV Support
If none of the troubleshooting steps mentioned above helped you, our final resort is to contact the Vizio TV support team. Below are the ways you can connect with the Vizio support team.
U.S. and Canada: 844-254-8087
Mexico: 844-324-5953
Monday – Friday, 8:00 AM – 11:00 PM CST
Saturday – Sunday, 9:00 AM – 8:00 PM CST
Most Vizio TV comes with one to two years of warranty. See if your TV is still in the warranty period. If yes, you can get your TV repaired free of cost.
Conclusion
A soft reset should fix the sound-related issues in your Vizio TV. A factory reset should do the job if that doesn't fix it. If the problem is related to the TV's internal hardware, you will need to take it to the nearest service center to get it repaired.
I hope the troubleshooting guide helped you to fix your Vizio TV with no sound.