Hi Guys, I'm back with a new interesting Trick by which you can actually Create a fully functional WhatsApp Account with U.S(United States) Number that starts with +1 Country Code. This is a 100% Working Trick and you don't need any Real Hands On U.S Sim Card or Number for this trick. Yes, you heard it right. You can get US Sim Card which starts with +1 for absolutely Free. It is a virtual service, so you won't get the sim Hand on. But you can use it for any online purpose.
As I told you earlier we are creating WhatsApp Account with a US Number, So, of course, you need a U.S Registered Number, But How? Even if you are not a US resident, you can make use of this trick and Create your own Fresh new WhatsApp account with US Number. With this Trick, you can Fool your Friends by sending Messages from this US Account without disclosing your identity. Not only on WhatsApp but also you can use this SIM card to verify your Mobile number on any online website or social media like Facebook, Twitter, etc.
There are tons of Apps available in the Play Store that provide you Free US Numbers for Calling and Messaging. Numbers provided by most of the Apps found in Play Store are not working in WhatsApp Because they have blocked that serial numbers for some privacy issues. But at last, I managed to find an App called Primo. Primo App works well with WhatsApp without any problem. Now, without wasting any more time, let's quickly jump into the article and let's see How to Use WhatsApp with United States number that starts with +1 Country code. This all means of getting a free us number for WhatsApp at no cost.
Features of this Trick:
Free of cost
More Privacy
Create working WhatsApp account with +1 Country Code number
Create Fake WhatsApp account without Mobile Number
100% Safe and Working
Update – Now, this trick applies to iPhone users as well. I have added links for iOS users as well. 🙂
|| As per a lot of request Proof of OTP Verification has been added ||
How To Create WhatsApp Account With US +1 Number
Below, I am sharing the step by step guide you need to follow for getting a US Number and Creating a WhatsApp account with that number. We will first register the US Number and then we will verify that number for creating WhatsApp account. Make sure that you have working Internet Connection, Even to receive the OTP, you will need the Internet.
1. Firstly, Download the Application called Primo from Play Store using the link below.
   Primo – Android App     Primo – iOS App
(Download Link has been updated to the latest version in the recent update. As App UI has changed in the new update, All the screenshot below, also have been updated.)
2. Install and Open the app
3. Once Opened, it will ask you to register an Account, Just enter your real Mobile Number and click on the submit button.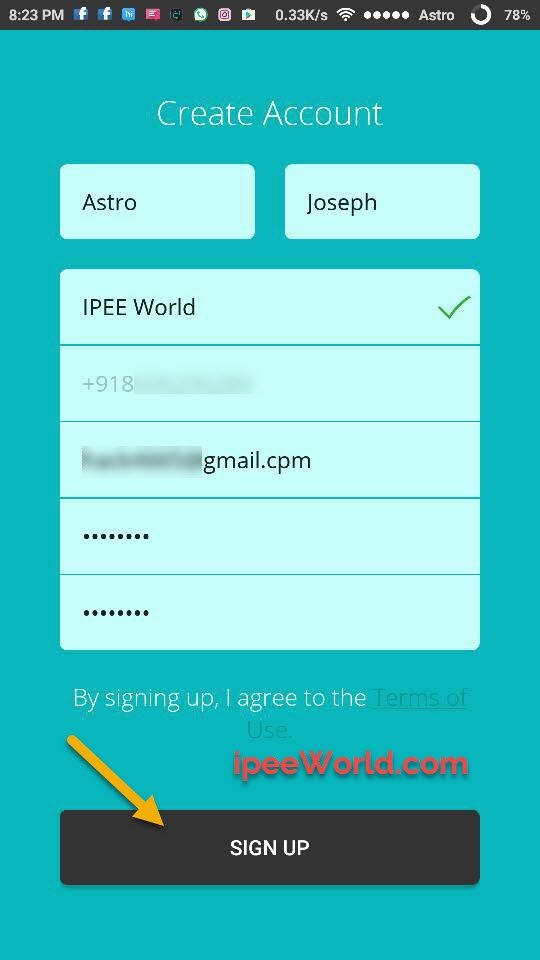 4. Enter the OTP and verify your Mobile Number in the Primo App.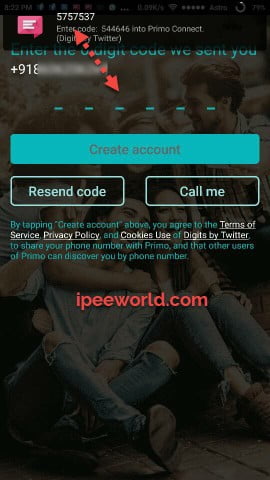 5. Complete the verification process.
6. Now, Click on the Activate button next to "Primo US Phone Number" option.
7. Now it will show a US Number, Just note it down or copy it.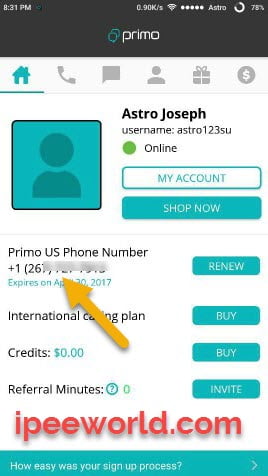 6. Note down that US number of copy it, We will need it in the next step for verifying it in WhatsApp with OTP or One Time Password.
Now, you might be thinking, Ohh! I cannot uninstall my current WhatsApp, but I need to use this US Number. What ill do I? Well, I got an answer to your question. Dual Whatsapp! Follow the tutorial mentioned in the below given link and learn How to install multiple instances of WhatsApp in a single phone.
Dual WhastApp – Trick [7 Methods]
Assuming that you have followed the article mentioned above and now you are using two or multiple WhatsApp on your smartphone. Then, proceed.
7. Install WhatsApp from the Link below (If not done already)
8. Install and Open WhatsApp.
9. Tap on "AGREE AND CONTINUE"
7.  Select Country code as +1 [select country as the United States] and type your US Number that we copied earlier from the Primo app and click on Continue.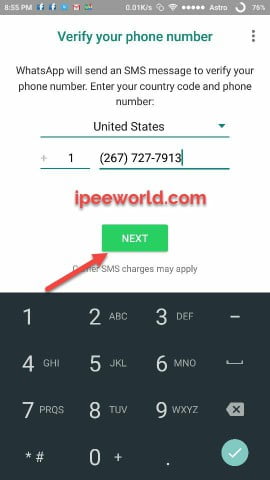 8. Wait for some time and you will see a "Call Me" option in WhatsApp, just click on it.
9. Now call will come to your Phone via Primo App from WhatsApp.
10. Attend the call and note down your Verification Code.
11. Now enter the Code in WhatsApp and verify your Mobile Number.
12. Once everything is Done, Set a DP and Name.
Now your Fresh New WhatsApp Account with US Number(+1) is ready to use. Start sending Messages to your friends from this US number and make them feel surprised. You can prank them until you tell them that it was prank 🙂
What Else Can You Do With This Number
This number can not only be used at WhatsApp but also on any other Online Websites or Apps. You can use this number to verify your account on Facebook, Hike, Snapchat or any other platform to create a free account with US Number.
The named Primo also has some great advantages that you don't know. Primo is not only for generating US number, you can use this Number within the Primo App as well. You can use Primo App to make a Free Phone call to any number with this US Number or Send unlimited SMS to any number you like. I use this awesome App to prank my friends. Since my friends can't find the actual person behind the number, I can prank them until I wish. Even TrueCaller are not able to detect this Number. Haha 😉
Method 2: textPlus App
So, As promised, I am updating the article with a new App,  A new method. By this, you will get free us number for WhatsApp, too.
The procedure will be pretty much similar to the method 1. I will guide you through the whole process of getting a new US Number of your choice from the App mentioned below.
Note – You are free to select and customize your number, Whenever you like you can delete your current Number and get a new number in less than a minute. You can select the location like whether to get a number based in Florida or somewhere else.
Download the App mentioned below and Install it on your smartphone from the Google Play Store – [Link below]
   textPlus – Android App     textPlus – iOS App
Install the App and Open it up
Click on Create New Account
Enter your Name, Mobile Number Email address, Password and Create your fresh new account.
Now, Click on the Account Options tab 
Tap on Get Your Free textPlus Number!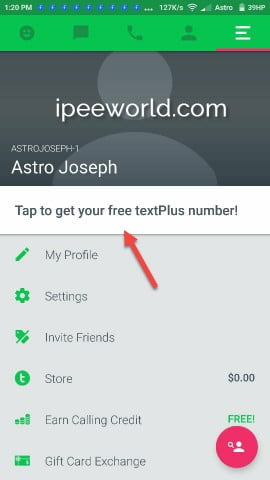 Now a customization option will appear, here, you can edit your number, choose your location of number (ie. Florida, etc) and select the number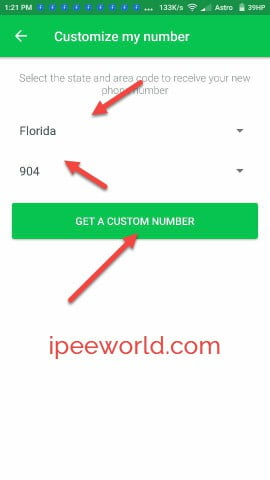 Now, you will see a popup with your brand new US Based Number.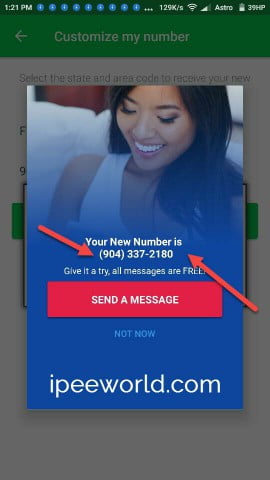 Copy the Number and Proceed to WhatsApp
Follow the guide above to know How to create a WhatsApp account with your new number
Proof:
Here is an example of Verification Code that I got while I tried to verify a YouTube channel with this number. (I was not having the WhatsApp Verification code, So, I am adding this as proof. Yes, it is from Google 🙂 )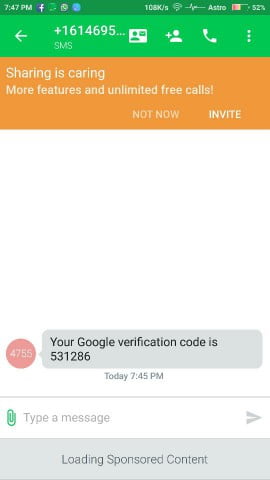 Final Words
Hope you guys found this trick useful. You can use the same Primo App for generating US Number, in case if you want to create a new account on any other website/App.
Now start sending messages from this number to your friends and make them confused. As mentioned earlier, You can also register on any Website or App to create accounts. Since we get SMS and Call to the Primo App, we can use it as our Secondary Mobile number as well. It has both Incoming and Outgoing, So it is a great app to try. So that' exactly how you get a free us number for WhatsApp or pretty much any other service.
Share this article on Facebook, Twitter, G+ or anywhere you like. Comment down below if you have any doubt/feedback.