We are almost done with DVDs and CDs. Nowadays, laptops and desktops do not even come with a DVD drive.
If you have some valuable DVD and want to copy it to your Windows or Mac computer, you have come to the right place.
Many wonder how to copy DVD on Windows 10/11 or Mac. Well, meet WinX DVD Ripper, a handy DVD copy software to rip and save a full DVD to your computer in less than five minutes.
In this article, you will find what WinX DVD Ripper is, its features, and how to use it to copy DVD to computer with maximum quality and less time.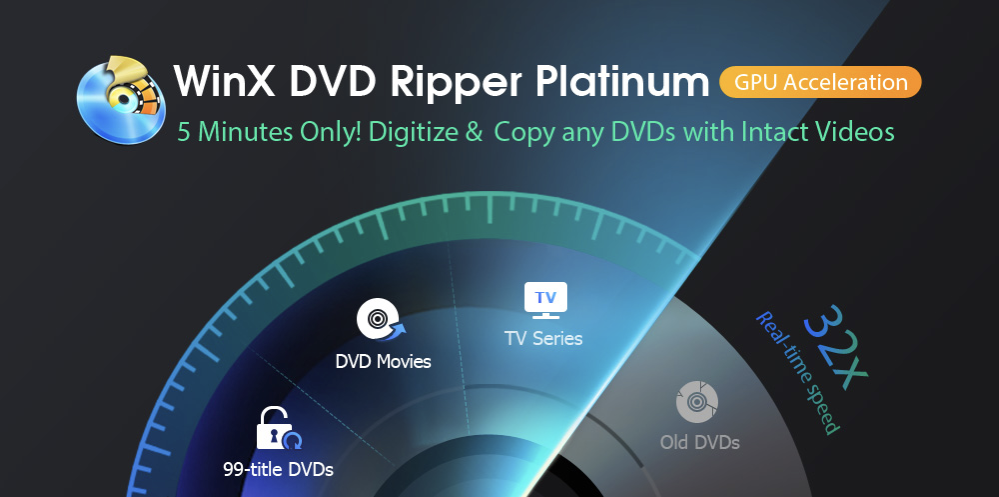 What is WinX DVD Ripper?
WinX DVD Ripper is a software that lets you rip and save a DVD in any specified format of choice. Let's say you have a DVD and want to digitalize it; WinX DVD Ripper got you covered.
It's 2023, and no one uses DVDs or CDs these days. But many people own a huge DVD collection.
If you or someone who has a lot of DVDs and wants to digitize them and store them in your computer, hard drive, or in the cloud, you may use DVD ripping software.
WinX DVD Ripper is the ultimate solution to rip a DVD. It is fast, simple, and supports a wide variety of output formats compatible with almost all devices.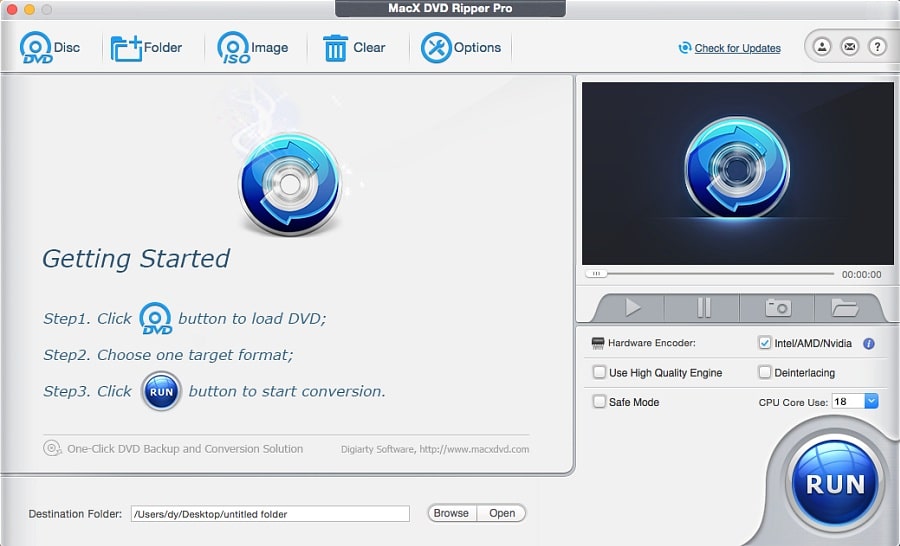 In short, WinX DVD Ripper is the answer to how to copy DVD on Windows & Mac.
WinX DVD Ripper Features
Now that you know what WinX DVD Ripper is, let's look at some of the highlights features of the same.
Support Almost All DVDs
WinX DVD Ripper supports a wide variety of different DVD types, including the latest encrypted DVD, Normal DVD, CSS DVD, region 1-6, Sony ArccOS, Commercial DVD, ISO image, DVD media.
Export to Any Format
One thing I like a lot about WinX DVD Ripper is the fact that you can export your DVD to any leading format, including MPEG-2, MP4, MOV, AVI, TS, MKV, H.264 and more.
DVD ISO image, MPEG-2 (DVD), MKV, MP4, QT, MOV, M4V, FLV, H.264, MPEG4, AVI XviD/DivX, MTS, TS, M2TS, etc.
High Quality and Less Export Time
Generally, DVD ripping software takes ages to complete exporting a DVD.
On the other hand, WinX DVD Ripper is extremely fast, and you can completely rip a full DVD to a small sized file in less than 10 minutes, and that too, with maximum quality.
All thanks to High-Quality Engine and Advanced Deinterlacing Accelerator, ripping a DVD is faster than ever.
Backup and Digitalize DVD
No one cares about DVDs these days. But there are a lot of people who have DVDs that hold some amazing memories or their favorite shows or movies.
As it is rare to find computers with a DVD drive these days, it is best to digitalize the DVDs and store them in the cloud, your hard drive, or a NAS solution.
Basic Editing
WinX DVD Ripper also lets you trim, crop, merge and add external subtitles. You can either hardcode or softcode the subtitles easily.
Easy To Use UI
Another thing I like a lot about this DVD copy software is its user interface. It is clean, easy to use, and quickly completes the job.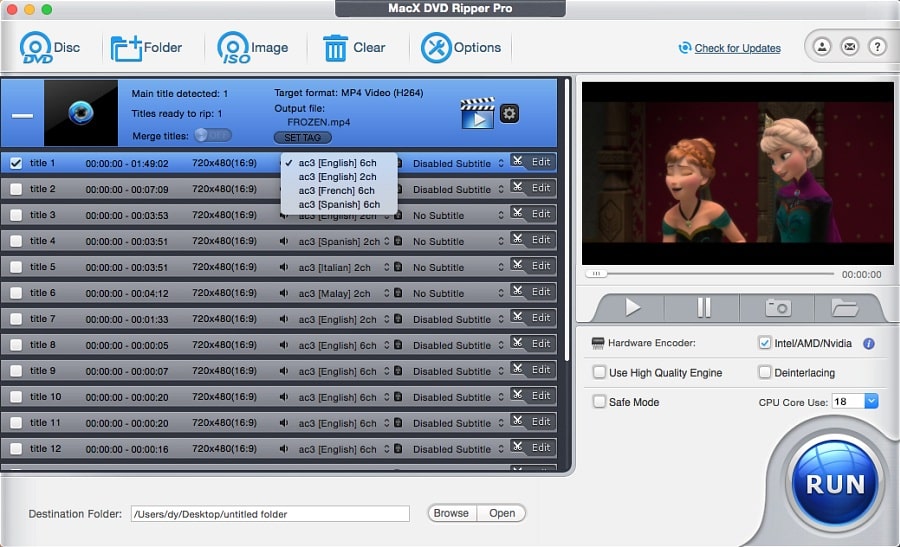 The UI is not stuffed with things that are not needed by most people. The straightforward UI lets people quickly find what they are looking for and copy DVD to computer easily.
Why Copy DVD on Windows or Mac?
A lot of people first wonder why it is a need to copy DVDs on Windows or Mac.
As you might already know, DVDs are very easy to get damaged.
A simple scratch on a DVD will make it faulty, and you will lose access to all the content. So it's better to store the content in a removable hard drive, your computer, or even the cloud.
After ripping a DVD, you may copy and save it on your computer or upload it to Google Drive, iCloud, or any other cloud service.
Copying a DVD to computer lets you easily share the content with your friends or access it remotely by uploading it to Cloud storage services. This way, you no longer need to carry the DVD to access whatever is in it.
How to Copy DVD on Windows (11/10) & Mac With WinX DVD Ripper?
Now that we have covered all the basics about WinX DVD Ripper and its features, let's now see how to use them to rip a DVD fast and easily.
Even if this is your first time ripping a DVD, the guide below should be more than enough to get it done.
The first thing you should do is download the DVD copy software and install it. Firstly visit the official website and download the Installer file:
Once download it, open the installer and install it like as you would install any other software on computer.
Once installed, open it up.
The next step is to load the DVD.
As for loading, you have three options. The first one is by selecting a DVD disc, the second is a DVD folder, and the third is by selecting a DVD ISO file.
Select DVD disc option and leave the DVD Disc File System Type as Auto Detect and press OK.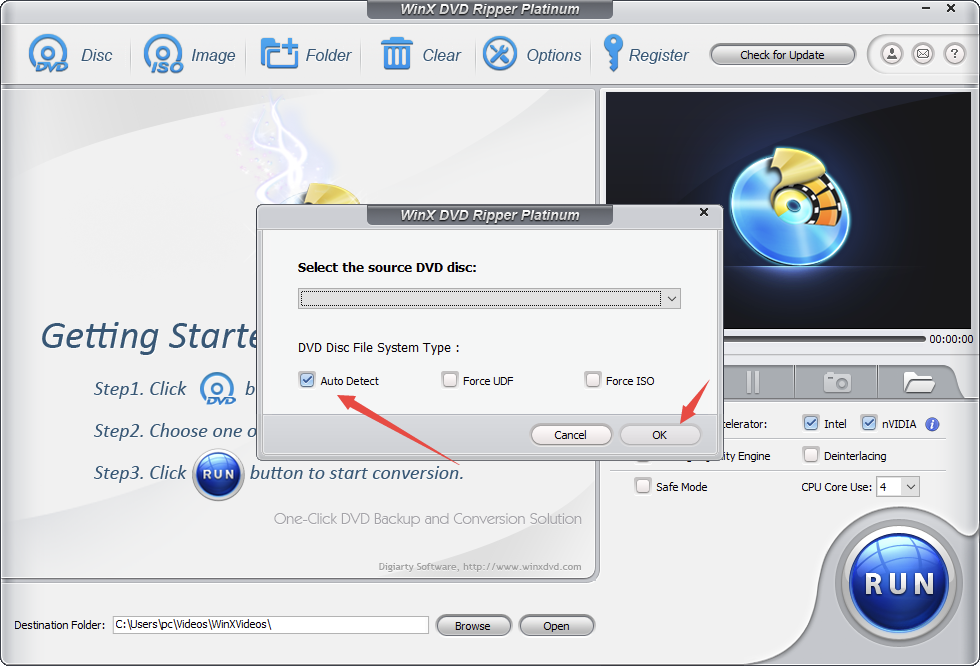 Similarly, you may select the DVD ISO option to select an ISO file from your hard drive or the DVD folder button to load a DVD VIDEO_TS folder.
Now it's time to select an output profile.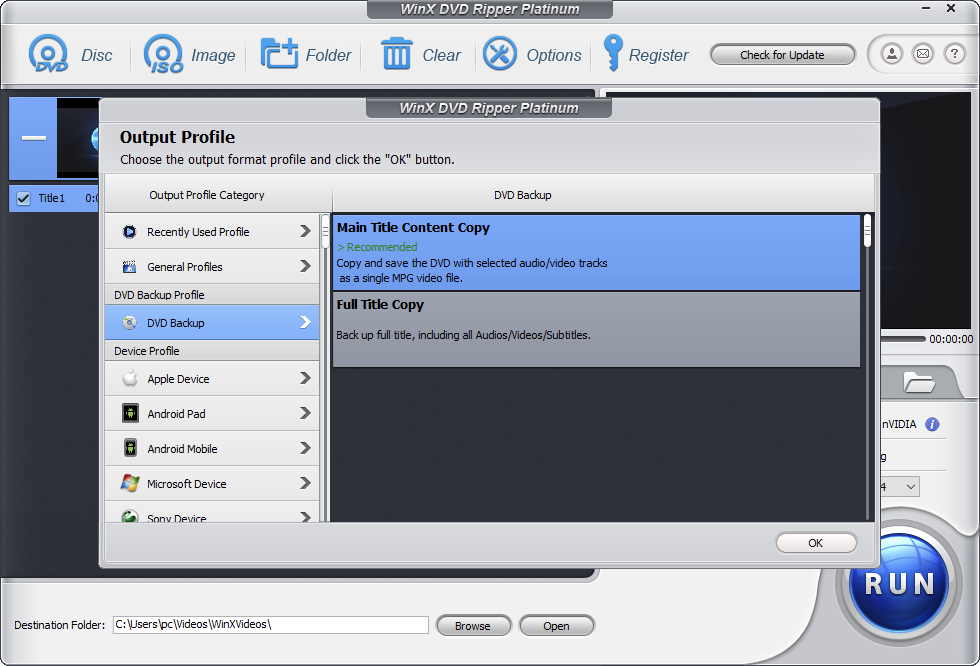 WinX DVD Ripper supports a wide range of output formats, including MP4, MKV, HEVC video, and more. Go through the list and find a profile that is most suitable for your need. Once selected, click Done.
Finally, click the RUN button to start the ripping process. Depending on the size of the content, the time taken to rip the entire DVD will vary. Wait till it's done.
You can find the detailed guide on copying DVD to computer on Windows & Mac here.
Pricing
WinX DVD Ripper comes in three paid plans and also offers a free trial for you to try it out.
I would recommend you try the free trial and explore the software first. To remove all the restrictions and use them to rip DVDs, subscribe to a plan suitable to you.
Premium License – $34.95/year/3 PCs
Ultimate License – $59.95/1 PC – Lifetime license
4-in-1 Bundle – $144.95/1 PC – Lifetime license (WinX DVD Ripper Platinum, WinX DVD Copy Pro, WinX Video Converter Deluxe and WinX Mediatrans)
What's Next?
If you have a DVD collection and you want to digitalize it and store it in your computer locally, hard drive, or cloud, WinX DVD Ripper is what you are looking for.
The easy-to-use software lets you rip DVDs in maximum quality and that too, in less time.
Do check out WinX DVD Ripper.