If you are looking for a reliable software to track smartphone remotely then Hoverwatch is what you are looking for. There might be different reasons why you want to track a Smartphone, but whatever be the reason, Hoverwatch got you covered. You can track or trace pretty much any Smartphone running Android remotely and access all sort of data including call logs, SMS, WhatsApp, Files, etc.
Hoverwatch is available for Android, Windows and Mac OS. The best part is that you can monitor all the data right from your computer itself. After setting up Hoverwatch on both device then you can access different data and applications such as:
Cell Phone Tracker
Records SMS
Call history and audio
Camera
locations
WhatsApp
Facebook
SnapChat
Skype
Telegram
Instagram
Internet activity
Calendar
Contacts
What is Hoverwatch?
Hoverwatch is a cross-platform application that will let you track other smartphone devices remotely from anywhere. In short, you can call Hoverwatch as a one-stop solution for spying on any Android Smartphone without even having the need to touch the phone. The main highlight of Hoverwatch is that everything is done remotely and you are not required to get your hands on to the device.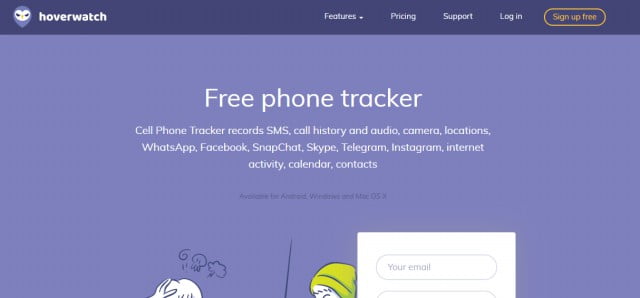 Why use Hoverwatch?
There are multiple scenarios where you want to spy on other user's smartphone. You might be a parent and want to track your son's or daughter's smartphone or even you might want to track your Boyfriend's or Girlfriend's smartphone and your Partner's phone. Everything you spy with Hoverwatch will remain invisible and no one will know that you are actually tracking them.
Features of Hoverwatch
Stay Invisible
The best part about using Hoverwatch is that it is 100% invisible and you will stay anonymous. No one will find that you are spying them, not even the person who is being tracked by you. This is one of the important reason why a lot of people suggest Hoverwactch.
Facebook & WhatsApp Tracking
This particular Smartphone tracker will let you track other person's Facebook, WhatsApp, Snapchat, Telegram, etc with ease. No matter what social media or instant messaging application is it, you can track them with Hoverwatch.
Front Camera Photo
This best phone tracker includes an automatic front camera photo feature. Every time a user unlocks the screen, the call and SMS tracker takes a photo using the front camera.
Text Messages and Calls
If you are looking to record phone calls and SMS that is being sent from the device and to the device then you can do that easily with Hoverwatch. Automated Phone Call recording and SMS tapping help you to check them frequently without having the need to touch another person's phone.
How to use Hoverwatch on Android?
Here is the installation guide to use Hoverwatch on Android. You can either follow the written guide given below or watch the video embedded below.
Open your target phone and then go to Settings > Security options > Enable "Unknown Source Installations"
Take your phone and open a web browser, go to the Hoverwatch website and then  sign up for a free account
Go to your account and then download the APK file
Launch the APK installer and install it to your device
Once installed, launch the application
Accept the terms and Conditions
Type in your Hoverwatch Username and Password and activate your account
Set a PIN for your application and be sure to remember it
Allow usage access and enable sync services from the settings popup that appears
Activate the device administrator
Now you are all set and the application has been successfully setup.
Or you can watch the video below to get a better understanding:
[su_note note_color="#0b9bcd" text_color="#ffffff"]
You can read the complete list of features and reasons why you should use Hoverwatch from the Dropdown below.
[su_expand more_text="HIGHLIGHTED FEATURES OF HOVERWATCH" link_style="dotted" more_icon="icon: align-center" less_icon="icon: bar-chart-o"]
Remain Completely Invisible
The invisibility feature of the cell phone tracker allows it to stay completely hidden from the user, even if your children are familiar with how their devices work. The parental control app gets the most accurate information while remaining undetectable by the user of the monitored Android device.
Text Messages and Calls
This SMS tracker for Android allows you to record every single outgoing and incoming call. With the help of SMS tracker app you can view all SMS and MMS messages sent or received by the user. Moreover, you're able to track the images included in the MMS messages and view them from your personal account.
Facebook & Viber & WhatsApp Tracking
This mobile phone tracker is your chance to read the messages sent using WhatsApp , Viber and Facebook mobile apps. You can track and save every single file (photos, videos and audio recordings) that was exchanged in Facebook conversations.
Geolocation Feature
The gps mobile tracker helps you determine and view location of the target device user from your account. The android phone tracker uses Wi-Fi signals, cell towers and GPS to track the location of the monitored device.
Front Camera Photo
This best phone tracker includes automatic front camera photo feature. Every time a user unlocks the screen, the call and SMS tracker takes a photo using the front camera.
SIM Card Replacement
You will be able to track the device using this software even if the user removes the SIM card. When you use this hidden mobile tracker, you will get a notification every time a user decides to change the SIM card.
Track up to 5 devices
Installing Hoverwatch parental control gives an opportunity to monitor five devices simultaneously: some smartphones and personal computers, laptops (Mac, Windows). So you can check your children as well as your employees and beloved one at the same time.
Phone Internet History
Our free mobile tracker is ready to track all web activity that takes place in the target phone or PC: view internet history, check the address, time and date of visited sites. This internet history tracker is useful for businessmen, married people and, of course, for parent as it helps to solve a lot of work and personal problems.
Todo list
Hoverwatch android phone tracker has a very important feature — it can track Todo list. Nowadays it is definitely a necessity. People get used to make notes in their calendars making plans. And the tracking software can show you this information. It's a good chance to know more about people whom you trust and love.
Contacts
Hoverwatch keeps track of all entries in the user address book. This default feature is useful. Thanks to it you can view browse contact details (numbers and names, emails, addresses and so on) stored in the address book. All this information can be viewed in the user panel.
Android screenshots
This feature is important when you need to know when, how and by whom the target phone is used. The phone tracker app developed be Hoverwatch can create screenshots periodically. So you'll know if tablet or smartphone is used for instant messengers, surfing the internet, chats or checking social networks.
Snapchat Spy
With the help of Hoverwatch, it's not difficult to track the flow of media data in Snapchat (drawings, documents, videos, audios, photos) on a target device. It's your chance to know the exact time, date of these files. While using this Snapchat spy you'll be able to control your children's and employees' activity online.
[/su_expand]
[/su_note]
Hoverwatch Pricing
Hoverwatch comes with a variety of flexible pricing and plans. You can subscribe to their plan monthly or yearly and save a lot. If you bill your subscription annually then you will save a lot of money, so if you are planning to use Hoverwatch regularly then billing it annually will be the best option as you will save a lot of bucks during the transaction.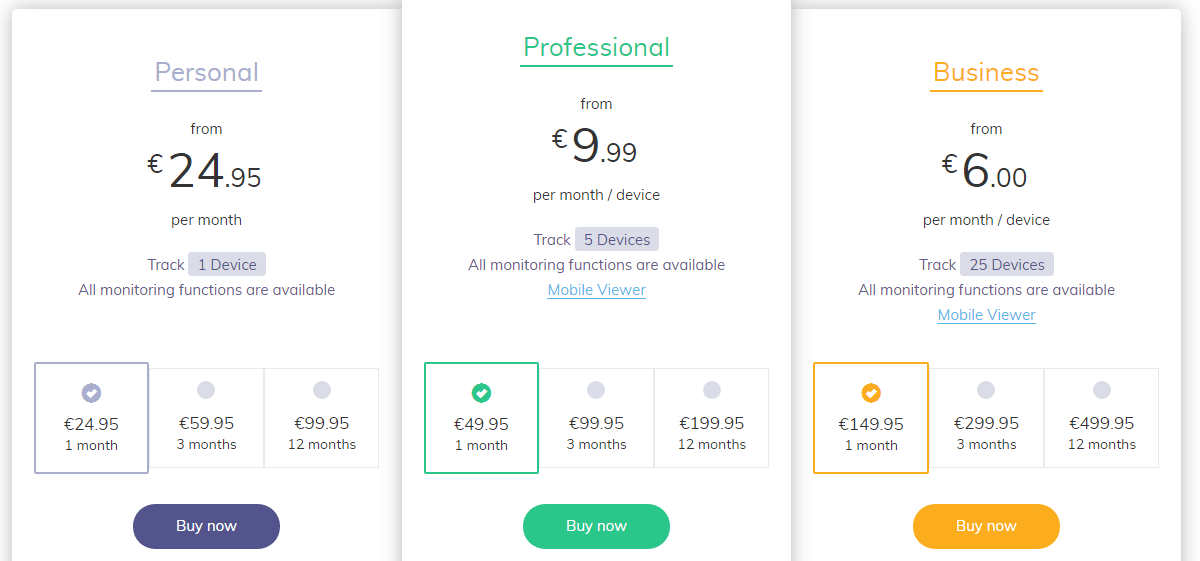 Final Words
So guys, If you are someone looking to track an Android SMartphone or spy different data like WhatsApp, Facebook, Call log, SMS, Camera, etc then Hoverwatch is a perfect fit for you. This smartphone spy software is 100% invisible, safe and secure. You can download it from their official website and set up with the guide or video given above.