If you take a deeper look into the emojis that are available in Android and iOS, you will notice a big difference between both. Android and iOS are having entirely different-looking Emojis for iPhone and Android devices. Some people like the emojis that are available in Android while others like one that is available in iOS. If you are an Android user who loves to use iOS Emoji, then you are in the right place. Today in this article you will find how to use iPhone Emoji for Android.
It doesn't matter if you are having a rooted or non-rooted device, this trick will work with all of them. We all use a lot of different social media and instant messaging applications like Facebook, WhatsApp, Instagram, Messenger, Telegram, etc. and we always use Emojis to express our message and feelings. These days we can't even think about chatting to someone without using any emoji or posting something on any social media platform without emojis.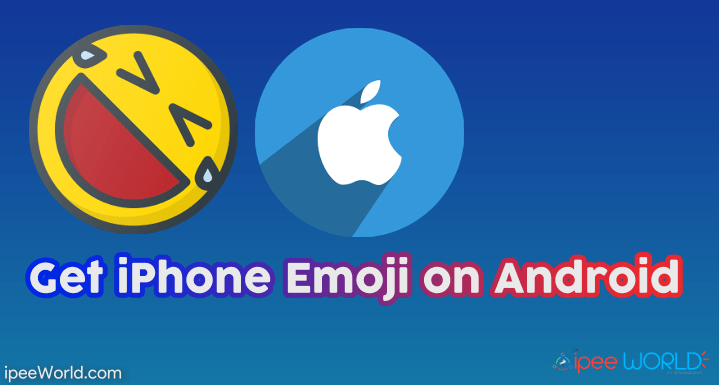 The design elements, the way emojis are created, the theme, styling, and pretty much everything are different from one another. If you take a look at the emojis that were available on WhatsApp a few years before, you will come to know that they were entirely different from what we have today. WhatsApp Emojis itself has gone through more than 2+ revisions and the latest version of the Emoji pack is by far the best and cute looking emojis that WhatsApp has ever included in their instant messaging application. See How to Change Font in Android
Get iPhone Emojis on Android – No Root Required
By default, Android and iOS are having an emoji pack pre-installed in it right out of the box. But some applications like WhatsApp and Facebook Messenger comes with its own Emoji pack which will be more or less entirely different from one that is available by default. And again, if you compare the Emoji packs that are available in WhatsApp and Messenger you will notice that both of them are having different Styles. WhatsApp, Facebook, Whatsapp, etc change the Emoji style frequently, too.
Read: How to change IMEI number
Get iPhone Emoji in Android – Root Required
For everything to work just as it should, we will need Root Access. Without Root access, the probability of getting iOS Emoji on Android is far way less. It is because not all Android Phone has the ability to change the Font provider. And this will be a problem and we won't be able to use iOS Emoji on Android. On the other hand, if you are having a Rooted Android device then it is just a piece of cake to change Android Emoji to iOS Emoji in a matter of few taps.
We will be using an app called "Emoji Switcher" to change the Emoji to iOS Styled. You can download the APK file of the app from the link below and install it on your device. Make sure that the "Unknown Sources" setting is enabled on your device.
First of all, make sure that your Android device is rooted and has root access. If your device is not rooted and if you need to root your device then follow this guide on Rooting Android in 1 Minute.
Download and install the Emoji Switcher app from the link below.
Once downloaded, install the app and open it up.
The app will ask for Root Access, just grant the permission.
Now, you will find a panel called "Set Emoji to". From the drop-down menu select iOS 10.13 and tap on the Set button.
Wait for a second till it installs the selected iOS Emoji pack. After the installation is done, you will be asked to reboot your device for the settings to take place.
Once the phone is rebooted, you will notice that the emoji has changed to iOS styled and everything will look the same.
Change Android Emoji to iPhone Styled – No Root
In this section, we will be discussing changing the Emoji style of Android with iOS one without Root access. If you are having a non-rooted device then don't worry, we got you covered. We are required to install a third-party application to get the job done.
Step 1: First of all, Download the app called "iOSEmojiFont" from the link given below. The app was available on the Google Play Store for a few months back. But, now the App is removed from the store and you can locally download it and install it via the link mentioned below.
Step 2: In order to install Apps outside the Google Play Store, you should enable unknown sources option from your Android Phone's settings. To do that Head over to Settings > Security/Privacy Settings > Enable "Unknown Sources". Now we can install any third-party apps with the .apk file.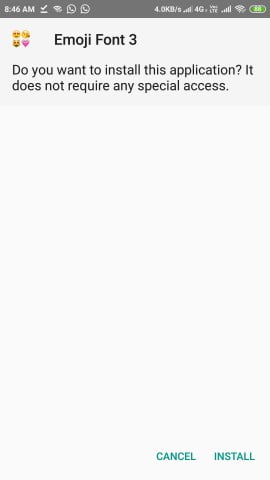 Step 3: Tap on the Apk File and install the App. Once installed. Open the app to setup iOS Emojis on Android.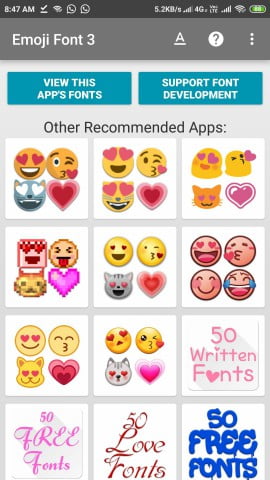 Step 4: Once the installation is done, we need to set up Font Changer 3 as our Font provider in Android. For that, Go to settings and find Font settings. The setting might be different for different UIs like OneUI, OxygenOS, MIUI, EMUI, etc.
Step 5: Now, download any good Keyboard app for Android like Google Keyboard to easily switch between Keyboard and Emoji Pad. GBoard is most convenient and easy to access when it comes to Numbers, Alphabets, Gifs, Emojis, and Stickers.
Read: Use Mobile Data and WiFi Simultaneously
Custom Emoji Apps
If nothing seems working on your device then the last resort is to use some Emoji+Keyboard apps from the Google Play Store. There are hundreds of different keyboard apps available in the play store and you can use any of them to get the look and feel of iOS Emoji. After installing these keyboards, you can start using these keyboard emoji and stickers to get somewhat experience like an iPhone. For installing apps from the play store, you are not required to have any Root access or any special permission at all.
Just head over to the Google Play Store
Now simply search for "emoji keyboard"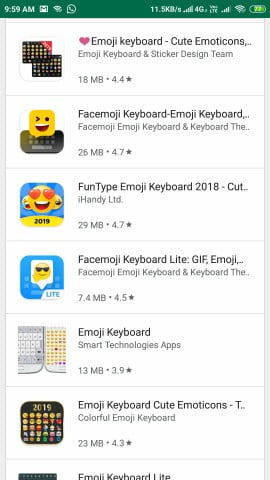 Now a list of different Keyboard apps appear.
Select one of your choices and then install it straight away.
Once the installation is done, the next step is to change the default Android Keyboard or GBoard to the one which we installed now.
To change the keyboard, go to Settings and search for Keyboard settings. (It will be very different according to the OEM you are having)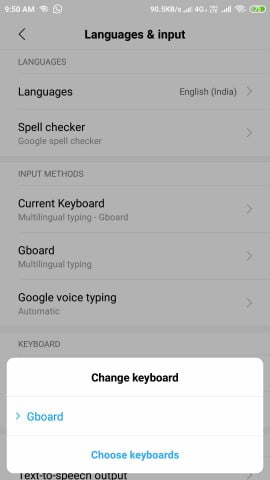 Select the particular Keyboard app and then enjoy.
Apps to Get iOS Emojis on Android
These are some amazing methods to change Android Emoji to iOS/iPhone styled Emoji with and without Root Access. The majority of Android users out there will be having non-rooted devices and changing core functionalities without root access will be a pain. This article will be helpful for both Rooted and Non Rooted device users. Whatever be the case, we will need to use a third-party application to get this iOS Styled Emoji on Android. For Rooted Android users, there are other apps that let us do the same, too.