Are you looking for some proven methods to Download Paid iOS Apps for Free? If yes, then you landed in the right place. Recently, I shared some working methods to download Paid Android Apps for free and now it's time for iOS. Here, in this article, I will be sharing a handful amount of different ways, by which, you can download pretty much any iOS Apps that are paid. No matter if it is an iOS App or iOS Game, we got you covered,
iOS is the mobile operating system that is used in iPhone and in iPads till iPadOS was released. It's a really great Mobile OS used in iPhones. Their Apple ecosystem is so well built and almost all the apps and services are well-tailored to meet user's requirements. Majority of the apps found in the Apple App Store is Free and not all of them have an option to try the app before making the purchase. This is the problem that almost all users face.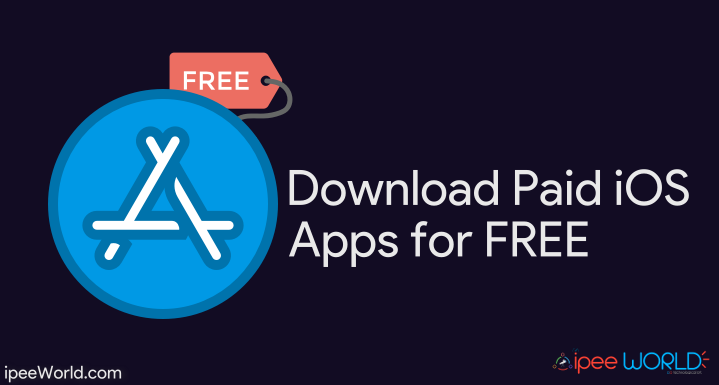 Let's say that you wanted to purchase a paid app from the Appl App Store, but you are not quite sure about the app. In this situation, it would have been really great, if we were provided with an option to test drive the premium features before making the actual purchase. In this context, what we can do is, get the paid ios app for free, try it and if it is really worth it then go ahead and make a purchase.
Download Paid iOS Apps for FREE
The main reason I am writing this article is to let you know that there is a possibility to test drive or try an app before making the purchase. This way you will save some money by not downloading apps that don't deliver what you are in need for.
Read: Best iCloud Bypass Tools to Remove iCloud Activation Lock
Here are some key advantages of trying the methods given below:
Try Apps before making a purchase
Try all the Features a paid app has to offer
Works well without JailBreaking
Won't void Warranty (if any)
100% safe and secure
Download Paid iOS Apps without Jailbreaking
When it comes to Android, you are required to root your device to make changes to core system files. In the same way, in iOS, to make changes to the system files we are required to JailBreak iPhone. Doing will completely void your warranty and several numbers of limitations put by your device manufacturer will be revoked. Doing so will also put your device's privacy into a little bit of risk if you use untrusted apps that are not available on the Apple App Store.
As mentioned earlier, the main advantage here is that you are not required to have Jailbreaked version of iPhone. Normal iPhone and iPad will work just fine and without wasting any more time, let's get started.
I will be sharing multiple methods here and you can opt to go with the one that you think is most simple and efficient for you.
Method 1 to Download Paid iOS Apps for Free
In this method, we will be using a third party website to get our job done. It's just as simple as visiting the website and installing the app from there. Follow the step by step instructions mentioned below to get the paid ios app installed for free.
Step 1: Firstly, Go to this website. This is the app/service that we will be using today. The only problem here is that the site is only available in Chinese and we need to translate it. Don't worry, follow the steps below
Step 2: There you will find a blue button, just click on the button and wait for it to load
Step 3: Now a popup box will ask you to accept and install tongbu App, which we will be using to get iOS Apps for free.
Step 4: Tap on the install button and let it get installed by the time.
Step 5: After the installation is done, just open the tongbu app and hit the search bar. Type in the name of the premium app that you want to download.
Step 6: From the list that appears, select the app you want and click on the Green button there. It will be written in Chinese. But it is the actual Installation button.
Step 7: Wait for it to download and installation will be done automatically
We have successfully installed a Paid iOS App for Free without spending any money.
Method 2 – Use the Modded version of Premium iOS Apps

You might be already aware of the modded version of Premium Apps and Games. FMwhatsApp is a great example of the modded version of WhatsApp for Android. Similarly, there is a modded version of apps or iOS App Mods for iPhone and iPad that will let you enjoy premium features for free.
We will be using a third party instance called App-Even to get the modified version of Paid iOS Apps.
Here are the few highlighted reasons why you should use AppEven as per the developers:
No Apple ID requires.
No Jailbreak requires.
Get paid apps for free.
Easy to use.
Easy to install.
Supports all the iOS version.
So, let's get started
Step 1: Go to the official website of AppEven and then click on the blue download button to save the app to your device. (Make sure that you visit the site from Safari Browser only)
Step 2: Now a popup will appear asking you whether to install the app or not. Just tap on the install button
Step 3: A AppEven page will open up and click on the Install Profile button. Short ly after that, Settings app will open up and ask you to type in the phone's passcode.
Step 4: Now, Safari browser will automatically open up, just click on the AppEven Install option
Step 5: Tap on Install, then Next and Done
Also Read: Best iOS Emulators For Windows to Run iOS Apps (iPhone Emulator)
Step 6: Once the installation is done, you will find the AppEven icon at the App Drawer
Step 7: Open the App and search for your favorite paid IOS App or Game and install it straight away.
Final Words
These are some quality methods by which you can download paid iOS Apps for FREE without jailbreak. If you are about to use any third-party application then you will be required to have your iPhone device jailbreak. ut, all the methods given in this article is completely free, safe and secure. And NO, you are not required to Jailbreak your device in order to download install Paid Games and Apps for iOS in your iPhone or iPad device. I have mentioned a couple of different methods here, you can go with the one that you think is simple and easy for you. I will surely update this article with latest methods (if any).