Did you know there is a cool feature in Discord that will let you mark messages as spoilers? You can use this feature to send messages that you don't want everyone on the channel to see. A spoiler alert will be displayed first. Only if the user wishes to see the message, they can read it. By default, the message will be hidden from every user on the server.
You can use the spoiler function on Discord on every platform including Windows, macOS, Web, and mobile versions including Android and iOS as well. Below, you will find how you can use the Spoiler message feature on Discord and what's the use, etc.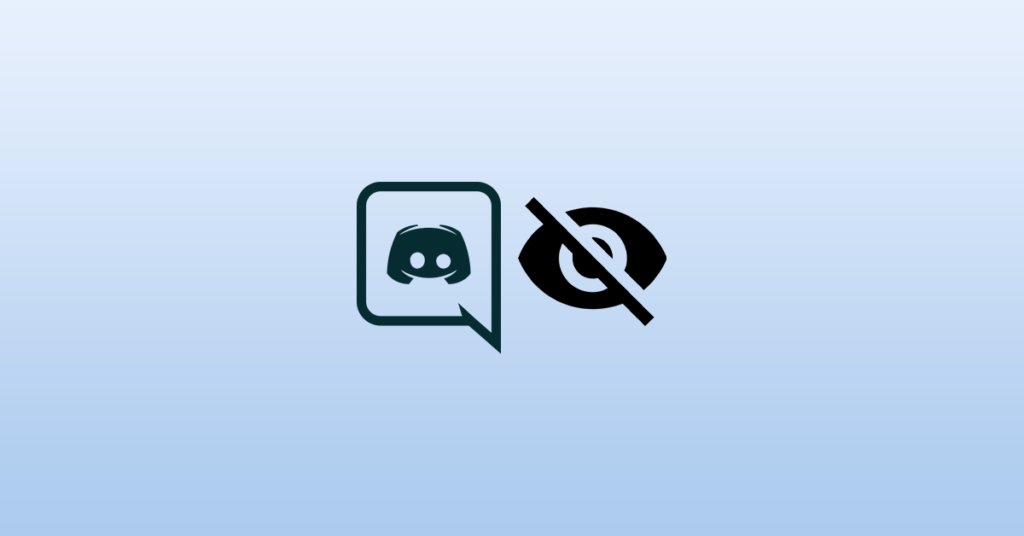 Why Mark Messages as Spoilers?
Let's suppose you are about to send a message regarding a movie that you watched recently. Now, the message you send might be only for people who have already watched the movie. There might be a movie story spoiler in the message. In this context, you can use the spoiler feature in Discord to hide the message initially and users could only read it if they wish to.
An overlay will be displayed with an option to reveal the message. Clicking on the display button, the message or image will be instantly made visible. How cool is that?
And the best part is this feature works across all the devices including PC/Laptop and mobile devices. But for adding a spoiler image in Discord, you can only do that in the PC version.
So, without wasting any time, let's see how to send spoiler message in Discord.
How to Send Spoiler Message in Discord?
In this section, we will see how we can send spoiler messages on Discord. If you want to send Spoiler images, refer to the next section of the article.
Step 1: Firstly, open Discord on your device. As mentioned earlier, a spoiler message will work with Discord on all devices.
Step 2: Open the channel where you want to send the message and move to the mesage box. You need to type /spoiler to mention it as a spoiler message. After typing the /spoiler command, you can type the message that you wish to hide.

Example of Spoiler Message on Discord – /spoiler your message goes here.
Once done, simply hit the send button and you have successfully sent your spoiler message in Discord. And yes, you can use emojis in the message as well.
Here's another method to send spoiler message on Discord.
You can also type your message in between two vertical bars ( || ) and the message will be sent as a spoiler message. All you have to do is just type || before and after the message content. Refer to the example below to get more clarity.

|| Example of spoiler message ||
You can use either of these two options to send a spoiler message in Discord. You can use both /spoiler as well as vertical bars.
Send Spoiler Images or Attachments on Discord
Not just messages, you can send images and attachments with spoiler content as well. If you want to level up your game by sending images or attachments as spoilers, follow the steps mentioned below. It is simple and easy to try.
NOTE: One important thing to note here is that this option will only work with macOS and Windows versions of Discord. Discord for Android and iOS does not have the option yet. We can expect this option to come to the Discord mobile application in the future.
Step 1: Click on the plus button ( + ) on the chat bar to bring up the option to attach an image or other attachment.
Step 2: Select an image that you would like to send as a spoiler message. Once selected, you will find an option called "Mark as spoiler". All you have to do is simply enable the option and you are all good to go.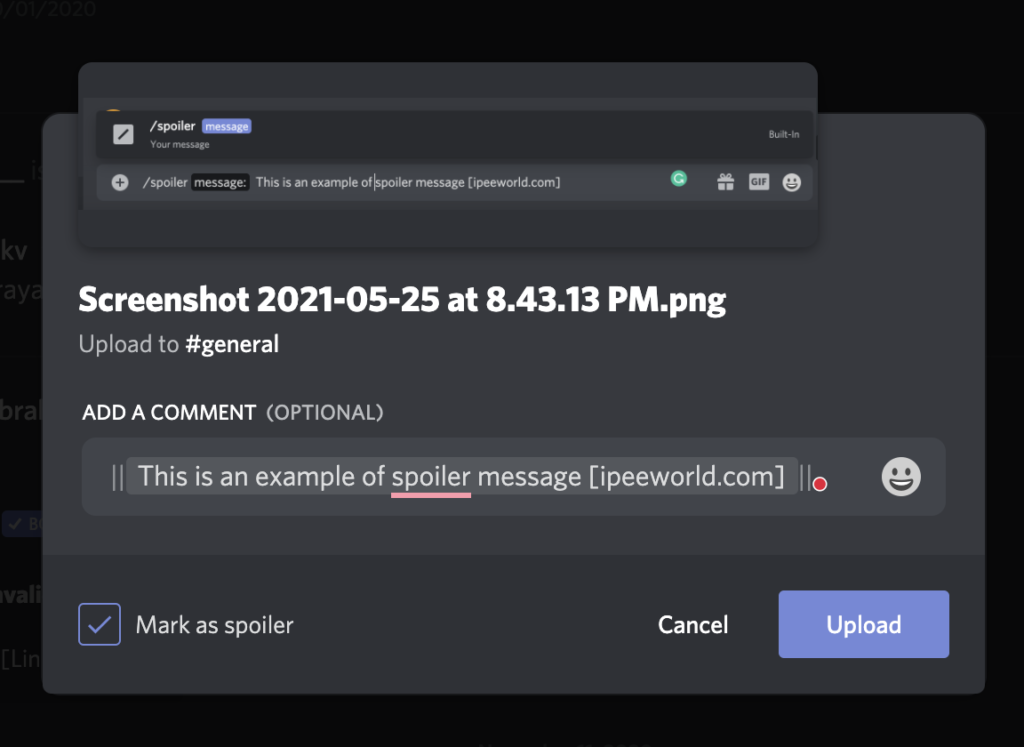 Step 3: Check the option to send the image as a spoiler and click on the upload button to instantly send the spoiler image message in Discord.
Currently, the option to send images and attachments as Spoiler will work with macOS and Windows versions of Discord including Discord Canary and the web version as well.
This is how we send images and attachments as spoilers in Discord. This will work with every channel and server out there.
It is indeed a good practice to send spoiler messages or images on Discord that might be disturbing to some users. Good to see this feature on Discord. And we can expect Discord to introduce the option to send spoiler images and attachments on the mobile app soon.
When to Send Spoiler Messages on Discord?
There might be multiple contexts where you might want to use the spoiler message option in Discord. Think of a situation where you are discussing a plot of a movie. You might include some spoilers in the message so the message is only intended for people who have already watched the film.
Now, if you directly send the message without marking it as a spoiler, every people on the server will directly see the content. But if you mark it as a spoiler, an overlay will ask users if they want to see the message or not. In this case, users who have watched the movie already can view the message while people who haven't seen the film and simply skip the message. As simple as that.
Conclusion
This is how easy it is to send spoiler messages on Discord. Not just plain text messages, you can also send images and attachments as well. Marking as a spoiler in Discord can be done in just three steps only. Next time when you want to send something that you don't want all users to see, make sure to use the spoiler option in Discord.