Free Password Manager is something that you should start using right away. We have accounts on hundreds of different websites and almost all of them require you to set a password to access your account. This way, you can protect your account from being misused by someone else. It's not always a good idea to set the same password for all of our accounts, this is because if any one of the site data gets leaked then all your passwords from every site will also be compromised. So, it's always better to keep different passwords for different sites. But, remembering all these different passwords is really tough and this is where Password Manager comes handy.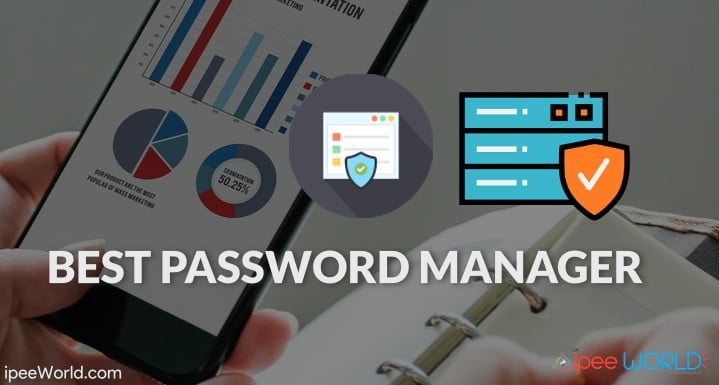 There are hundreds of different password manager apps, extensions, and software available for different platforms. But finding a good one is a little bit of an issue. First, you will have to find your primary reasons why you should be using  Password Manager software. Is it for application usage or for online websites on a Browser? If you want to store a password for different applications then you might want to install the software for windows and if you want to save the password for different websites then you should consider installing a Browser extension.
How Do Password Managers work?
Password Managers are simple software or extensions that can be installed right into your OS or any Web Browser. After the installation, these Password Managers saves all the username and password for all websites in an arranged manner. Next time onwards, whenever you visit a particular website's login page, all the credentials including Username and Password will be automatically filled for you. This is how Password Manager for Browsers works. When talking about different types of Password Managers, there are one those stores the data on Web Browser and the other one installs to your computer and then stores the password for applications, too.
Read: Best Android Emulator for Windows
Password Manager for Browsers is available for all leading Web Browsers like Google Chrome, Mozilla Firefox, Microsft Edge, Apple Safari, Opera, UC, etc. You can go through the list given below and find the password manager that suits you the most. There will be password managers that store your password locally on your device itself and also some stores the password in their cloud servers in an encrypted manner.
Best FREE Password Manager
The list is arranged in no special order, you can pick any password manager of your choice and start using it now. All the software and extensions mentioned below are free to use and comes with an optional Pro plan, with added features and advantages over the free version. If you are a little too serious about your passwords and the features you get then you might want to go through their paid plans which costs you less than $2 a month.
1. Keeper Password Manager
Keeper Password Manager is one of the best password managers out there that is available for multiple devices and platforms including Windows, Android, iOS, macOS, and leading web browsers like Chrome, Opera, Firefox, etc. The user interface of the password manager is really simple and you wouldn't struggle to find an option.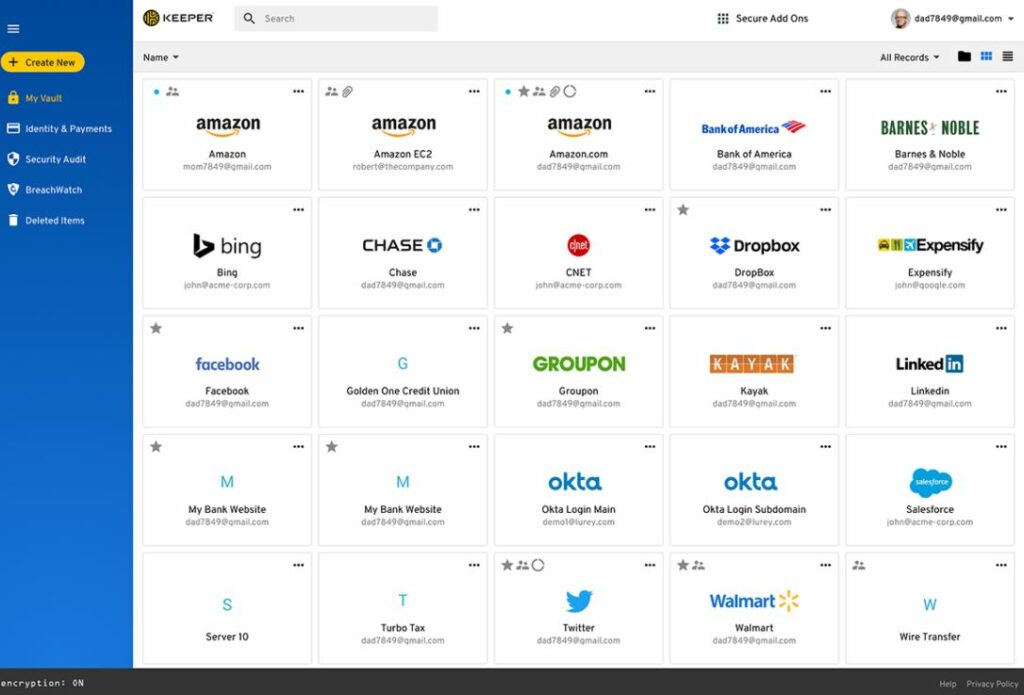 The vault option in Keeper will let you store your important documents or ID safely on the cloud. Keeper also has the sharing option that you can use to share the login credentials of a particular website with another user. BreachWatch option actively monitors your password and imminently alerts you if an event like a password breach occurs.
Highlighted Features of Keeper:
Unlimited Password Storage
Unlimited Identity & Payments
Fingerprint & Face ID Login
Unlimited Devices & Sync
Secure Record Sharing
Emergency Access
Web Application
24/7 Support
Keeper comes with both free as well as paid options. Paid version comes with multi-device login support, cross-device syncing, unlimited records, etc. You can read our dedicated review of Keeper Password Manager as well.
2. LastPass
The first password manager that comes to my mind and the one that I personally use is none other than LastPass. LastPass is an industry-leading online Password Manager software, extension and app available for a variety of platforms including Windows, Web Browsers, Android and iOS. This one is a cloud-based Password Manager that stores the data on its secure server in an encrypted form. Whenever you visit any website, the data will be automatically pulled from their server and will be automatically filled in the provided text field.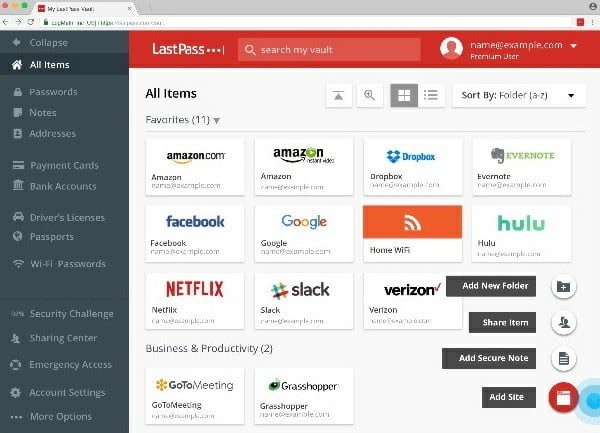 LastPass is available for all leading web browsers including Chrome, Firefox, Safari, Edge, etc. All the passwords you provide will be stored in their server in a secure format. All the data are encrypted thus making it maximum safe from third persons. Similarly, You can also download LastPass from the Windows Store and use it to manage passwords other than on websites.
The free version is itself enough for almost all users and comes with features like
Access on all devices
One-to-one sharing
Save and fill passwords
Password generator
Take secure notes
Security challenge
Dual-factor authentication
3. Dashlane
DashLane is another cloud-based Password Manager then securely stores all your passwords. It uses AES-256 bit encryption to secure all your passwords and store them. The free version can store up to 50 passwords and is limited to a single device. Earlier, the free plan was having an option to save unlimited passwords but limited to one device and now the plan has changed. If you want to store unlimited passwords on unlimited websites then you should opt to go with the paid plan.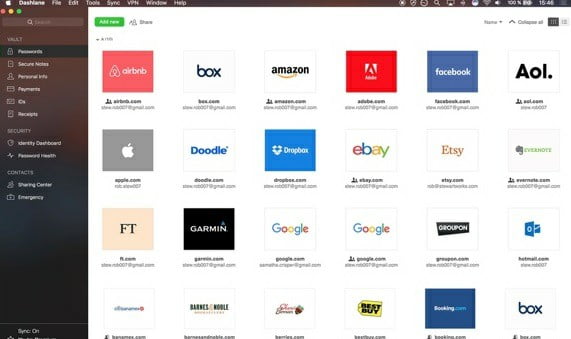 Apart from all these usual password and username, Dashlane also has exclusive service to store your Payment credentials including Credit/Debit Card details, Net Banking and E-Wallet details in a secure way. Dashlane is a cross-platform Password Manager and is available for Windows, macOS, iOS, and Android.
Features:
Auto-change passwords in a click
Generate strong passwords.
Automatically synced
Multi-device support
Cross-platform
Browser extension available
Business/Enterprise edition also in action
Read: Psiphon For Windows/PC
4. KeePass
KeePass is a 100% Free Password Manager and stores all your passwords locally in your device itself. All the data will be encrypted with their algorithm and after that, it will be securely stored in your device itself. It completely Free and an Open Sources project started back in 2004. KeePass is available for Windows, macOS and Linux distros, but sadly not on Mobile devices.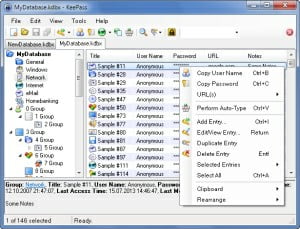 When comparing KeePass with any other major Password Manager for Windows, the UI and user interface might not seem promising, but actually, it works way better than you think. The primary reason why I chose to include this app in the list in 2019 is that it is 100% Free, Open source and does what it to claims to do. The UI might look a little odd but comes with a powerful Password Generator, Dual factor authentication and you can also export your password data in an HTML, XML or CSV format to export or import it to any other service.
5. Sticky Password
Sticky Password is another good Password Manager for macOS, Windows, Android, and iOS. Apart from all these operating systems, Sticky Password is also available for all supported Web Browsers to store the website's password in a secure format. This software is also capable of securely storing your Payment Information and does the job as any other Password Managers in the list. It has an autofill functionality that will automatically fill the password for you in a single click.
Sticky Password also has a powerful password generator which generates some strong password with all combination of Numbers, capital letters, small letters, and even special symbols. The free version is having a limited set of features and the functionality can be expanded by using the Pro version which has auto-sync, cross-platform syncing and many other added features.
6. Roboform Password Manager
Roboform is one of the oldest Password Manager software on the list. The first edition was released in 1999 and is a strong password vault with powerful options. All you have to do is just install the Roboform Password Manager and then set a Master Password, after that this software will capture all the new passwords and you can add to your list, too. The free version of Roboform password keep comes with features like
Unlimited logins
Fills forms
Password audit
Password generator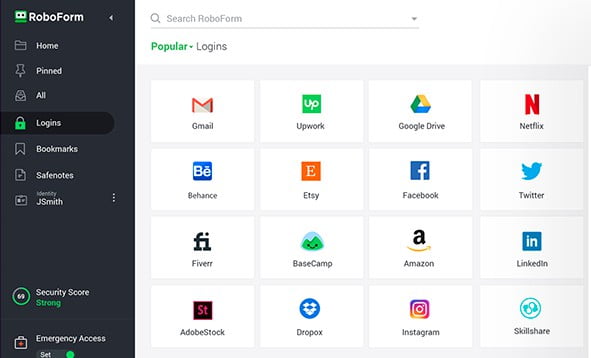 If you are interested then you can also opt to go with their premium plan which includes a bunch of pro features. This is available for all os including Windows, Android, iOS, and macOS. Apart from all the OS, it also supports all leading Web Browser including recently launched Microsft Edge. The support and UI are really interesting and you can visit their website for more info on the product.
7. Norton Password Manager
I am 100% sure that you already know about the legendary Norton Antivirus. This password manager is from the same company so you can trust this software blindly. Norton Identify Safe is a completely free Password Manager for multiple platforms with no paid version. As there is no paid version all the features are readily available in the free version itself. It got all the basic and advanced features that every Password Manager will ever need.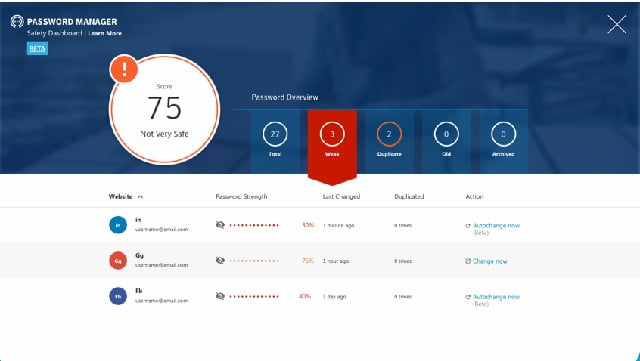 Norton Identify Safe is a multi-platform Password Manager and is available for Windows, Mac, iOS, and Android. You can download the mobile app from the Google Play Store and Apple App Store, too. Some of the highlighted features of Norton Identify Safe is a powerful multi-combination password generator and easily export or import your data in a .csv format file. A browser extension is also available for different browsers making it a one go solution for all your password management options.
8. TrueKey
TrueKey is from another antivirus software company called McAfee. When talking about McAfee, it is one of the oldest Antivirus that is in use. TrueKey is the Password Management initiative from the same company and comes with some powerful features. TreuKey is having both Free as well as Paid plans but the Free Plan doesn't really seem promising because it can only store 15 passwords in the free version. A majority of users will find this option hard because an average person will anyway have 20+ different passwords on different websites.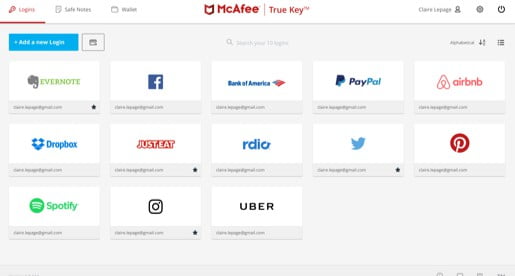 TrueKey uses the so-called AES-256 encryption technology to store and secure all your passwords in their secure servers. This is a cloud-based Password Manager available for Windows, Mac, iOS, and Android. Major browsers like Google Chrome, Firefox, Edge, etc are also in support.
You can set a Master password in the form of Facial Recognition or any biometric authentication making TrueKey ultra-secure option.
9. Enpass Password Manager
Enpass is another cross-platform Password Manager that has Linux support. Apart from macOS, Windows, Android and iOS support that all other password managers have, EnPass comes with a dedicated version for Linux OS, too. Enpass also uses the 256-bit AES Encryption security algorithm to secure the store and retrieve your password data easily. All your password and login credentials are synced through the cloud in real-time and any data saved at any device will be universally reflected in every device.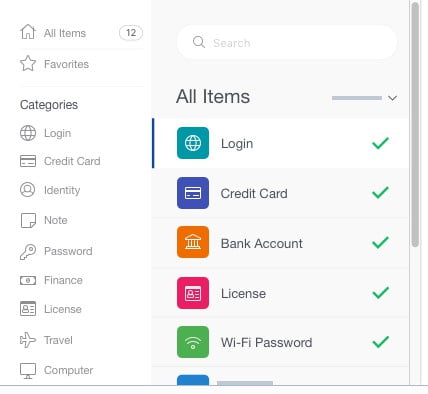 Enpass has support from some famous wearable devices like Smartwatch, making it the only password manager to have such a feature at real price. The software comes in both Free as well as Paid plan and you can choose to go with the one that you feel is good.
Features:
Eliminate Weak, Old and Duplicate Passwords
Biometrics
Wearable Support
Segregate data using Multiple vaults
Autofill
Read: 10 Best WiFi Analyzer for Windows
10. LogMeOnce
LogMeOnce is another great Password Manager that can be used for Free. It comes in both Free as well as Pais plans, but the Free option seems promising. You will get some pro features that are only available in the paid plans of other Password Managers for free in LogMeOnce and one among them is the Multi-Factor Authentication with Pin, Fingerprint, or Password, making it one of the best and safest password manager of all time.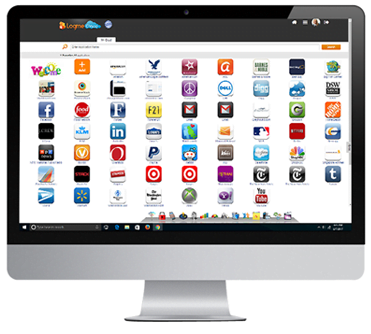 LogMeOnce has both consumers as well as business/enterprise edition of Password Managers. If you are choosing a Password Manager for home usage then the Consumer option is what you are looking for and if you want to manage passwords of your employee in your company then you should go with the Enterprise edition which is slightly on the expensive side.
11. SplashID
SplashID is the last FREE Password Manager in this list of the best password manager for 2019. This is yet another cross-platform Password Manager available for Windows, Android, iOS, and browsers. Sign up for a new account on Splash ID then create a master password and then start feeding all your password into their servers.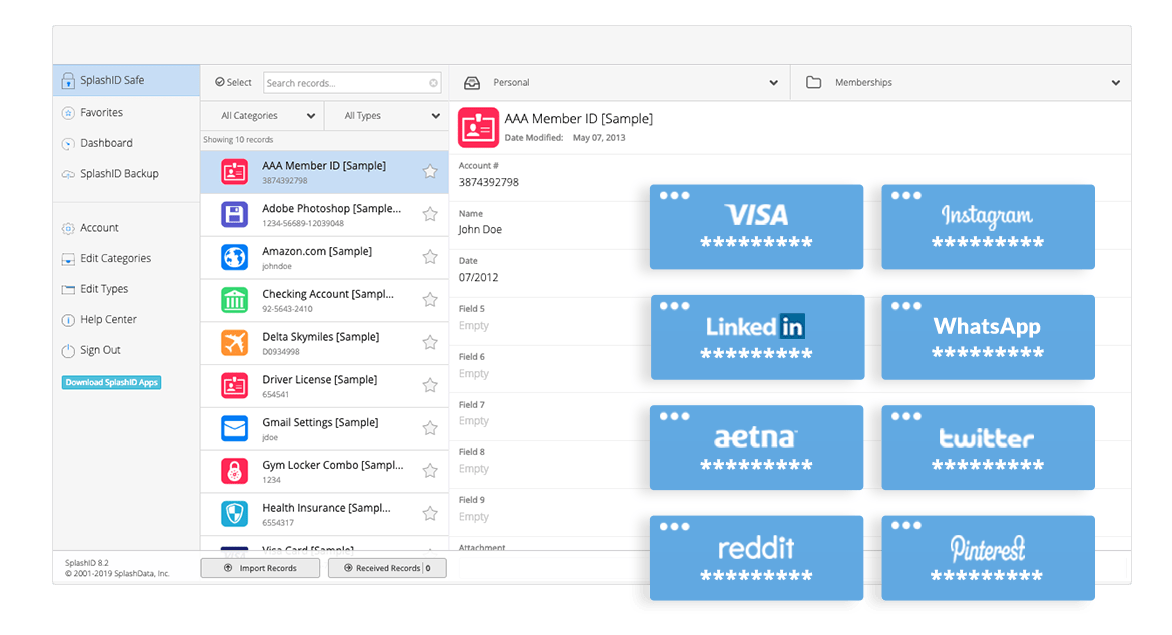 SplashID has both Free as well as Paid plans. The paid plan is called SplashIDPro and comes with some cool features that are not available in the free version. You can check SplashID with the link given below and create an account yourself. As of now, SplashID is having more than 1 million
Conclusion
These are some Top Password Manager for Windows, Mac, Android, iOS, and some wearable devices. All the software mentioned in the article is cross-platform and comes with a free plan. If you want to level up your game and get exclusive pro features then you might want to subscribe to their paid pro plan. LastPass and DashLane seem to be the perfect option for any starters and LastPass is the password manager that I personally use to store my password and login credentials.