If you are looking forward to run different Android Apps and Games on your Windows PC/Laptop, then Android Emulators are what you are looking for. There are numerous reasons why one need to use Android Emulators. If you are an Android Developer then you can Debug and run the apps right from your Windows PC or if you are an Android Gamer then you can easily run those Android Games on Windows and enjoy FPS games in relatively bigger screen size.
Android Emulators are designed to run Android Apps on your Windows computer. As they require a lot of Physical Memory and storage, finding a suitable one is a great headache. There are tons of Android Emulators for PC. But finding an efficient one for your PC is a real tough task. BlueStack, MEmu, Nox App Player, Remix OS Player, etc are some among the most used Android Emulators for PC.
This article also shows which are the best Android Game Emulators. If you are a serious gamer, you should actually have look below. You know, Android Emulators like BlueStacks, Andy, and Droid4X requires a lot of RAM and Internal Storage. So many of the users are not able to use the same. So for that reason, I have included some top-performing best Android Emulators to the list as well. If you are a someone with a computer which is of low specification, don't worry. This article will help you to find really cool android Emulators that support Low Configuration Systems, too.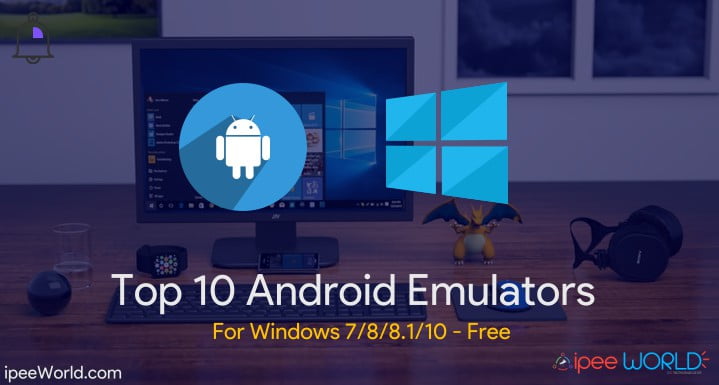 If you don't want to Download or Install anything then I would recommend you to have a look at Online Android Emulators which will help us to use Android Apps in just any Web Browsers. Online Android Emulators are web-based cloud Android Emulator that runs on their server and you can easily access it from your Internet Browser. You can find and upload the .apk file of any App to Online Android Emulator and then access it right from your computer. I have mentioned a clear cut comparison between Android Emulators and Online Android Emulators. You can read that section to get an idea of whether you should use Online or Offline Emulator.
Best Android Emulator For Windows
Here in this article, I will be sharing top and best fastest Android Emulators to run Android Apps on your PC. You will find 10+ different Android Emulators that are capable of running intense Games, Apps and pretty much anything. Almost all Emulators mentioned here comes with a standalone Android OS and the majority of them are already rooted. If you want to run any sort of Root Apps, then it won't be a pain at all.
1. Nox App Player
I should add Nox App Player to the top of the list because it deserves to be on the top of the list. Needless to say, Nox App Player is awesome and is great for personal use. The User Interface and Easy to use navigation are the two prime factors that really attracted me to try Nox App Player. After using it for a while, I became a great fan of it. Now I am using Nox App Player on my PC to run Android Apps on my PC.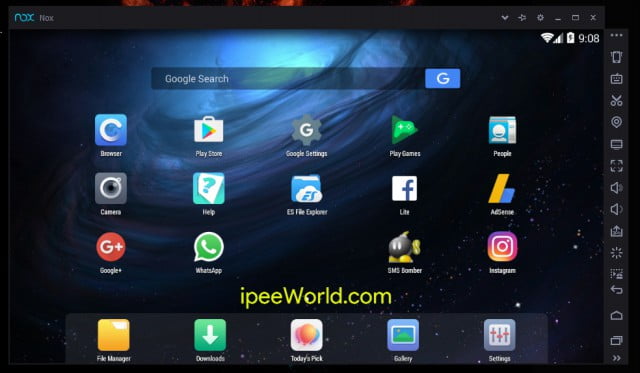 Nox App Player is a rooted Android Emulator and you are not required to root it again to run any sort of root apps. If you take a look at both MEmu and Nox App Player, you will notice both of them are quite similar to each other and yes it's true. For me personally, I felt it as the same Android Emulator with different Branding and name. Whatever it is both the Android Emulator does the job really great. You can have a check at the highlighted features of Nox App Player Android Emulator below.
Highlighted Features:
Easy Controlling
Massive Games
Assistive Utilities
Games of High Quality
Easy Controlling
Smoothest Entertainment
(You can use the link given below from the official website to download Nox App Player for Windows)
2. Bluestacks
When talking about Android Emulators, we cannot avoid Bluestacks. Bluestacks is one of the oldest as well as efficient Android Emulator program available for Windows platform. Bluestacks was mainly targeting gaming users but now it is better for App Developers too. The very recent version of Bluestacks, Bluestacks 3 which is more efficient, faster and stable allows anyone to play high graphical games as well as Multitasking. Bluestacks comes with both free and optional $2 per month plan in the market.
BlueStacks is a resource-hungry monster and requires at least 2 GB of RAM in order to install it. If you are a computer is having less than 2 GB of RAM then probably BlueStacks is not for you. Even, I have already shared a trick to install Bluestacks on machines with less than 2 GB of RAM. So, if you are having a computer with less than 2 GB of RAM and wanted to use Bluestacks then you read this guide ( Install Bluestacks without 2 GB RAM ) to get the job done.
Highlighted Features:
Offline as well as Online Installer available
Install third-party APK directly from your PC by simply double-clicking it.
Comes pre-loaded with Google Play Store
Must Check Bluestacks Tricks:
3. Remix OS Player
After the huge success made by Remix OS, Jide Technologies turned around and launched it's very own new Android Emulator called Remix OS Player. Remix OS let us install Android on our PC directly, this was not an Emulator, but a real operating system. For the installtion, you are required to have dedicated partition and after the installation, you need to select Remix OS from the Boot Menu and it will load Remix OS without even loading Windows.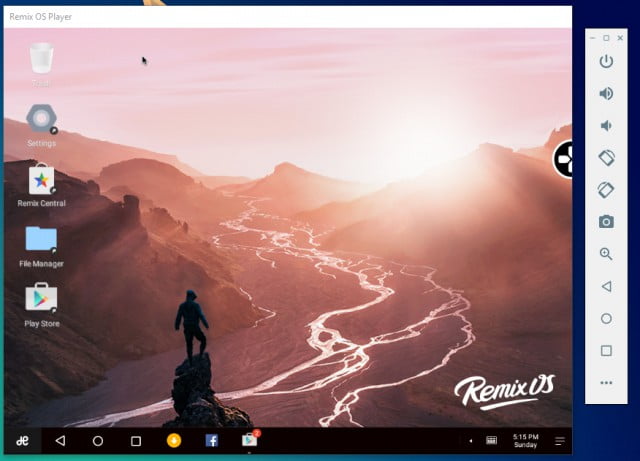 Recently, they launched a new Android Emulator known as Remix OS Player. To be frank, I fall in love with this one after I used it for the first time. This one got so many features that no other Android Emulators in the industry has. Now try it yourself and find what else you will get from Remix OS Player than the ordinary ones. It is one among other few Android Emulators to be Rooted straight out of the box and it is highly gaming optimized and user-friendly, too.
Highlighted Features:
Comes pre-rooted
Google Play Store installed
Built-in App Store
Optimized for Android gaming
Multi-Tasking (Just like Windows OS, use different apps side-by-side)
and a lot more…
4. MEmu
MEmu is a gamer-oriented Android Emulator with tons of features that every single gamer are going to enjoy. If you are someone who loves to play PUBG Mobile on PC then MEmu has a dedicated keymapping to effectively play PUBG with your keyboard and mouse. Apart from that, you can set the resolution for your workspace like 720p, 1080p, etc.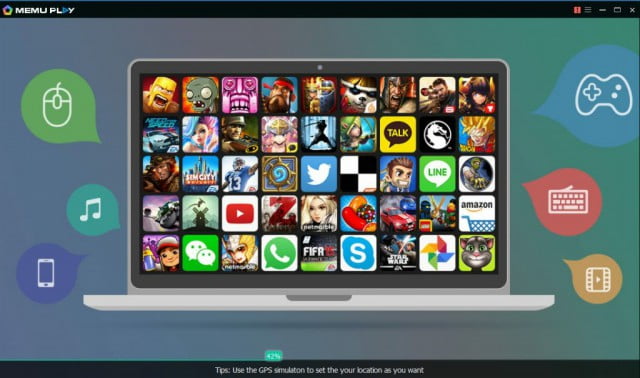 Once the installation is done, MEmu Android player will automatically find all the APK file in your computer and you can easily install it by simply double-clicking it. As mentioned earlier, MEmu and Nox App Player has great resemblances and both the players are an absolute gem for anyone who wants to use Android on their Windows-based PC hardware.
5. Andy
This one is a completely free Android Emulator called Andy. Andy is user-friendly for every App developers as well as Gamers. Andy is really unique when it comes to the features part. You can use your smartphone as a controller while playing Games. This one supports ARM and you can directly Install apps to Andy through your Desktop. Andy Installer Package comes with VirtualBox in it. It needs virtualization and VirtualBox will be automatically installed while installing Andy Android Emulator.
Highlighted Features:
Use a Smartphone as a controller while playing games
Comes with pre-rooted
Ideal for Gamer
   Download Andy Android Emulator
6. Droid4x
Next one in our list is the Droid4x Android Emulator. Droid4x is the best alternative to Andy. This one comes with many features as like what we have in Andy. Andy is ideal for both Gamers and Developers. For Developers, Working with their apps will be super easy with Droid4x. Upon our review on Driod4X, it seems to be promising and is way efficient than other programs in the market. Droid4x is completely Free for both Developers and users. You can also use your Smartphone as a controller to play games as like in Andy.
If you really like the way Andy Android Emulator works and want Alternatives to it, then you should definitely checkout Droid4X. Droix4X has both Online and Offline Installer packages and you can use either one of them to get it running on your PC.
Highlighted Features:
Way faster and efficient
Use a Smartphone as a controller while playing games.
Developer friendly
Offline Installer available
7. KoPlayer

KoPlayer is new to the market which comes with many features that will blow your mind.KoPlayer is mainly targeted for Gamers. That's exactly why most features of KoPlayer is Gamer-friendly. The installation process is simple and straight forward. One of the highlighted features of this player is the Keyboard to Touch Mapping control which is unique.
Highlighted Features:
8. Genymotion

Genymotion is a perfect option for any App/Game Developers. Genymotion is for those who want to test their apps on various devices simultaneously. You can yourself configure Genymotion for any android device. For example, you can run OnePlus 7 Pro with Android 10 Beta or a Pixel 3 XL with Android 9.0 Pie. You can easily switch between devices and try apps on any device you like. Genymotion exactly targets App Developers and is not that great for consumer option, but if you want, they also provide a free plan as well.
Highlighted Features:
Great for Developers
Select device configuration of your choice
Switch between devices in one click
Free for Consumer option
9. Windroy
10. AMIDuOS

Standalone Android-based OS for PC
Other than Android Emulators, there is are simple OS specially developed for PC users. These OSs helps us to run Android Apps on our PC. By installing these OS, Our computer completely transforms into an Android Device. These OSs comes pre-installed with Google Play Store and many other apps.
11. Remix OS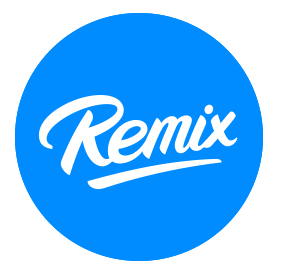 Remix OS is a revolutionary Android-based Operating System for PC. In simple terms, we can call Remix OS as a fusion of both Android and Windows together to give the easiness of using a Computer OS and all the great features and APK support that are available only on Android devices. You can use keyboard and mouse, drag and drop, selection, right-click, apps drawer, Start menu button, multi-tasking, and open apps as different windows like we do in regular Desktop-based OS.
   Download Remix OS For PC: 32x and 64x
   Install Remix OS on PC: Dual Boot with Windows
12. Phoenix OS
Phoenix OS is a great alternative to Remix ODS. For a very long them there has been no competition to Remix OS as there was no Android-based OS for PC. But later Phoenix OS was released with similar and much better options and features to compete Remix OS. Anyways, both Phoenix OS and Remix OS are really cool concepts that let us to to run Android optimized for PC.
   Download and Install Phoenix OS
Final Words
These are some amazing Android Emulators for your Windows machine. Whether it be a fully-fledged desktop or Laptop, all these Android Emulators will work with all your devices. Only Bluestacks Android Emulator requires minimum 2GB of RAM for the installation other than that no other software has this minimum criterion. But, if you want a buttery smooth experience then I suggest you install those emulators only on PC/Laptop with more than 2GB of RAM. If your device is already having a dedicated Graphics Card then you are absolutely good to go.
Android Emulators for Windows