Are you struggling to find the best spot or place to keep your WiFi router so that you can get the maximum range to almost all essential parts of your home/office, etc? This is where WiFi Analyzer software comes into play. These are simple applications that will generate network statistics in the form of Heatmaps and signal bars to find the best place to keep your WiFi router or to create a Mesh WiFi Network like Google Mesh WiFi.
Until I got to know about these WiFi Analyzers for Windows 10/8.1/8/7, I tried the manual method to find the best place for maximum signal and range. I used to move all around my room to find the best spot that will give me the maximum range and connection speed and guess what? It takes a hell of lot of time to figure out the best place by the manual method as it is so time-consuming.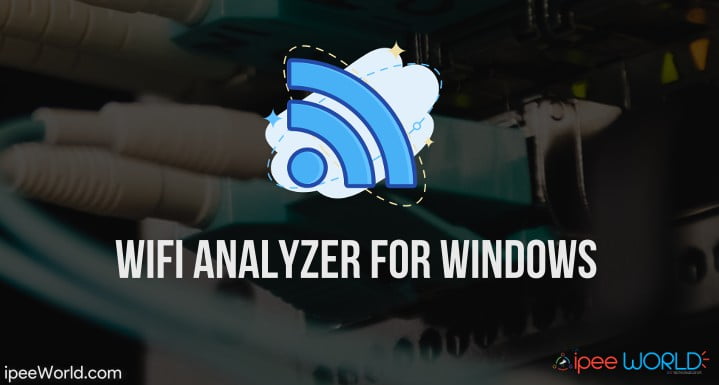 Everything changes when WiFi Analyzer comes into play. In this article we will be talking about some really amazing WiFi Analyzer for Windows and don't worry if you are having an Android device, you can go to the Google Play Store and then search and find any good WiFi Analyzer and find the best position for maximum WiFi signal strength.
Best Wifi Analyzer for Windows
Before going in, let's see why you should be using these sorts of applications and their advantages.
Why You Need WiFi Analyzer?
WiFi Analyzers are software that is designed to find the best position where maximum speed and signal strength is high. If you start walking around your house, you will notice the signal strength is really high at some positions while it is miserably bad at some other positions. We cannot find the best position by using the manual method alone. Signal Strength and WiFi connection speed depend on a number of factors including obstacles like a wall, distance, signal blocking equipment, router strength and a lot more. WIFI Analysers for Windows will give detailed insights on all these statistics and help you find the best place to get maximum efficiency from a particular Network.
Read: Create WiFi Hotspot in Windows 10
1. WiFi Analyzer
WiFi Analyzer is a freemium WiFi Analyzing software available on the Windows Store. It is available for Windows 10 and 8 series. By scanning your entire room, it will show you the best position to place router and also analyze WiFi related issues. WiFi Analyzer will first analyze your Network and create a channel based entry with all the signal strength and power a particular channel can yield you. The best part is that you will also get access to statistical data about other networks interfering with your current wifi network. Every signal will be given a star rating from 1 to 5, the latter being the strongest.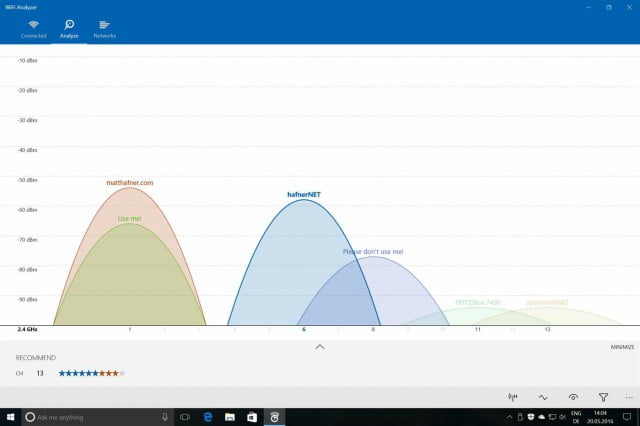 WiFi Analyzer for Windows has both Free as well as Premium plans. Most of the essential features are available in the Free version itself, but if you want to get access to some advanced features like some mentioned below, you will have to pay for it. For me personally, The Free version itself is really good and does the job.
You can Download WiFi Analyzer from the Windows 10 Store and use it right away. In the free version, you might encounter the screen turning off issue but if you opt to go with the premium version then it will keep the screen turned on always and also gives a beep sound notification whenever a new AP is in range.
Pro Version Features:
• Live-Tile support • Beeper for signal strength • Connect to networks • Use filters • Prevent screen timeout • Lock screen rotation • Change signal strength borders
2. NetSpot
NetSpot is a WiFi Analyzer and troubleshooter software available for both macOS and Windows. If you are not a tech-savvy person and no much knowledge in Networking and communication settings, then this app is perfect for you. The simple to use interface and visually appealing GUI makes it incredibly easy for anyone to use it. You can find the best signal strength position with this software. If you own a Mac device then you can also use the same software in Mac, too.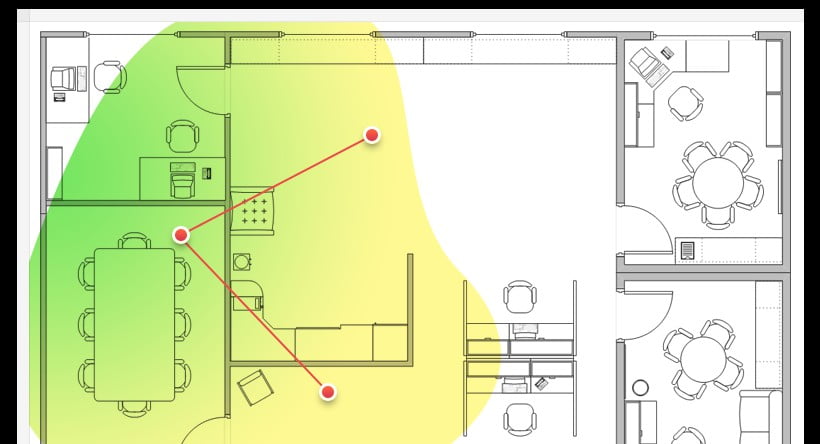 This software works over any 802.11 based networking platform. The visual statistics and data will give you ideas by analyzing the visual static data frequency signals and map according to it. WiFi Site Survey is another offering from NetSpot to create data-driven documentation by analyzing various WiFi networks from all over the world.
The survey part is the best about this software and is what I like the most. It will generate a heatmap according to the frequency of signals and let us place the device on a position where the maximum frequency is felt.
You can download the Free WiFi Survey Software for Windows as well as Mac OS X from the link given below and do check them out. It's a win-win situation for you if you are having both Windows and Mac based machines.
3. WiFi Analyzer Tool
WiFi Analyzer tool is a paid tool in this list with similar work functions as mentioned above. It will give you complete details about all the visible networks around you and get complete insights on them. This software is available on the Windows Store and you can download it by paying a one-time price of $4.95. You can also purchase the software by redeeming existing coupons(if any).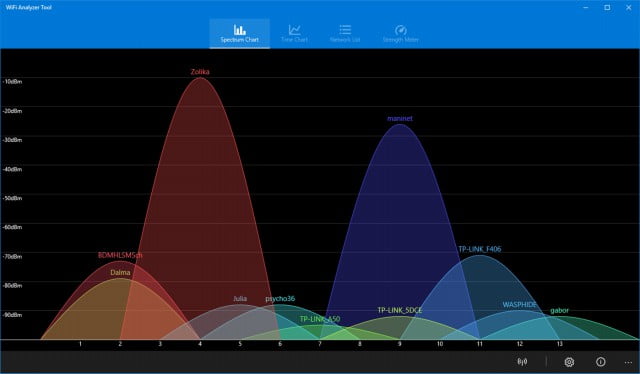 On the dashboard itself, you will be shown a histogram with some graphics indication signal strength at various spots. When you move around, the signal strength tends to move up and down. In this manner, you can find the best spot to get maximum speed and it=s really worth the amount.
The software has both Dark and Light theme and is really visually appealing. It supports both 2.4 GHz and 2.5GHz bands. At the time of writing this article, you can get the software for as low as $1.99.
Read: How to use both Mobile Data and WiFi Simultaneously in Android
4. inSSIDer
inSSIDer is an advanced WiFi Analyzing App for windows. It is mostly targetted mostly to Pro level users who have a clear bit of ideas regarding Wireless network communication. It is a Paid tool and the basic plan starts at $149. inSSIDer is specially designed for bigger office space and enterprises where intense data works are to be processed.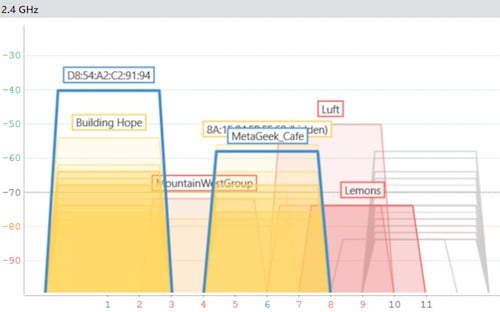 Reliability and ability to handle really huge network infrastructures is the main key point that makes inSSIDer really useful and at the same time more user-friendly.
inSSIDer will analyze your network data for a period of time and then generate a histogram based on that. So, you can find the optimum settings even though the signal keeps fluctuating. Apart from that, you can also compare data from a different set of periods and comes to a final conclusion for the best spot. Frankly speaking, inSSIDer is an expensive software targetted for big businesses and I won't suggest it for Home Users at all.
5. Netcut
NetCut is more of an advanced WiFi analyzing software. It is really different from our usual WiFi Analyzing apps because it is more focused on professionals and backend people. NetCut is originally developed for backend usage and home users might find it little hard to navigate and find the desired features and stuff.
Another interesting part about NetCut is that you can kick oof any person from your WiFi Network without having a hand on access to your Router or modem. That's really cool because you can always remotely monitor people on your network and eliminate unauthorized users easily.
NetCut is more of a Network Debugging tool and it has some amazingly powerful features, too. This completely free and you can download Windows version from their official website. NetCut is also available for Android and iOS as well.
6. SpeedTest Master
SpeedTest Master is a simple WiFi Analyzing software for Windows designed especially for people who are not having much knowledge in Networking and deep settings about it. It is really easy to use and no one will ever struggle to use it. It visually appealing and the Graphical User Interface makes it really easy to find all needful pieces of information.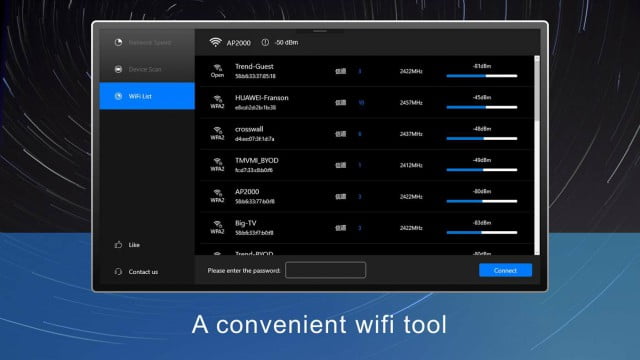 You can scan your network, ping and even device scan all devices within the particular wifi network. It will scan for different networks and record the max and min download/upload speeds, response time and ping time to find the best network in closer range with better
If you do not want to use inSSIDer as it is really complex and expensive, then SpeedTest Master is the perfect simple alternative to it. At first, it might sound like a simple Speed Testing application, but it is not.
7. WiFi Commander
WiFi Commander is a completely paid software with no free version. It is available for $4.99 at the time of writing this article and the actual price of the same wifi analyzer is somewhere around $30. If you are looking for some visually engaging software to detect the best WiFi then this what you are looking for. After doing a quick roundup check it will display all the details in a nicely plotted 3D Manner. It comes really engaging if you are having a Touch Screen device. Let's say that you are having a touch screen Laptop or Computer then you can use your fingers and pinch in and out to interact with the graph.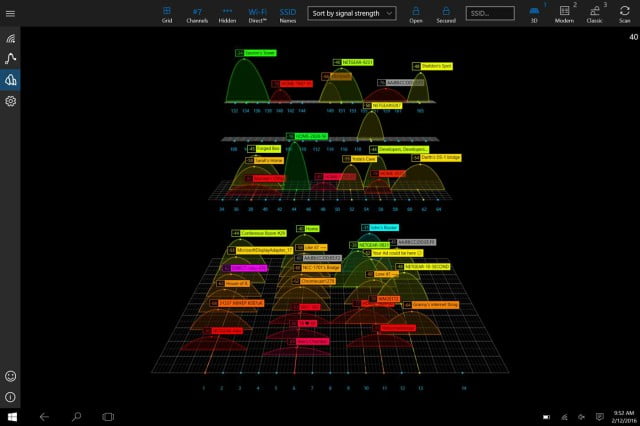 This software is available in the Windows Store and anyone can download it. But, sadly it is not available for Windows 8 series or 7. It is specially designed for Windows 10 and is only available for it in the official Windows Store.
8. GlassWire
GlassWire is another interesting WiFi Analyzer software for Windows. It is more or less leaned towards WiFi security and firewall protection. It will help you to analyze WiFi network in each and every aspects of malware and threats. If a particular network is unhealthy or risky to access then the software will let you know that and you can make your final decision whether or not you should connect to this particular network or not.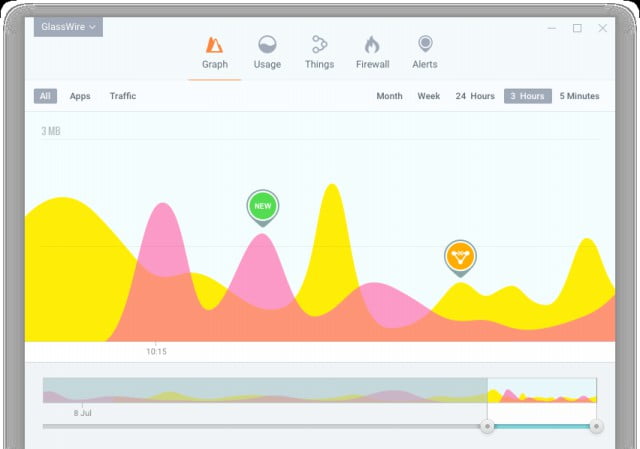 It is also visually appealing and easy to use. If you are not a pro in the field of Wireless networking and firewall security then this software is really great for you as you can get the job done in a more of a few mouse clicks.
GlassWire is not available on the Windows Store, but you can download the latest version of it from their official website and it is completely free to use.
Read: Best DNS Benchmarking Software for Windows
Final Words
If you are struggling to find the best spot to keep your router or to find the best spot in your room where you can access a wifi network with maximum efficiency then you should definitely check out any of the above-mentioned WiFi Analyzer software for Windows 10/8.1/8/7. The majority of apps mentioned in this article are available in the Windows Store and you can download it from there. Next time onwards when you move to a different place or the router position changes you will not struggle to find the best place to access the Internet with maximum Download and Upload speed.