Mega.nz is a leading cloud storage service similar to Google Drive, Dropbox, OneDrive, etc. It can even be considered a replacement for Google Photos as well. Oftentimes people face some issue while downloading files from Mega.nz.
One of the most common issues people face with Mega is the error 'Your in browser storage for MEGA is full'. You won't be able to download any file if this error appears. This problem arises when you try to download huge files from the Mega website.
In this article, we will see some methods to fix Your in browser storage for MEGA is full. After fixing the problem, you can continue downloading any files using Mega.nz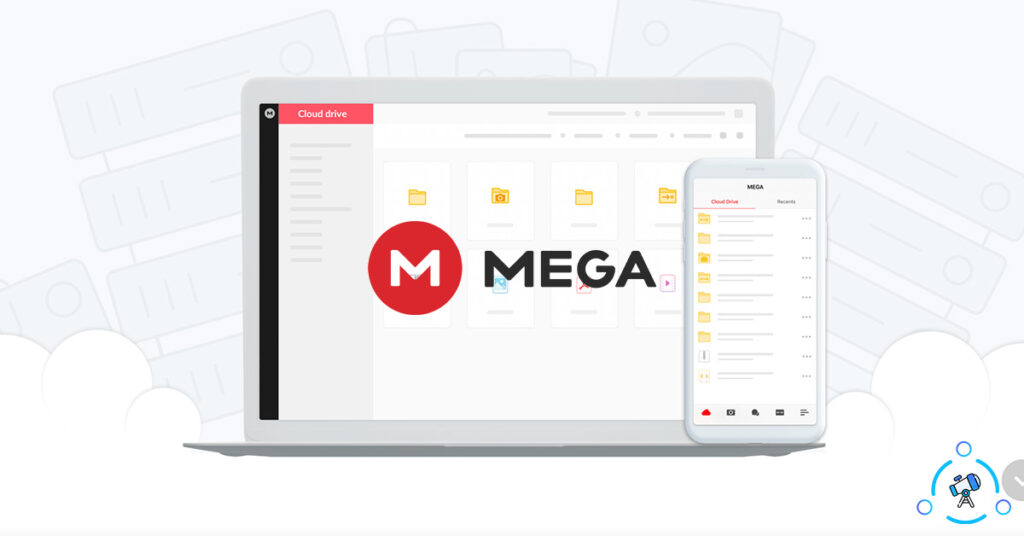 Your in browser storage for MEGA is full Solutions
There are multiple methods that you can try to fix the issue. Since the issue is related to the browser that you are using, we will first try to fix it within the browser itself. But if it fails, we can move to other methods given in the article.
Clear Mega.nz Cookies
One of the quick fixes that you can try to solve the problem is to clear Mega.nz cookies from your browser. Similar to any other website, Mega stores some cookies on your web browser to record your account details and preferences. Deleting Mega cookies can solve the issue in this case.
It doesn't matter which browser you are using, almost all web browsers come with the option to clear cookies of any specific site. In this method, I will demonstrate how to clear cookies of Mega.nz in Google Chrome.
Step 1: Open the web browser, in this case Google Chrome.
Step 2: Just type mega.nz in the address and hit enter to visit Mega.nz. Once the page is fully loaded, click on the padlock icon from the address bar, to the right side of the site address.
Step 3: Now a bunch of options will appear like Certificate, Cookies and Site Settings. Click on the second option – Cookies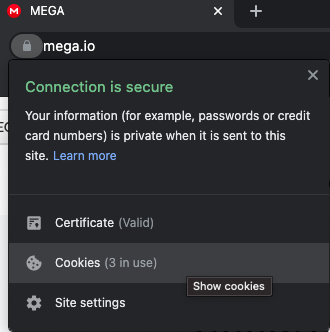 Step 4: Now a pop up will appear listing all the cookies in use by Mega.nz. Clearing the cookies is simple. All you have to do is click on the particular cookie file and then click on the Remove button.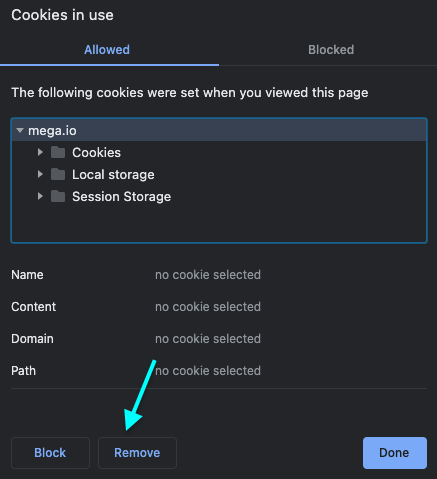 Sometimes there will be multiple cookies in use. You will have to remove all of them. In my case, there were about 3 cookies that I removed.
Step 5: Once removed, relaunch the browser and try to download the file again. Hopefully the issue should solve now.
Even after removing Mega.nz cookies, if the Your in browser storage for MEGA is full issue still persist then try other methods given below.
Reset Browser
Some browser misconfigurations might be causing issues with Mega. In this case, resetting the browser should fix the issue.
Do note that resetting the browser will delete all browsing data including cookies and caches, reset all the settings and preferences. If you are okay with this, then you can continue to reset the browser. Otherwise, you can try other methods from the next section like using a different web browser or a special tool to download files from MEGA.
Open the web browser
Head over to the Settings page. (Click on the three dots icon from the top right corner and click on Settings)
Under the Settings page, search for the option to reset the web browser. (If you are using Google Chrome, then simply expand the Advanced tab from the left side of the Settings page and it will have the option to reset Chrome)

Now click on the Restore settings to their original defaults button. It will open up pop to confirm your action.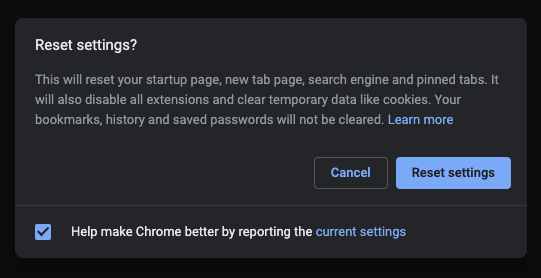 Just hit the Reset settings button and wait for a while.
Now you have successfully reset the web browser.
Try a Different Web Browser
There are a good number of web browsers out there. You may try using a different web browser to solve the downloading issue with MEGA.
In my case, I am using Google Chrome so I can try some other Google Chrome Alternatives to solve the issue.
Web browsers like Google Chrome, Firefox, Brave, etc are available for almost all computers out there. Simply download any of them from their official website and give it a shot.
If you are using Windows, it comes with Microsoft Edge and macOS comes with Safari. You may try any of these browsers to fix the issue.
Using a different browser to download Mega.nz files should solve the issue.
Use Mega Downloader
If none of the methods mentioned above worked for you, the next thing to do is to download a specialized tool called Mega Downloader. It is a download helper for Mega that you can use to download files from Mega easily.
First of all, download Mega Downloader and open it up. Paste the URL of Mega page in the field provided and click on the Start button. Wait for some time until the download is complete. Once it is done, you have successfully downloaded a file from Mega without using a web browser.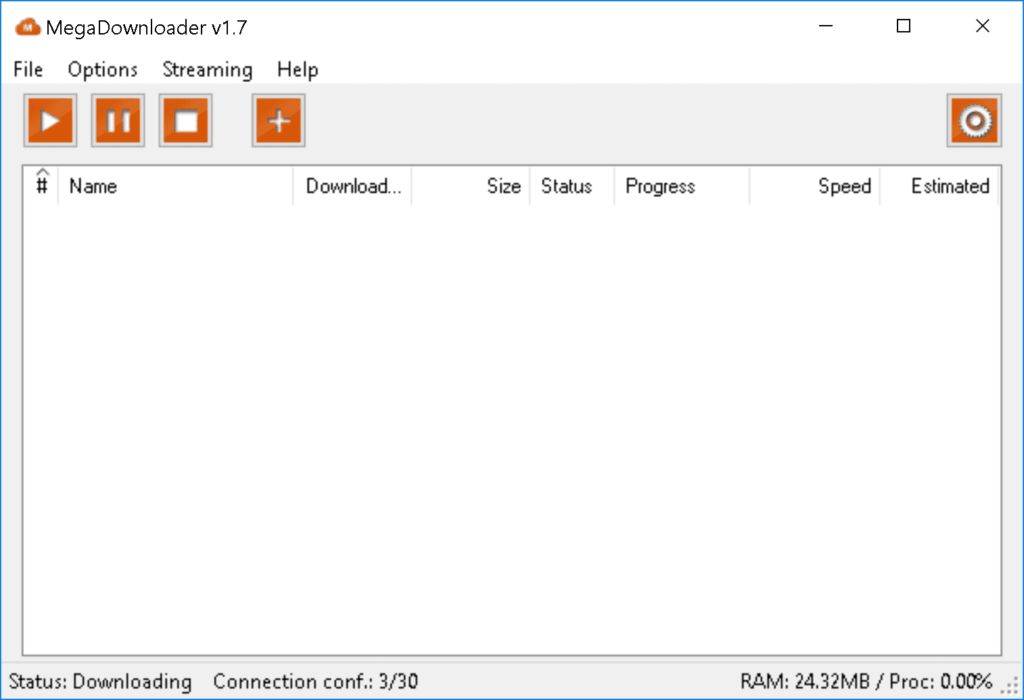 You can continue using the same software next time so that you don't face any error.
Fix Mega File Download Error
Seeing Your in browser storage for Mega is full error over and over can be frustrating for a lot of people. These are some methods that you can try to fix the issue easily. Most of the time, clearing cookies should work. If you can't fix the issue by clearing cookies then try using a different web browser or MEGA Downloader tool