Google Chrome is undoubtedly one of the best web browsers available for multiple platforms including Windows, macOS, Linux, Android, iOS, etc. There are tons of features that make Google Chrome the best in the market.
If you are looking for a Google Chrome Alternative then you have come at the right place.
Google Chrome owns almost 64.1 percent of the global web browser market share and it is clearly evident how huge the userbase is. Being the popular web browser in the market, Google Chrome has its own flaws as well.
Google Chrome is a resource-hungry monster known for eating up a lot of RAM. If you own a low to mid-end computer, then occasionally you might have run into issues like Chrome not responding or high memory usage by Chrome.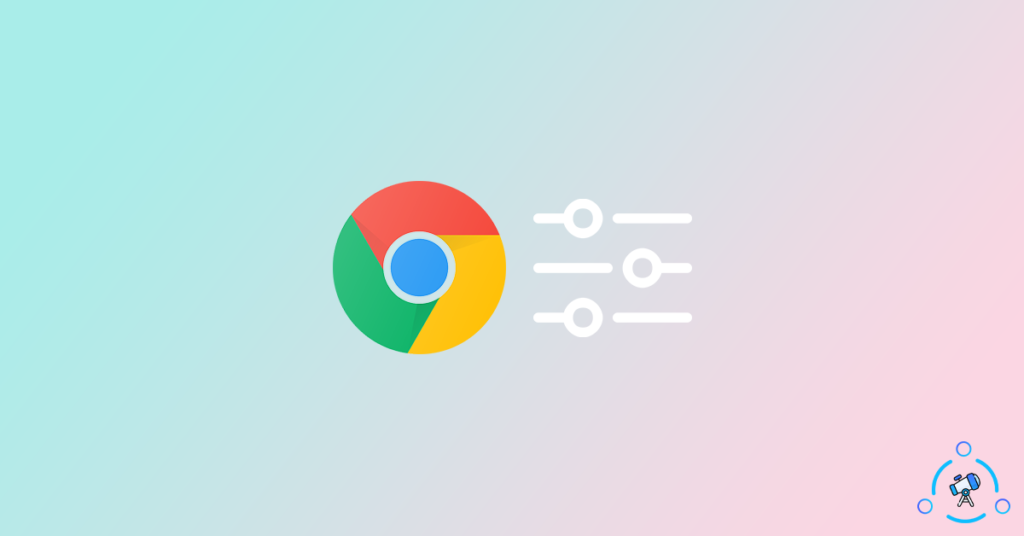 Another reason why people look for Google Chrome Alternatives is because of the amount of data it collects and sends to Google. If you are concerned about your privacy a lot, then you might want to do the shift as early as possible.
Whatever be the reason, if you are planning to switch from Google Chrome to some other web browsers then this article is what you are looking for. This article covers the list of best Chrome Alternatives that are actually better than Chrome in some areas.
Why Switch Away from Google Chrome?
As mentioned earlier, there might be multiple reasons why people want to change from Google Chrome. Of those, there are certain reasons with the prime most importance. Let's take a look at some reasons why you want to use browsers like Chrome and not Chrome.
Google Chrome eats up a lot of RAM making your PC performance laggy. If you do not have a lot of RAM in your device then Chrome can sometimes cause problems.
Google Chrome sends a lot of data to the parent company, Google. If you are super concerned about your privacy try some other browsers that collect zero data
It's true Google Chrome comes with lots of features, at the same time, Chrome also misses out on some crucial features as well. You can use Chrome Flags to fix the issue to an extend.
Customization can be a bit of a problem for Chrome users
Privacy Focused Google Chrome Alternatives to Replace Chrome
Below given are other web browsers that you might use for your daily work and compltely replace Google Chrome altogether.
1. Brave Browser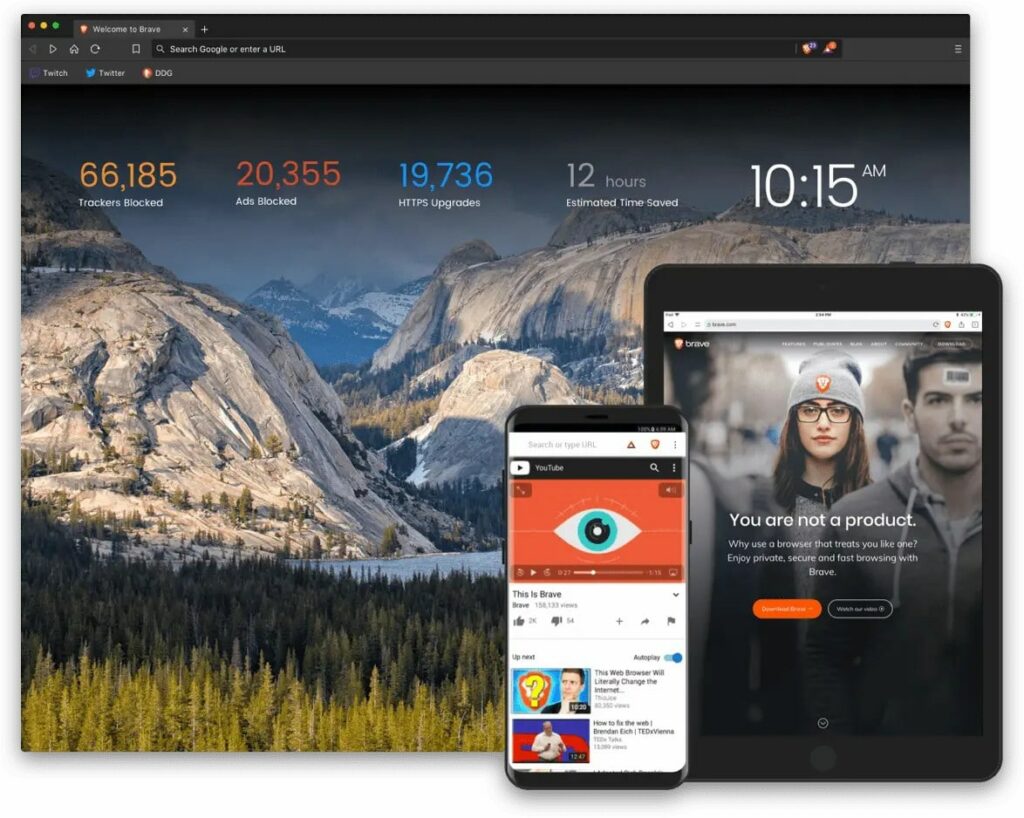 Brave is one of the best web browsers out there when it comes to privacy. It is an open-source web browser with a lot of unique features. One such unique feature that makes Brave a lot different from others is Brave Rewards.
How about getting rewarded every time you use a web browser? Cool, right? Well, by using Brave Browser, you will get BAT cryptocurrency as a reward. You can either redeem them for cash by transferring them into a wallet or send them to webmasters as compensation for blocking ads.
Brave is also faster since it blocks a lot of trackers, cookies, and ads. Brave also lets you go truly anonymous with Tor integration. You may use Tor Private Window to mask your location and spoof it. On their official website, they also claim Brave lets you browse the Internet 3x faster than Chrome.
Since Brave is also Chromium-based, you could install and use every extension available for Google Chrome as well.
Top Features:
Get rewards for surfing the web
Privacy controls
Loads pages faster
Built-in ad blocker
Available for: Windows, Mac, Linux, Android, iOS
2. Firefox Quantum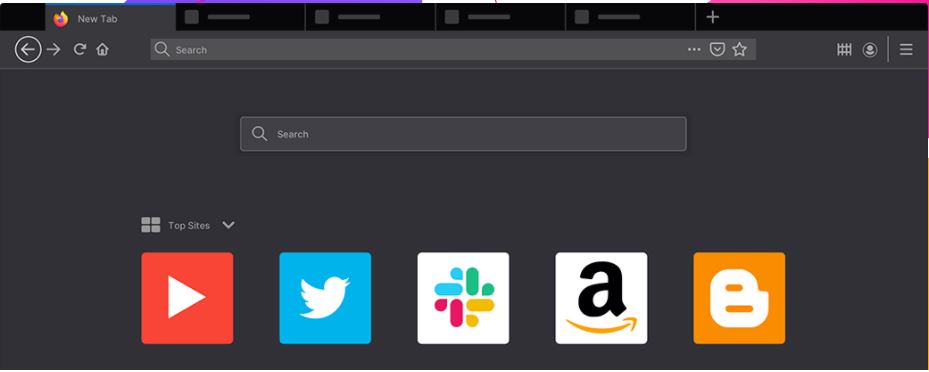 When talking about browsers, two names that suddenly come to our mind are Chrome and Firefox. Back in the days, the performance of Firefox was not even comparable to that of Chrome. But things have changed a lot ever since.
With the introduction of Firefox Quantum, Firefox has drastically improved a lot. The company went ahead and built a new browser from scratch which is far way better than the old Mozilla Firefox.
According to Firefox, Firefox Quantum uses 30% less memory than Chrome. Other than that, a lot of performance-wise improvements are also cited. One of the best parts of using Firefox Quantum is that it deletes and gets rid of all trackers after you are done with a private session. That means, along with search history and trackers, Firefox Quantum will also make sure that trackers are out of the way as well.
So, long story short, go with Firefox Quantum if you are looking for a memory-efficient browser that is better than Chrome even while a lot of tabs are opened in a single stretch.
Top Features:
Less resource-hungry than Chrome
Delete trackers in private sessions
Good UI
Available for: Windows, macOS, Linux, Android, iOS
3. Tor Browser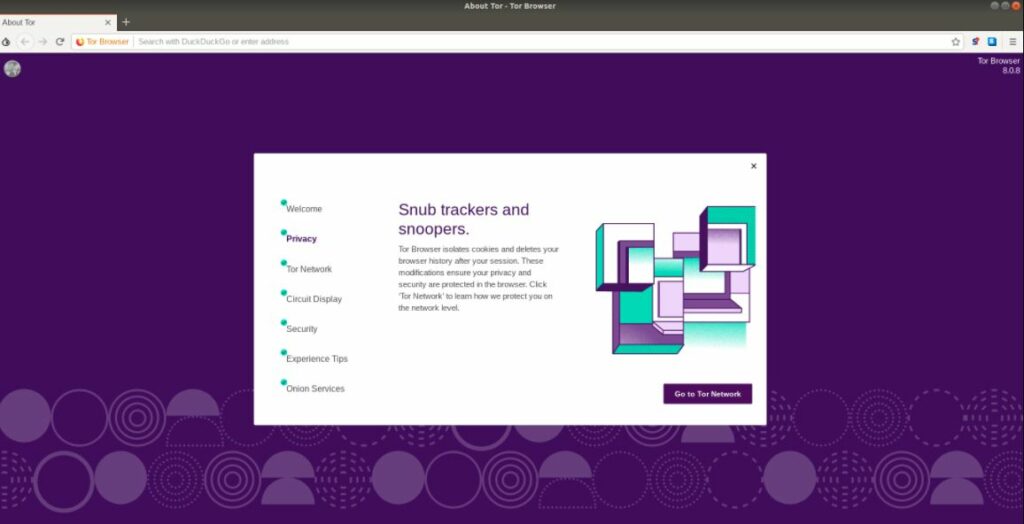 We have talked about Tor in Brave Browser. Well, Tor is not something like a regular web browser. It's a different story here. Tor Browser is known for the level of anonymity it offers. If privacy is everything for you then Tor Browser is just for you.
While using Tor browser, the browser keeps on changing the connections information including the IP to offer you maximum privacy. This simply means that no one will be able to monitor you or track you. They won't be able to know which website you visited.
Even the website you visited won't have any data of you. Since the website you visit does not know anything about you including the geo-location, websites that are blocked in your region can be easily accessed as well. Cool, right? This means you don't need to use any VPN or Proxy to access the blocked website.
Not just that, Tor Browser can also help you in accessing the Dark Web and Deep web as well. In fact, the main reason why people use the Tor browser is to access this kind of hidden website on the deep and dark web.
Furthermore, Tor browser is available for WIndows, Linux, Android and macOS as well.
Top Features:
Complete anonymity
Let you access Dark web and Deep web
Advanced Privacy controls
Available for: Windows, macOS, Linux, Android
4. Vivaldi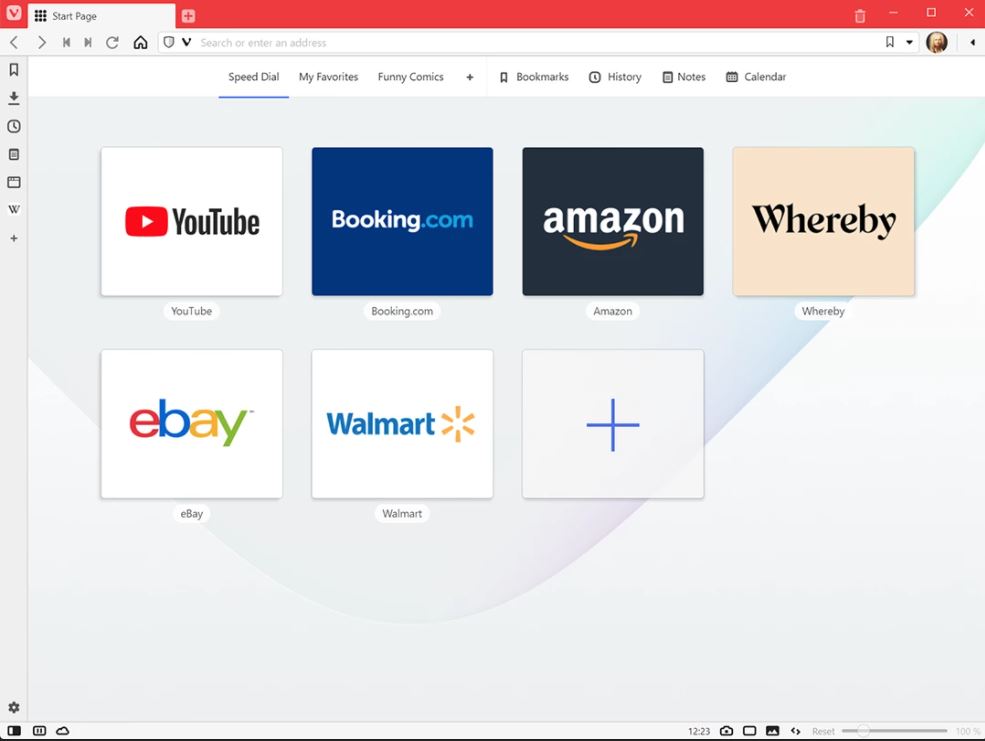 Vivaldi is yet another Chromium-based web browser similar to Google Chrome but does not collect any user data. The best part of Vivaldi is the immense customization opportunities it provides. If you are someone who likes to customize things like the theme, accent color, where to keep what, shades, etc then Vivaldi is for you.
Not just customization, it is also known for not storing any user data and encrypting your data before syncing with multiple devices as well. Since it is a Chromium-based Chrome alternative, you could use all Google Chrome extensions here as well.
You can also easily import all your previous settings, bookmarks, passwords, etc to Vivaldi in a click as well. Vivaldi is a multi-platform web browser available for both PC as well as smartphones, too.
Top Features:
Top-notch customization options
Gesture support
Privacy-focused
Available for: Windows, Linux, Android and macOS
5. Safari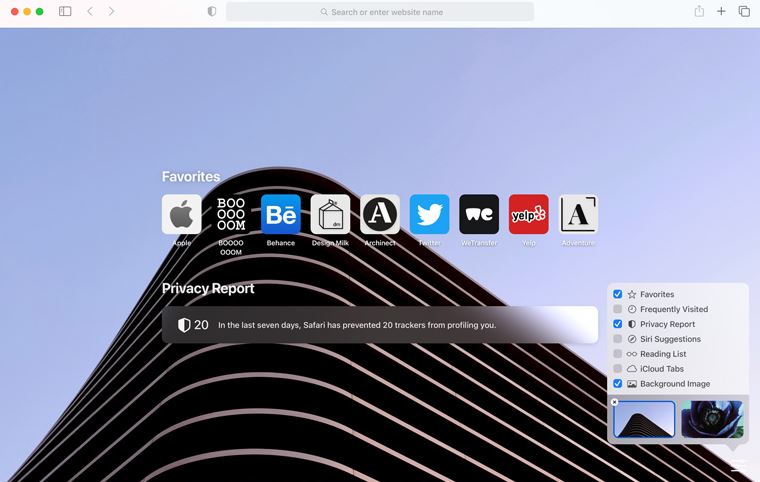 This one is exclusive for Apple users only. Chances are you might be already aware of Safari, the default browser that comes with macOS, iOS, and iPadOS. If you have any device running these OS, it will be already installed on your device.
When it comes to privacy, Apple has done an excellent job here. With the recent updates, Safari blocks all ad trackers and keeps your info hidden from them. So personalized ad targetting won't be much of an issue for you. Since safari is available for multiple devices, data will be perfectly synced across all devices in real-time.
If you are someone who reads a lot of content on the web, then the reading mode will come in handy for you. Once turned on, all the distracting elements will be removed so that you can better concentrate on reading the article.
Top Features:
Clean UI
Reading mode to stay focused
Sync across all Apple devices
Available for: iOS and macOS
6. Opera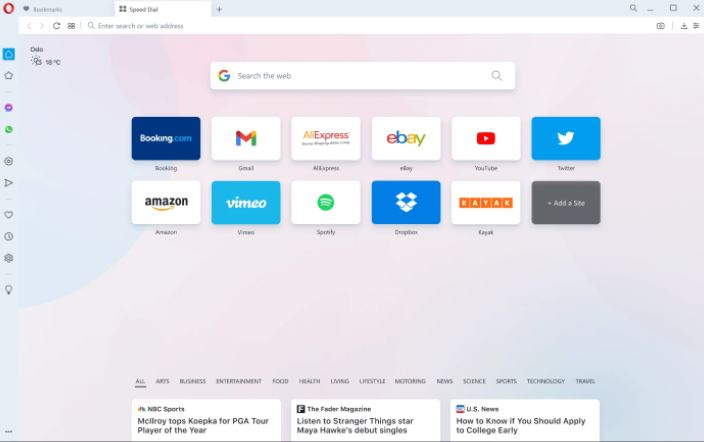 Opera is one of the oldest web browsers dating back to 1995. The newer version of Opera is a Chromium-based web browser with tons of difference when it comes to the user interface, functionality, and other features.
Opera Browser comes with a built-in Ad blocker and a VPN. Yes, you heard it right. First of all, you won't be required to install any additional adblocker if using Opera and second, the built-in VPN helps you to change your location and access geo-restricted contents on the web.
Other misc features of Opera included a dedicated battery saver mode to save your device's battery life, a unit converter to automatically convert things like time zone, units of measurements, currencies, etc, a player in sidebar, pop-out video player, and a lot more.
Top Features:
Built-in Ad Blocker
No need to use any third-party VPN
Dedicated Battery Save mode
Player in sidebar
Available for: Windows, macOS, Linux, Android, iOS
7. Microsoft Edge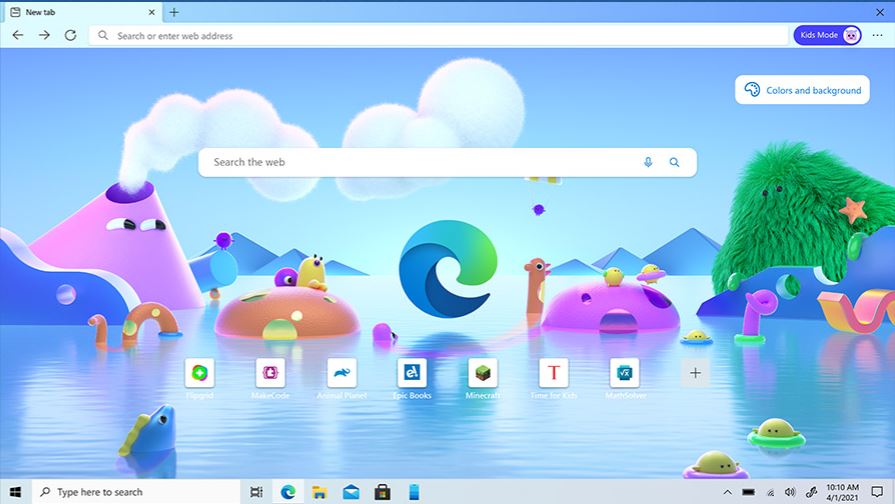 For a very long time, Internet Explorer was the default web browser that came pre-installed in Windows. But with the introduction of Windows 10, Microsoft introduced the Edge browser. Later after some iteration, they introduced Chromium-based Microsoft Edge browser, which now comes by default in Windows 10.
In terms of looks and features, Microsoft Edge looks pretty similar to Google Chrome with minor changes here and there. If you are moving from Chrome, importing your data won't be a problem at all. In terms of resource usage, Edge does not use as many resources as Chrome.
After launching Edge for Windows, Microsoft also introduced Edge for Android as well. You can head over to Google Play Store to install it on your Android device. Data will be synced across your device in real time and using Edge on Windows 10 will have its own perks as well.
Top Features:
Close integration with Microsoft
Uses 30 percent less resource than Chrome
Supports Netflix in 4K
Available for: Windows, macOS, Android, iOS
8. Avast Secure Browser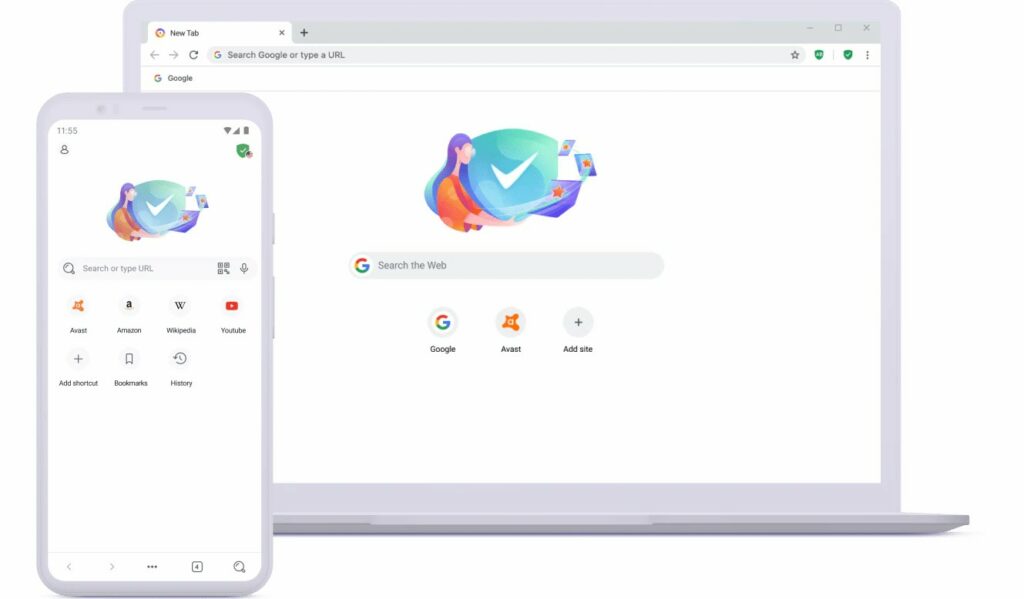 Avast is a leading anti-virus provider with a leading market share. This web browser is from the same company. Avast Secure Browser packs in some features that will prevent hackers from stealing your data, block malicious websites and file downloads, and automatically force websites to use encryption as well.
On the homepage of their website, it also mentions, Avast Secure Browser is up to 4x faster with added privacy controls. First up, Avast Secure Browser blocks all sorts of ads that might be intrusive to the user. and also helps you in blocking online tracking as well.
The browser also comes with an enhanced malware checking system as well. Altogether, a secure and safe Google Chrome alternative to choose from.
Top Features:
Secure Browser
4x faster
Blocks trackers and adware
Automatically force websites use encryption
Available for: Windows, macOS, Android
9. Chromium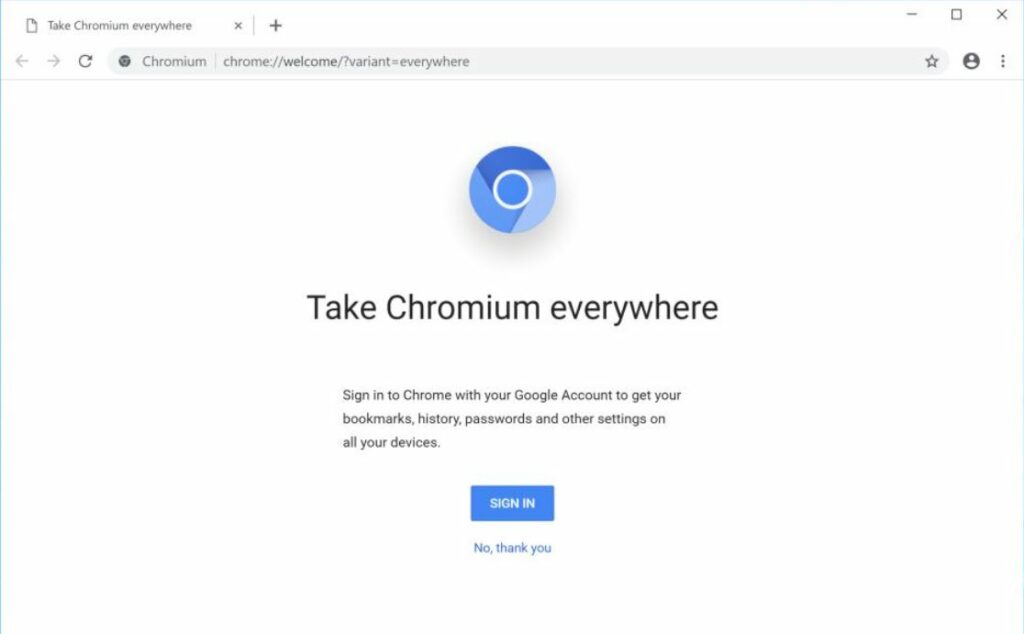 You might have heard Chromium everywhere. A couple of web browsers mentioned in this article including Brave, Edge, Opera, etc runs on the Chromium platform. Chromium is an open-source browser project that is free to use and anyone can modify it as well.
The original Chromium web browser does not collect any data regarding the user and is minimal in terms of features and functionalities. Since it is an open-source project, many Linux Distros have Chromium as the only browser installed.
If you want a simple and open-source web browser then Chromium is something that you can consider. Do note that, in terms of features, Chromium won't up to the mark as others in the list.
Top Features:
Open-source web browser
Does not send any data to Google
Available for: Windows, macOS, Linux, Android
10. Torch Browser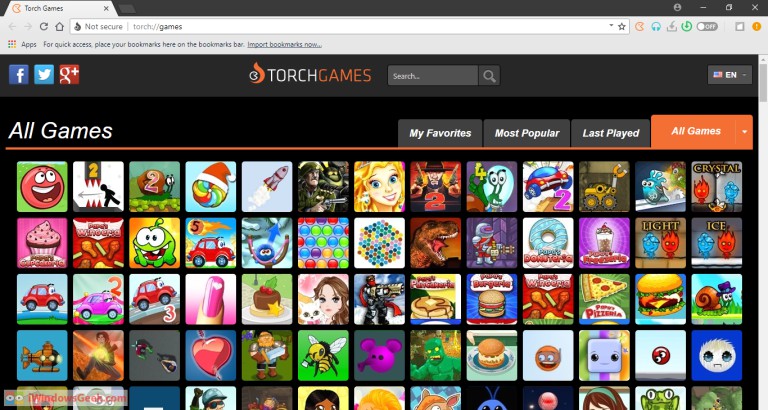 Torch Browser is yet another browser like Google Chrome with some focused features and options. If you are someone who plays with a lot of multimedia content and media files then you should seriously check out Torch. At a glance, the UI will look pretty similar to that of Google Chrome.
Torch web browser comes with some exclusive features like Media Grabber to quickly download media files from any website instantly, Torch Torrent client to easily download and manage torrent files from torrent websites, Torch Player to play media content while it's downloading, Torch Music, Torch Games and a lot more.
Torch Games let's you play some browser games and help you kill time as well.
Top Features:
Built-in Media Grabber
Built-in Torrent Client
Watch videos while it's downloading
Torch Media player to watch videos
Available for: Windows
11. Maxthon Cloud Browser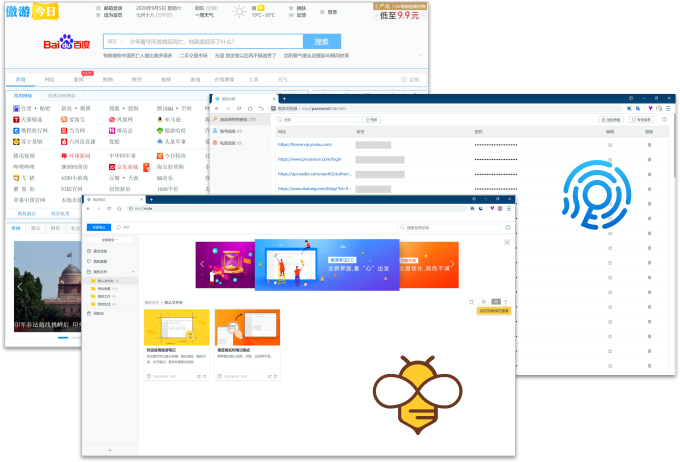 Maxthon is one of few web browsers that are very old. Maxthon is a different browser when it comes to features and options it has to offer. Nothing special when it comes to the privacy side of things. So, if you are looking for a privacy-oriented browser then you should look elsewhere.
Maxthon browser has some really good integration with various blockchain services. The built-in blockchain identity manager-Vbox will help you manage your blockchain identities and supports NBdomain protocol as well.
With Vbox and NBdomain, you quickly get access to various Blockchain apps as well.
Top Features:
Privacy-focused
One of the oldest web browsers in the industry
Built-in blockchain identity manager-VBox
Support NBdomain protocol
Available for: Windows, iOS, Android
12. Slimjet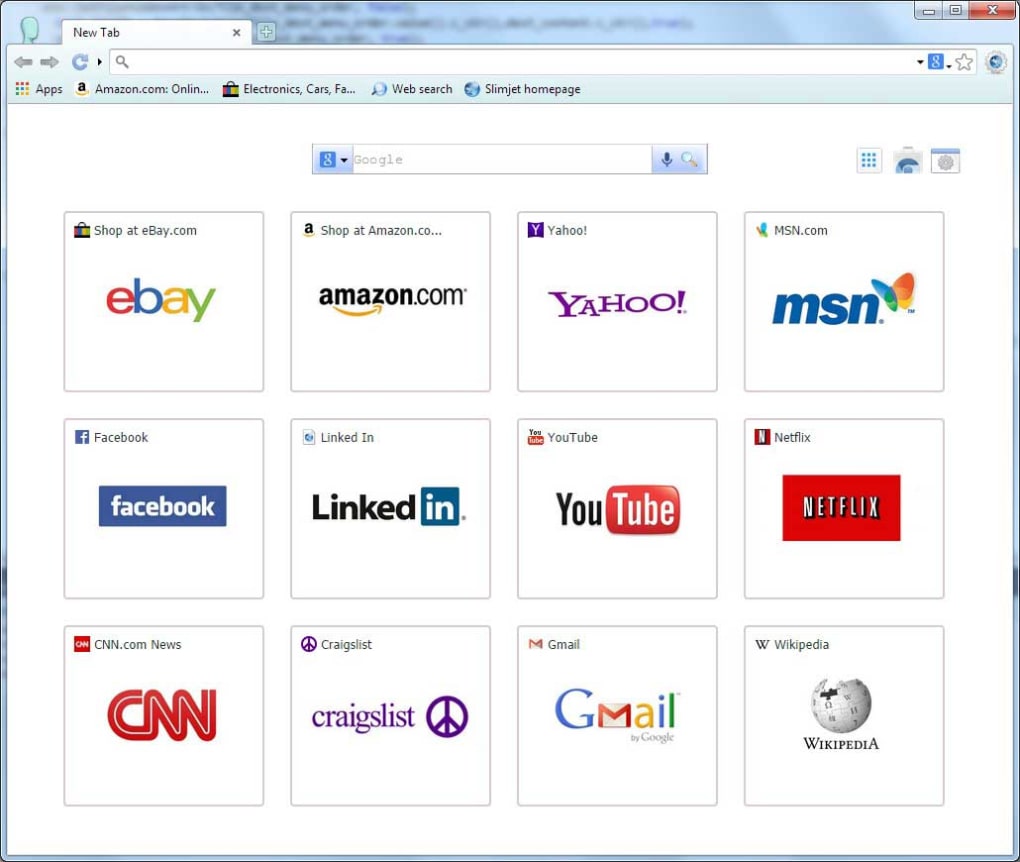 Slimjet is yet another Chromium-based web browser with some serious ad-blocking and tracker blocking features. While using Slimjet, it blocks all sorts of ads and ad trackers. Furthermore, the browser does not send any data to Google either. When it comes to the privacy side of things, Slimjet helps you get rid of your footprints from websites you visit.
Slimjet is available for PC platforms like macOS, Windows and Linux. At the time of writing this article, Slimjet is not available for smartphones yet.
Slimjet developers also work really hard to provide users with timely updates based on the latest Chromium build as well.
Top Features:
Chromium-based browser with ad controls
Blocks all sorts of ads and ad trackers
Built-in Download Manager with parallel downloading support
Available for: Windows, macOS, Linux
13. Epic Privacy Browser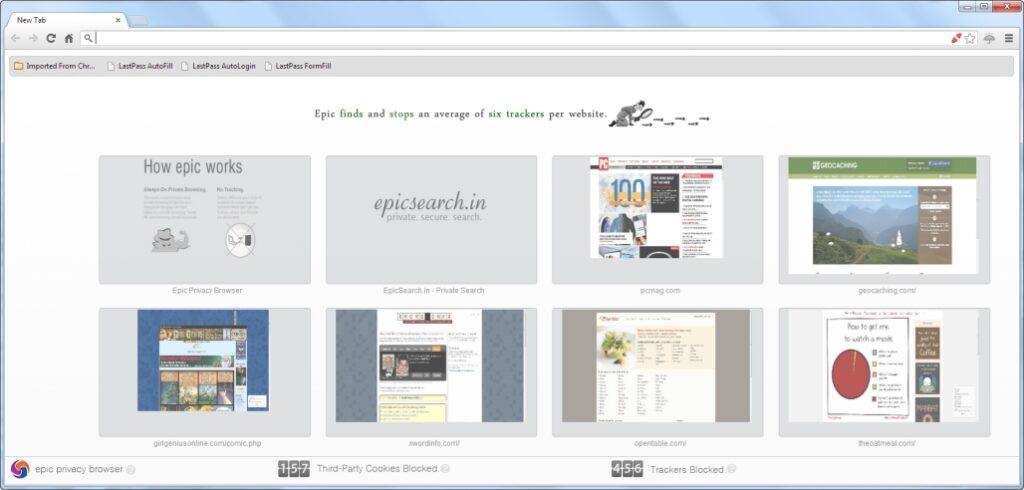 As the name itself indicates, Epic is a privacy-oriented web browser with lots of user privacy controls. The epic browser blocks ads, trackers, fingerprinting, crypto mining, etc. Back in the day, a lot of crypto-malware was using visitor's web browsers to mine cryptocurrency. The built-in Cryptomining blocker will help you with that.
The epic browser also comes with a built-in VPN with servers in 8 countries. You can use Epic browser's VPN if you want to access websites blocked in your country or want to hide your real location being logged by any website.
The browser also helps you directly downloading video and audio from sites like YouTube, Dailymotion, Vimeo, etc.
Top Features:
Comes with a built-in VPN with servers in 8 countries
Blocks crypto-mining malware
Directly download media files from websites
Available for: Windows, Mac, Android, iOS
Safe and Secure Chrome Alternatives
These are some really great alternatives to Google Chrome that someway features rich than Chrome in certain aspects. If you are a privacy nerd, then there are tons of browsers for you. Brave and Tor browser will be my top pick for you if you are very much concerned about your privacy.
In terms of usage of less resource than Chrome, Firefox Quantum will be a great fit as well.
For some reasons, if you want to move away from Google Chrome and use browsers like Chrome with all features it has to offer then this list will be more than enough for you.