No doubt, Mobdro is one of the best applications that you let watch Live TV channels and other content including movies, series, and shows for free. But, for some reasons if you are not able to use Mobdro or if Mobdro is not getting right for you then here we have the list of best Mobdro Alternatives that are similar to Mobdro and even comes with more features as well.
In the Mobdro app, you would find various content from different languages in different countries/regions. Finding a worthy alternative to Mobdro can be a little tricky. But, I have managed to compile a list with more than 10 of them that will allow you to stream Live TV channels for free.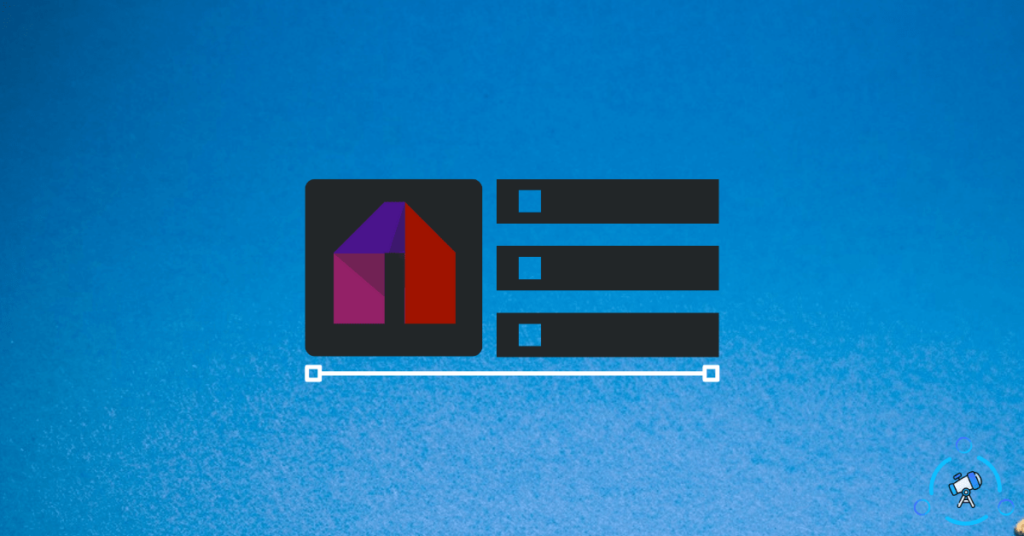 Why Use Apps Like Mobdro?
Mobdro is indeed a good application and works great. Mobdro is even available for Roku. You can install it on Roku and enjoy pretty much all features on RokuTV as well. Being an Android App, there are some issues with Mobdro TV as well.
There might be multiple reasons why one doesn't prefer Mobdro. It might be because it's not working for them or maybe users are in search of a better or similar app to Mobdro.
10 Best Mobdro Alternatives to use
The list is arranged in no particular order. Some TV channels or shows available in one app or service might not be necessarily available in another one. So, at times, you might want to use multiple apps to get the job done.
You can also use IPTV Players on your Windows, macOS, Android, or iOS device to directly stream Live Channels as well.
1. AOS TV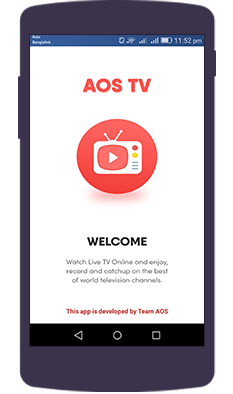 The first Mobdro alternative on our list is AOS TV. AOS TV is a trending application that lets us watch live tv channels for free. Not just Live TV channels, the app comes with lots of shows and other TV programs as well. The user interface of the application is really nice and everything is well arranged and the design itself is very good.
The categories section will let you filter content based on different genres or types like animation content, sports, movies, tv-series, shows, etc. You can select any one of the main options to reveal all the programs available as a subset.
If you are into sports then you are definitely going to love AOS TV, it comes with many sports channels that you can use to live stream sports events like Football or Cricket. A lot of people might be looking for a Mobdro alternative just as to watch Sports content only.
Highlighted Features:
Get access to 1000+ TV channels
Movies, channels, series, shows, and sports available
Comes with the HD option
Neat UI
Filter option to watch your desired show
Available for: Android
2. ThopTV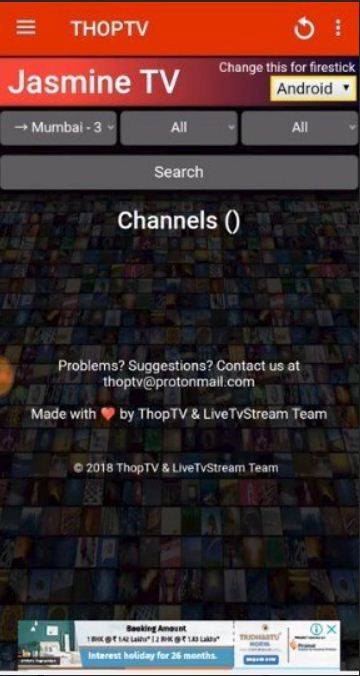 ThopTV is yet another great application to watch all your favorite TV programs and channels without paying anything. ThopTV is very similar to AOS TV in terms of viewing options and other features. There are tons of TV channels available for different parts of the globe.
Some channels/shows might not be available in your country, if this is the case then you might want to use some VPN Application on your Android device. While I was using the app, I saw a lot of channels were not available in my country. But I was able to watch the same after connecting to a USA server using a VPN App. So, you might want to use a VPN frequently.
To find a TV channel that you are looking for, all you have to do is just open the TopTV and search for it in the search bar. Now a list of suggestions will appear and you can select it from there. You have the option to live stream the channel in HD quality.
Highlighted Features:
Get access to 6000 TV channels
Both TV channels and shows plus movies available
Available for free
Stream in high quality
Available for: Android
3. Swift Streamz Android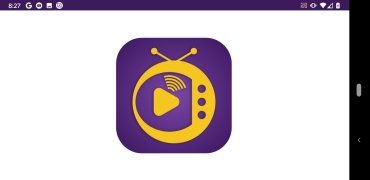 Swift Streamz Android comes with over 700 plus channels from 30 countries. You can freely stream any channel or content on your Android device in a few clicks. You can use Swift Streamz Android with other media player apps like MX Player to watch content.
You will find almost all popular channels from countries from the USA, UK, France, Spain, Germany, Belgium, etc. The best part is that I didn't go through any geo-restriction while using the app. There are two main options in the app, the first one is Live TV and the second one is Movies.
If you are looking forward to watching a Live TV channel on your Android device then you can select the first option from the hamburger menu from the left side. If you are looking for movies, then you can select the second option to getting instant access to tons of movies from different genres and languages.
Highlighted Features:
More than 700 plus TV channels
Comes with tons of Movies
Simple UI
Stream channels for free
Available for: Android
4. Live Net TV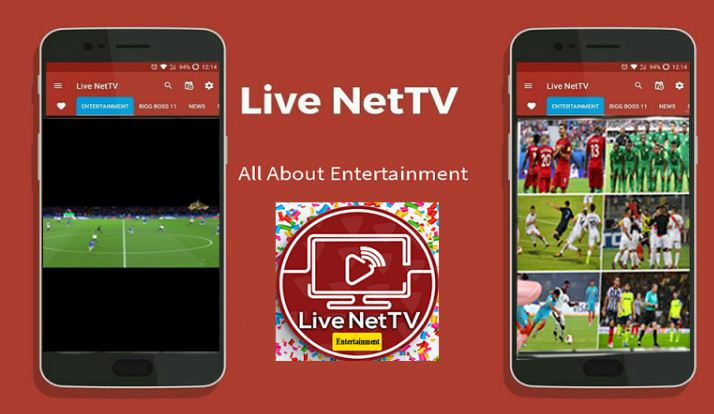 If you are looking for a Mobdro alternative mainly to stream live sports or watch sports content then Live Net TV is the one to go with. Live Net TV is a streaming app that is available on the Google Play Store and one can download it for free. Live Net TV comes with support for 150 plus channels.
As the app is available on the Google Play Store, you can directly download it from the store itself. You can also use the same app to know live scores and match updates, too. Whether you are interested in football, cricket, hockey, etc, the app got you covered.
The user interface is basic and minimal, and the app gets the job done as a sports streaming alternative to Mobdro. Apart from sports content, you may also find some entertainment content and videos as well. Definitely check out the app if you are very much into sports.
Highlighted Features:
Dedicated to Sports events
Watch Live Sports
Get match details and updates
Minimal UI
Available for: Android
5. Kodi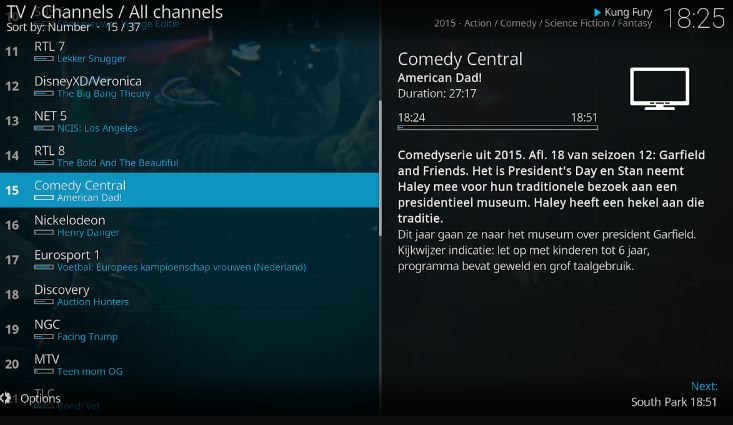 Some of you might be already aware of Kodi. Kodi is not necessarily a live streaming app but it is a open source home theatre software where you can watch any sort of contents. The best part of using Kodi is the fact that you can add or remove add-ons to get the job done.
There are tons of Kodi Repos out there, from where you need to download Live TV channel addons and use it to stream the channel for free. As there are multiple addons, if one doesn't get it right for you then you can try another one. Always try to search on multiple repos to make sure you get the best.
Kodi is available for a number of devices including Android, Windows, macOS, iOS, Linux, etc. So, it doesn't matter what operating system you are using. Compared with other apps in the list, the initial setup might take some time but after that, you are ready to roll.
Highlighted Features:
Ability to add addons
Multiple Kodi repositories available
Live TV Channel add-ons available
Multi-platform support
Available for: Windows, Linux, Android, Raspberry Pi, macOS, iOS and tvOS
6. YouTube

Did you know that you can use YouTube for live TV streaming? Yes, you heard it right. A lot of TV channels will have live streaming on the YouTube platform. When compared with other apps in the list, the selection of channels will be on the lower side but if you manage to find the channel on the YouTube app then you are not required to download any additional apps.
There is a high probability if you are looking for News TV Channels and you might also find a lot of sports events as well. But for general-purpose channels, you won't find it on the platform. Since YouTube is available for multiple platforms including the web, you can use it on any device.
You have the option to turn on captions, change quality, seek(if available), and all other features available are available here too. So go search for the channel and see if the live streaming is available or not.
Highlighted Features:
Watch Live TV Channels for free
Ability to change streaming resolution
Completely free
Available for a variety of platforms
Available for: Web, Android, iOS, Smart TVs
7. Pluto TV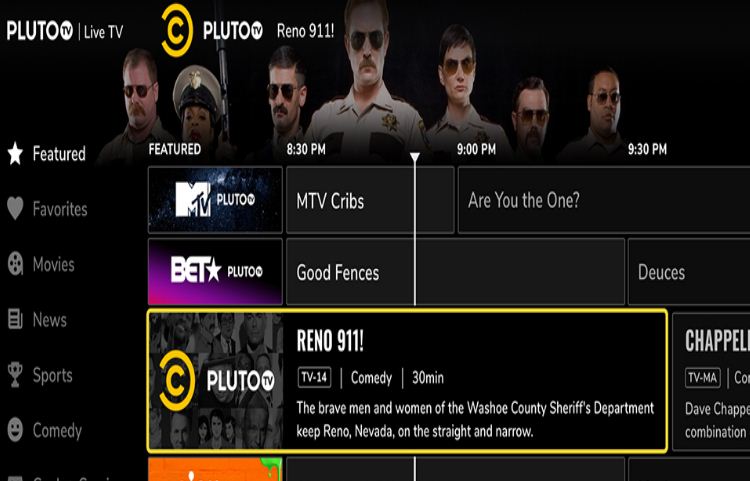 Pluto TV is one of the best Mobdro alternatives in every aspect. Be it the number of live TV channels available, quality, or features, Pluto TV does a great job here. Everything from live TV channels to Movies to Sports is available on Pluto TV.
Pluto TV is a cross-platform media streaming service that supports smartphones with Android and iOS, desktop PC with Windows and macOS, and a variety of smart TVs and apps as well. You can even get Pluto TV on Roku or Amazon FireTV as well.
The biggest issue with Pluto TV is that it is not available in every country yet. If you try to visit from an unsupported region, you will only see a coming soon banner and nothing else. In this case, you might want to use a Proxy site or some sort of VPN to bypass geo-restriction. Once done, you can easily watch all shows on Pluto TV.
Highlighted Features:
Supports a variety of platforms
Live TV Channels
Available on Roku
Movies and Shows
Available for: Web, Android, iOS, Smart TVs, Roku, Fire TV
8. Airy TV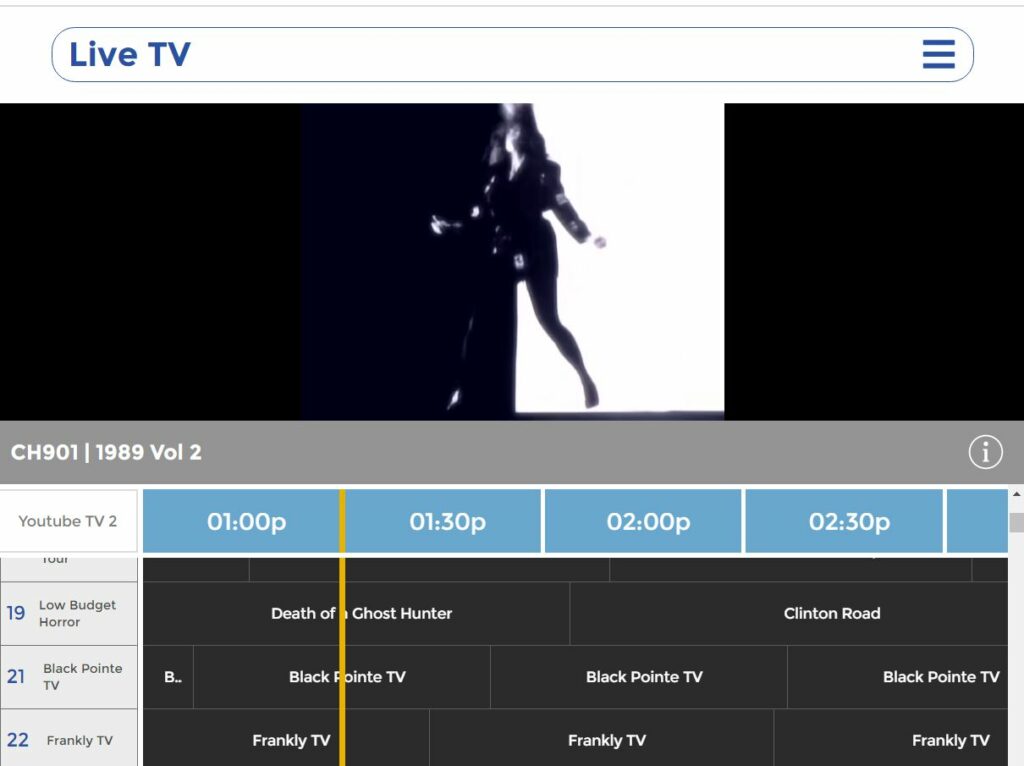 The way Airy TV works makes it a favorite of mine. Airy TV is not an app but a website that helps you watch live TV channels for free. The best part is that you are not even required to register on the site to gain access. It is as simple as visiting the website and the live TV playback will start instantly.
The user interface of the website is nice and you will find the list of all channels along with the shows and their timing in the bottom section. You can click on any channel of your choice and start watching it for free.
Airy TV comes with a few ads which are manageable. They do add new channels to the platform to keep it updated. Definitely check Airy TV if you do not want to download any additional app to watch live TV channels.
Highlighted Features:
No need to download any app
Direct access to live streaming without registration
A good number of channels available
New channels being added regularly
Available for: Web
9. TV Tap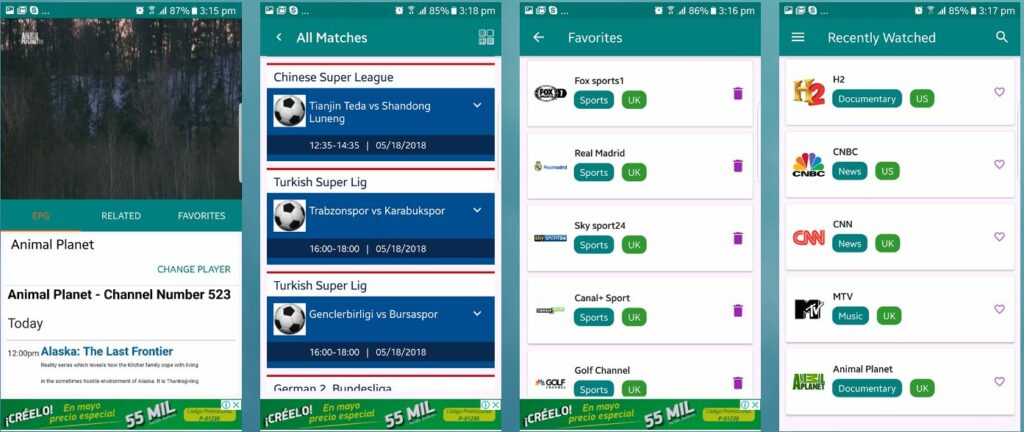 TV Tap is an Android app that lets you access and watches Live TV channels like CNBC, CNN,etc without having the need to pay. It is as simple as downloading the app from their website and installing them on your smartphone. A good number of TV channels are available on the app for you to watch.
Whether it be some informative channels, sports channels, or even news channels, TV Tap got you covered. The app comes with support for Chromecasting. So that you can watch the content on a big screen like TV using Chromecast.
The elegant design of the app also makes it easy to use as well. The app is freely available for all Android smartphones and tablet devices. Furthermore, you can also run the app on tv sticks as well.
Highlighted Features:
Instant access to tons of Live TV Channels
Elegant App Design
Bookmark option
Chromecasting support
Available for: Android
10. YuppTV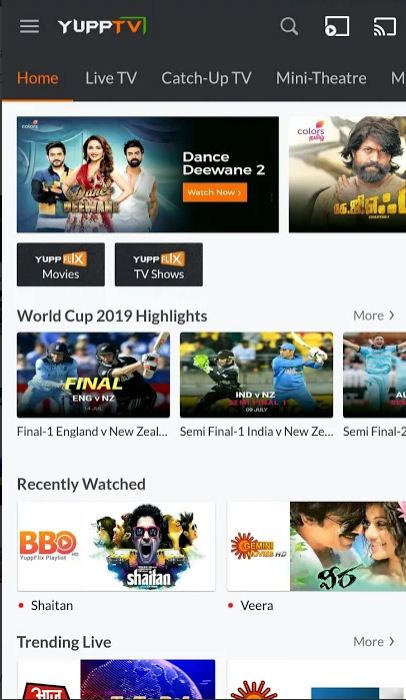 Yupp TV Live TV is a very popular online media streaming platform to watch live streaming of pretty much every channel in the country. The Live TV section of the website gives you access to tons of live tv channels, Catch up the option to watch missed shows and you can even watch TV shows on-demand as well.
YuppTV also supports sports streaming as well. To watch sports events like IPL, you can use YuppTV. Furthermore, YuppTV is available for the web as well as smartphones, too. You can download the mobile app from Google Play Store or Apple App store and start using it.
Highlighted Features:
Instant access to Live TV channels
Catch up shows option
Watch your missed TV shows
Stream live sport events
Available for: Web, Android and iOS
Which App to use for Live TV Channel Streaming?
All the apps/sites mentioned above help you in watching your favorite Live TV channels. Some websites and apps like YuppTV even come with an option for catchup shows as well. Whether you're looking for apps for sports streaming or news streaming, apps in the list can help you in that.
I will make sure to update the article with newer ones once available.