Embedded videos are very common on web pages these days and you might come across a situation where you want to download embedded video so that you can view it offline later after some time. Downloading embedded videos from a website can be a bit tricky as there is no direct way to do it. But there are tons of working methods to try to download embedded videos from any site.
There might be a variety of reasons why you want to download an embedded video. You might want to include it in your video, share it with someone, save it for later use, etc. Whatever be the use case, some embedded video downloaders are available on the Internet to rescue us. Furthermore, there are some other tricks, too.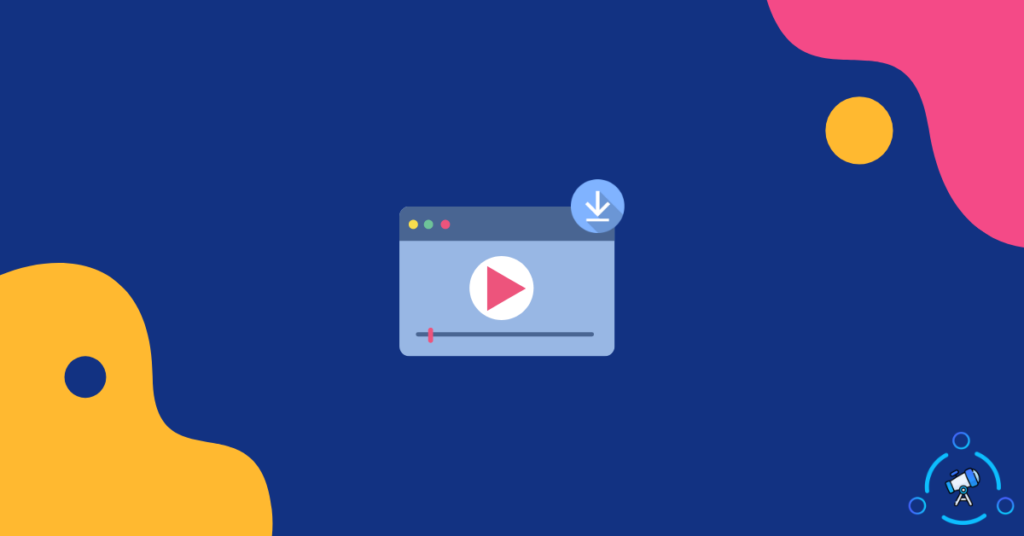 What is an Embedded Video?
For starters, Embedded videos are those hosted on a different platform and are linked on a webpage. Let's suppose a video is hosted on a site XYZ, now a person links the video on another website ABC. Now visitors can watch the video directly from the website ABC and not required to visit XYZ. This is what we call embedded videos. Popular video-sharing platforms like YouTube come with the option to embed videos on external websites like your blog.
It's a tiny piece of HTML code that you need to copy-paste on your site in order to embed a video. Well, that's not the topic of this article. Anyways, it's good to understand the basics.
How to Download Embedded Videos Easily
As mentioned earlier, there are multiple methods to download embedded videos on our device. It doesn't matter if you are using a smartphone or computer, I will share multiple ways to download embedded videos on both smartphone and desktop/laptop as well.
Not all methods mentioned in the article will work for every website. So, you might want to try different methods for different websites.
I will try to arrange easy methods to the top so that you can get the job done faster.
Download Embedded Videos from Website Directly
This has to be the easiest method of all. But the thing is, not every website will have this option. In this method, we can directly download the video from the website itself without having the need to use any third party extension or tools. You might want a PC/Laptop to employ this technique.
Step 1: Visit the web page from where you want to download the embedded video.
Step 2: Play the video and pause it. Now, right-click on the video and you might find an option called "Save video as". Sometimes you might want to right-click two or three times for the option to be visible. If the option is available then just click on the Save button.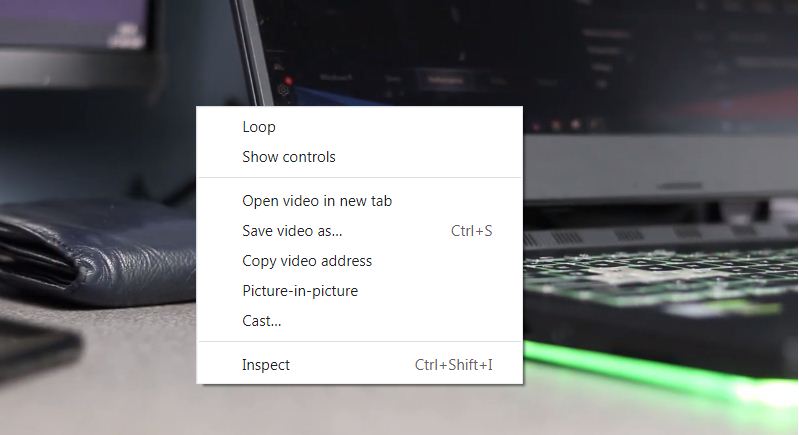 Step 3: Now Save As popup box will appear. Just mention the name and hit the save button. Now, wait for a few secods until the embedded video gets downloaded.
This method won't work with every website out there. But if you found this option then you are lucky and you are not required to follow any other method. Other methods mentioned in the article require you to download third-party tools or use third-party websites in order to download videos from websites.
Download Embedded Videos with VLC Media Player
Did you know that you can use the popular VLC Media player on your computer to download videos from websites? Well, you can even stream videos using VLC.
Yes, you heard it right. If you are having VLC Media Player or similar media players installed on your computer or laptop then you can easily download videos from third-party websites. It doesn't matter if you are using Windows, macOS, or Linux, this method will work with all of them.
If you are not already using VLC Media Player, then you can freely download VLC Media Player from their official website.
Step 1: Copy the link to the video that you want to download using VLC Media Player.
Step 2: Now, open VLC Media Player on your computer. (Unfortunately this method won't work with VLC Player on Android devices)
Step 3: Click on Media from the menu on the top section and click on Open Network Stream.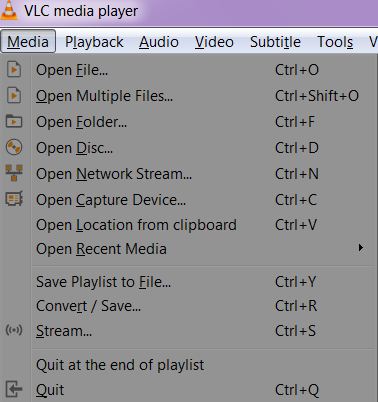 Step 4: Now a popup box will appear and you will be asked to enter the stream link. If it is a YouTube video, you can directly paste the video URL or if it is from other websites, simply paste the video URL in there.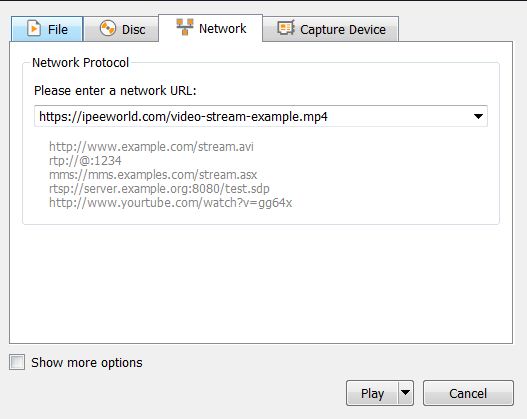 Step 5: After entering the link, hit the Play button
Now wait for a few seconds until the player fetches the video through the provided link.
Step 6: Once the video playback has started, click on the View button from the top section menu and select Playlist
Step 7: Now, you will find the video being played here. Just right-click on the video and select the save button. Mention the filename and directory to where you want to save the video and hit the Start button.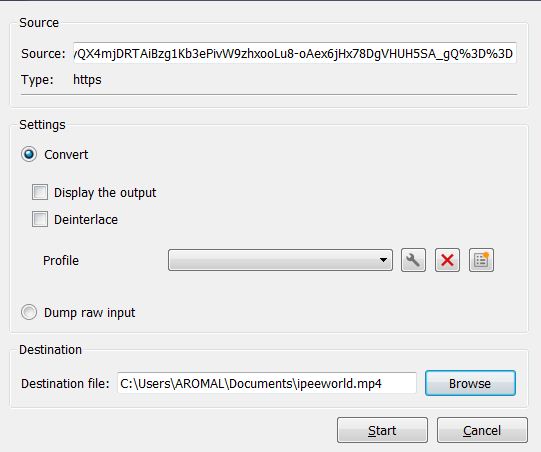 Now wait for a few seconds and the video will be saved to the specified location. The completion time will depend on your Internet's download speed.
Download Embedded Videos using Developer Tools
This method is going to be a little complex for some people. If you don't want to go this route then you can try other methods given below.
In this method, we are going to use Inspect Elements option on our web browser to download the video. You can either use Google Chrome or Firefox for this purpose. Either way, both will work just fine. For the sake of this article, I a using Google Chrome.
Step 1: First of all, visit the website from where you want to download the video.
Step 2: Once you are on the website, press the F12 button to bring up Inspect Elements tab. You can also right-click on an empty space on the webpage and select Inspect Element as well.
Step 3: Now, it will open up Inspect Element window. There will be lots of unwanted stuff in there. Don't worry. Just switch to the Networks tab and select the Media section. Since the video we're going to download falls under the Media section, we will probably find it here.
Step 4: Press Ctrl + R to refresh the page, so that elements get filled. Once everything is loaded, you will find the video under Media tab. It will be the link to the place where it is hosted. Just right-click on the link and hit Save as a button.
Provide a name and easily download the video file to your computer. This method is exclusively for computer users only. If you are having a smartphone then try other methods.
Use Online Video Downloaders
If you search on Google for Video Downloaders, you will find a ton of them. There are online tools and websites that will help you download videos from the Internet. There are thousands of video-sharing websites out there and the majority of them are supported by these applications given below.
In this method, we are going to use some third-party video downloaders to download embedded videos. It is will be simple and straightforward.
Savefrom.net
Savefrom is a popular online video downloader that you can use to download videos from a lot of sites. It supports a wide variety of video streaming platforms.
Once you visit the website, just scroll down a little bit and you will find the list of all supported websites there. If the website you are looking for is available there, you are good to go. If not, then try other online video download tools or some other methods.
You will find a giant box where you need to paste the link to the page. After pasting the link click on the green button. It will look up for the video and if available it will show you a bunch of download options.

It will show you multiple resolutions to download. Option to download 1080p, 720p, 480p, etc are available within the website. Just click on your desired quality and download the video easily.
Similar to this website, there are other websites that get the job done as well. Just search on Google for online video downloaders and that should work for you if the website is available.
Use Specialized Video Downloaders
For almost all leading and popular video sharing sites out there, there should be some sort of video downloader available on the Internet. For example, there are some specialized video downloaders for websites like Instagram or TikTok. Similarly, you might find a site like that for the website you are looking for.
If that is the case, then you may use services as such to download embedded videos to your device for offline usage.
Use Screen Recorders
If none of the methods mentioned above worked for you then our final resort is to screen capture the video and save it as a video file. You can screen record any video on your smartphone as well as on your PC. There are many software and apps that will let us do the same. I will mention one app for Android as well as software for PC too.
Screen Record on Android
If you are using an Android device and looking to screen record an embedded video, then follow the guide given below.
There are a good number of apps on the Google Play Store that let us screen record videos. Even some smartphones with custom skins like MIUI comes with an inbuilt screen recorder application that you can use to screen record embedded videos.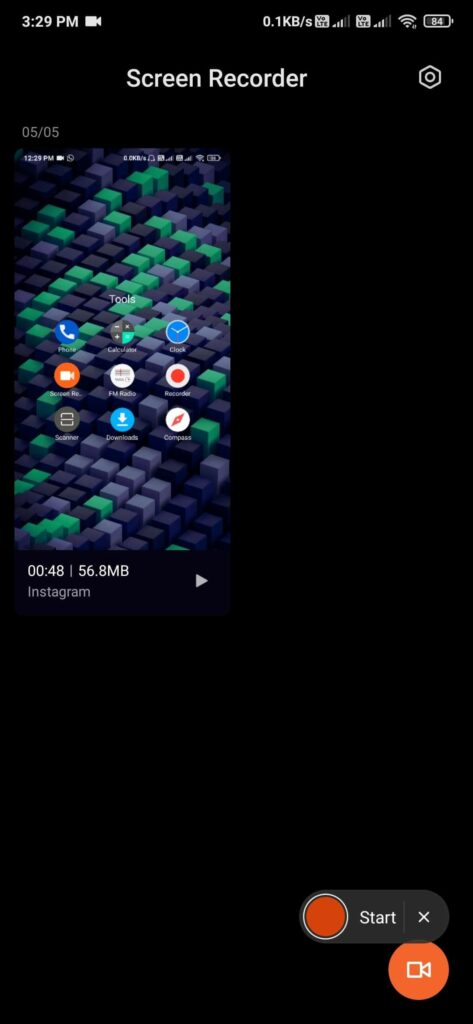 First of all, visit this page and take a look at the best screen recorders for Android. Select one app for your device and install the same from Google Play Store. Once installed, open the app. Now open the website from where you want to download the video. Play the video and tap on the record button. Make sure to disable all notifications and external sounds so that your recordings won't be interrupted.
Once done, click on the stop button and save the video file. Now you can use the video file for offline viewing or sharing with others. As simple as that.
Screen Record on a Computer
Similar to Android, a lot of screen recording software is available for PC as well. It doesn't matter if you are using Windows, macOS, and Linux, at least one software will be available for all platforms. You can use any free or paid options like OBS Studio, Camtasia, Microsoft's own Game bar, etc.
Download a free screen recorder software for your computer. These are some popular options out there.
Download the software and start recording the video as soon as the video playback starts. Once done, you may save the file as an MP4 file and you can use it for offline viewing.
Embedded Video Downloader – FAQ
Is it legal to download embedded videos?
Every website or online video streaming platform comes with its own set of policies when it comes to downloading videos from the website. Some might allow it while others don't. So, before proceeding further make sure that the website allows its users to download the video or at least make sure that there's no problem in download the video from that particular website.
Can I download Embedded Videos on Smartphone?
Yes, there are a few methods mentioned in this article that will help you download videos on your smartphone. In fact, there are some apps for Android and iOS that you can use to download videos that are embedded on any website.
What if no tools work?
If no methods mentioned above work for you then our final option is to screen record the video. But the thing is, you can't do anything with your device while the screen recording is in progress. Furthermore, it is also time-consuming as well.
What Embedded Video Downloader to Use?
These are all the methods that you can use to download embedded videos on your computer or smartphone. While it might be easy to download from a certain website, it will be hard for some others. Every website uses a different method for hosting videos and depending on the video it might become hard or easy for us to download the video.
Once you have downloaded the video in a video format like MP4 or AVI, you can transfer it to others device and use for offline usage as well.