Microsoft Office is a leading office productivity toolset and has been in the market for the last decade. Sure, Microsoft Office is indeed one of the best in the market. But there are some other office alternatives as well. Microsoft's office package includes apps like Word, PowerPoint, Excel, etc. For some reason, if Microsoft Office is not getting right for you then it's time to try some software like Microsoft Office.
Microsoft Office is a paid solution from the company but if you don't have enough budget or if you are looking for a free office alternative then you are in the right place. Back in the day, Microsoft Office was only available as offline software. But now it is available in the cloud. The online version of Microsoft is Free as well.
Below, in the article, you will find the list of best Microsoft Office alternatives for Windows, Linux, and macOS. This includes both Free, Paid, and Online tools as well.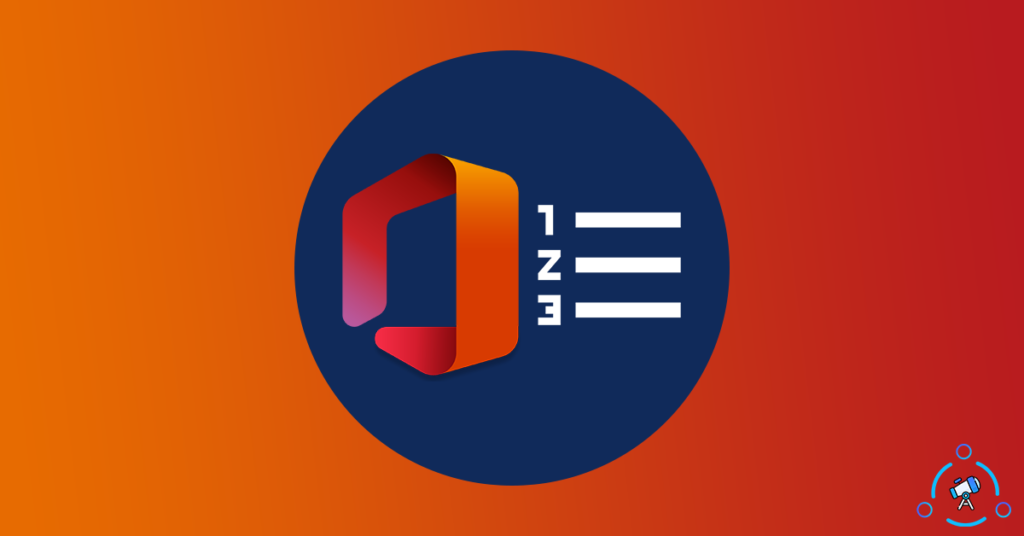 So, let's take a look at free Microsoft Office Alternatives to use in November 2023.
Microsoft Office Alternatives to Use
1. Google Docs, Sheet, Slide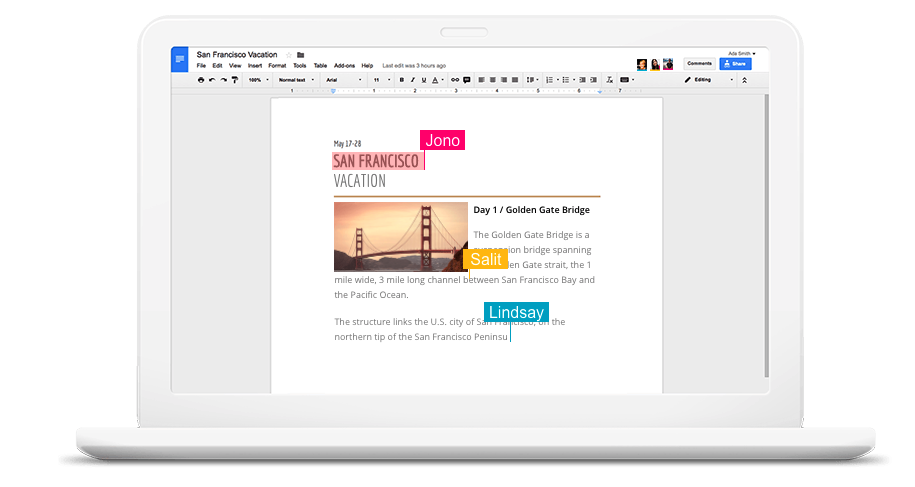 A majority of you might be already aware of Google Docs. Google has a collection of office productivity software and that includes Google Docs, Google Sheets, Google Slide, and a lot more. It is a web-based office productivity toolkit to use for free. Yes, you heard it right. You can access Google Docs, etc for free.
In order to use Google Docs, all you need is a web browser and a Google account. No, you are not required to download and install any additional program to get things running. The best part is that it is available for Android and iOS as well. So, you can use any of these tools on your smartphone or tablet too.
Apart from Google Docs, Sheets and Excel, the suite also consists of Forms, Drawings, etc as well.
Since it is an online tool, you can add editors, contributors, and viewers as well. They can check the document and make changes if they have permission. If you are working in a team then managing documents becomes super easy with Google Docs.
Once you are done creating the document, Google Docs lets you export the document in almost all leading DOC formats like DOCX, PDF, HTML, etc. You can choose and export the file in any of the chosen formats.
Google Docs also supports a number of third-party extensions to extend the functionalities. So, you can add add-ons to add specific features to Google Docs. All the files you create and edit will be saved on your Google Drive account and that can be shared easily.
Highlighted Features:
Cloud-based office productivity suite
100% Free to use
Available for all leading platforms including PC and Smartphone
Export files in all industry-leading formats
Available for: Windows, macOS, Linux, Android, iOS and Web
2. LibreOffice
LibreOffice is a free and open-source office productivity toolset that is a great alternative to Microsoft Office. It was earlier known as OpenOffice and later rebranded LibreOffice. LibreOffice comes with all essential software for office purposes like Writer, Calc, Impress, Draw, Base, and Maths.
Since LibreOffice is open-source software, you can download and use them for free without having the need to pay anything. LibreOffice supports leading office file extensions like .doc, .docx, .ppt, .pptx, .xls, .xlsx, and more. It is yet another free Microsoft Office alternative for PC.
LibreOffice is an offline application that you can install on your computer and use offline. If you don't get access to the Internet all time then LibreOffice should help you in working offline. The software might be already available on your PC if you are a Linux user.
It is available for Windows and macOS too. An Android version of LibreOffice is also available that can be used to view documents only. Definitely try LibreOffice if you are looking for a simple MS Office alternative with simple features and options. You can use them to edit PDF files as well.
Highlighted Features:
Free and open source
Available for multiple platforms
Supports all extensions
No ads
Available for: Linux, Windows, macOS | Android – only for viewing documents
3. Apache OpenOffice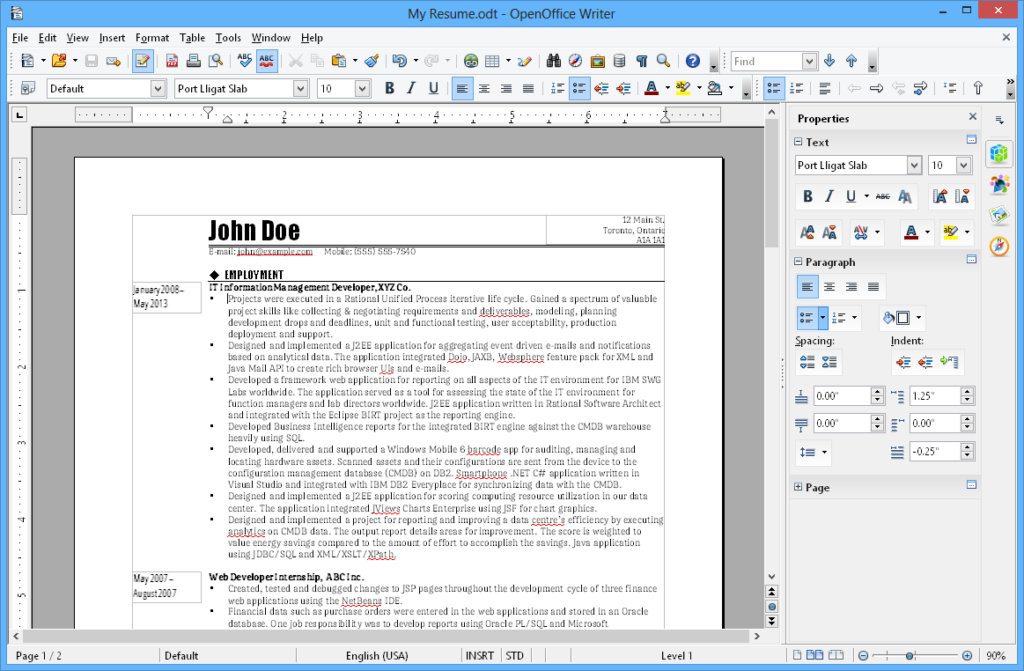 Apache OpenOffice is yet another free and open-source productivity suite similar to LibreOffice. This one is a cross-platform software kit that you can download for macOS, Linux, and Windows. Apache OpenOffice Writer is the replacement for MS Word, Calc for Excel, Impress for Powerpoint, etc.
Apache OpenOffice has been in the industry for more than 20 years. Since it is offline software, you can use it without an active Internet connection. The UI of the software might not be that great when compared with Microsoft Office but gets the job done.
The software supports multiple languages including English, French, Korean, etc to name a few. Apache OpenOffice also supports a bunch of extensions and templates as well. With the help of extensions, you can extend the features on the software and template to make your work easier.
Almost all extensions supported by Microsoft Office are available on OpenOffice too. PDF, DOC, DOCS, XLXS, etc are a few of them. You can download the software for your device from their official website.
Highlighted Features:
Free and Open source
Cross-platform support
Regularly updated
Support for extensions and templates
Available for: Linux, Windows and macOS
4. Zoho Workplace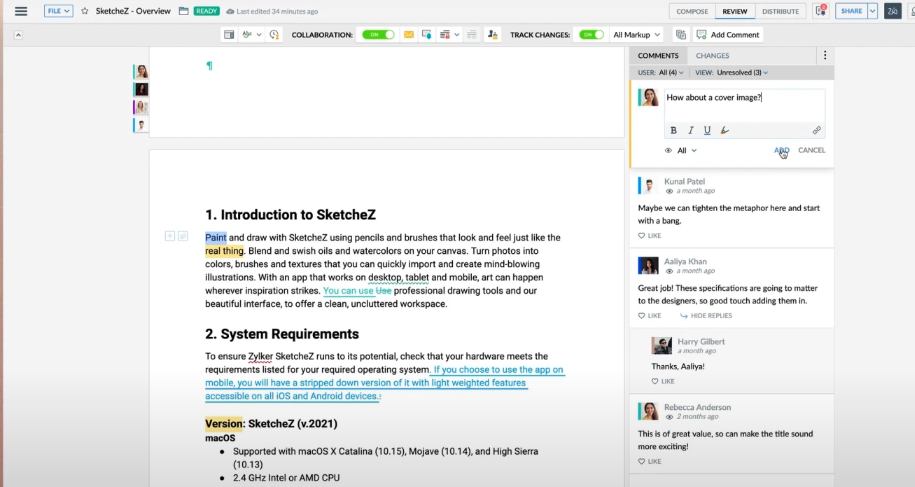 Workplace by Zoho is a great online alternative to Microsoft Office. Workspace is a collection of different tools like spreadsheets, Word Processor, Presentation, Online Meeting, and more. Zoho is a renowned company when it comes to business management and productivity tools. Depending on the things you need, Zoho has both paid as well as Free plan.
For me, the free plan felt a little too restricted. But the base plan for a single user starts at $3. Since Zoho is a cloud-based productivity toolset, it works with the Internet and all your files are stored in the cloud. The integration with other tools and easy sharing with team members makes it extremely simple to use.
Zoho Workplace also comes with a 15 days free trial for their paid plans as well. If you interested in its paid plan then you might give the free trial a shot.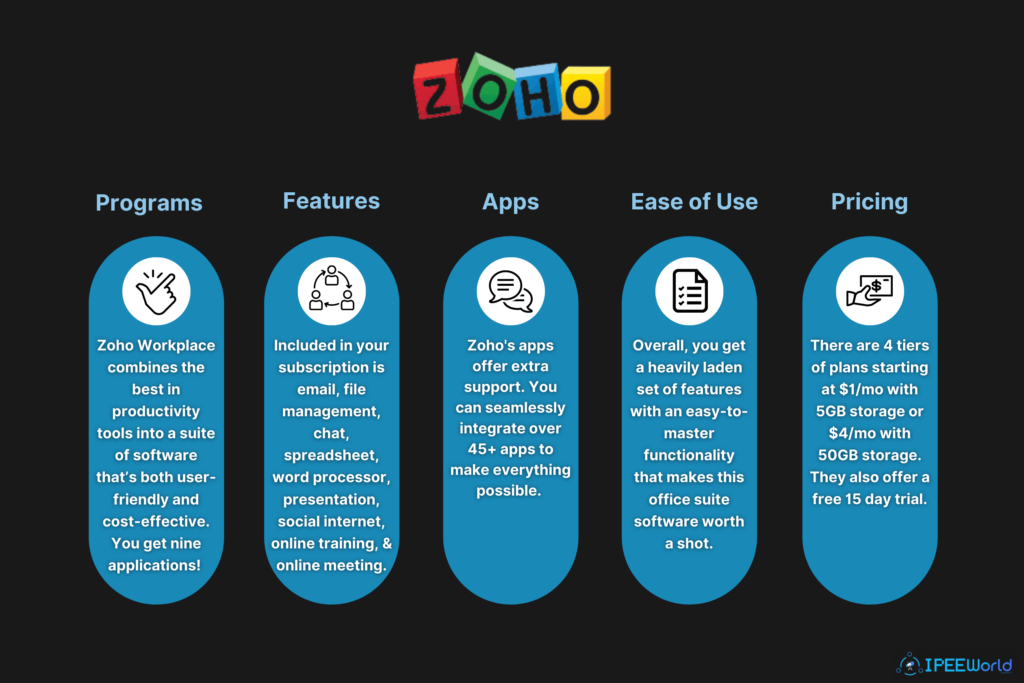 The best part of Zoho Workplace is the fact that it has a replacement for almost all apps available on Microsoft 365 and Google Workplace.
Highlighted Features:
Online based workplace software
Comes with tons of tools for all your office work
Collaborate and work with your team easily
15 days free trial for a paid plan
Available for: Web only
5. WPS Office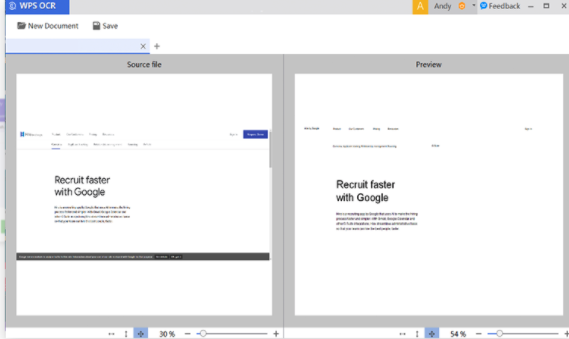 WPS Office is yet another Microsoft Office alternative to use. One thing I liked a lot when it comes to WPS Office is the UI and design. Everything is well organized and the UI itself looks so good. WPS Office comes with both free as well as paid plans. The free plan will get everything done but comes with lots of ads and restrictions like you only get about a GB of cloud storage, etc. It also comes with an OCR scanner as well.
WPS Office is available for Mac, Windows, Linux, Android, and iOS. The paid version of WPS Office starts at $3.99/month or $29.99/year. WPS Office also comes with an online web version similar to Zoho and Google Docs. You can use the online version if you don't want to install the client on your OS and work on the go.
I am pretty sure you will definitely like the UI of the software. I used the same on my mac and things felt so good.
Highlighted Features:
Comes with both offline and online version
Affordable paid plan
Attractive and well-oragnized UI
Available for multiple platforms on PC and smartphone
Available for: Windows, macOS, Linux, Android, iOS, and Web
6. Office Online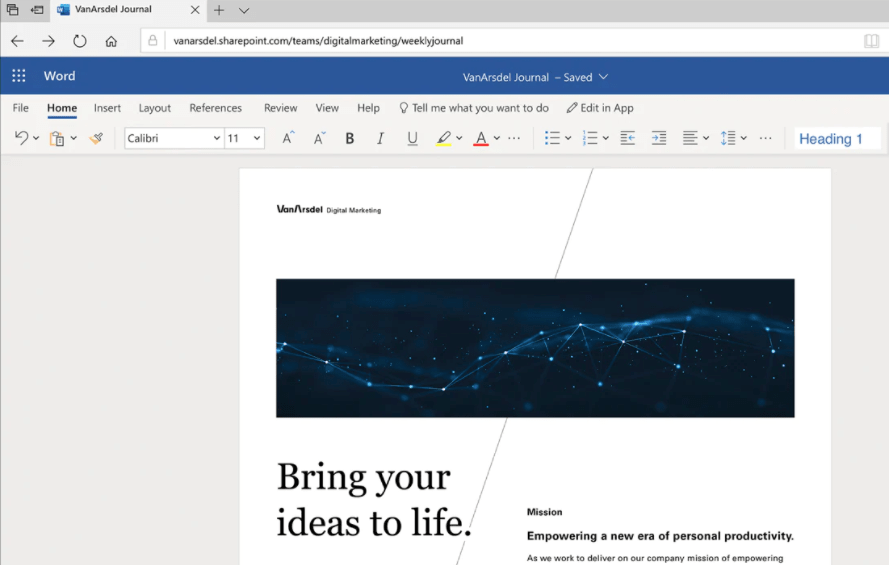 Office Online is a cloud-based version of the Microsoft Office suite. It can be considered as an office alternative similar to Google Docs. You get a replacement app for everything like Word, PowerPoint, Excel, OneNote, etc. Since it is a cloud-based office suite, you are not required to download and install any files. You can directly create or modify files right from the web browser.
Another interesting thing about Office Online is the fact the UI looks more or less similar to Office tools. Since both of them are from Microsoft, no surprise that the UI looks familiar and similar.
Don't get confused with the paid version, Office 365. It is different from the paid office suite from Microsoft. Since the Office Online suite is free, some features might be locked for premium users using Office 365. Furthermore, it comes with Skype integration so that you can together edit files while on a Skype call.
Highlighted Features:
Completely free
Microsoft Office similar UI
All tools available
No need to download anything
Available for: Windows, macOS, Linux, iPadOS, etc
Top Office Replacement Apps
These are some amazing Microsoft Office or Microsoft 365 replacement apps to use. The list includes both free as well as paid options. If you do not want to download the client and install it on your device then the best choice for you will be Google Docs, Zoho Workplace, or WPS Office. On the other hand, if you are looking for apps that work without an Internet connection then Apache OpenOffice and LibreOffice will be good for you. Both LibreOffice and Apache OpenOffice are free and open source. It is also available for multiple platforms like Windows, Linux, and macOS.