Missing IDM Extension for Chrome? Learn how to add Internet Download Manager Extension to Google Chrome.
Internet Download Manager is known as "IDM", is the best Download Manager software available for both Windows Desktop and Laptop. If you wanted to get maximum of your Internet connection and get the fastest download speed ever possible from your Internet connection then Internet Download Manager of IDM is what you are looking for. Whenever you install IDM in your PC, the IDM Extension will also get installed to your computer by default. That means, you are not required to do anything in order to get IDM Extension, it will be activated alongside the IDM software installation.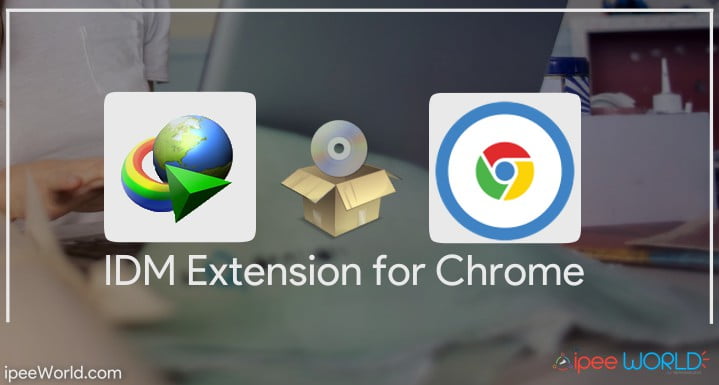 There are quite a lot of reasons why the IDM Extension might have got uninstalled or completely removed from your Web Browser, ie Google Chrome. Sometimes, it may happen due to corruption to the Extension file or even due to the conflict between other installed extensions in Google Chrome. Whatever be the reason, read the step by step guide mentioned below to get IDM Extension for Chrome quickly installed on your Computer.
What is the use IDM Extension for Chrome?
Now, one might ask why he wanted to install the IDM Extension on his/her web browser. Well, here is the answer. Generally, when you are having the IDM Extension installed in your Browser, whenever you download any sort of file the IDM Extension will automatically take hold of the link and directly display a download popup message. That means you are not at all required to manually use the Download link to download files. In the traditional method, you first need to copy the direct download link and then open IDM, paste the link and after that download the file. All these works are minimized just with the help of Internet Download Manager Extension for Chrome
Note
Never visit Chrome Web Store and download any sort of extensions that are having the name "IDM Extension" because IDM is not having the official Extension published on Web Store and whatever extension you find at the Web Store is completely fake and stay away from them.
How to Install IDM Extension for Chrome

So, follow the step by step guide and get IDM Extension installed on Google Chrome.
You are not required to download any sort of file to add the extension to chrome.
1. Go to the installation directory of Internet Download Manager.
C:\Program Files (x86)\Internet Download Manager
or
C:\Program Files\Internet Download Manager
2. Now, locate the file called "IDMGCExt.crx" (Don't close the window yet)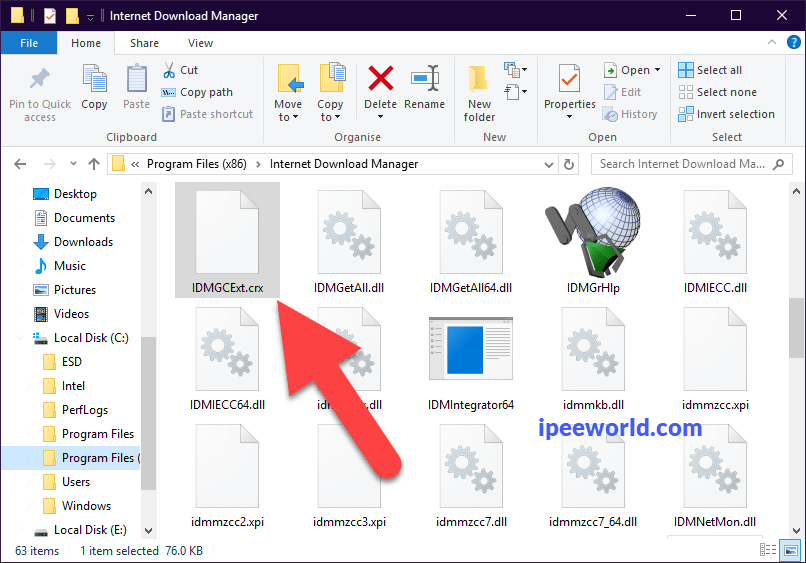 3. Open Google Chrome
4. Click on the three dots icon  > More Tools > Extensions
5. It will open up the Extensions Settings of Google Chrome
6. Now, simply just drag and drop the Extension file mentioned above to the Extensions page of Google Chrome.
7. An Extension installation popup will appear asking you whether or not you want to install IDM Extension for Chrome
Click on the Install button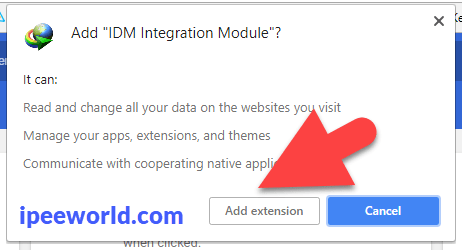 8. Wait until the Extension gets installed
9. Relaunch Chrome and you will see the Extension in work.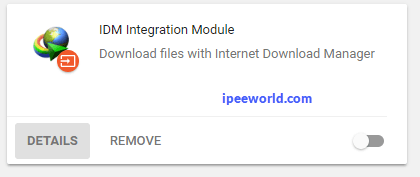 If you go to the Extensions page again, you will be able to see the IDM Extension in the list, from here you can make modifications and also tweaks to settings.
OR
At certain cases, the IDM Extension will be deleted or hidden from your computer and that may be an issue, too. Follow the steps below to install IDM Extension in Chrome when it gets deleted.
1. Download the Extension file from the link given below
2. Now, open up Google Chrome Extension page by following the path mentioned above.

3. Drag and drop the downloaded extension CRX file and follow the instructions as same as mentioned above.
Once you have Installed the extension and after it gets activated, you will get a popup screen just like below, indicating that the Extension is successfully Installed.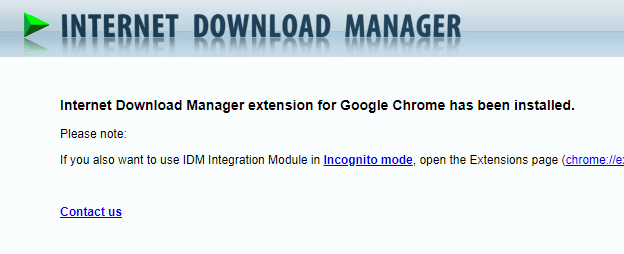 That's it, you have installed Internet Download Manager for Chrome.
Conclusion
This is how we install the Internet Download Manager Extension for Chrome or IDM Extension for Chrome. It's just a matter of drag and drop of the extension file to the Google Chrome browser. If you lose the extension again for any reason then follow the exact same instructions mentioned above and that will quickly install the extension back to Google Chrome. See, how simple it is? If you were not able to find the extension in the Installation directory of Internet Download Manager then simply just download the CRX file od the extension and follow the same methods once again, and everything will be all set, Comment down below if you face any problem or have any doubt.