Do you want to send free SMS without registration to any number? This article is for you.
You might find yourself in a situation where you want to send an SMS to someone through the Internet.
So here is how it works. You can use the website or apps mentioned below to send SMS to any given phone number directly. You don't need an active SMS plan on your smartphone to send SMS.
And best of all, you can send SMS via the Internet on any device, including smartphones, desktops, laptops, tablets, etc. All you need is an internet connection, and you are good to go.
Why Use Free Texting Websites
There are many reasons why you want to use free SMS websites to send SMS to people directly to their mobile without an active SMS pack.
Let's look at a simple example of this online SMS websites work.
Say, for example, you want to send a message to one of your friends. The other person doesn't have access to the Internet, and you do not have an active SMS pack to send SMS.
This is where online SMS website comes into play.
All you need to do is enter the other person's mobile number, type the text message, and hit send.
The other person will receive an SMS on his phone.
Some of these websites don't require signing up or registering for an account.
Now, let's get into the list of Best Sites to send SMS without Registration.
Send Free SMS Without Registration – Websites & Apps
textfree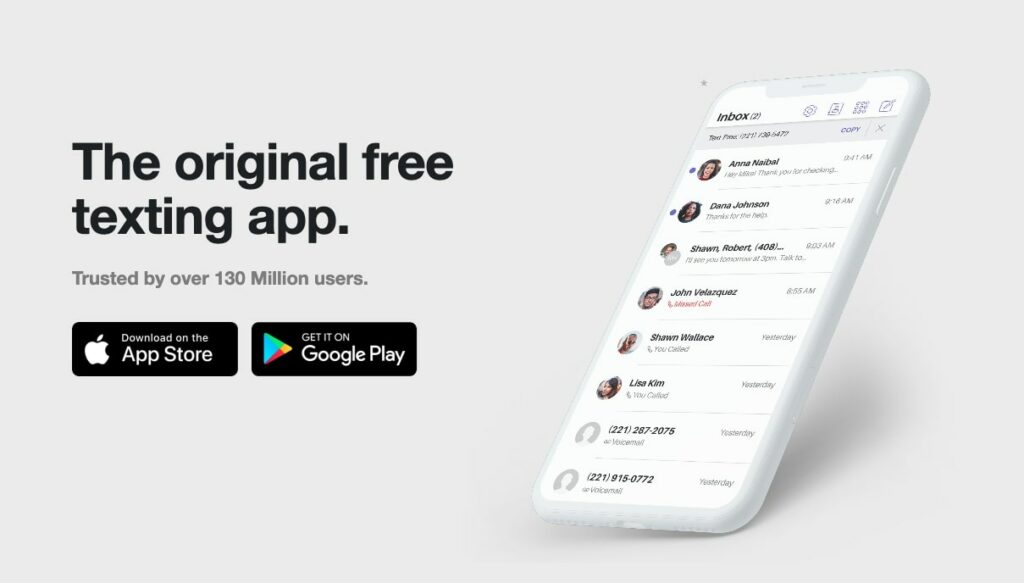 textfree by Pinger is the first app on the list to send SMS online without an SMS pack on your mobile number.
The app is available for iOS, Android, and even desktop. All you need to do is download the app on your smartphone or visit the website on your desktop and sign up for a new account.
As soon as you create a new account, you'll be asked to select a number from the list. Select a number of your choice and move forward. Once the number is allotted, you may send messages or even make free Wi-Fi calls.
Do keep in mind that textfree by Pinger has a limit of sending 15 messages per day. So use them wisely.
Visit: textfree by Pinger
OpenTextingOnline
OpenTextingOnline is a web-based tool for sending free text messages online. You don't need to download any app on your smartphone or register on the site.
So let's see how to use OpenTextingOnline to send free SMS online without registration.
Firstly, visit the link below to access the website.
You need to enter the mobile number you want to send free SMS to. Select the proper country code if it is an international number.
You may attach a picture, video, or audio in the option provided. It has a maximum upload limit of 300 KB.
In the message field, enter the text message you want to send to the given number.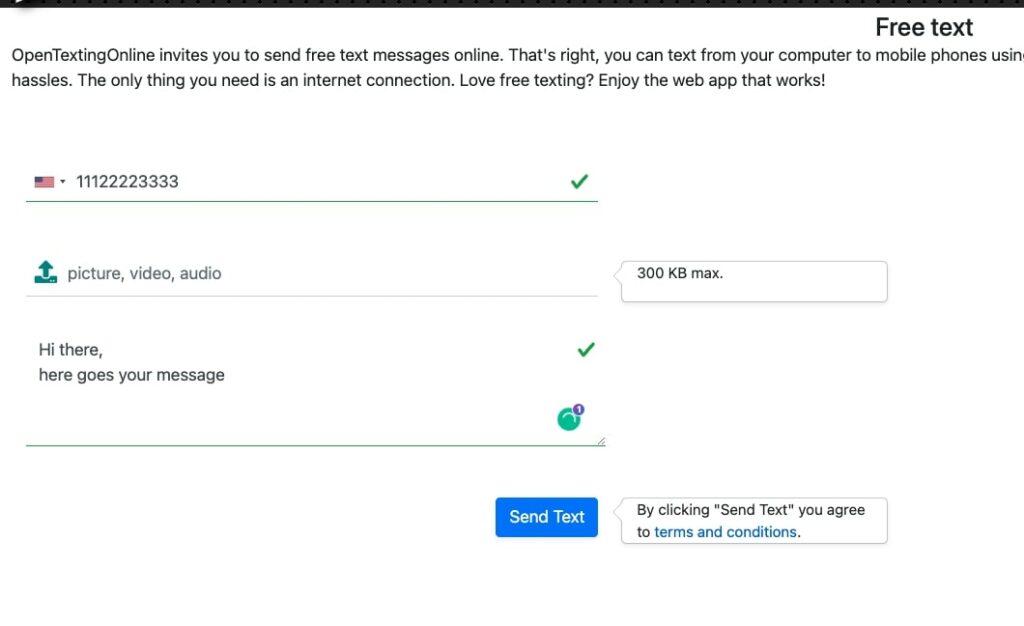 Finally, verify all the details and click the Send text button.
Send SMS Now
Send SMS Now is an excellent site to send free SMS anonymously over the Internet.
The website's user interface looks too old, but that doesn't make the website non-functional. You can send an SMS to any number without registering on the website.
If you want to gain access to your sent messages history and receive SMS, you may create a free account on the platform.
Let's see how to use Send SMS Now.
First, you must select the country code and enter the mobile number.
Mention your name or number in the From field.
Enter your messages in the message field, and finally, press the Send SMS button.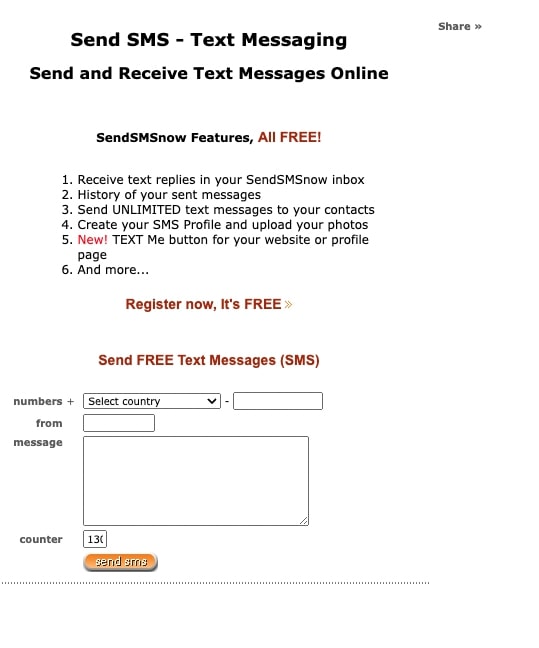 Send Anonymous Text
Send Anonymous Text is yet another website for sending anonymous SMS to any number. The best part of this site is the ability to send SMS to different countries like the UK US and several other sites are also included in their service.
The functions of all the services mentioned on the website are pretty much the same. So nothing is fancy about this website but it gets the job done.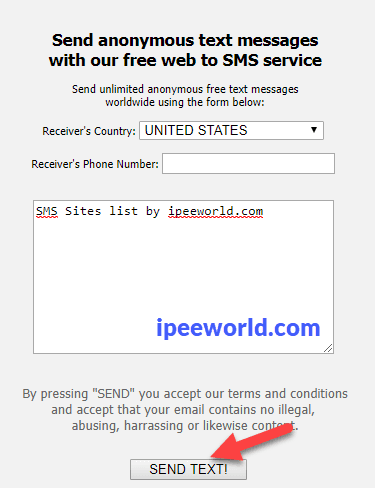 Go to the site
Enter the Mobile Number, Select the Country, and type in the message to send
Hit the Send button, and you are all good to go.
Instantly, a notification will appear telling that the SMS was delivered.
Visit: Send Anonymous Text
Text'em
Text'em is a free website to send SMS online from your desktop or smartphone. One thing I like about Text'em is that you don't need to register on the site to use their service.
Let's see how to send a text message online using Text'em.
Enter the recipient's mobile number. Optionally include the email address.
Select the provider from the mobile carrier drop-down menu.
Enter the message in the field provided. You can send messages that are up to 155 characters long.
Click and verify the captcha.
Check the I agree with the terms of use option.
Once everything is done, click the Send Message button.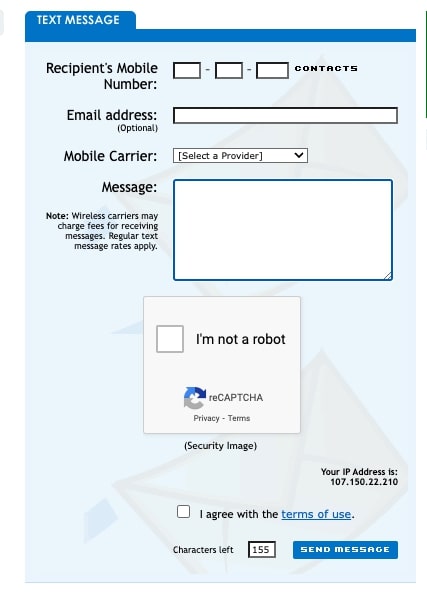 Send Anonymous SMS
Send Anonymous SMS is probably one of the best prank based Send SMS site services. The best part of using this site is the feature that you will be able to spoof mobile numbers. You can decide what number should be displayed in the Sender's section. How cool is that? To use this service with a spoofing trick by following the steps below.
Go to the website
Firstly, enter the spoofed number of your choices like 100, 111, 0000000, or anything of your choice.
Select the Country of the receiver's number
Type in the Receiver's Mobile Number
Enter the Message
Solve the captcha verification
Hit the Send button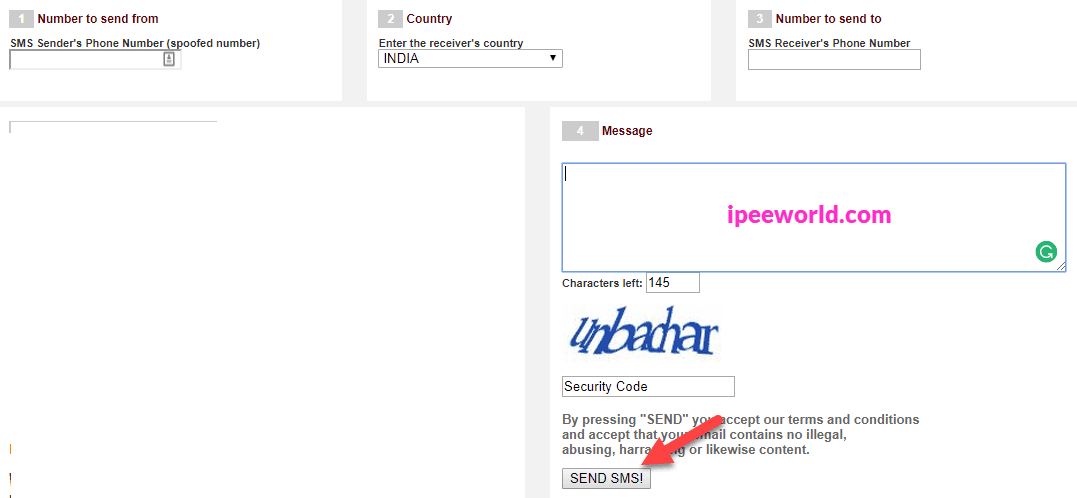 Now a page will appear telling that the SMS has been sent.
WiFiText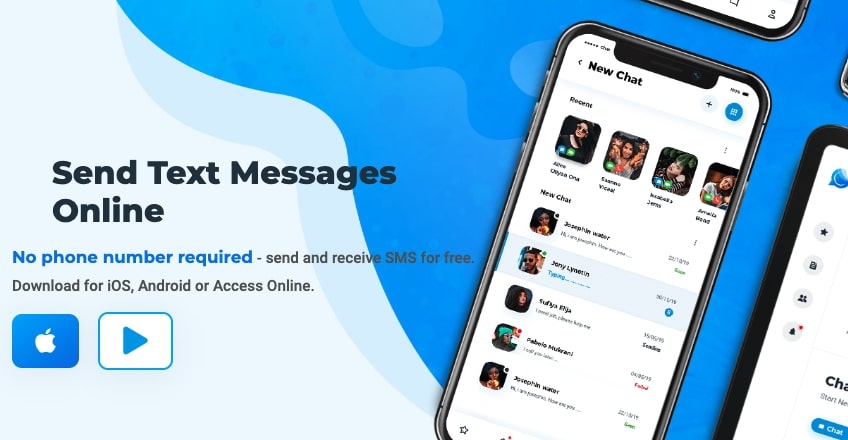 WiFi Text is a mobile app to send and receive SMS for free. You don't need a mobile number to send text messages anymore.
WiFi Text is available on Android, iOS, and Web. You may choose to use a version convenient to you.
Compared with other services listed in this article, WiFi Text is one among them that offers instant message delivery. Furthermore, WiFi Text also lets you receive a reply as well.
After you create a new account on the platform, once you log into your account, you'll be able to see all your message history and incoming SMS.
WiFi Text offers a range of other features, including the ability to send bulk SMS, SMS API gateway, and more.
Visit: WiFi Text
SeaSMS
SeaSMS is a website that will let you send free SMS and MMS online.
You don't need to register on the site to send messages. Just enter the mobile number, the message content, and your mobile number and hit the Send button.
Within less than an hour or so, SeaSMS will send the SMS or MMS to the given number.
How to use SeaSMS:
Visit SeaSMS
Scroll a little bit down until you find the form to enter the message and number
Type the mobile number to which you want to send the SMS, followed by the country code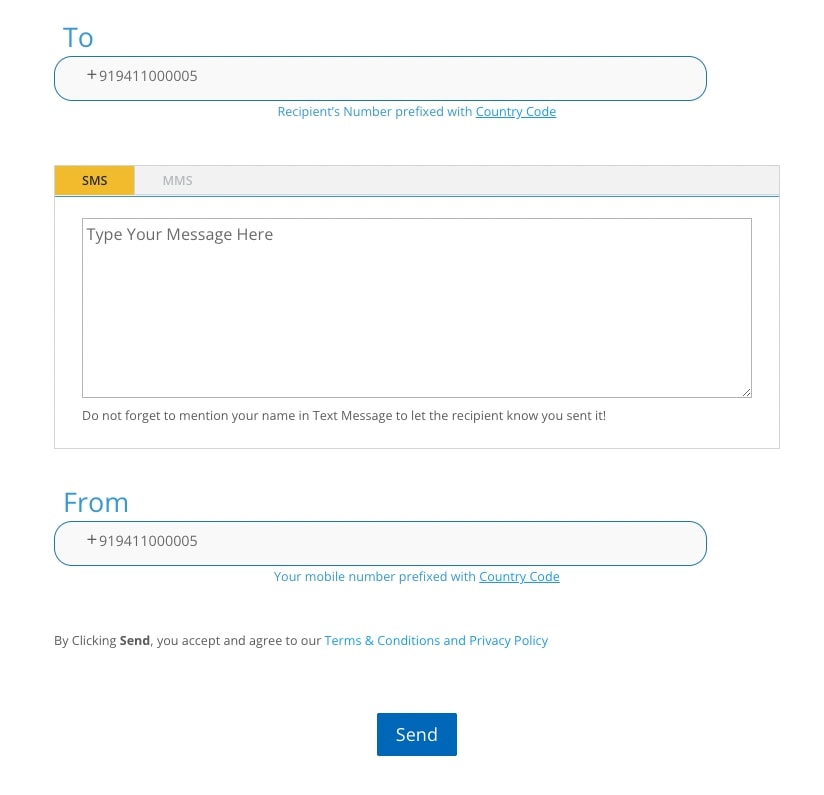 Type the Message (150 character limit)
Type the Sender Number and tap on the Send button
Your message will be delivered soon.
Frequently Asked Questions
Below are some frequently asked questions about using websites and apps to send SMS online.
Do I need an SMS pack to send SMS online?
No. You don't need an active SMS pack on your mobile number to send text messages online. You only need an active Internet connection to send an SMS through the website or app.
Is there any limit on the number of SMSes I can send?
Yes. Depending on the platform you use, there may be certain restrictions on the number of SMSes you can send daily. The condition is put in place to eliminate spammers and people exploiting the system.
Can the other person reply to me?
Certain websites and apps give you the ability to create an account so that you can receive a reply as SMS as well. You send a message to a person. They receive it on their phone. If the other person replies to that SMS, you will find the same in the inbox on your account.
Wrapping Up
There are plenty of apps and websites offering anyone to send text messages online for free. If you are about to send an SMS from your smartphone, you need an SMS pack on your mobile number.
But what will you do if you don't have an active SMS back on the mobile number? All you need to do is download any app or visit the site mentioned above and send free SMS immediately.
Many websites mentioned above do not require you to create an account, making things simple, easy, and fast.