You receive a message on Tinder, and you open it up. But you can't find the message, it disappeared. Well, you are not alone. Many Tinder users are facing the same problem.
Tinder messages disappear when a user unmatches you, deletes you from the match queue list, or deletes the app. Sometimes, the message may disappear due to bugs in the Tinder app, or the Tinder server may be down. Updating the app will help you fix the problem.
Now you might wonder why Tinder message disappeared. I will list all possible reasons why your Tinder message disappeared and fixes to get them back when applicable.
Tinder is a leading dating app with a massive user base. Still, the app throws some errors from time to time. But worry not; I got you covered.
Let's see why Tinder messages are not showing up and how to fix it.
Tinder Chat Disappears – Why & Fix
Let's see the common reasons why Tinder messages disappear and possible ways to get them back.
The Person Unmatched You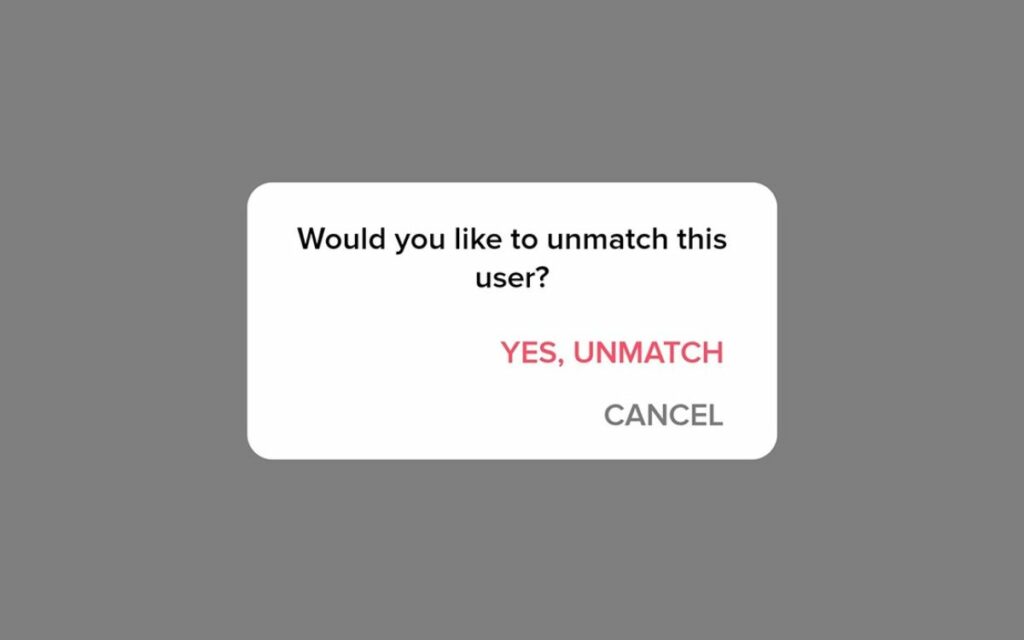 The straightforward reason why a chat disappeared on Tinder is that the person unmatched you.
Tinder allows users to unmatch a person whenever they feel to.
Even if they match with you initially and then unmatch you, all the messages and chat history will disappear from both of your devices.
If this is the case, no matter what you do, you won't be able to get back those chats. Since you are no longer matched with the other person, you won't be able to message them again.
If you are sure that the other person has not unmatched you and you can see their profile in the match section on the Tinder app, then the problem might be something else.
Bugs in the tinder app are something to blame in this case.
The Other Person Deleted The Account
Another scenario where Tinder messages disappear is when someone deletes their Tinder account.
Say, for example, a person matched with you, and you started messaging each other. If the other person chooses to delete the account, then the chats will disappear from your account.
If this is the case where the other person deleted their Tinder account, there is nothing much you can do about it.
People may delete their Tinder profile when they no longer want to use Tinder, have already found a match, or for any other reason. Whatever the case, if the other person deleted their account, you may no longer chat with them, and the messages will disappear too.
You may go through some troubleshooting methods below to ensure it's not a bug.
Tinder App Bugs
I went through some forums and did some research to find out more about why Tinder messages disappear. It seems like it is now a common problem that a lot of Tinder users face.
Bugs are yet another reason why Tinder messages disappear all of a sudden.
There might be a bug in the current version of the Tinder app that you use. To fix this problem, all you have to do is update the Tinder app on your smartphone.
Follow the steps below to update the Tinder app on your Android or iOS device.
Update Tinder on iOS:
Open App Store on your iPhone or iPad
Tap your profile picture on the upper right
Scroll down to find the UPCOMING AUTOMATIC UPDATES section. This is where all the pending updates will be shown.
See if Tinder is listed here. Tap the Update button and wait for a while to complete.
Update TInder on Android:
Open Google Play Store
Search for Tinder and select it
Tap the Update button
Wait a couple of seconds for it to complete, and then open Tinder again.
Once updated, log into your Tinder account again and see if you can find the messages that disappeared earlier.
Logout and Login In Again
You will be surprised to know it is recommended by Tinder to log out and log in again to fix problems like matches and messages disappearing on Tinder.
In most cases, it is a temporary problem that can be easily fixed by logging out of the app and thensigningg in again.
Like any other apps, Tinder also suffers from glitches and bugs that might make the app respond unintendedly.
Well, the good news is that you can fix itwithn a couple of taps.
Open Tinder app on yoursmartphoner
Tap the profile icon from the top right
Tap Settings
Scroll all the way and tap the Logout button
Once logged out, close the appcomplyy
Reopen Tinder
Login to your account
After logging in again, see if you can see the chats which disappeared early.
You may try this exact step when matches disappear,r or you encounter any bugs in the app.
Switch The Device
You may give this step a shot if you have Android and iOS devices. If not, move to the next step.
As mentioned earlier, the problem might be the Tinder app version that you are currently using. If there is a bug on the iOS version of Tinder, the Android version might have the same and vice versa.
So, it's worth installing Tinder on a different device to eliminate the problem.
You may use Tinder on your other device till the developers fix the issue.
For example, if you are an iOS user and have an extra Android phon, thenn follow the steps below.
Open Google Play Store on your Android device
Search for Tinder
Tap the Install button
Open the app and log in to your account
Tap the messages option and see if you can find the messages which disappeared earlier.
Similarly, if you are an Android user and have an extra iPhone lying around you, then follow the steps below.
Open App Store on your iPhone
Search for Tinder and install it
Open Tinder and login into your account
Switch to the Messages tab and see if you can find the messages or chats which was missing earlier.
The idea behind using Tinder on a different device is simple. The same version of the Tinder app on Android and iOS may or may not have bugs. Somtimes, the bug may be only in Android and vice versa.
Downgrade Tinder
At times, the newer versions of Tinder may come with bugs. Although it's rare, it can happen.
But if you started to experience this problem soon after updating your Tinder app to the latest version, chances are there for bugs.
If you want to start using Tinder and can't wait for the developers to patch it, follow the steps below.
The option to downgrade apps is only available for Android users.
So if you are an Android user, follow the steps to roll back to the previous version of the Tinder app.
Tap and hold the Tinder icon
Drag it to the Uninstall option
Once installed, open websites like APKPure or APKMIrror
Search for Tinder
Download the previous version of the Tinder app APK file
Open the APK and install APK to your device.
Once installed, log into your account, and you should find all the chats in the messages section.
Sadly, the option to downgrade apps is not available for iPhone users. Since iPhone does not give us the option to install apps locally, we are out of luck. You may only download apps via the App Store.
See If Tinder Is Down?
Tinder servers may go down, making the service unavailable for its users.
The reason why Tinder is down may be because of planned maintenance or a sudden outage. Whatever the case, if users try to access Tinder services when the server is down, the app won't work properly.
But now you might wonder, how do I know if the Tinder servers are down?
There is a simple solution to see if Tinder is facing any problems.
Open downdetector.com
Search for Tinder and hit enter
Tap the Tinder logo
Go through the report and see if any outage is reported.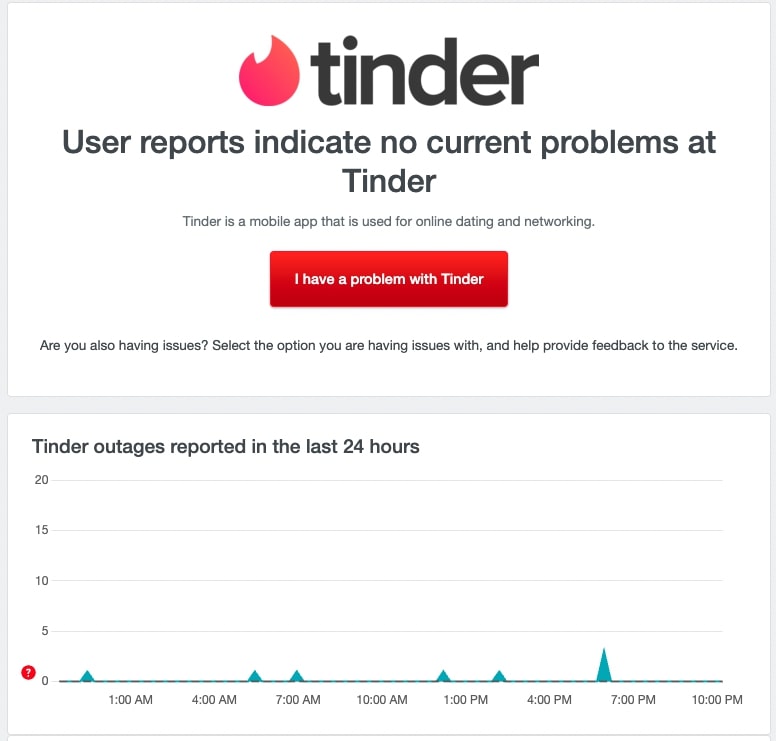 When a huge number of people start facing issues with Tinder, they update it on Downdetector.
Additionally, you may also refer to the graph to see the number of reports every hour for the last 24 hours.
Check Your Internet
It's also worth checking your Internet connection to enure everything is working fine.
Firstly, open a web browser and visit fast.com or speedtest.net.
Tap the Start button to start the Internet speed test.
See if you are getting the proper speed promised by your ISP.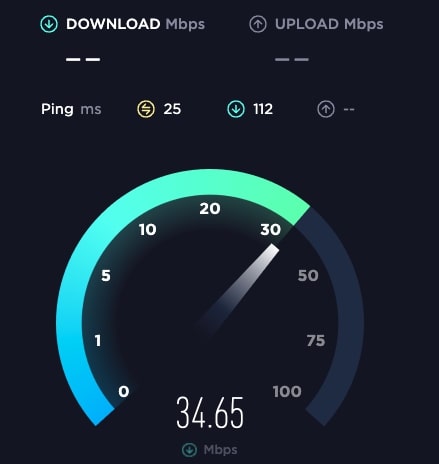 Also, try to use other apps like YouTube and stream videos to see if there is any problem with your Internet connection.
It's also recommended that you try connecting to a different Internet source like WiFi or mobile data and then try to access Tinder.
For example, if you use your home WiFi to surf Tinder, try switching to mobile data and vice versa.
Use Tinder Web
Did you know Tinder has a full-fledged website with the same features as the mobile app?
You may try to use Tinder on your laptop or PC till the developers fix the problem.
All you need to do is head to tinder.com and hit the login button.
Use your login credentials and log into your Tinder account.
You will be able to do everything exactly like in the Tinder app.
You may switch to the message section to see all your chats.
The content and updates on your Tinder web are synced to the app in real-time.
So whatever you do on the app or website, the same will be synced onto the website or app as well.
Can I Save Chats on Tinder?
A lot of Tinder users have this doubt. Is it possible to save Tinder chats?
No. It's not possible to save Tinder chat. It will be a breach of privacy, and the same is not available on the Tinder app.
There are a lot of tools claiming to do the same. But it's safe to avoid them.
If you badly need to show your Tinder chats to someone, then the only method to do so is by taking a screenshot of the chat screen.
If the chat history is too long, you can also screen record and share the video file.
Now you might be thinking, will the other person get notified if I take a screenshot or screen recording on Tinder?
No. Tinder does not notify the other person when you take a screenshot or screen recording.
But apps like Instagram and Snapchat will notify the other person when you take a screenshot.
Wrapping Up
Chats or messages disappearing on the Tinder app is not an isolated problem. People around the globe face this problem occasionally.
If the problem is not with the Tinder app, the other person might have unmatched you or deleted their profile.
The whole message history and chat will disappear when a person matches you. Similarly, when a person deletes their account, the chat and messages will disappear too.
In some cases, the problem may be with the Tinder app. A bug or technical glitch may be stopping Tinder from showing your messages. Another possibility is that the Tinder server might have gone down.
I hope this guide helped you know why tinder messages disappear and how to get them back?