Are you tired of manually deleting files, cache, and temporary content to increase your Windows PC's performance? Here is the list of best PC Optimizer and cleaning software for Windows 11,10 and older versions.
Using PC Cleaner software, you can easily increase your computer's performance by deleting unwanted files, cache, temporary files, registry content, etc. The best part is that the software does everything on its own with a single click.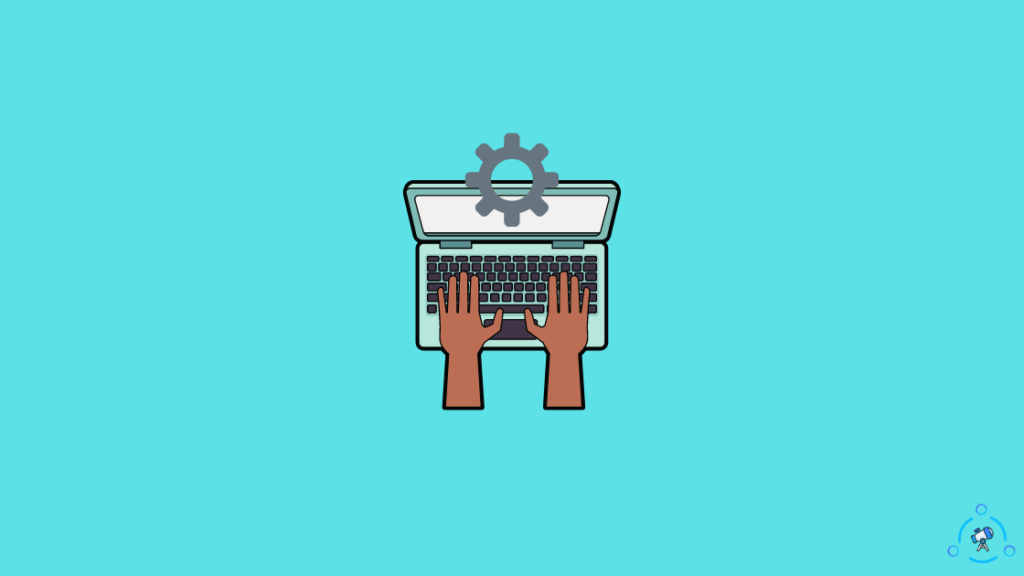 What is the Best PC Optimizer Software?
Here are my top picks:
1. Advanced SystemCare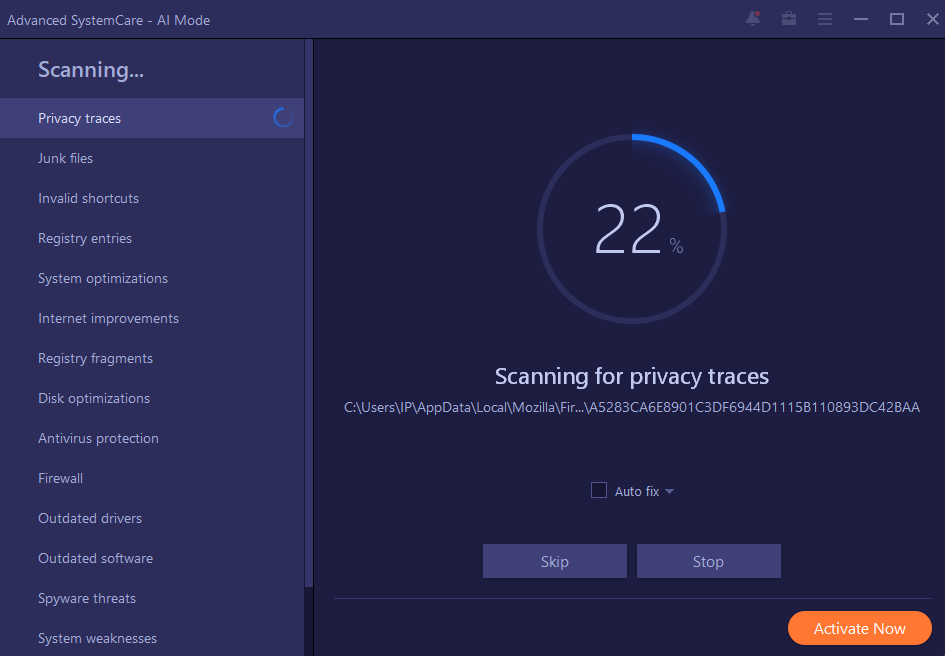 Advanced SystemCare is an AI-powered PC optimizer software to speed up your computer and free up disk space. Over time, disk space usage increases and a lot of files of no use will be stored on our drives. We can use Advanced SystemCare to get rid of those.
The two interesting things I liked a lot about Advanced SystemCare is AI-powered scanning and Deep PC Cleaning. Firstly, the AI-powered scanning will analyze your computer to find things that are slowing down your computer and the Deep Cleaning option will remove all sorts of unwanted files that are affecting the performance and errors.
The dedicated software updater will help you to automatically update all the installed software with the latest version.
Features of Advanced SystemCare
AI powered system scanning to intelligently scan modules that are slowing down your PC
Deep PC Cleaning to remove unwanted files
Improve the internet speed
Secure your privacy
Realtime virus protection
Pros
AI powered cleaning option
Protects your data
Realtime tuneup
Cons
More features available in Pro version only
2. Iolo System Mechanics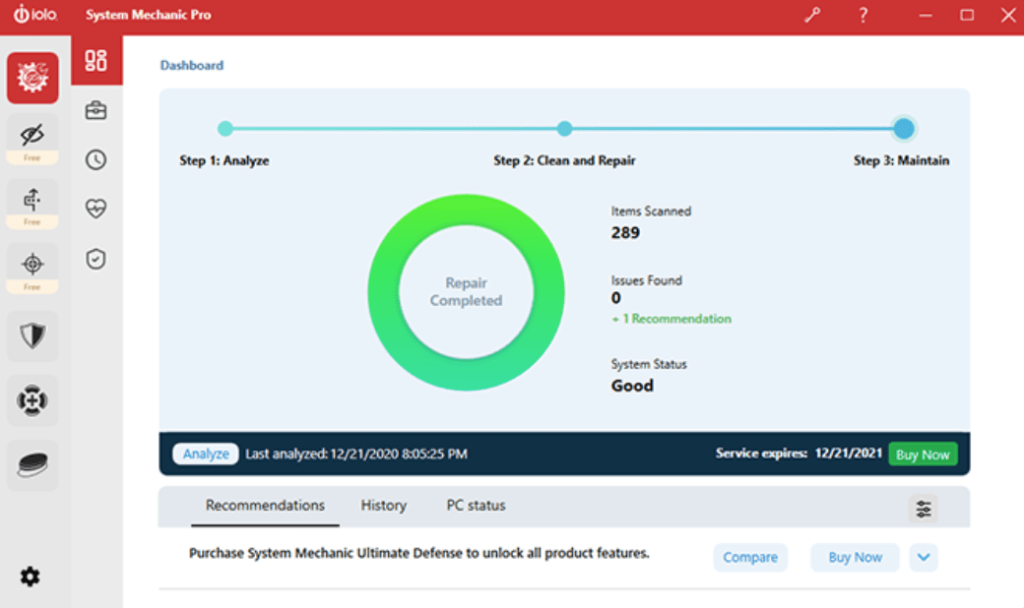 Iolo System Mechanics is a system tune-up software to improve the performance of your Windows PC. This software combines features like Windows optimization, online privacy and antivirus.
Both free, as well as paid versions of Iolo System Mechanics, is available. System optimizations, privacy protection, password management, malware removal are some of the highlighted features of Iolo System Mechanics. As per their official website, you can attain up to 89 percentage fast startup speed by using Iolo system mechanics.
Features of Iolo System Mechanics
System Optimization
Privacy Protection
Malware Removal
File Recovery
Pros
Lightweight software
Free version available
More features than others
Less confusing UI
Cons
Some options limited to paid version only
3. CCleaner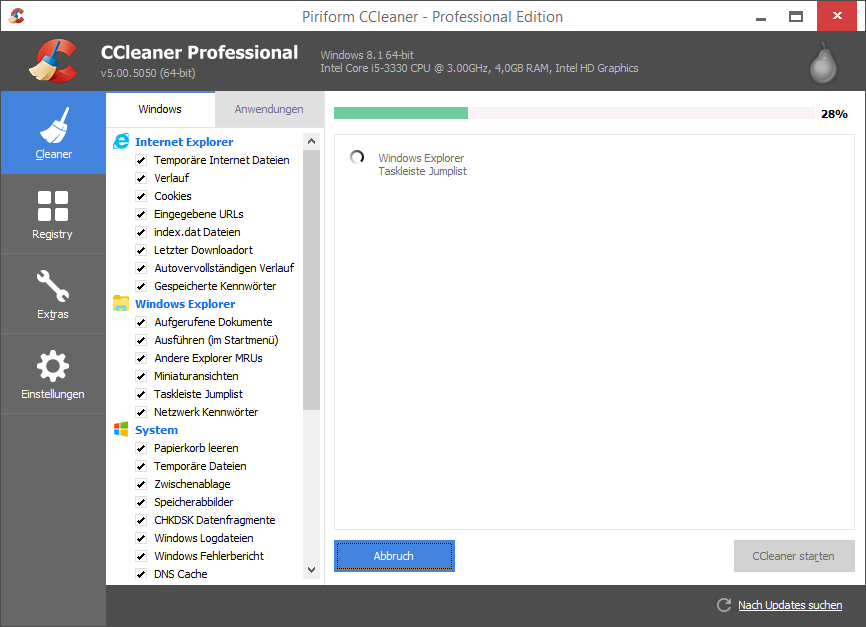 Some of you might have already heard about CCleaner. It is one of the oldest Windows PC optimization tools.
CCleaner comes with options like the ability to control which apps use your computer's resources and Remove tracking files and browsing data. The software updater will make sure that you are using the latest version to reduce security vulnerabilities.
Whether it be browser files like cache, cookies and browsing history, app data, or temporary files, CCleaner got you covered. Both free, as well as paid versions of CCleaner, are available.
Features like the Software updater, defragger, are only available in the paid version.
Features of CCleaner
Automatically update all software to latest version
Clean computer memory by deleting unwanted files
Get rid of cached content and cookies from web browser
Privacy protection monitoring
Control which apps use system resources
Pros
Free version available
Online privacy protection
Easy to install software
Cons
Only basic features available in free version
Take a look at the Best Android Emulator software to run Android apps on your Windows computer.
4. Ashampoo WinOptimizer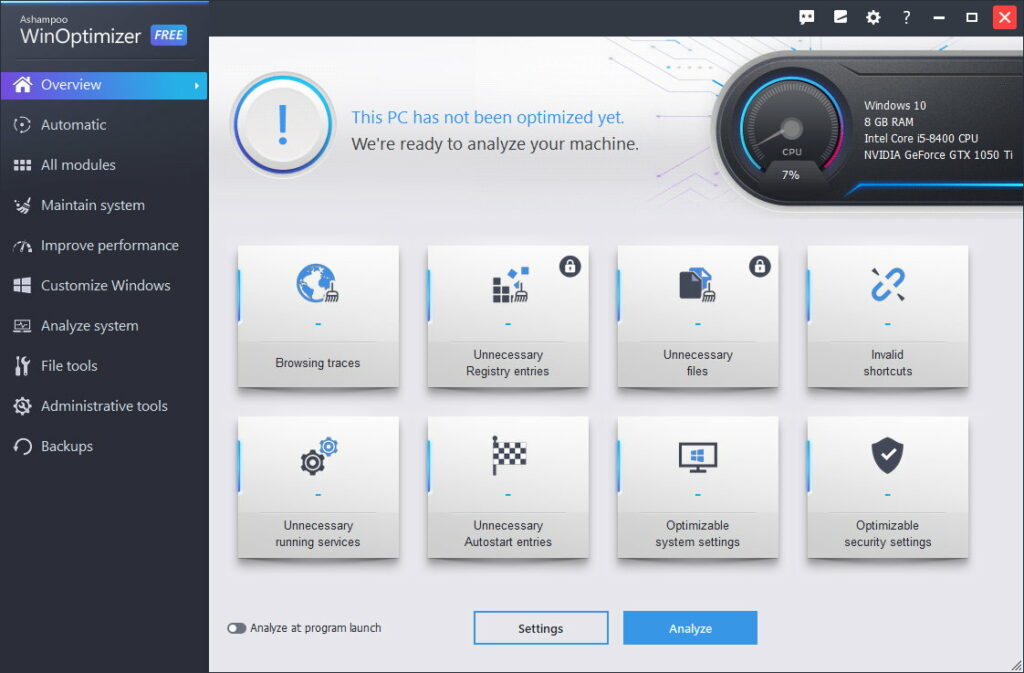 Ashampoo WinOptimizer is yet another Windows PC optimizer software to speed up your computer by removing junks files. The software helps you to clean and fixes related to your Windows system.
WinOptimizer works well with all leading versions of Windows and helps you to easily fix issues as well. As it is a free program, you are not required to purchase a license for using it.
WinOptimizer also comes with an optional paid plan as well. If you want access to even more features and options then you may consider WinOptimizer Pro.
Features of WinOptimizer
Internet Cleaner to clear your internet traces
Speed up Windows
Fix various Windows errors
Optimizer registry with Registry Optimizer
Pros
Free version available
Delete and recover files
Online privacy on using web browser
Good user interface
Cons
Limited options on the free version
5. Norton Utilities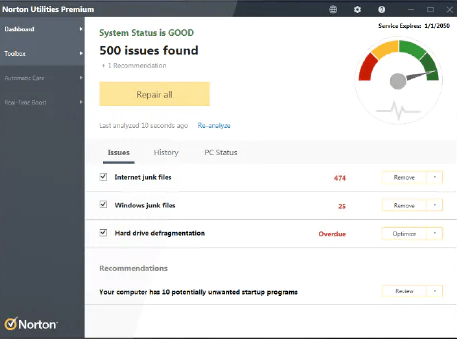 A lot of you might be already aware of Norton. Norton Antivirus is so popular in the industry. Did you know that Norton also has a PC cleaning utility software called Norton Utilities?
It automatically optimizes the PC's memory, hardware and processing power to get smooth performance. Similar to other programs, it will help you remove unwanted files and speed up Windows.
The automated PC care will work in the background and notify you if any action is to be taken. This means, the software always monitor things in the background.
Features of Norton Utilities
Improve PC's processing poweer
Cleans up Windows PC
Automated PC care option
Sfeguard digital privacy
Pros
Automated PC care
Online privacy controls
Low storage requirements
Cons
No free version available
Only 14 days trial
6. CleanMyPC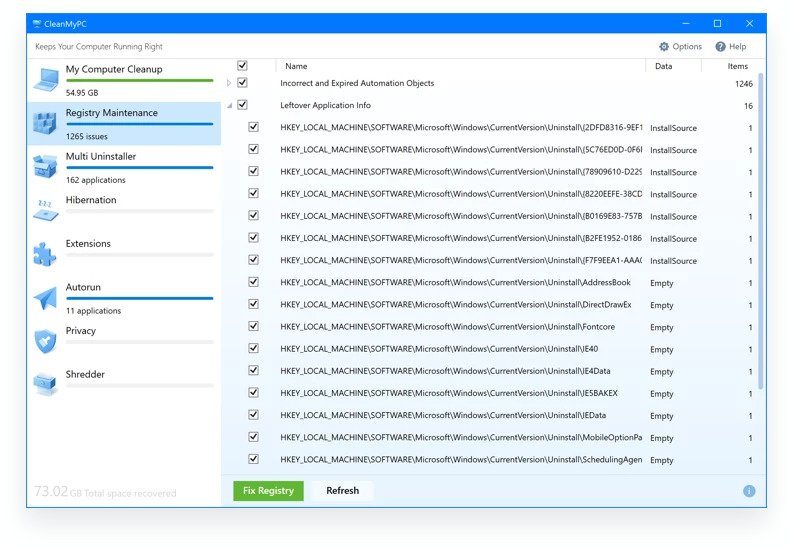 The number one PC cleaning software on our list is CleanMyPC. CleanMyPC helps you to remove junk files, caches, temporary files, registry junks, etc to improve performance. This is one of the best PC optimization software that is available for Windows.
The Multi Uninstaller option in CleanMyPC will help you to select multiple software/programs and uninstall all of them in a single click. As the PC gets old, you will also have noticed that the Windows startup time slows down as well. With CleanMyPC, you can disable all heavily loaded applications in a single click to improve the startup speed.
Another interesting feature of CleanMyPC is the file shredder option. This option will basically help you shred the files in your computer so no data recovery software will be able to recover it again.
Features of CleanMyPC:
Includes both free as well as paid options
Improve the speed and performance of your Windows PC
Works with all versions of Windows including Windows 11,10,8,7 and older
Shred files so that it can be never recovered again
Remove cache files and registry junks
Protects your privacy online – easily delete cookies and other browser junks.
Pros
Best PC Optimizer out there
Nice user interface
Easy to install and use
Cons
Not available for older versions of Windows inlcuding XP and Vista
7. AVG PC Tune Up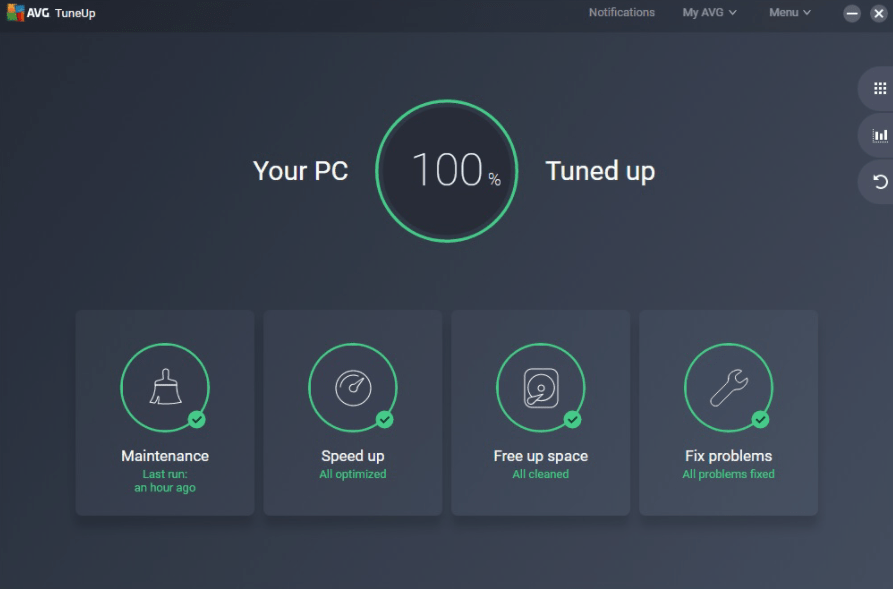 AVG is a famous antivirus software company. The same company have a PC optimization program called AVG PC Tune Up. Basically, this software allows you to optimize your Windows computer to improve its performance and speed.
If you are experiencing speed-related problems on your Windows computer or other issues that make your computer hang or lag then you might want to consider using AVG PC Tune Up software.
Do note that AVG PC Tune Up is not antivirus software, it's just a PC optimization software that will help you to optimize and clean your PC to make it faster and better.
Features of AVG PC Tune Up
Speed up your Windows PC
Remove junk files to free up space
Update your programs automatically
Uninstall software you don't need
Pros
Cleans the hardware and remove junk files
Improve system performance
Nice UI
Cons
Only paid version available
8. The PC Decrapifier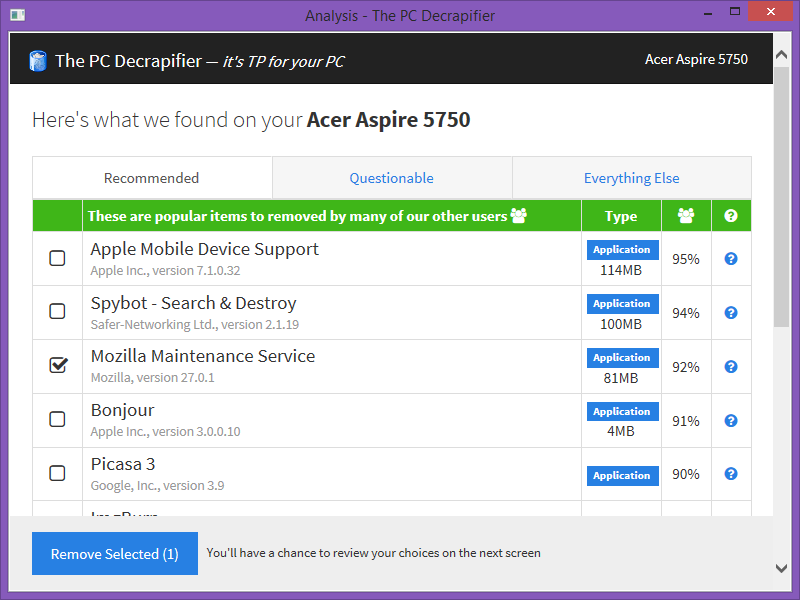 The PC Decrapifier a free software that will let you speed up your computer by removing unwanted and unnecessary programs, files and settings. There will be tons of preinstalled software when you buy a new computer, in this case, you can use The PC Decrapifier to remove all the unwanted software packages from the computer.
Unlike other software, The PC Decrapifier is 100 percent free and does not have a paid option. The whole set-up procedure is easy too.
Features of The PC Decrapifier
Free program to remove unwanted files from your computer
Helps to remove bloatware from computer
Remove software causing problems to your computer
Pros
Lightweight and easy to use
Totally free
Cons
Support discontinued
Not great UI
9. Win Magician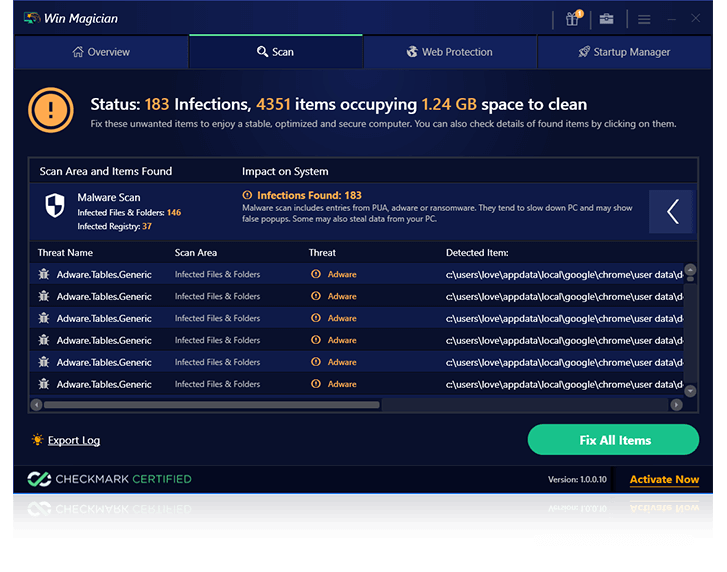 Win Magician mainly focuses on 4 things – Malware scan, Junk and Privacy Scan, Invalid Registry Scan and Web Protection. Win Magician's invalid registry scan feature will let you find invalid registry entries and remove them to improve your system response time.
The malware scan option scans your computer for any infected file and removes it if found. You can quickly run a scan to find issues related to registry entries, other software, or invalid settings. The best thing is that you can apply all the fixes is in a single click.
Features of Win Magician
Malware Scan
Junk and Privacy Protection
Invalid Registry Scan
Web Protection
Pros
Easy to use program
Single button to apply all fixes
Startup Manager to control software at the beginning
10. Comodo System Utilities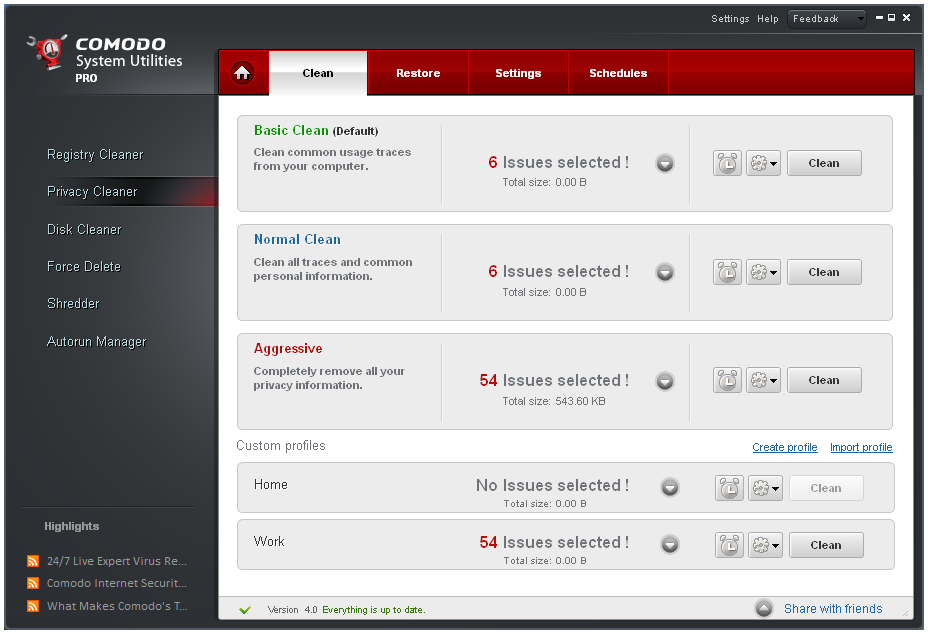 Comodo System Utilities is a free program that includes some advanced features like registry protection, instant scan, real-time cleaning and safe delete. The software lets you speed up your computer by removing junk files and privacy cleaner.
The file shredder feature will permanently erase files from the hard drive so that they cannot be recovered by anyone. Another interesting feature that I like the lot is the duplicate removal option which will find all the duplicate files and remove them in a single click. The registry defrag option will improve the performance by bringing the registry back to optimal condition.
Features of Comodo System Utilities
File Shredder
Registry Protection
Registry Defrag
Duplicate remover
Easy to use options
Pros
Easy to use interface
File shredder to permanently remove files
Helps you remove locked files
Cons
The interface design could have been better
11. Advanced System Optimizer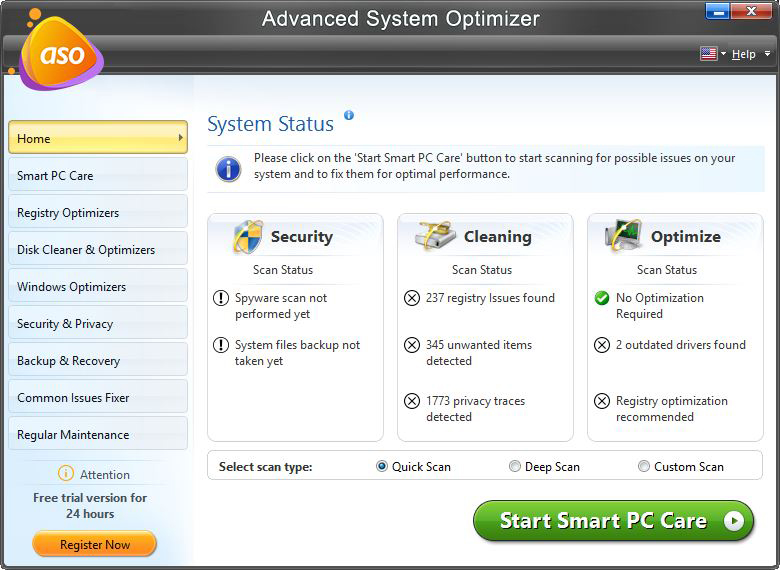 Advanced system optimizer is a software dedicated to cleaning ram and junk files from PC. As you might know, high RAM usage will make our computer hang and unstable. This is where Advanced System Optimizer comes into play. The software will help you to optimize your computer by deleting unwanted files.
System cleaner and optimizer, secured encryption, system files backup and restoring are a few features of the software. Advanced System Optimizer is available for all versions of Windows including Windows 11, 10 and older versions like Windows XP and Vista as well.
Features of Advanced System Optimizer
System Cleaner
Disk Optimizer
ProvIcy Protector
Game Optimizer
Memory Optimizer
Pros
Option to backup and restore files
Advanced system cleaning and optimizing
Encryption and decryption
Cons
UI could have been a bit better
12. Razer Cortex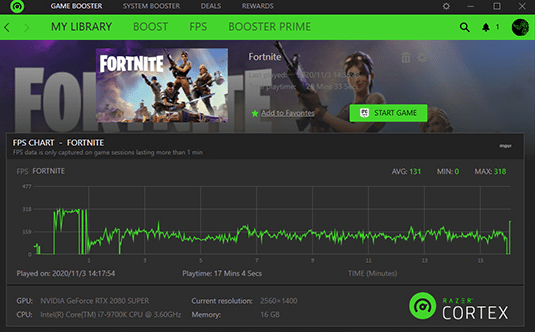 Razer Cortex is a software meant more for gaming computers and laptops. It will help you to optimize your computer to improve gaming performance easily. Razer Cortex is specifically designed for Razer devices but it will support other computers as well.
It is free software that you can download by visiting Razer's official website. To take advantage of the full potential of your computer, you can use Razer Cortex.
Features of Razer Cortex
Improves gaming performance
Stops resource hungry applications and processes
Pros
Increase performance of gaming
Available for Windows 11/10/8 and 7
Nice UI
Cons
Only gaming related optimization available
13. Total PC Cleaner – FREE PC Cleaner
Total PC Cleaner is a Windows optimizer available on the Microsoft store. You can directly download the same and install it by visiting the store. Once installed, you'll be able to delete the system cache and application cache to improve the system performance.
The software is 100% free and can be considered as a Clean Master or CCleaner alternative. The duplicate cleaner option will easily find all the duplicate files on your computer and delete the same to save storage space.
Features of Total PC Cleaner
System Caches
Application Caches
Duplicate Files
Easy to use
Pros
Available on the Microsoft Store
Free software
Remove system and application cache
Cons
Not that feature rich when compared with others in the list.
What is a PC Optimizer and Cleaner?
A PC Optimizer or Windows Cleaner software is a program that will automatically perform some tasks to increase your PC's performance. Over time, you might have felt your computer slowing down or hanging often. This is because, over time, a lot of unwanted files, cache, etc accumulate and affect the performance of your computer.
This is where PC optimizer software comes into play. This software will remove all unwanted content from your computer in a single click and improve your PC/Laptop's speed and performance a lot.
I tried a bunch of cleaning software for Windows and felt a noticeable difference in terms of speed and performance.
How to Select Best Optimizer Software?
There are certain things that you should keep in mind before selecting a PC optimization software for your computer. Let's go through them real quick.
The software should be able to delete junk files, temporary files and registry junks
Send proper alerts when it's time to do a cleanup or do a audit
Delete web browser cache and cookies
Remove resuidal items after uninstalling programs
Best Windows PC Optimizer – My Picks
In terms of features and options, and easiness to use I would suggest you go with CCleaner or Advanced SystemCare. Both these software will help you to optimize your computer and improve its performance. So that wraps up the list of Best PC Optimizer software to use in 2023