With over 1800 servers spread across 100+ locations, iTop VPN is a cross-platform VPN service available for Windows, Android, iOS, and macOS.
In this article, we will take a deep look into iTop VPN and the features it has to offer.
The generous free plan of iTop VPN is one of the main highlights. With the free plan, you can use up to 700MB of data every day. This means you will get about 21GB of data for free using iTop VPN on your device.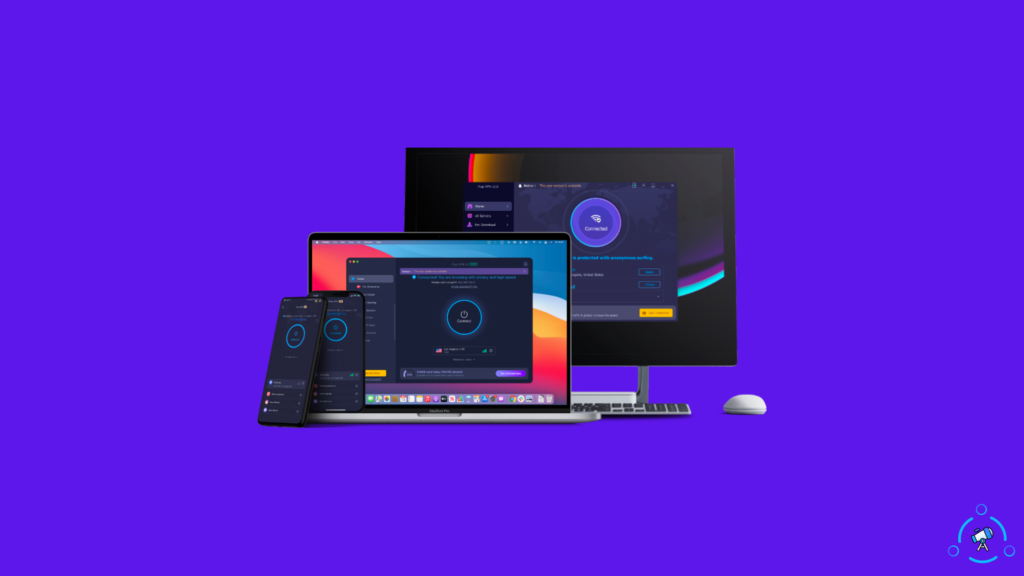 What is iTop VPN?
iTop VPN is a VPN (Virtual Private Network) available for Android, iOS, Windows and macOS. iTop VPN lets you connect to one of the 1800 available servers to hide your original IP address and surf the internet anonymously.
Once enabled and activated, the websites you visit and other things you do on the internet will be anonymous and non-traceable. The VPN also helps you to watch geo-restricted content easily.
For example, there are certain shows on OTT platforms like Hulu, Netflix, Prime Videos, Disney+, etc which will be available to people from certain regions/countries only. If you are from a country in which the content is not available then you may iTop VPN to bypass geo-restriction and enjoy the content.
It doesn't matter what device are you using. iTop VPN is available for all Android and iOS-based mobile devices and Windows and macOS-based PCs.
Features of iTop VPN
Completely Free Plan
One of the main highlights of iTop VPN is the free plan. You get up to 700MB/day or 21GB/month of data for free with the free plan.
Other important features in the offer are:
16 servers
700MB data per day
If you are someone who has light internet usage and is looking for a simple and free VPN then iTop VPN is something that you need to consider.
Server Availability
iTop VPN comes with around 1800+ servers across 100+ regions. Servers in almost all leading countries/regions like the USA, UK, Germany, India, Australia, Japan, etc are available. The server section is categorized for different purposes like Streaming, Gaming, Social media surfing, etc.
Enhanced Privacy Protection
iTop VPN comes with browser privacy and ad blocks for better privacy protection. The VPN automatically clears browser traces in Chrome, Firefox, Edge, etc, and blocks ads and malicious links when you access the internet. Also, iTop VPN maintains a no-log policy as well, more on this later in the article.
Multiplatform Availability
iTop VPN is available for the following operating systems:
iTop VPN UI & Dashboard
I personally liked the iTop VPN UI very much. Its dashboard is very simple and minimal with only required options. As soon as you open the app, you will find a giant circle Connect button. Clicking on it will instantly connect to a server.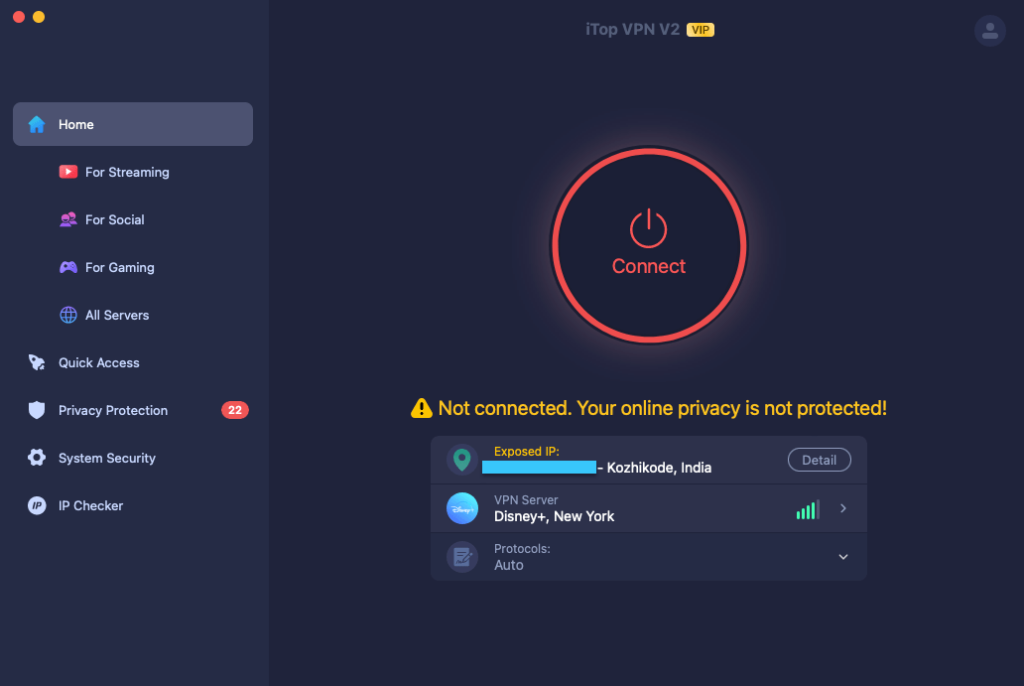 On the homepage, it will show you the virtual IP address, the server you are connected to and the protocols used. By default, the protocol will be set as Auto. You can click on the drop menu to select any protocol like HTTPS, TCP, or UDP.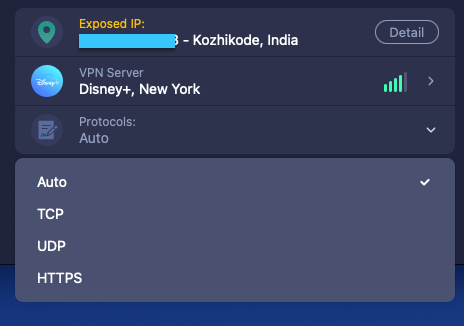 On the left-hand side, you will find options like Home, Quick Access, Privacy Protection, System Security, and IP Checker.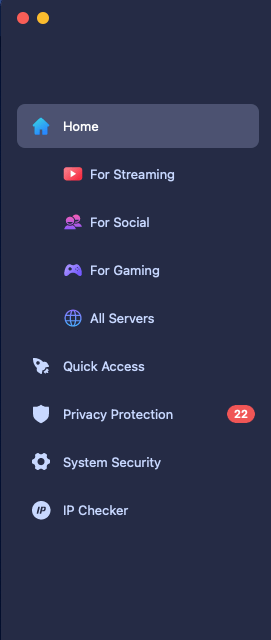 iTop VPN Servers
As mentioned earlier, iTop VPN has more than 1800 servers from 100+ different locations. Under the Home section, you can find the list of all available servers.
All the servers are categorized according to their purpose. They are grouped as: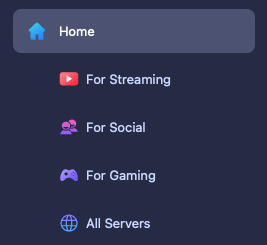 For Streaming – To access video streaming platforms like Netflix, Prime VIdeos, Hulu, Disney+, etc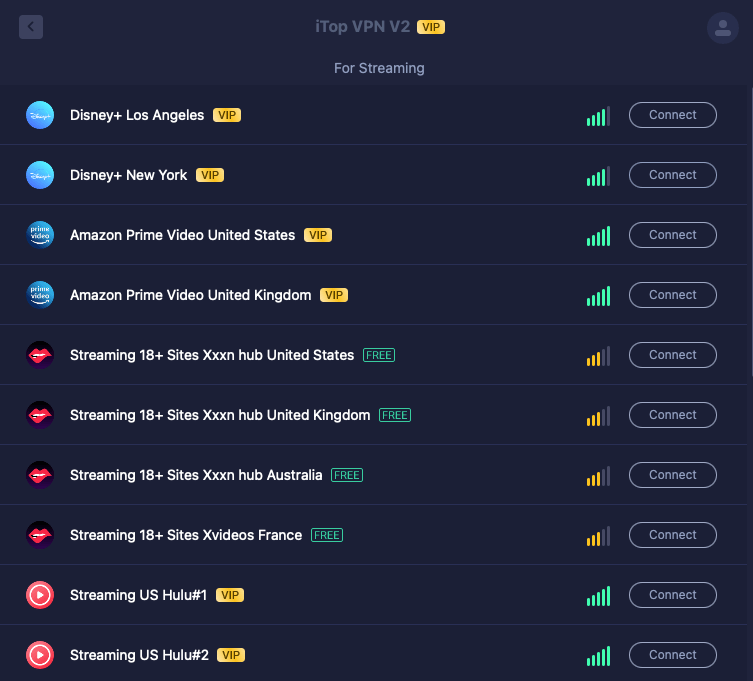 For Social – To access social media platforms like Facebook, WhatsApp, Instagram, etc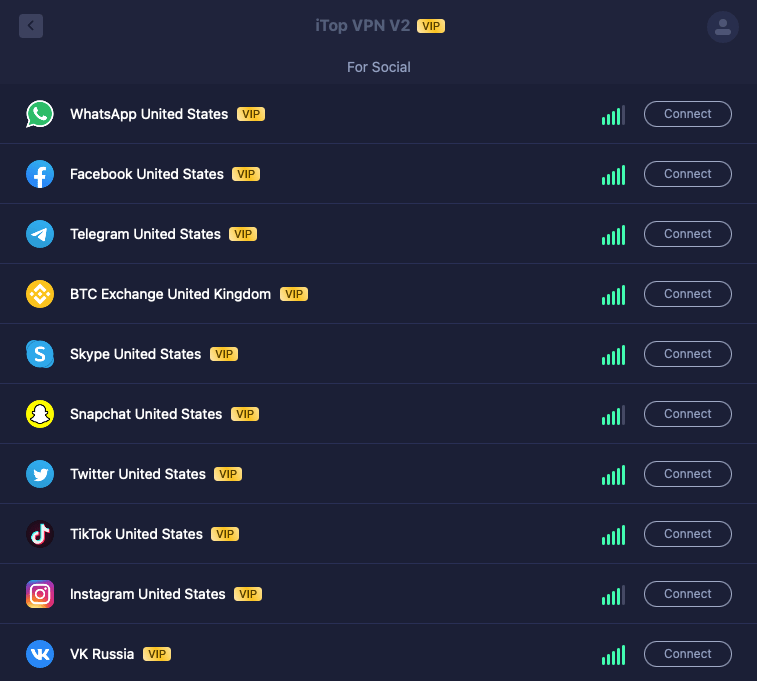 For Gaming – Specifically to play games like Roblox, Roobet, etc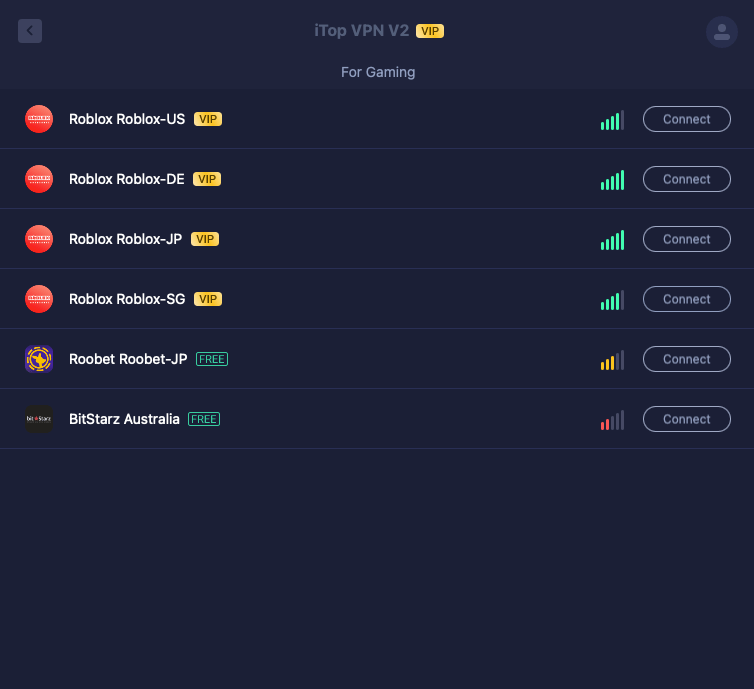 All Servers – This shows the entire list of servers available to use.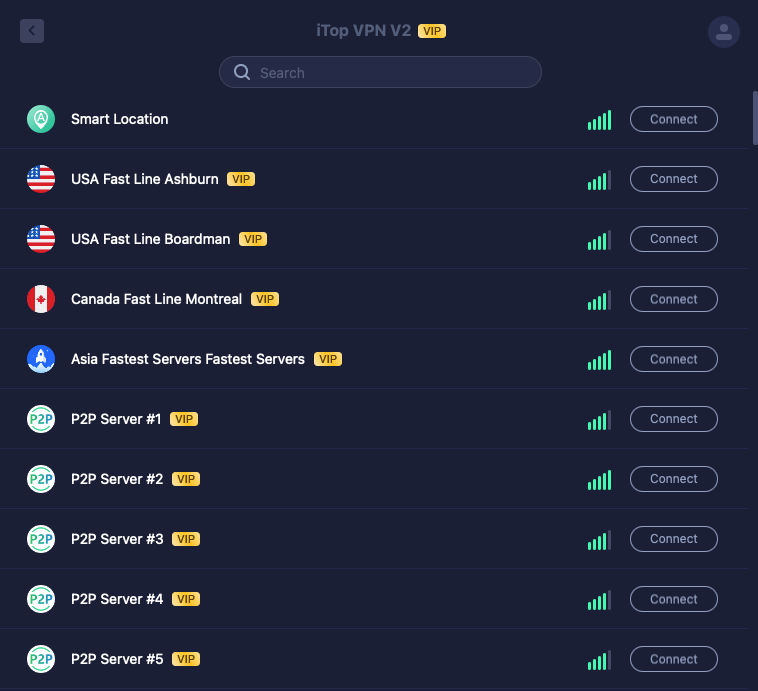 Privacy and Encryption/Security
The Privacy Protection in iTop VPN scans and clears browser malicious cookies, surfing traces, recent items, and app traces to protect your privacy. It will list all the browsers that you have installed on your PC.
In my case, it showed Safari, Chrome, Recent Items, and App Traces as I am using a mac. Just click on the Scan button to start scanning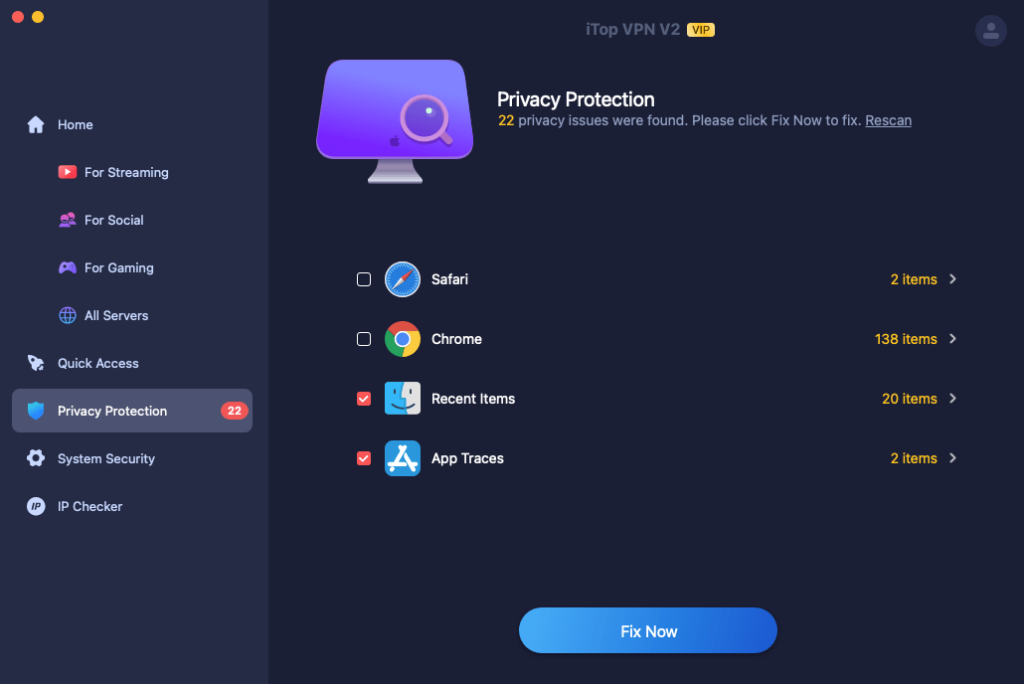 Encryption
iTop VPN uses HTTPS. UDP and TCP protocols to secure data for transmission. Other advanced and newer protocols like IKEv2, PPTP, L2P, etc are not available.
You have the option to select the protocol while you connect to a server. Or leave it to Auto.
As per the privacy policy of iTop VPN, the VPN maintains a no-log policy which means that iTop VPN does not store details like your IP address, the IP to which you connected, your usage, etc.
Kill Switch
As soon as the VPN service is deactivated, the Kill Switch mechanism will stop all the traffic. This way, no one will be able to find your details or other information like locations, etc. A Kill Switch is a must-have and super useful. Thankfully, we have the same feature in iTop VPN.
DNS Protection, Split Tunneling, Browser Privacy, and Security Reinforce are other security and privacy measures used by iTop VPN.
System Security
The System Security section scans your computer for viruses and malware.
It mainly scans for the following:
Malware
Malicious Cookies
Virus
System Risks
After the scanning is complete, you can easily fix it with a single click.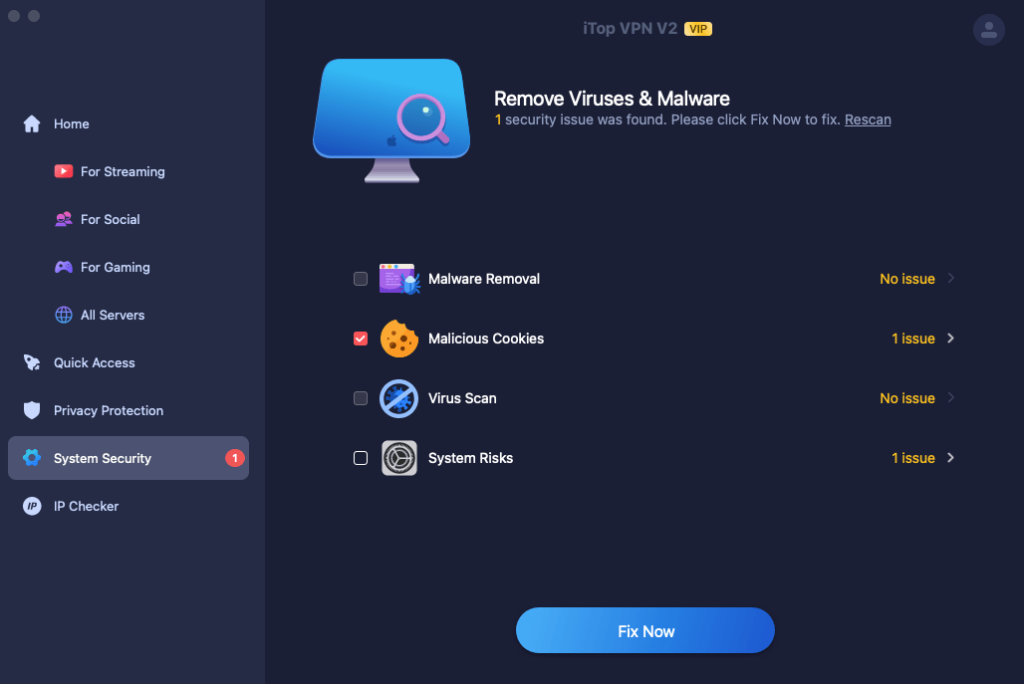 iTop VPN Pricing
As mentioned earlier, iTop VPN comes with both free as well as paid plans. If you only need a VPN to use occasionally then the free plan will be more than enough for you.
The free plan offers 700MB of data/day or 21GB/day. But the main catch here is that you only get access to 16 servers in the free plan while it is 1800 in the paid plan.
The paid plan starts at $1.99/month and a $3.58/month plan is also available.
| | |
| --- | --- |
| FREE Plan | Paid Plan ($1.99 & $3.58) |
| 16 servers | 1800+ servers worldwide |
| 700MB data per day | Unlimited data & bandwidth |
| – | 10x faster internet speed |
| – | Streaming, gaming & social VIP servers |
| – | Extra browser privacy protection |
| – | Block ads, trackers & malware |
| – | Secure torrents downloading |
| – | Split tunnelling connection |
| – | Static or dynamic IP |
Final Words
To sum it up, iTop VPN is a great VPN application to use. With a single active plan, you can use it on 5 devices simultaneously. It is available for Android, iOS, Windows, and macOS. Do check out iTop VPN to get access to 1800 servers over 100+ locations.