Be it for managing multiple ad or affiliate accounts, surfing the web anonymously, creating and managing multiple e-commerce businesses, traffic arbitrage, etc., an anti-detect and multi-accounting web browser is the first thing you need.
As many of you might have already heard, social media and other companies ban users trying to access several accounts simultaneously using a normal web browser like Google Chrome or Firefox.
This is where anti-detect and multi-accounting web browsers like AdsPower come into play. AdsPower is a sophisticated web browser that comes with added capabilities to manage multiple accounts without being caught or banned.
In this article, we will look at AdsPower, the highlighted features of AdsPower, and finally, how to set up AdsPower and start using the same.
What Is AdsPower?
AdsPower is an anti-detect and multi-accounting web browser that helps you to simultaneously manage multiple accounts of the same platforms without being caught.
AdsPower helps you in many areas, including managing accounts for multiple clients, running unlimited ad accounts, traffic arbitrage, and more.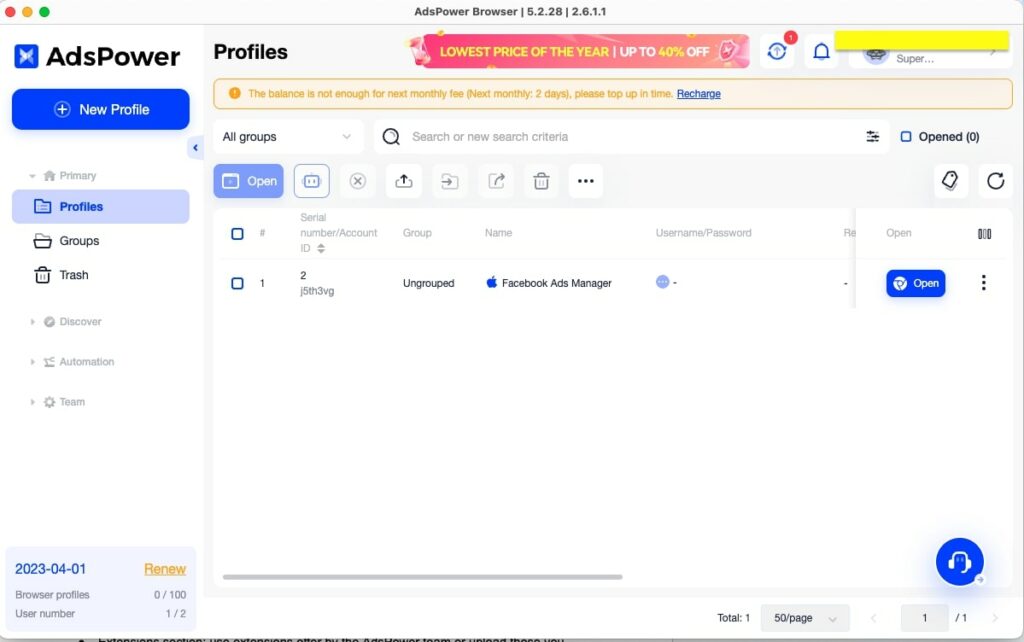 If you use a regular web browser like Google Chrome or Safari for managing multiple client accounts of the same platform, they will be able to know it because the fingerprint, proxy, device info, and more are the same.
AdsPower's ability to create a custom profile for different accounts, each with its own custom fingerprint and device data, makes it undetectable.
It lets you create any number of profiles depending on the plan you select and flawlessly manage multiple accounts simultaneously.
Why Use AdsPower Browser?
An important question that gets asked quite often is why to use a multi-accounting web browser or AdsPower browser.
Many websites won't allow you to use more than one account. If done, they will ban your accounts or place your account on hold for a certain period.
For starters, these websites use various data like IP address, device info, user agent, etc, to detect if you are logging in to multiple accounts from the same device.
If you use a standard web browser like Google Chrome, Edge, or Safari, the website will be able to know easily.
But on the other hand, if you create a custom profile for each account and configure it with an entirely different fingerprint and proxy, the website won't be able to know.
This is why people use AdsPower anti-detect and multi-accounting web browser.
Affiliate Marketing
Affiliate marketing is a program in which one can earn money by referring products and bringing sales.
There are various tactics to succeed in affiliate marketing, like managing multiple affiliate accounts for better categorization, etc.
Most affiliate marketing companies only allow a person to have one account. But with the help of AdsPower, you can easily manage multiple of them.
Traffic Arbitrage
Traffic Arbitrage is when you purchase web traffic for a relatively lower price and sell it for a much higher amount. The difference amount here is your profit.
To minimize the risk and avoid bringing a ban to your account, a multi-accounting web browser can help you.
Online Advertising
If you are into online advertising, you know how effective it is to have multiple ad accounts to run campaigns. At the end of the day, you want to reach more customers and bring sales or conversions.
Managing multiple ad accounts has never been this easier, all thanks to anti-detect and multi-accounting web browsers like AdsPower.
Features Of AdsPower
Now that you know a lot about AdsPower, how it works, who it is used by, etc., let's take a look at some features of the same.
Multi-accounting and fingerprint spoofing
AdsPower lets you create individual custom profiles with their own unique device fingerprint, making it look like a web browser on a separate device.
Browser Automation
Routine tasks can be automated in AdsPower using local API or RPA robot. So if you have any repetitive task that needs to be done periodically, AdsPower got you covered.
Team collaboration
AdsPower lets you easily create and manage a team to efficiently and smoothly manage the day-to-day operations with ease. You can create a team, add members, assign permissions, and work as a team.
Data security
All the data on AdsPower is encrypted and only you can view it. The data is encrypted before transmission. AdsPower also provides various other security features like two-factor authentication to secure data and accounts.
Compatibility
AdsPower anti-detect web browser is now available for both Windows and Mac. As for macOS, it works well with both Intel and M series-based computers.
How To Use AdsPower?
Now comes the real question, how to set up and use the AdsPower browser.
Let's see.
Firstly, head to the official website of AdsPower and download the latest version for your computer.
Install the browser and create a new account.
Verify the email address, and once done, log in to your AdsPower account.
AdsPower offers three days free trial. So you can try all the premium features free of cost.
Once logged in, the first thing to do is to create a new profile.Click the New Profile button in the top left corner.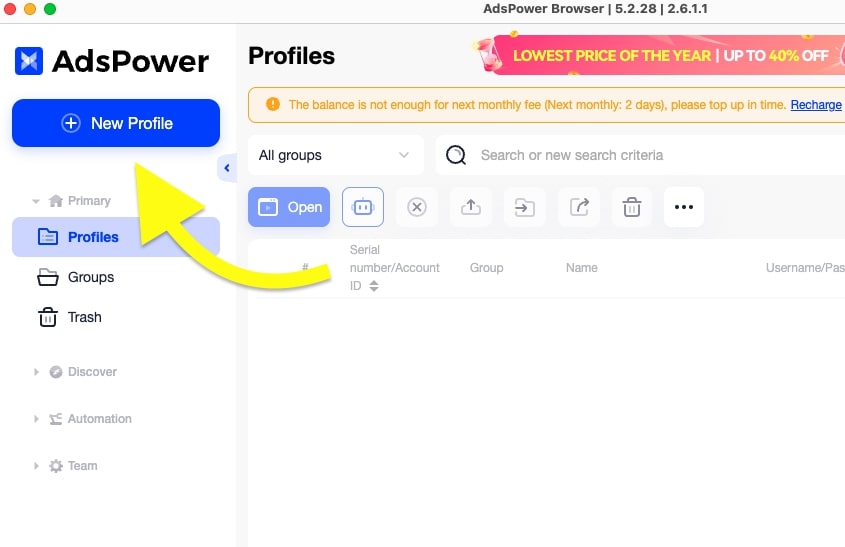 Now a configuration screen will pop up. You need to enter the details to make a new profile.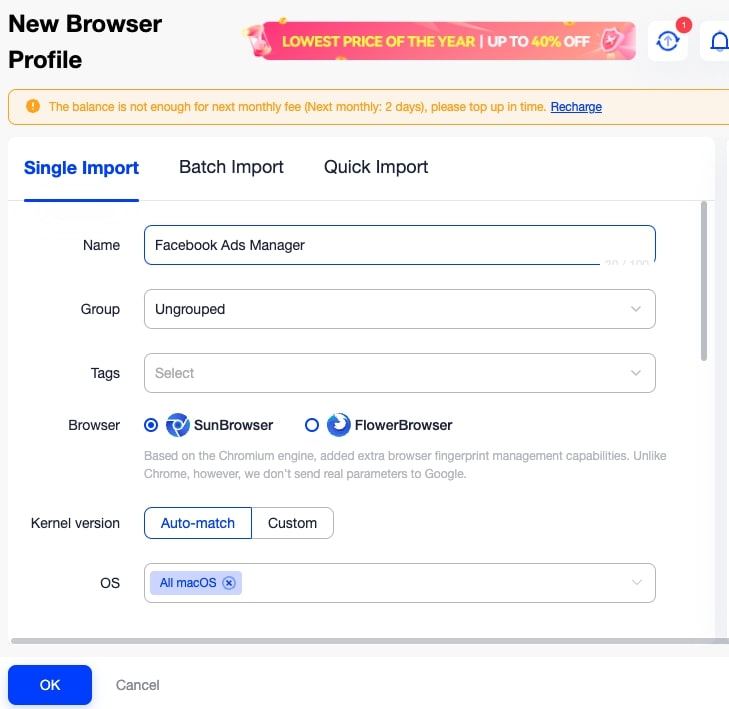 Name: Enter the name of the profile
Group: Add the profile to any existing group or create a new one
Tags: Select a tag
Browser: Select the browser engine you want to create this profile on. Currently, AdsPower has both SunBrowser based on Chrome, and FlowerBrowser based on Firefox engines.
Kernal version: Leave it as Auto-match to be on the safer side.
Browser Version: Select a browser version of your choice.
Cookie: If you want to add any cookie to the new profile, add it here. You may paste the cookies in JSON format.
Proxy: Configure a custom proxy to spoof the location and identity. Select the proxy type such as HTTPS, SOCKS5, SSH, etc, and configure it with other details like the host, username, port, password, etc.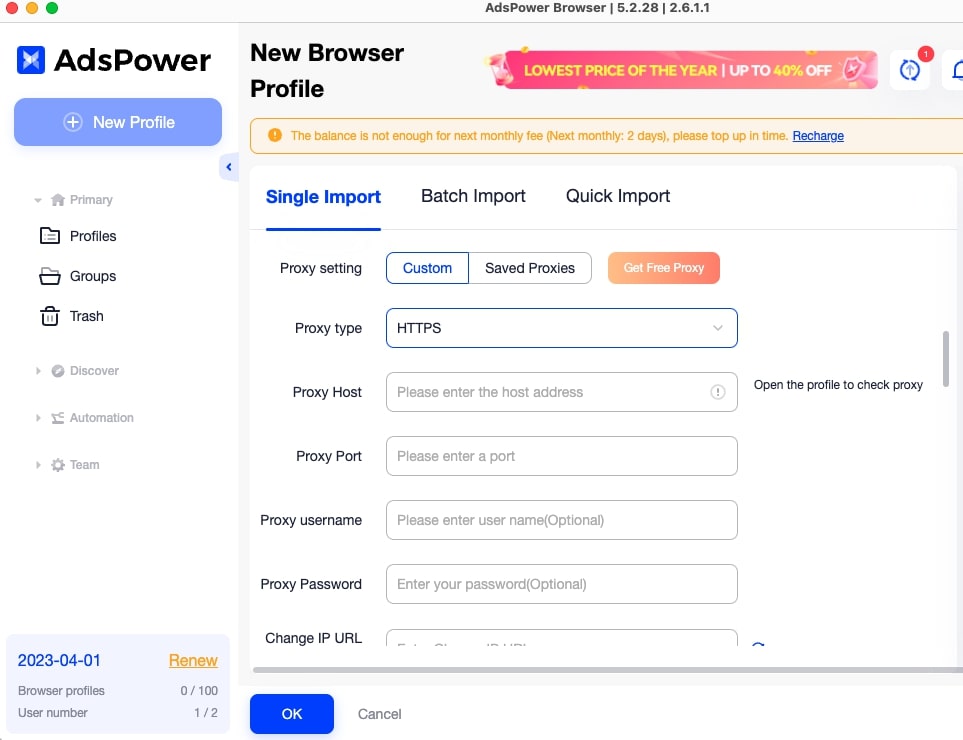 Advanced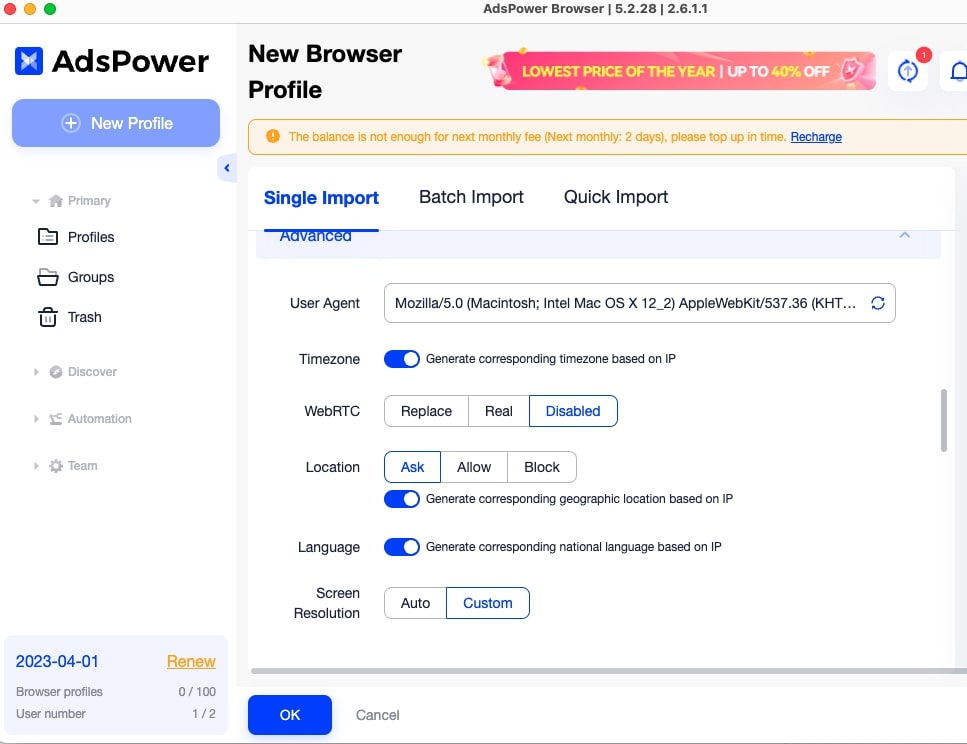 Upon expanding the Advanced section, you may select a custom user agent, set a time zone, select the WebRTC option, select language, set up a custom screen resolution, configure system configuration including memory and processor, change MAC address, and more.
Once done, click the OK button to create the profile.
Once created, click the Open button next to the profile name under the Profile section to open the browser window based on the selected browser engine.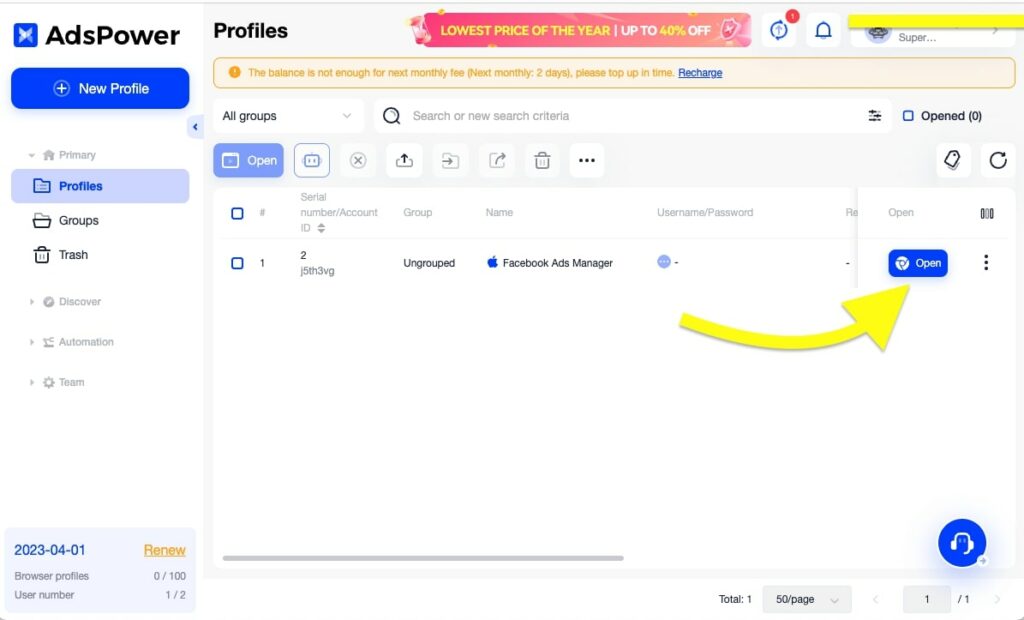 You may now log in to any account of your choice and start using the same.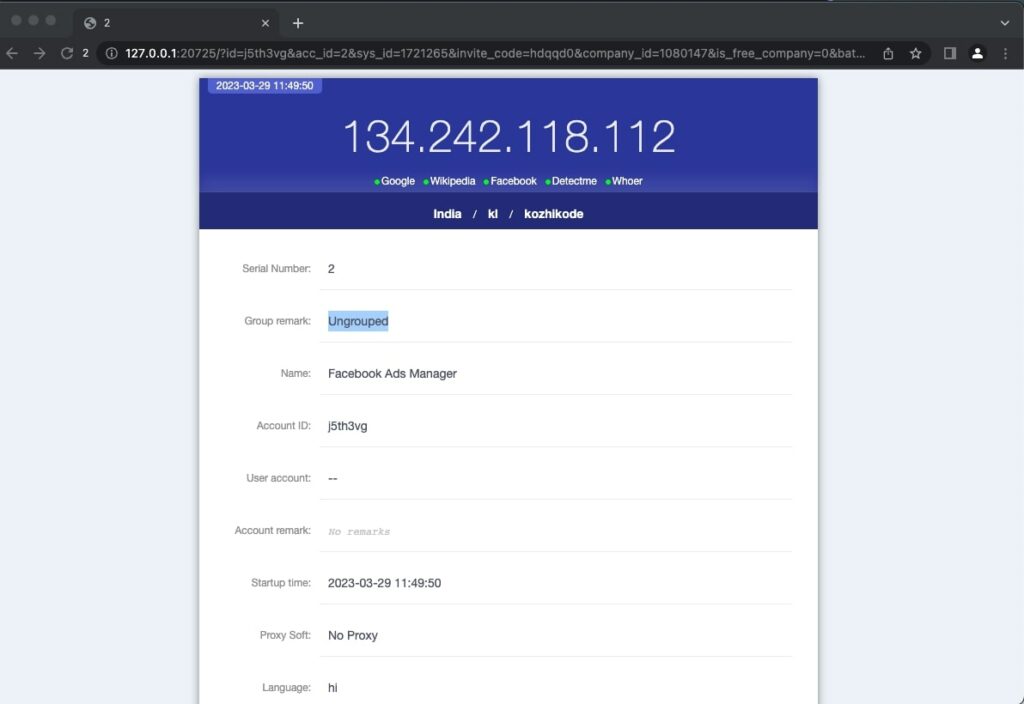 Repeat the same steps for creating new profiles.
RPA Automation
AdsPower browser offers RPA automation for repetitive tasks that needs to be done periodically.
Follow the steps below to setup a new automation on AdsPower:
Firstly, make sure you have created a profile and setup the proxy.
As for the automation template, you can either create one from scratch for your needs or use a ready to use template.
Click the Marketplace option to find all the automation templates that are already available on AdsPower. You can use them in a single click.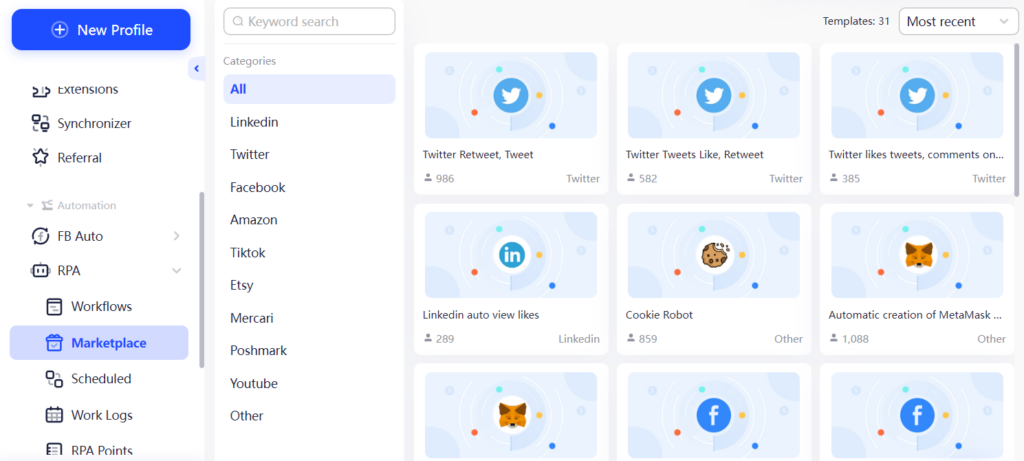 If you want to create one your own, click the Create a task flow option and configure it.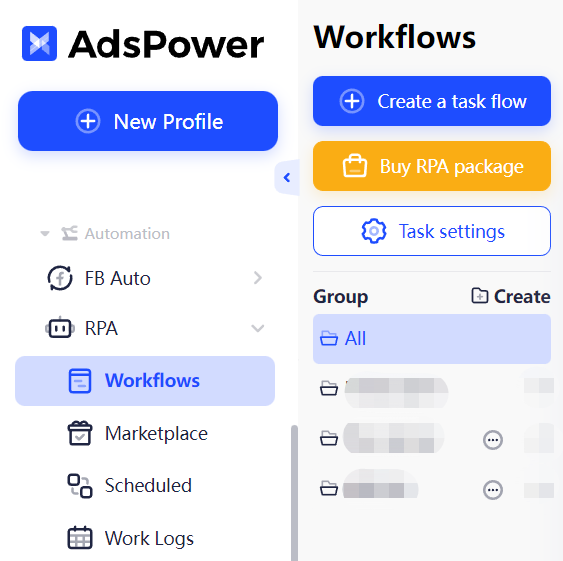 Once the template is setup, head back to the Profile page and select the correct profile and click the RPA button.
Configure the automation like frequency, process, task type, start time, and more. Finally, click the OK button to begin.
If everything is done correctly, RPA robot will start its process right away.
Pricing
As for pricing, AdsPower provides the most affordable and flexible pricing model on the market. AdsPower offers plans on a monthly and yearly basis. The price of Base and Pro plans depend on how many profiles and member seats you need.
Monthly
Free – $0/month
Base – from $9/month
Pro – from $50/month
Custom – Custom/month
Yearly (20% off)
Free – $0/month
Base – from $7.2/month
Pro – $40/month
Custom – Custom/month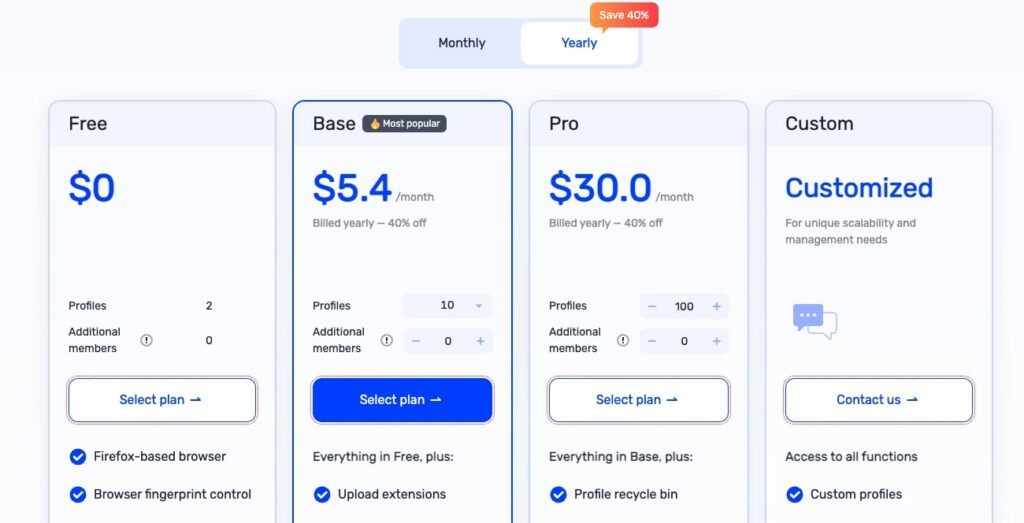 Promo code "IPEEWORLD" with discounts:
10% off all plans for the first month
10% off for the first 3 months
15% off for the first 6 months
25% off for the first year
Wrap Up
That's everything you need to know about AdsPower anti-detect and multi-accounting web browser and how to use the same. You can also follow them on social networks to find more interesting facts and keep updated on the latest news.
An anti-detect and multi-accounting web browser is essential if you plan to manage multiple accounts of clients, manage ad accounts, or if you are into the online advertising space.