The default Voice Memos app on your iPhone is too basic and lacks many functionality. The app just allows you to record and share, and that's it.
If you are looking for an iOS app that lets you record voice and edit the same to your liking, like applying reverb and EQ, adding audio effects, trimming and merging, equalizer, adding background music, and more, AudiOn is the one that you are looking for.
In this article, I will explain what AudiOn is and how to use this excellent app to record and edit audio on your iPhone.
What is AudiOn?
AudiOn is a feature-rich audio recording and editing application exclusively available for iOS devices.
When compared with the default voice recorder app on your iPhone, AudiOn comes with advanced-level audio editing features. If you frequently record audio and want to edit it, AudiOn is the app you are looking for.
Using AudiOn, you can start by recording audio and then editing it within the app.
You can add background music or music effects, trim and merge audio, create episodes, adjust equalizers, and more.
As of now, AudiOn is only available for iOS.
AudiOn Features
Now that you know what AudiOn is and what the app does, let's take a look at some of the highlighted features.
Lossless Recording
AudiOn has high fidelity voice recording capability that helps record your audio without missing any minute details. The lossless recording is one of the highlighted features of AudiOn that makes it distinct from other apps.
Trim, Cut, or Merge
Let's say you want to trim a specific part of your audio, make a cut or merge two audio; AudiOn got you covered. The app covers almost all basic editing like trimming, cutting, and merging audio. For example, if you have a lot of pauses or silences throughout the recording, you can easily trim them.
Adjust Reverb & EQ
One thing I like a lot about AudiOn is its advanced editing features like adjusting reverb and EQ. If you want to tweak your audio to perfection, you can play with the equalizer presets or add reverb presets like medium room, medium hall, small room, etc.
Effects & Background Music
AudiOn also lets you add sound effects and presets to your audio and background music. In some cases, your voice will be boring. You can spice it up by adding background music where ever appropriate right within the app.
Easy Sharing
Once you're done recording and editing the audio, sharing it is seamless. You can export your recording in all leading formats, including MP3, with high quality and preserving all details. AudiOn helps you record podcast quality level audio just using your iPhone.
How To Use AudiOn To Record & Edit Audio?
Now that you know everything about AudiOn, including its features, let's see how to use AudiOn to record and edit audio.
First, you must download AudiOn for your iPhone from the App Store.
Tap the button above to download and install the app
As soon as you open the app for the first time, you'll be shown the welcome screen.
Tap the next button two times, and finally, tap the "Start using the app" option.
You need to provide AudiOn permission to access the microphone. Just tap OK.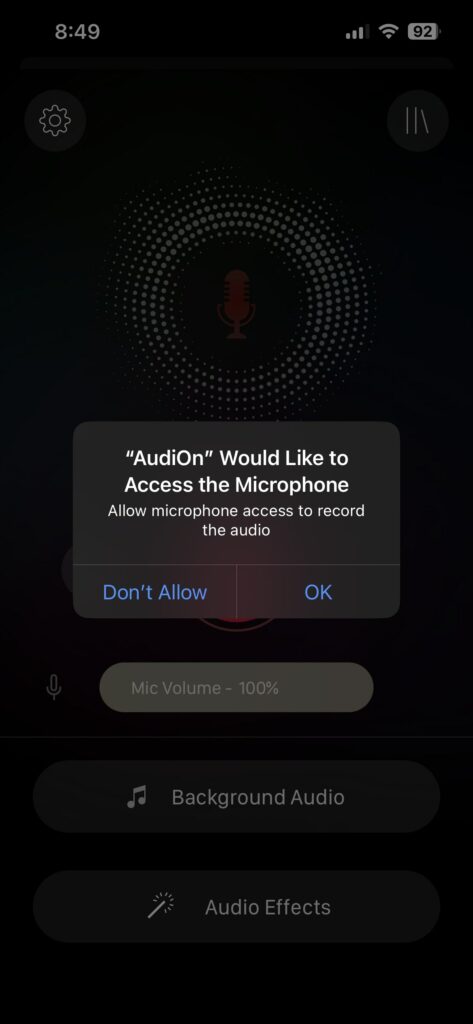 To start recording your voice, tap the red record button.
Once the recording starts, you can pause and continue later or hit the stop button to stop recording.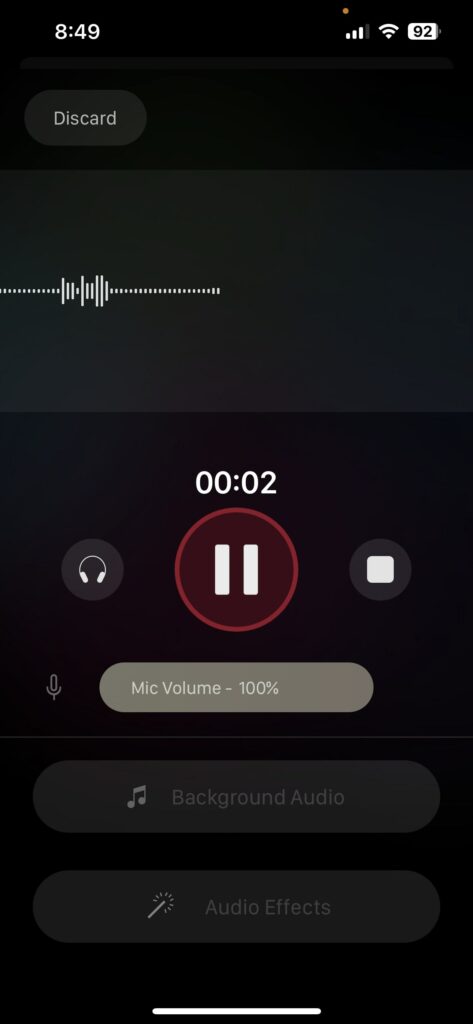 A preview pop-up will open as soon as you stop the recording.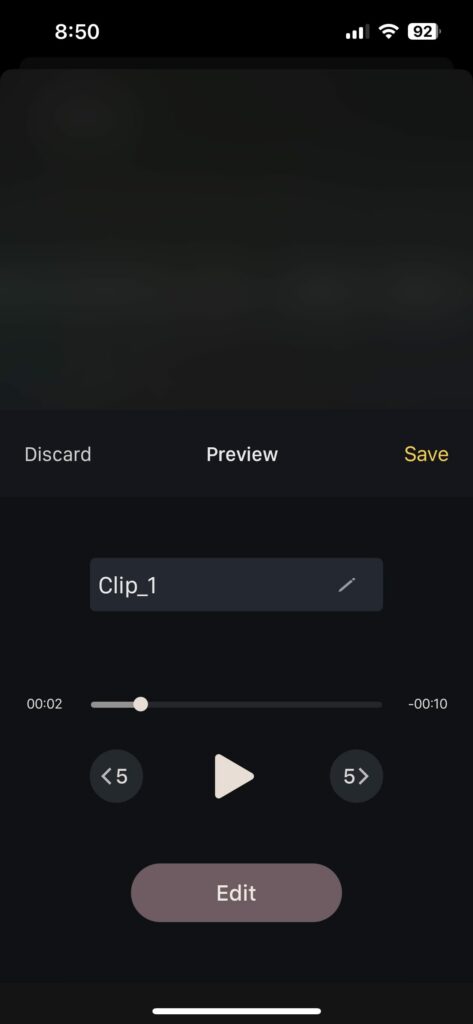 You can play back and forth and hear the audio yourself.
You can tap the Edit button to edit your audio.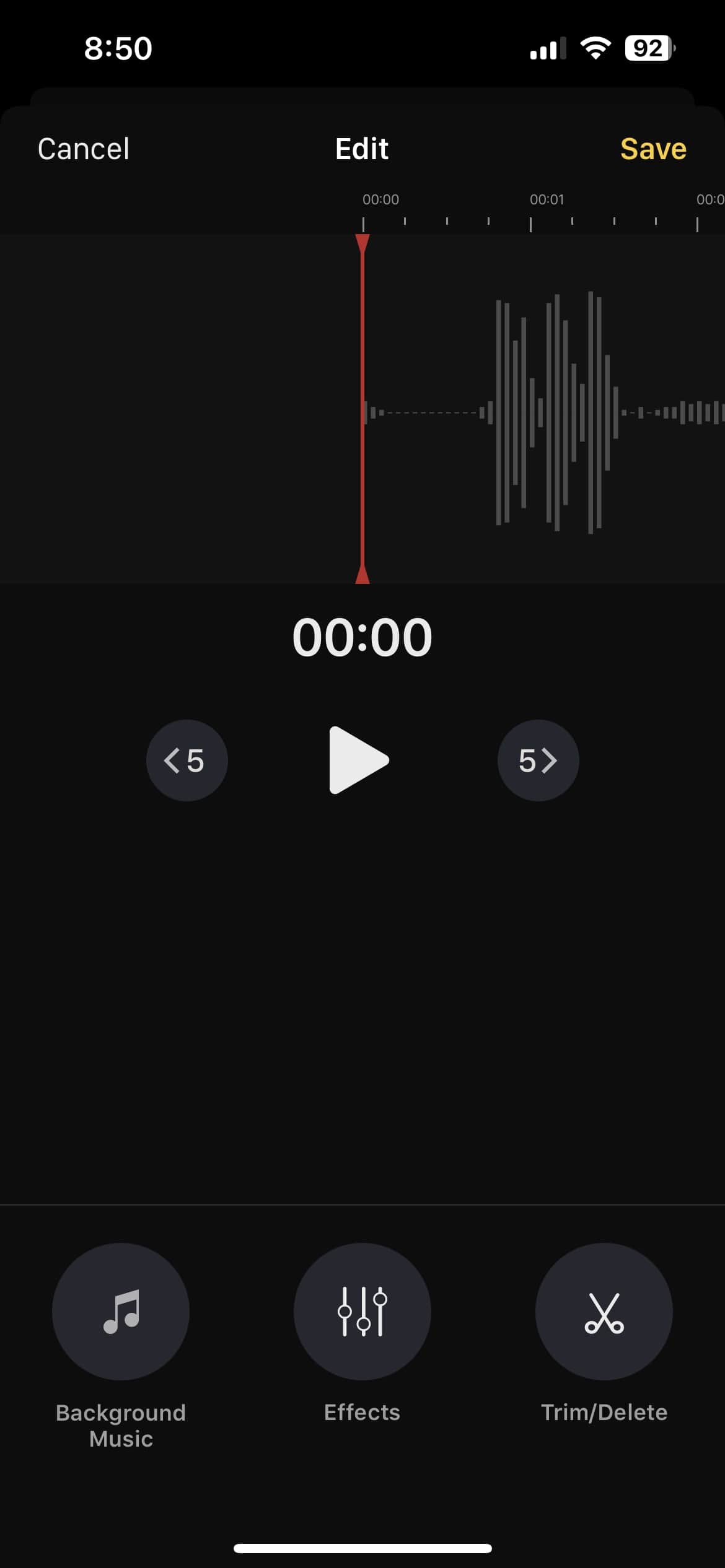 Towards the bottom section of the screen, you will find three options – background music, effects, and trim/delete.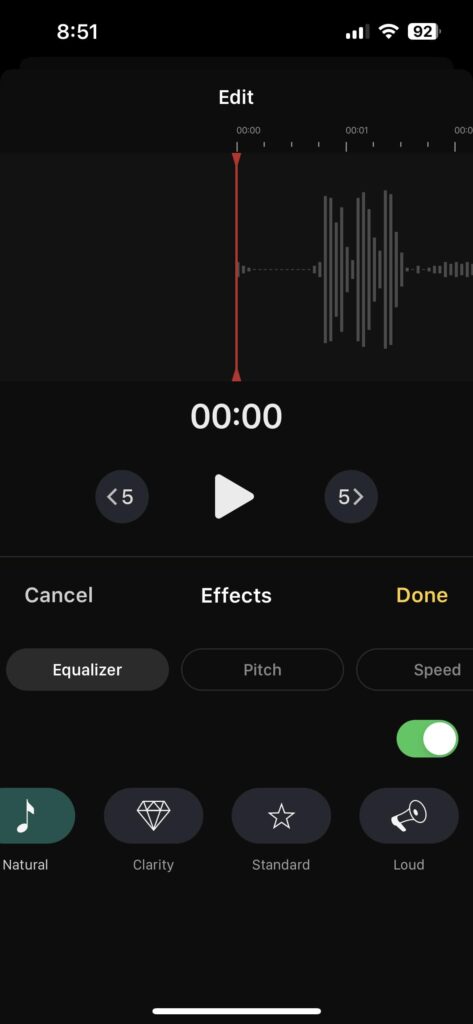 If you want to add background music tap the Background Music option and select any background audio available in the default library or import it from your device.
Next, let's explore the Effects section.
Firstly enable the equalizer and select a preset of your choice.
Next, adjust the pitch by using the "Pitch" option.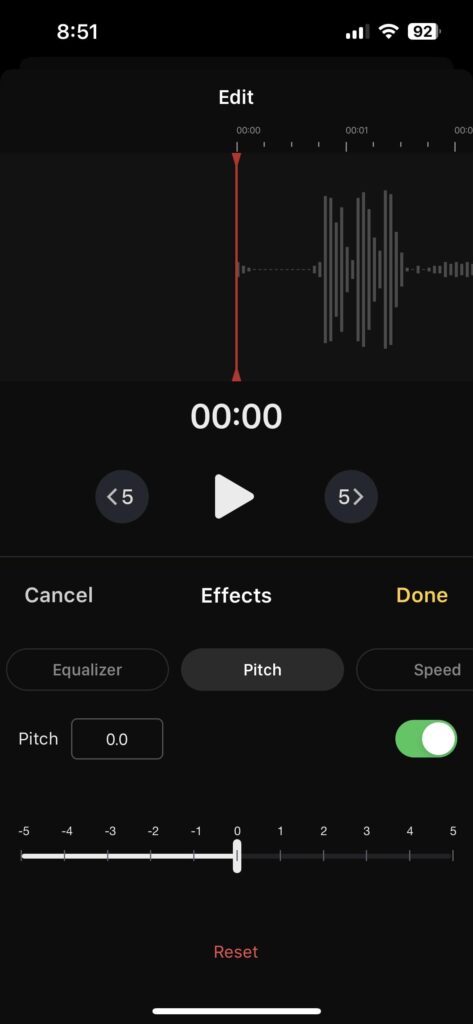 You may also enable skip silence or speed options as well.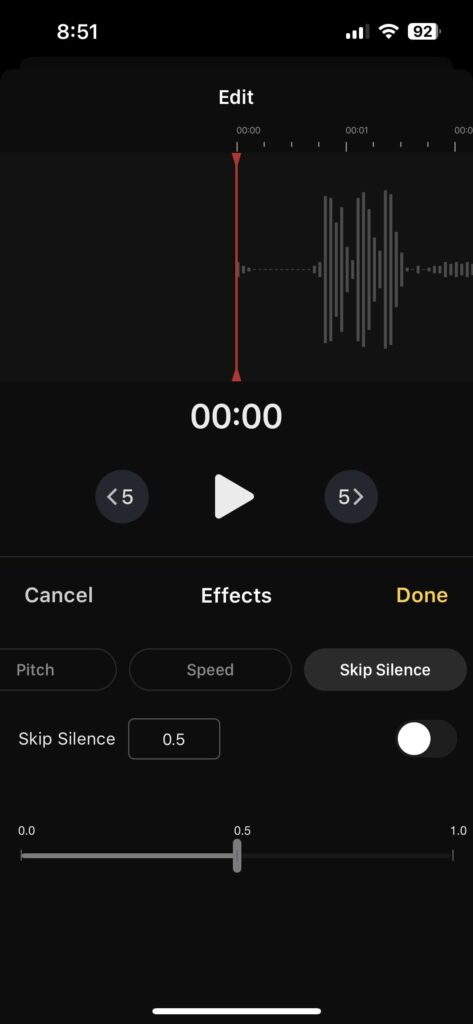 Once done, click on the Done button.
If you want to remove certain parts of the audio, you may use the trim/delete button. Adjust the play head towards the region where you want to delete the audio and tap the respective button.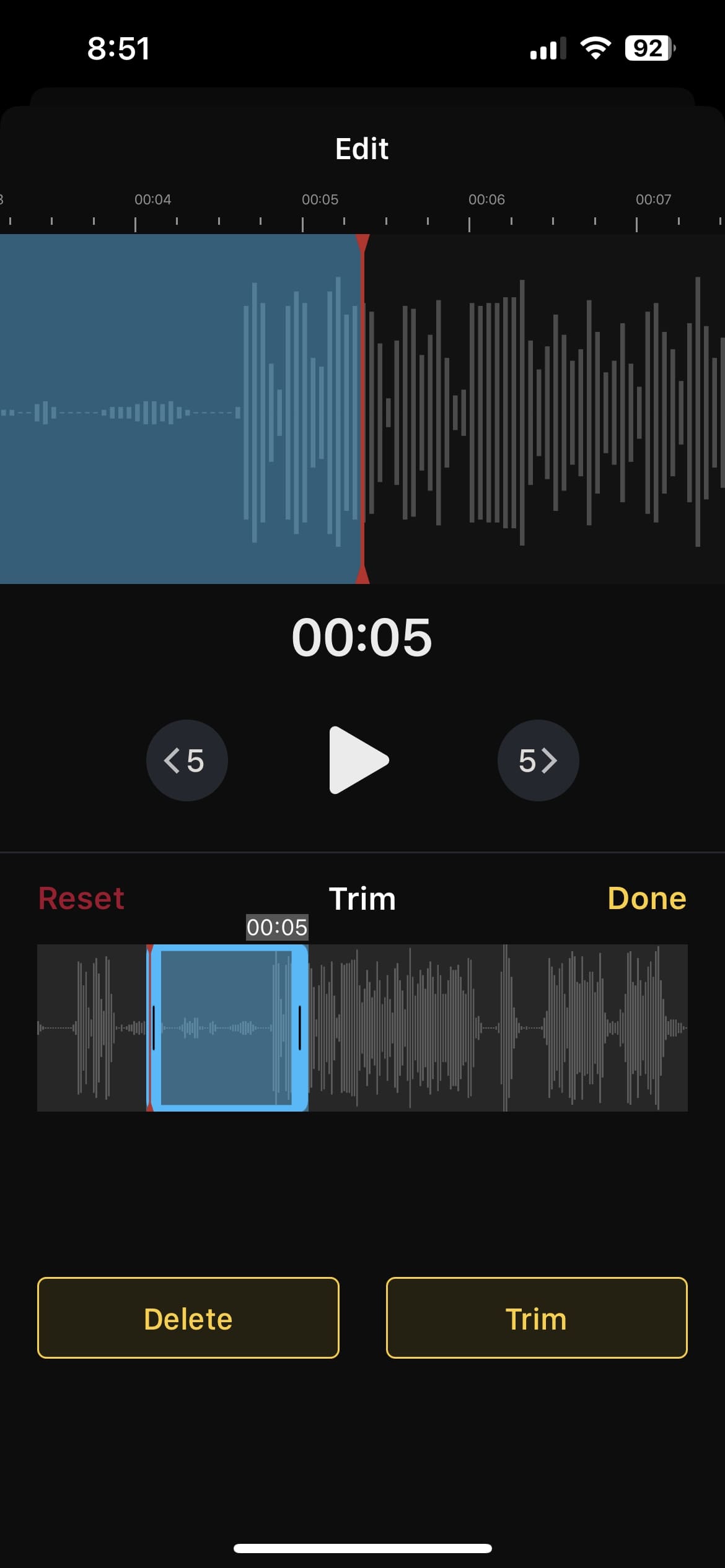 Once everything is done, tap the "Done" button.
Finally, when you're done editing your audio, tap the "Save" button towards the top right corner.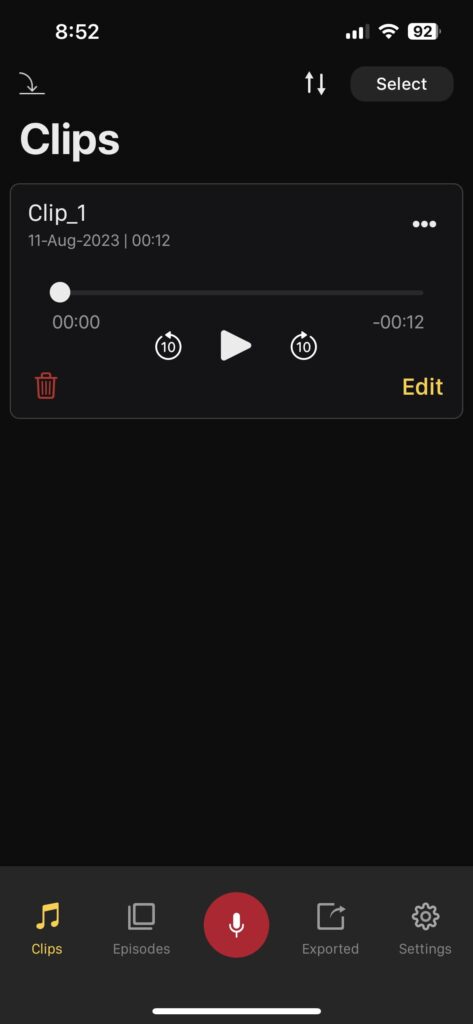 You can access all your recorded audio from the "Clips" section, and to export the audio, tap the three dots icon on the clip and Export.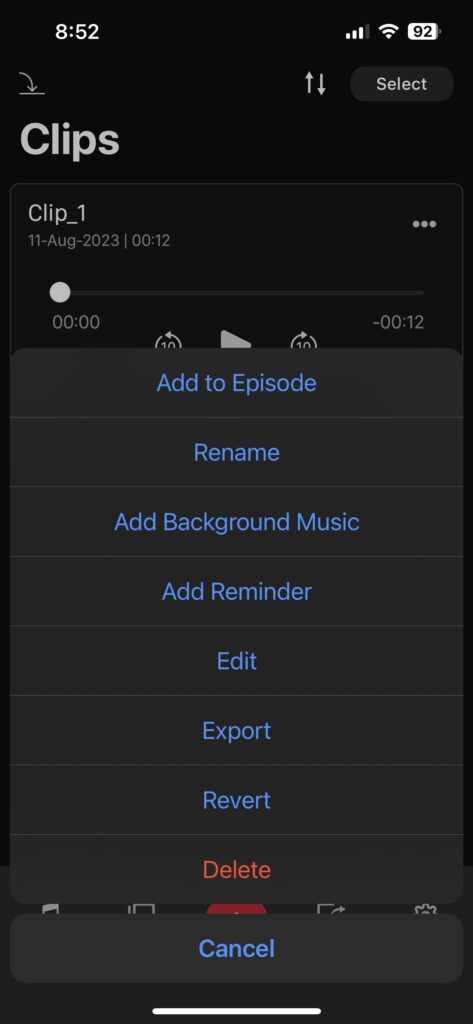 Export the audio in your desired format.
Do note that you need to pay to export the audio.
The app is free to use, a paid subscription is required only to export files.
AudiOn Pricing
Lifetime Pack – $19.99
1 Year Introductory Trial – $9.99
1 Month Subscription – $2.99
1 Year Subscription – $9.99
6 Month Subscription – $7.99
Lifetime Pack 1 – $14.99
1 Month Subscription$ – 1.99
1 Year Subscription Pack 1 – $14.99
6 Month Subscription – $4.99
1 Year with Introductory Trial – $7.99
What's Next?
If you are looking for a voice recorder app for iPhone with editing capabilities, AudiOn is the one that you're looking for.
It has advanced features to help you record and edit audio with ease.
Be sure to check out AudiOn and start recording your audio today.