Are you looking for a handy tool to separate vocals, drums, keys, bass, or other instruments in any song?
Are you a DJ, music producer, singer, or casual listener who would like to play isolating or muting particular stems in a piece of music in a single click? If yes, AuDimix is what you are looking for.
In this article, we will look at AuDimix, a newly launched music track splitter app for Windows.
So let's start. Shall we?
What is AuDimix?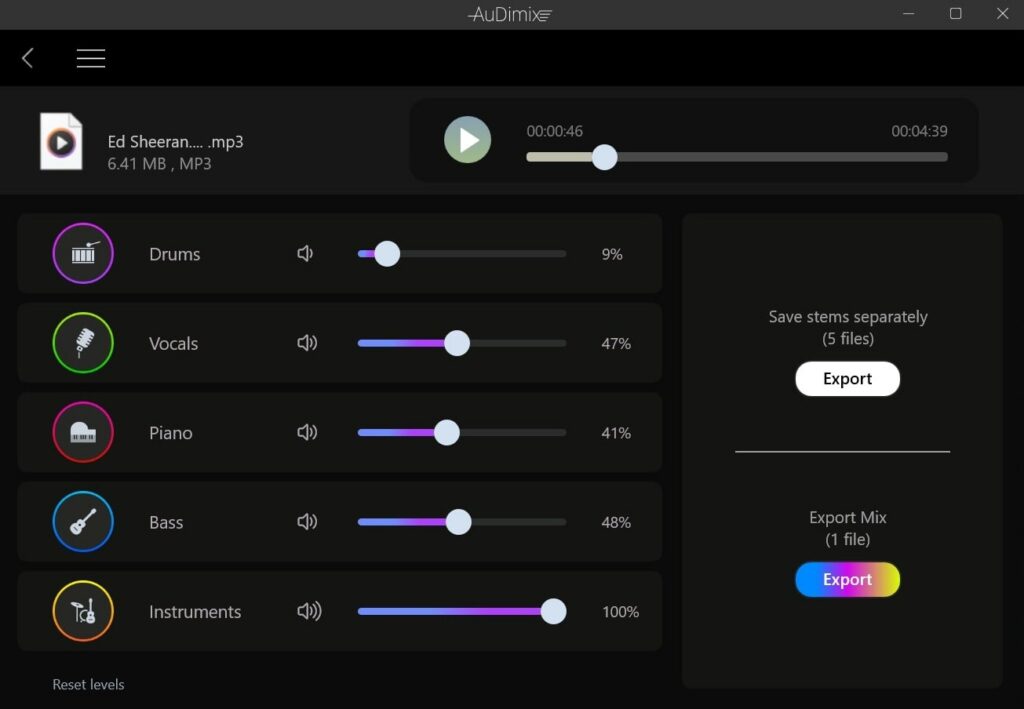 AuDimix is a music track splitter app for Windows that lets you easily separate stems of any music of choice. It helps you split, mute, or isolate up to 5 stems, including vocals, bass, piano, drums, and backing instruments.
As the software supports a wide variety of music formats like MP3, WAV, M4A, WMA, AAC, FLAC, and more, you can import pretty much all leading music files and work on them.
After you split the stems or create a custom mashup or remix, you may easily export them as a high-quality audio file and share.
Another exciting part about AuDimix is the ability to adjust the level of each stem individually. Let's say you want to lower the level of drums or piano and increase the levels of vocals. You can easily do it by adjusting the slider next to each option. As easy as that!
Why Use AuDimix?
AuDimix is helpful for a lot of people, including DJs, music producers, singers, and casual listeners.
For DJs, AuDimix helps you isolate and extract specific song elements for mixing purposes.
For music producers, you may extract any stems from any music track and create your own different remixes and covers over mashups of the song.
If you want to learn to sing a song, you may extract karaoke from the music and practice with the help of AuDimix.
Highlighted Features
Accurate algorithm
AuDimix's algorithm is what finds each individual stem of a song and lets you easily separate the components. You may adjust the levels of each stem, isolate, mute or remix, and export them in high quality.
Extract vocals and other instruments
AuDimix can precisely detect each component of music, including vocals, drums, bass, piano, and other backing instruments. You may select any of these stems and remix them, decrease/increase levels, or export them.
Adjust/mix levels
The ability to increase or decrease the levels of each stem of any music is yet another highlighted feature of AuDimix. Let's say you want to increase the levels of the vocals and decrease the levels of bass and drums; you can easily do it by adjusting a couple of sliders within the app.
Extract vocals and other instruments
Did you know AuDimix helps you separate vocals and other instruments from music?
Let's say you want to practice a song and get the karaoke of it. All you need to do is load the song into AuDimix and decrease the vocal slider all the way down. This way, you can adjust the levels of any stems of music.
Export stems/music file in high quality
Once you are done separating, muting, remixing or isolating a stem, you may easily export them in any leading audio format with a snap of a finger. In short, AuDimix helps you to create your backing tracks, mashups, or remixes and export them as high-quality audio files.
How To Separate Music Track With AuDimix?
Now that we have covered all the basics of AuDimix and its features, let's see how to use it to separate music, make a remix/mashup and export it.
First, you must download AuDimix for your Windows computer by following the link below. As of now, it is only available for Windows. It supports both Windows 10 and Windows 11.
Get AuDimix from Microsoft Store.
Click the Get button to install AuDimix.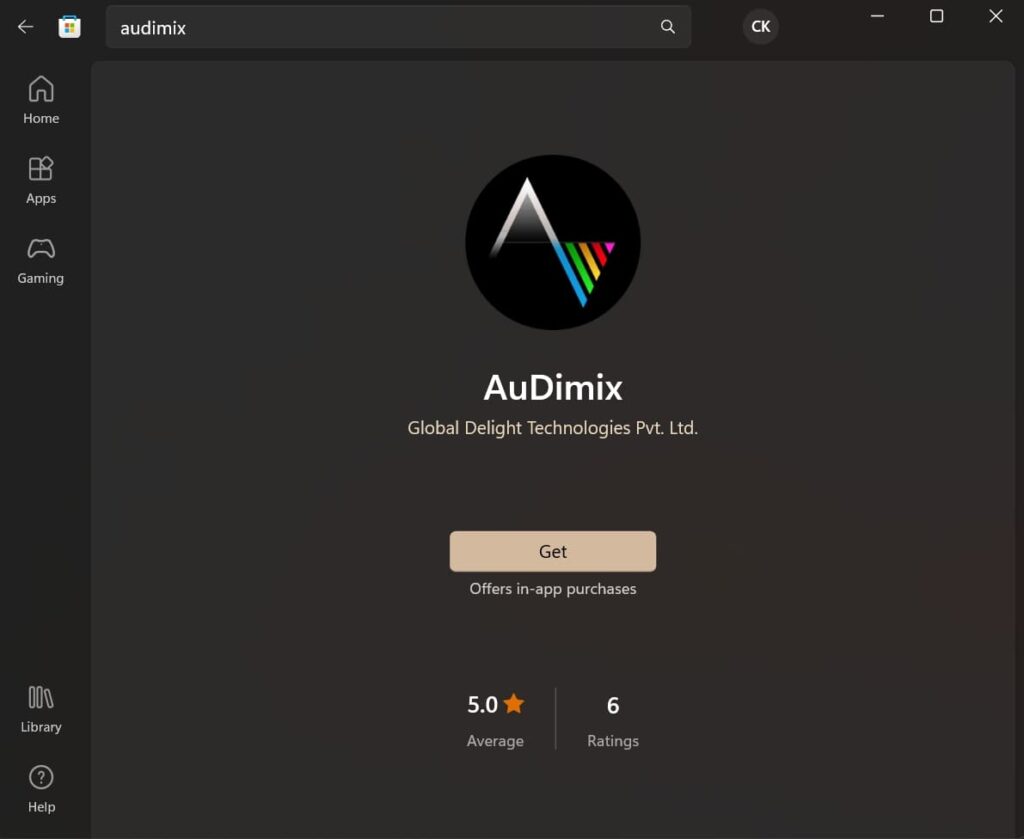 Once downloaded, open it up.
Click the Skip button.
The app will now ask you to open the song. Just select the button and browse the song or simply drag and drop it.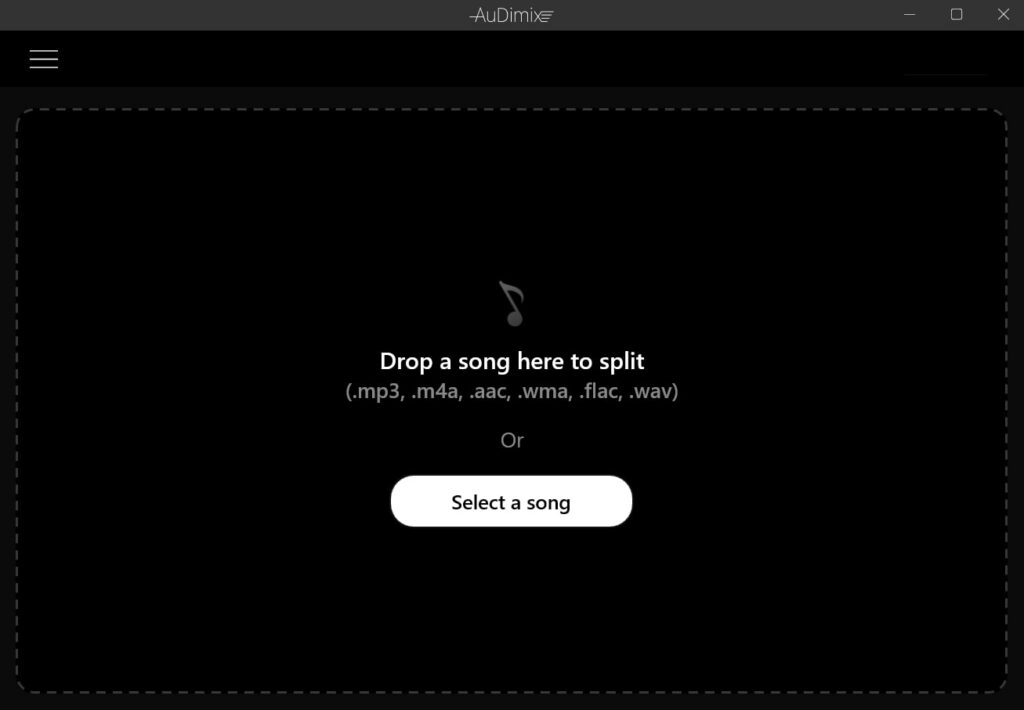 You will see 5 siders on the screen as soon as you add the song.
Drums
Vocals
Piano
Bass
Instruments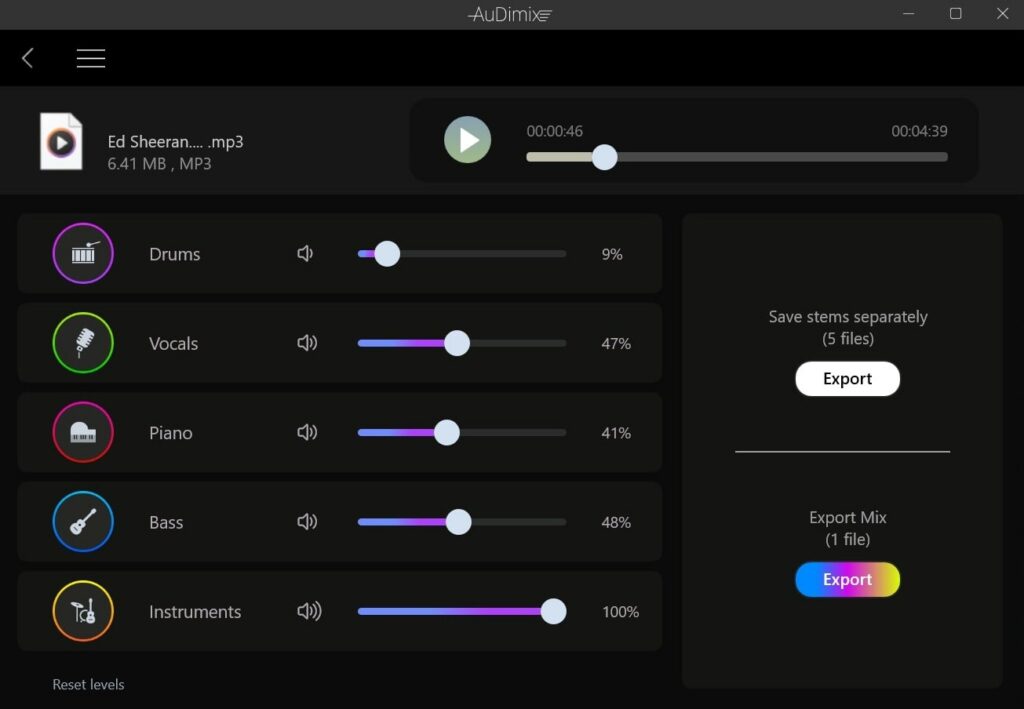 Adjusting each slider allows you to increase or decrease the levels of any chosen stem.
Let's say you remove the vocals to extract karaoke from a song. All you need to do is, load the song to AuDimix and decrease the vocals slider all the way down to zero.
Similarly, if you only want the song's vocals, you may dial down all other stems.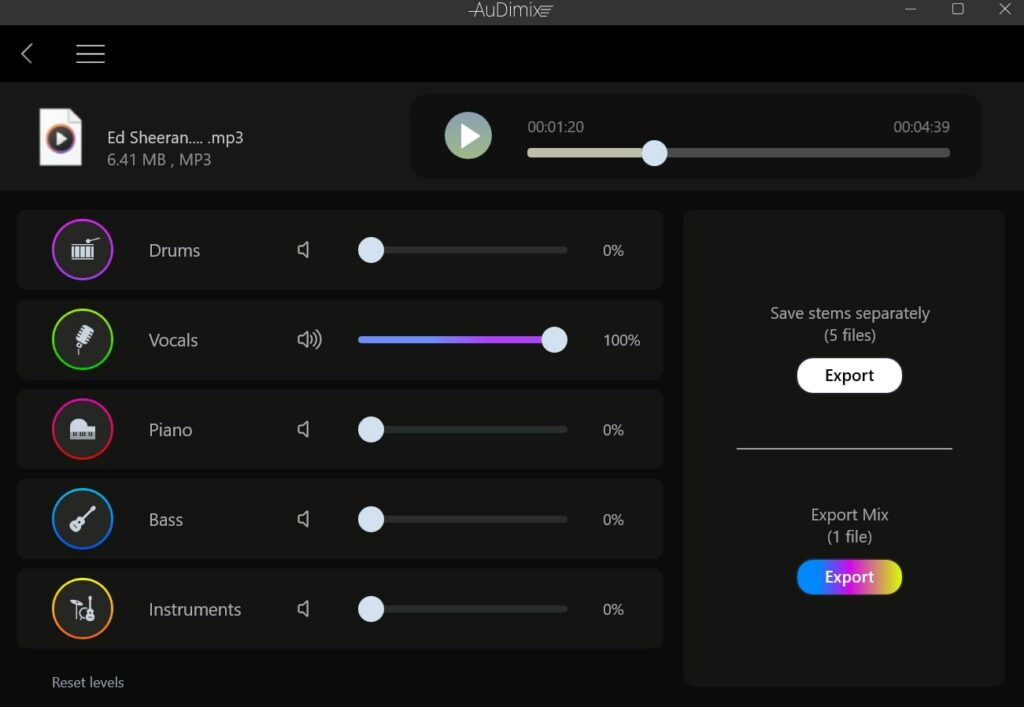 The live preview option lets you listen to the music in real-time after every changes are made. Just press the play button at the top.

Now let's say you isolate and export a song's stems separately. Click the Export button next to the 'Save stems separately' option.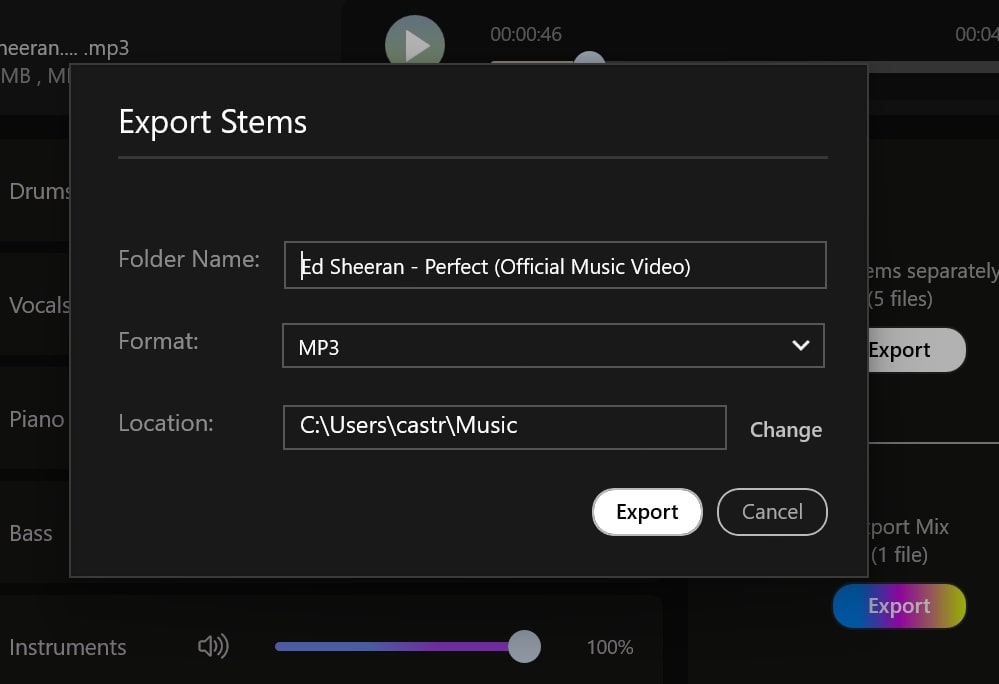 On the popup that appears, enter the name, select the format, select the location to save, and finally, click the Export button.
After making the required adjustments, you may export the remix as an audio file. Just click the export button under the export mix option. Give the new audio file and name, select the music format, and click Save.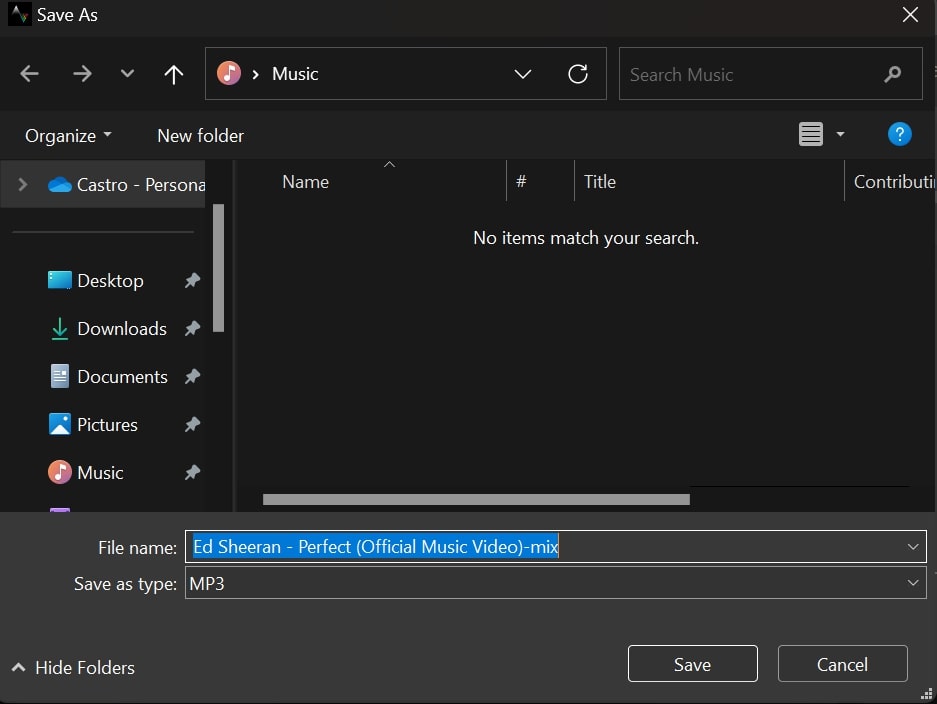 Pricing
The free version of AuDimix only gives you 4 live previews and 3 free export sessions.
If you want to export more songs, you need to subscribe to one of their paid plans. AuDimix is currently available in three plans.
6 Month Plan $9.99 
1 Year Plan $14.99 
Lifetime Pack (One-time purchase) $29.99 
What's Next?
Whether you want to isolate and separate specific elements of a song for mixing purposes, extract karaoke from a song, or mix and adjust the levels of stems of music, AuDimix is what you need.
The simple-to-use UI helps you get the job done faster. The app is not bombarded with a lot of unnecessary options. Just adjust the required sliders and export the remix or individual stems of music with ease.