Snapchat comes with an excellent option called Private Story which will let you share your stories exclusively with a select number of people. By default, when you share a story on Snapchat, it will be visible to everyone. With the recent updates, Snapchat has added many features to make your account reach a lot of audiences.
There might be cases where we want to share stories with only people that matter to us. We might want to keep our privacy from unknown people. This is where the Private Story option on Snapchat comes into play.
By default, when you create a private story on Snapchat, it will be named "Your Name's Private Story". But the coolest thing is that Snapchat lets you call your private story whatever as you wish. This means you can add whatever name of your choice, which will be made visible to the people to whom it is sent.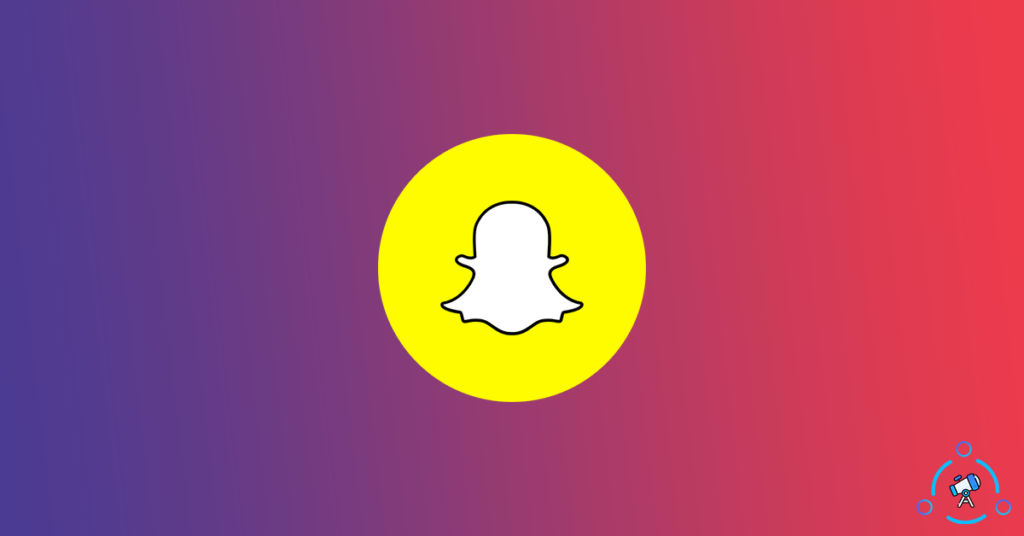 In this article, let's take a look at some cool Snapchat private story name ideas that you can use next time when you're about to send a private story to your close friends.
Best Snapchat Private Story Name Ideas
Go through the Snapchat Private Story Name ideas given below and find the one that suits you the best.
Our Best Picks:
Here are some of our personal favorites that might be of your interest.
Zillion dollar stories
Feather in one's Snap
Snap hoc
Big agenda
Trusted Contacts
Lemme Flex
VIP Snaps
XOXO
Same ol' stories
Here is the all rounder-list that includes cool Snapchat Private Story Ideas from every category.
69Stories
Love the vibes!
I am passionate
I got the devil in me
Escape into freedom
Zillion dollar stories
I go with the flow
Ambitious
Screenshot it
Let's get the party started!
Secretive
Fishes in the sea
Extrovert Online
How about it?
Funeral Friends
Something fishy
My Ted Talks
MeBook
Been busy doing dis
Great thinkers
Thinkshot
Story Guy
Basking Glory
Vibe Session
Shitty Stories
Wait 4 me
How funny it is
Mercury is liquid gold
It's all bull
I was brave today!
Why wait?
OCD
Do it with ease
Manipulative
Do what you feel
I live like this
Love being intuitive
Suggest a Name
Chatter Box
MeShitPostin'
I am from Venus
Lean on me
Aspire Perfection
Diss My Life
StoriesHub
LisneyDand
Kindness wins the day
Vibin around
Fancy me
MeGram
Lemme show u
Yayy or Nayy?
Enjoy the day
It is all about me
Me n U
Intuitive
A dominatrix
Utter Crap
Go on my Trip
Water on planet Neptune
Bossy Bitch
I am from Mars
That's my day
Daily Stories
Vampire Notebooks
Gucci Gang
Earth calling
Loner here
Story Pals
Me-TV
In a gud mood
Let's make the most of now
Maybe I will work on it tomorrow
Two fishes in the pond
World is here
Gentle souls
StoryGround
A day in the sun
Lazy days
Help me
Let's chat
No Dumb Chicks
Depend on me
Stay focused
Braveheart
Life is a Story
Trust your gut feeling
Once you have selected a fantastic name from the list above, here's how to add the same to Snapchat.
How to Set Private Story Names?
Follow the steps given below to name your Private Snapchat Story. The steps are pretty much the same for both Android as well as iOS.
Open the Snapchat app on your smartphone and tap on your Snapchat DP from the top left corner of the screen.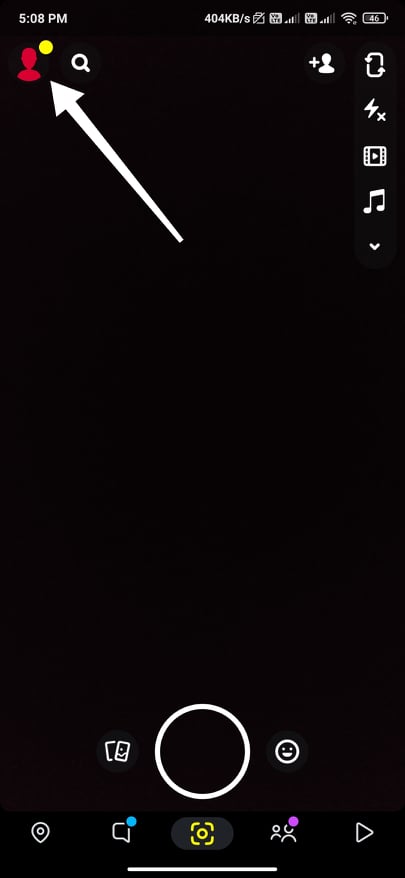 Now tap on the +Private Story button under the My Stories section.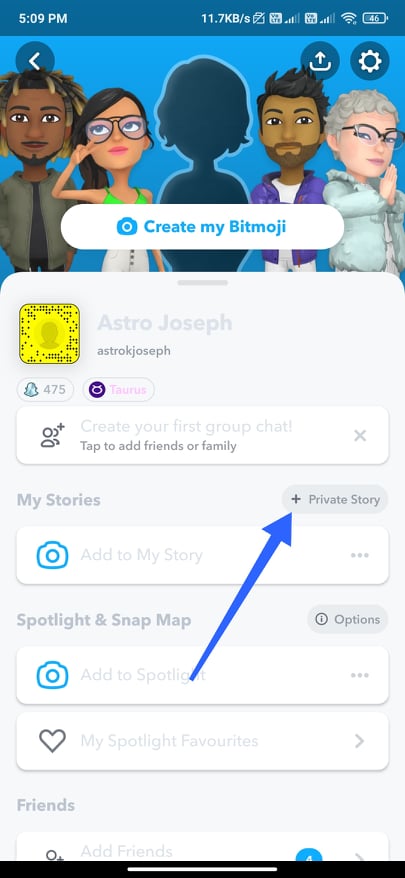 As soon as you click on the Private Story button, a new option asks you to select friends. Here you need to select all the friends you would like to add to this particular Private Story.
After selecting the Friends, tap on the Create Story button.
Now a popup will appear asking you to name your Private Story. By default, it is given as Your Name's Private Story. But as I mentioned earlier, Snapchat allows us to change any name of our choice.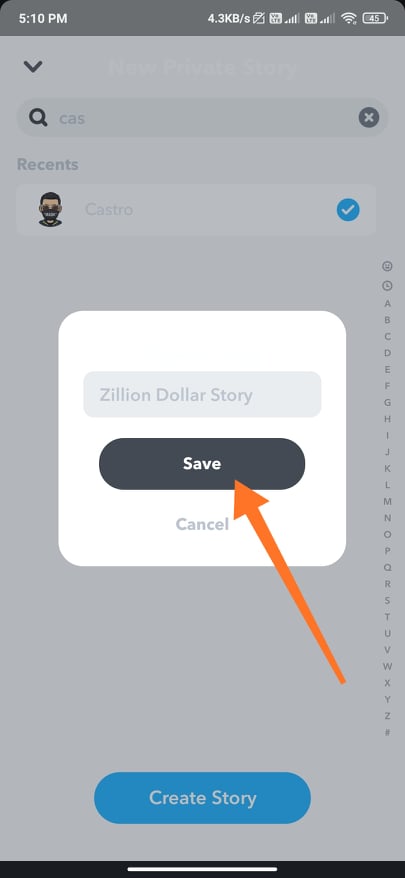 Just copy or note down any name from the above list and type it in the field provided.
That's it. You have successfully named your Private Snapchat Story with a cool name.
What is Private Story in Snapchat?
There are two types of stories available on Snapchat. The first one is the public story which will be visible to everyone and the second one is private stories where it will only be visible to a select number of people. With a private story, you have complete control over things like how long you want it to stay on your profile, which all people should be visible to, custom names, etc.
The best part is that you can even edit the private story even after it's published. You also have the option to add or remove people from the list as well. If you want to find how to add or remove people and rename them again, look at the steps given below.
Is It Possible To Rename a Snapchat Private Story?
Yes, you have the option to rename a private story in Snapchat. For this, all you have to do is click on your Bitmoji icon from the top left corner of the screen. Under the My Stories section, tap on the three dots icon next to the private story you would like to rename.
Here, you will find an option called names story. Click on the name story button, and the new popup will appear, asking you to enter a new name for your private story. Just click on the done button, and your success be renamed your Snapchat private story.
Also take a look at our guide on fixing tap to load issue on Snapchat and find if a person is active on Snapchat as well.
Can I Add /Remove More People To A Private Story After It's Created?
Yes, you can. Yet another attractive option here is that Snapchat lets you add more people to the private story list even after it is created for the first time.
To remove or add any new people to a private story list, you have to find the private story under my story section and click on the three dots icon. Tap on the option called 'See Viewers' Here, you will find all the people that are added to this particular private story. Using the add option, you can add new people to the list or remove existing people as well.
How Long Does Snapchat Private Story Last?
The cool thing about private stories in Snapchat is that it stays on your account as long as you want it to. For example, all the normal stories posted on Snapchat only remain for 24 hours. After 24 hours, the stories or snaps will be deleted automatically. But when it comes to private stories, you get complete control over things like how long you want them to stay on your profile.
All the people added to this particular private story will be able to watch it anytime they want as long as they are not removed from the list.