Are you confused on whether to use BetterDiscord or not? Well, In this article, we will take a look at BetterDiscord, its features, how it is different from the original Discord, and finally download and installation guide as well.
Some of you might be already aware of BetterDiscord. Better Discord is a modded version of Discord that comes with tons of options and features that you will not find in the original Discord. The two most highlighted features of BetterDiscord are the support for Discord Themes and Discord Plugins.
Not just themes and plugins, BetterDiscord comes with some other great features as well. We will discuss everything in detail in this article. Finally, if you are interested, you can follow the BetterDiscord installation guide to get it installed on your computer.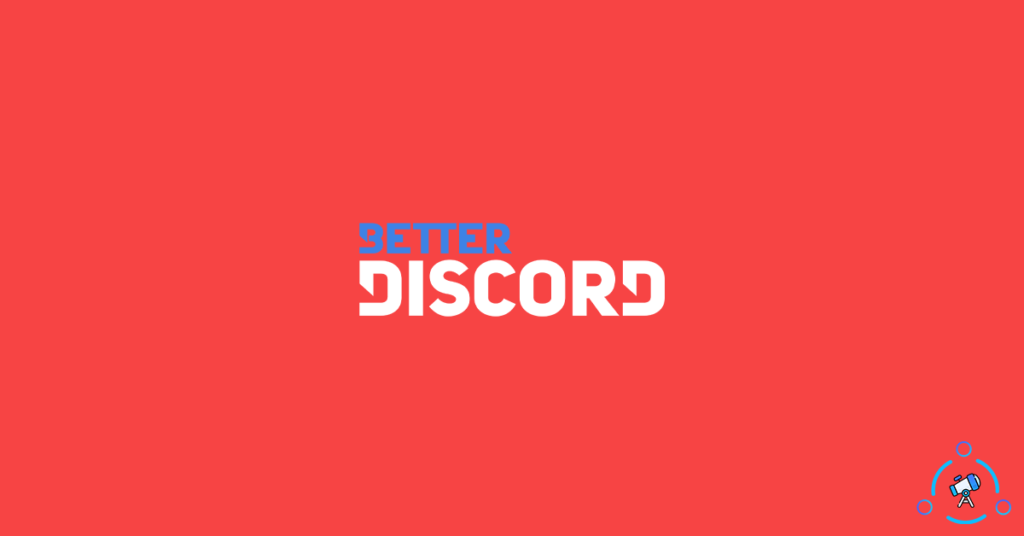 What is BetterDiscord?
Let's start from the basics.
BetterDiscord is a modified version of Discord. There are a lot of features that we wish were available on Discord. BetterDiscord comes with all such features like the option to customize the look and design including layout using themes, extend the functionalities by adding plugins, and more.
In short, BetterDiscord comes with more features and customization options when compared with the original Discord. At the same time, it also supports all Discord Bots out there as well.
BetterDiscord is available for both Windows as well as macOS. It is not available for Android, iOS, and Web. At the time of writing this article, BetterDiscord has about 5 million installations globally (As per the official website.)
Features of BetterDiscord
In this section, let's take a look at some amazing features available on BetterDiscord. You can find a ton of them. I will list some highlighted features of BetterDiscord below.
Use Discord Themes
One of the main reasons why a lot of people prefer using BetterDiscord is the support for themes. You can change the entire look of Discord's UI using different themes available on the Themes Library. Applying a theme is fairly simple as well.

All you have to do is just download the package and copy-paste it into a specific theme directory. Once done, refreshing Discord will activate the theme, and the layout, color combination, fonts, etc changes in a matter of a fraction of a second.
Discord Plugins
We have the option to add bots in the original Discord but it does not support the use of plugins. But BetterDiscord comes with support for custom plugins that you can use to extend the functionality of the popular VoIP-based chatting application for gamers.

You can find lots of different Discord Plugins like SpotifyControls, VolumeBooster, SendLargeMessages, etc in the plugin repository. I really liked the option to add plugins as it let us add some cool features to our server which would otherwise be impossible using original Discord.
Support for Twitch Emotes
Yes, you heard it right. How about using various Twitch emotes on Discord. Well, BetterDiscord lets you do exactly the same. You can use your favorite BTTV and FFZ emote in Discord and it will work with all other BD(BetterDiscord) users out there.
Security
If you are concerned about security, be assured that all the plugins and themes you download from the library are manually verified for malicious codes.
CSS Editor
Ever thought of customizing the look of Discord just like editing a website's CSS? Well, the CSS editor on BetterDiscord lets you do the same. Using the editor, you can edit different aspects of Discord software's layout in real-time.
Other Misc Features
Apart from these main features, BetterDiscord comes with a lot of minute features that a lot of people will find useful. Furthermore, the availability of plugins makes it even better by adding functionalities that you might have never thought of in the first place.
Is BetterDiscord Safe?
This is by far one of the most asked questions regarding BetterDiscord. Well, if you ask me, I haven't felt any problem in using BetterDiscord and its services. Nearly 5 million people are using BetterDiscord on a daily basis. That makes it look promising.
At the same time, there are a lot of people who have complained that their account got banned after using BetterDiscord and its services. These people used many plugins extensively and got banned is what they say. I am not quite sure about that.
BetterDiscord is a legit application that you can use. But there are chances that Discord might ban you as well. So, take your decision wisely.
How to Download BetterDiscord?
If you have made it to here and finally decided to install BetterDiscord, here's how to do the same.
You can download BetterDiscord from the official site itself. Make sure to download it from the official website only and also make sure to download the latest version.
Make sure that you have already downloaded and installed the official version of Discord. We are adding BetterDiscord on top of the original one.
How to Install BetterDiscord?
Once you have downloaded BetterDiscord onto your computer. Here's how to install it and set it up for the very first time.
Step 1: Double click on the installer you just downloaded from the official website.
Step 2: Agree to the terms and conditions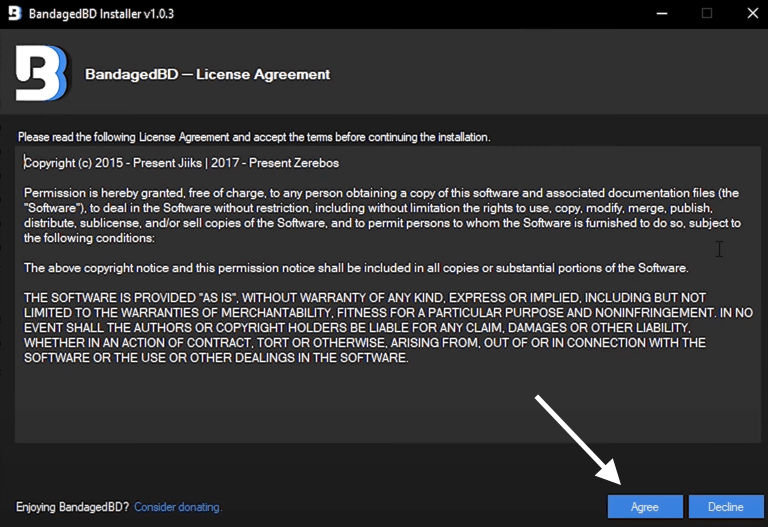 Step 3: Now, select Install BandagedBD from the list. The very first option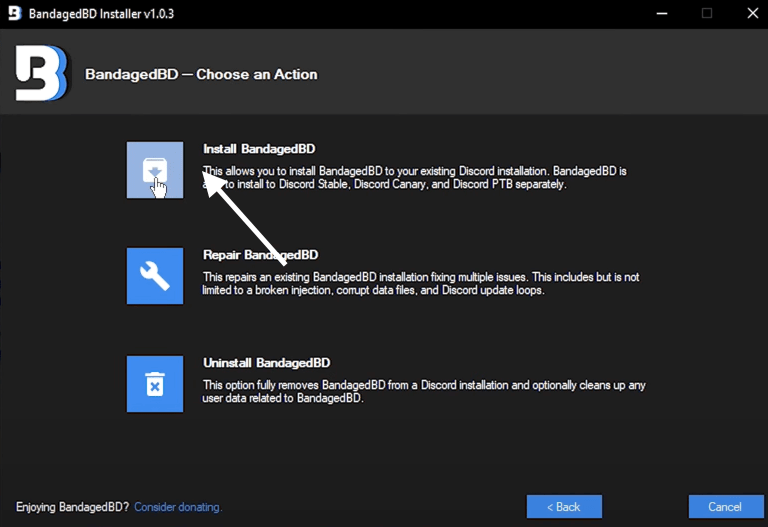 Step 4: Now, you have to select where to install BetterDiscord to. BetterDiscord works with stable, PTB, and Discord Canary versions. Select the version that you are using.
If you want to use both official Discord and BetterDiscord at the same time then it recommended that you install Discord Canary and add BD to that. This way, you will have both versions installed on your computer.
Step 5: Check Install To Stable and click on Install button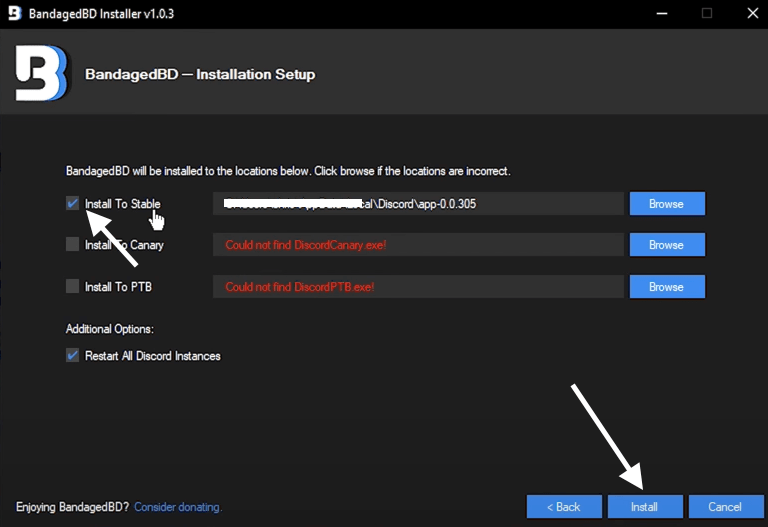 Step 6: Wait for a few seconds and the installation will be complete.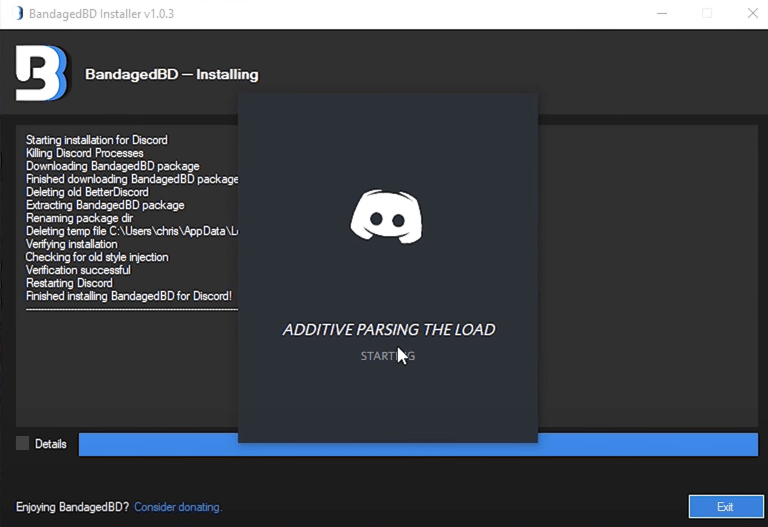 Once done, it will automatically open and launch Discord.
How to Install Themes on Discord?
Here's full tutorial on installing any theme of your choice on Discord.
Open Discord and head over to Settings
From the bottom section of the options on the left-hand side, you will find an option called Themes, just click on it.
Now, click on the Open Theme Folder to open the theme's folder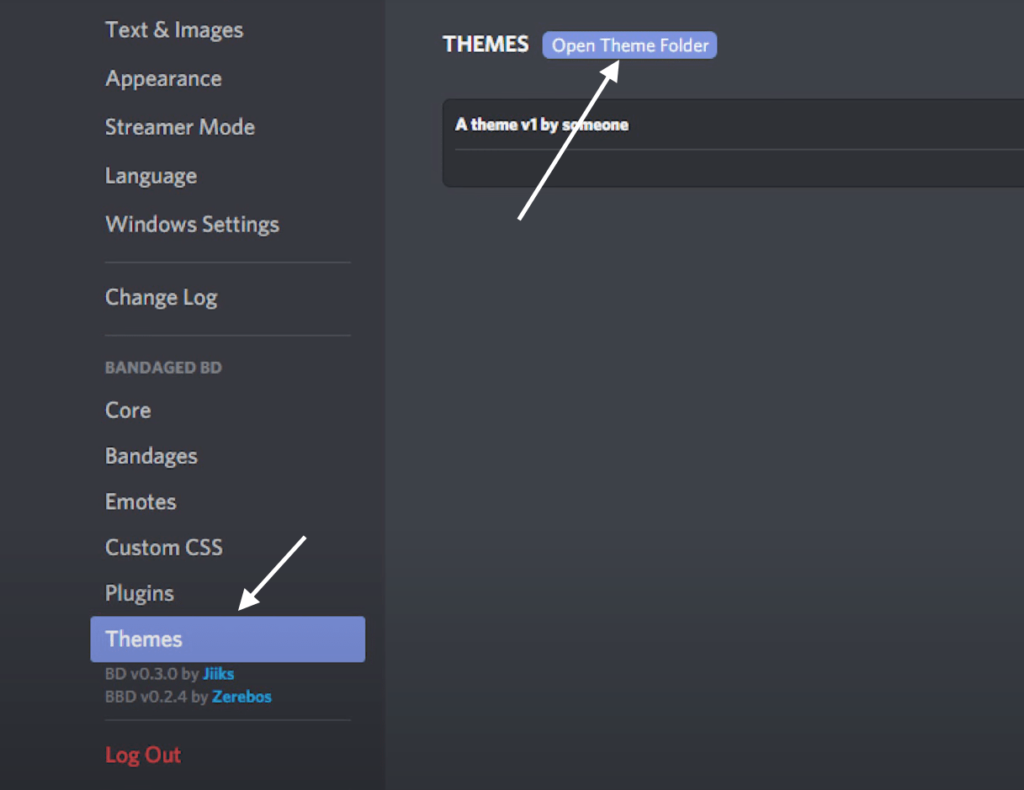 Copy-paste the downloaded theme file in the folder and come back
Now, you will be able to find all the Themes you added.
Just click on the toggle button to enable them.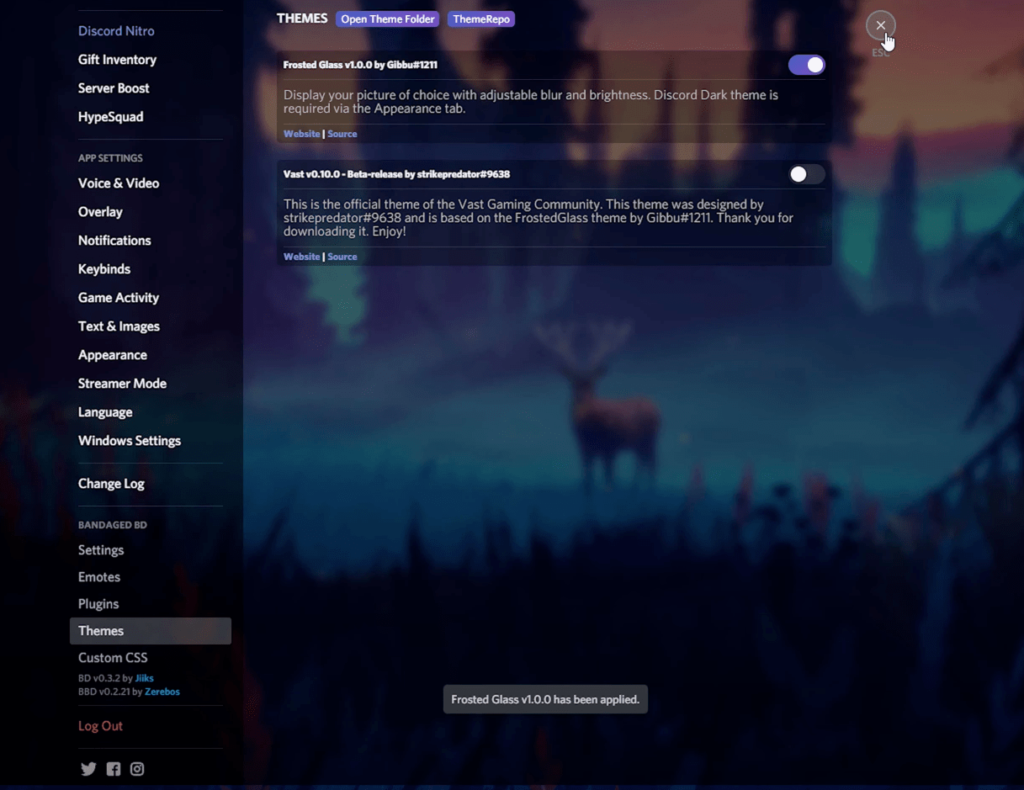 You have successfully installed a Discord Theme on BetterDiscord. That's how simple it is to install a Discord theme.
How to Install Discord Plugins?
Similar to Themes, installing a plugin on Discord is also simple.
Open BetterDiscord and go to Settings
Select Plugins from the left hand side of the screen
Click on Open Plugin Folder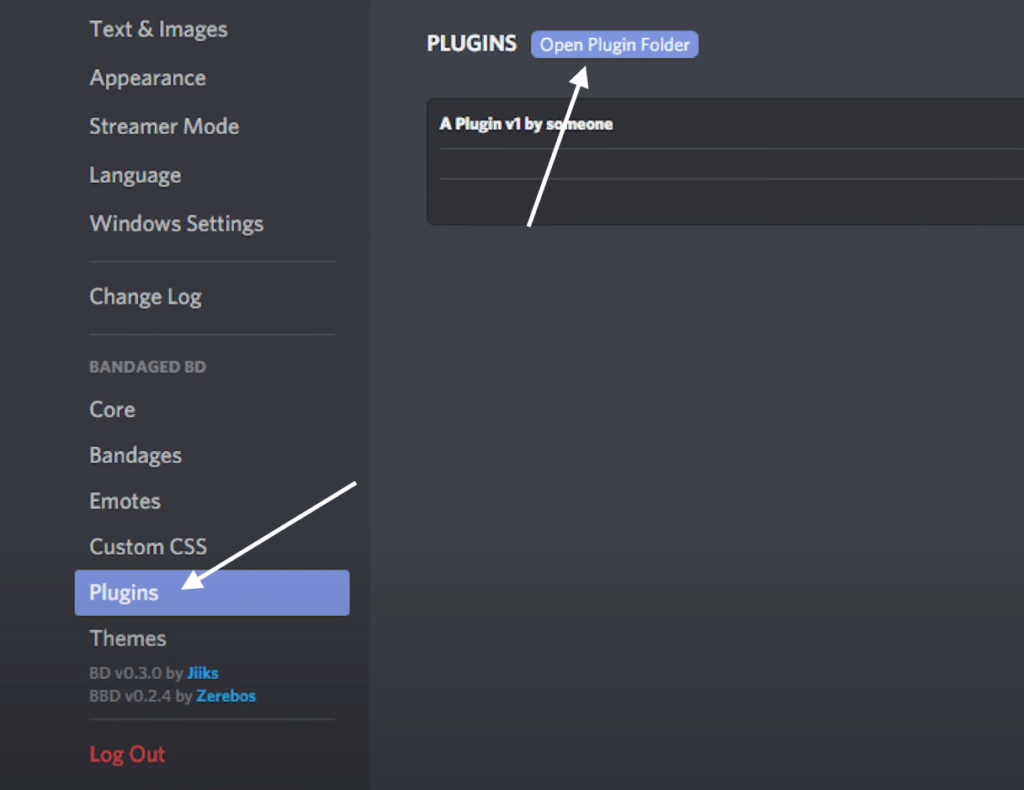 Copy-paste the downloaded plugin's JSON file to the folder
Come back to the Plugins section and enable it from here.
Now, you have successfully installed and activated a Discord plugin.
How to Troubleshoot and Fix BetterDiscord Issues?
If you ever run into any issue in BetterDiscord, you can use the installer itself to fix it.
Oftentimes, people will get stuck in the Discord update loop, or BetterDiscord is not working. If you ever face any issues as such, follow the steps given below to fix them.
Open the BetterDiscord installed that we downloaded earlier
Agree to the terms and select the second option Repair BandagedBD
Firstly, select the version of Discord that you are using, it can be Stable, Canary or PTB build.
Now, you have to select the issue that you are facing with BetterDiscord. There are four options – Discord update loop, BandagedBD not launching with Discord, BandagedBD loading infinitely, and Fatal Javascript on launch. Just select your problem or use the Troubleshooter and hit the Repair button
Wait for a few seconds while the installer repair and fix all the issues related to BetterDiscord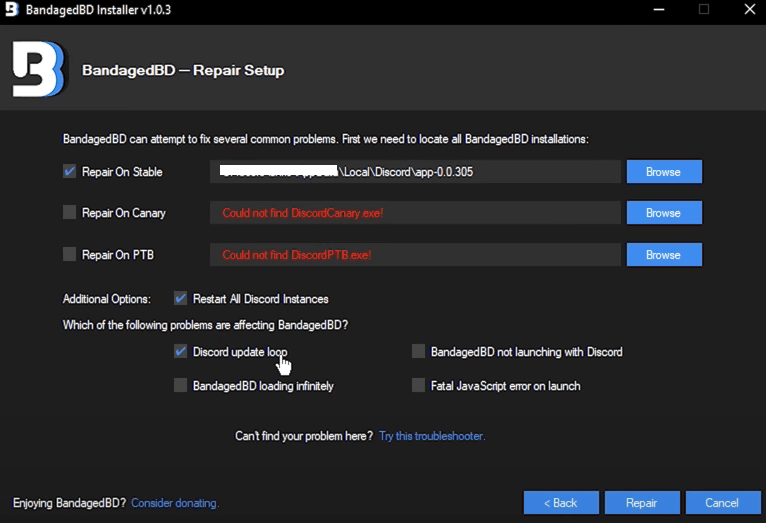 If you can't find a solution to your problem by using the repair then you can ask it on the BetterDiscord community server and members on the server can help you with that.
Once fixed, you can start using BetterDiscord again without any issue.
Frequently Asked Question – FAQ
Here are some frequently asked questions regarding BetterDiscord and answers to the same.
Is Better Discord Legit?
BetterDiscord is a legit software developer by various developers from different parts of the world. BetterDiscord is working software and gets the job done without any issue. Do keep in mind that BD violates the T&C of Discord. So, be cautious.
Is BetterDiscord Free or Paid?
BetterDiscord is 100% free to download and use. You can visit the official website to download BD Installer. Make sure that you only download the installer from the official website
What is BandagedBD?
BandagedBD is the installer of BetterDiscord. Using this we can install BetterDiscord on our Windows and Mac computers.
Discord Availability?
Discord is only available for Windows and macOS. If it not available for the web, Android or iOS.
Can I create Themes and Plugins for BetterDiscord?
Yes, you can create themes and plugins as well. You can refer to the official documentation to get more information regarding the same
Final Words
This is everything you need to know about BetterDiscord. We have discussed everything in detail in this article. As a starter, you will get a lot of insightful information regarding BetterDiscord, how to use it, adding plugins and themes, and finally fix issues related to BetterDiscord as well.
Do keep in mind that BetterDiscord is a modified version of Discord developed by various developers from different parts of the globe. If you have any doubts regarding BetterDsicord, make sure to leave them in the comment section below.