You might already know the importance of Twitch Chat while live streaming or broadcasting content on the platform. The chat section lets both the creator and viewers engage in some healthy conversation and share thoughts with each other. Chatlog is a collection of messages from all users who viewed your stream and left a message.
By getting access to the Chat log, you can assess your audience and do a whole lot of things that would otherwise be impossible. If you are the channel owner, you will get a ton of insightful information regarding your audience, their behaviors, etc.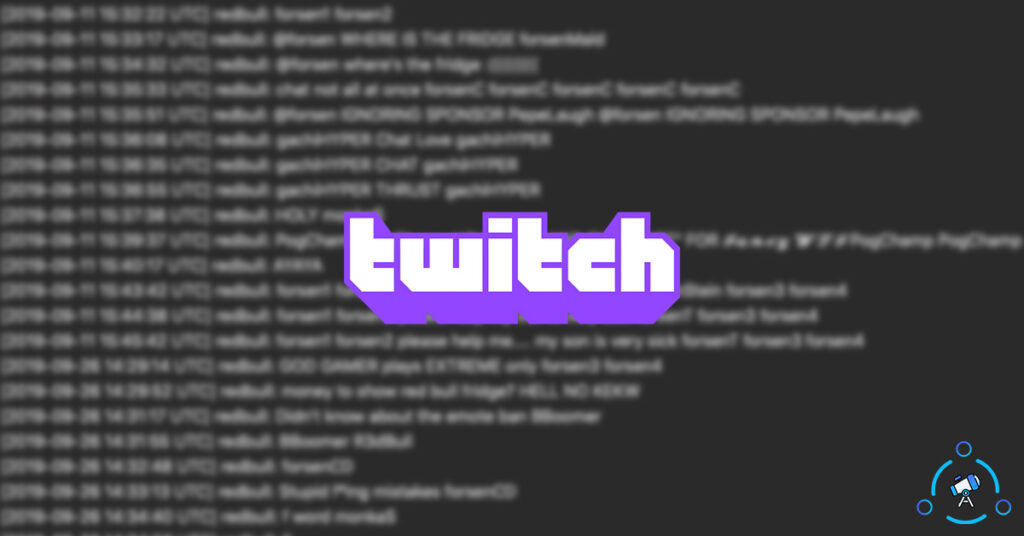 In this article, we will see how to gain access and check Twitch Chat Log using some methods. The advantages and uses of periodically checking Twitch chat logs and how to do the same are mentioned below in the article.
How to Check Your Twitch Chat Logs in 2023
Here are some different ways to check Twitch Chat Logs. Depending on whether you are the streamer, moderator, or viewer, the methods will differ. Moderators and Streamers have the easiest option to view the chat log of their channel.
#1. Enter Mod View to Analyze Twitch Chat Logs
Entering the mod view will help you to pull various data regarding individual users on the channel easily. As you might already know, Mods have access to all user's chat logs. It includes all the messages and some other useful information as well.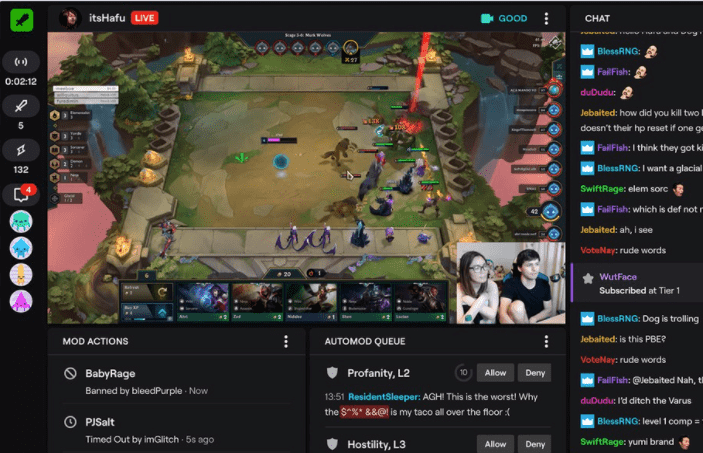 Here are some details that you can find about a user after entering mod view:
All the comments left by the user
Mod comments
Number of time the user was banned/timed out
How many times the user was reported by others
In order to enter mod view, all you have to do is simply click on the sword icon from the bottom-right section of your screen. Once entered, you will be able to get all the data mentioned above.
#2. Skimming through VODs
One of the reliable methods to get access to the entire Twitch Chat Log is to play or skim through VODs. There are some pros and cons to using this method.
First of all, using this method will give you access to all chat logs including messages that were retracted and comments removed by moderators. This way, you can get access to the removed comment in Twitch and double-check if the person needs to be banned or not.
The downside of this method is that you need to record the entire and session and play it to find the log. It can be a little bit time-consuming.
My suggestion to you is to skim through the video in 3X speed and look for hateful comments, how's the audience reaction, and the actions of the moderator. You can see literally everything.
If you do not want to go through this long process then we have some other methods in as well.
#3. User Search Command to Access Twitch Chat Log
This method will be useful if you are looking for comments from a single user. If you know the Twitch username of the person, then this method will work very well for you.
You can use a simple Twitch command to get complete info including messages of an individual user. Here is the list of all data you can get using these commands:
All the comments left by the user on your channel
Remarks left by mods about a particular user
Find how many times the user was banned/unbanned from your channel
User account creation date
The number of messages left by the user on your Twitch channel
These are some of the important information that you can arrive at by using /user username command.
This method will let you know if a single person is creating multiple accounts so as to spam your live stream. Since we can see the account creation date, we can arrive at a conclusion pretty easily.
Here is how to use the command:
/user USERNAME
Here, you have to replace the USERNAME with the actual username of the person you are looking for. For example, if the user name is astrokjoseph then you need to type the command as /user astrokjoseph.
Using this commans will pull down all the information we discussed earlier in this section. As simple as that.
#4. Use Chatbot to Retrieve Chat Log
This is one of the easiest methods to follow if you want to get access to your Twitch Chat History. The best part of using a bot is that once activated and configured properly, you can forget about it. It will do the job without even us doing anything. Everything is well automated,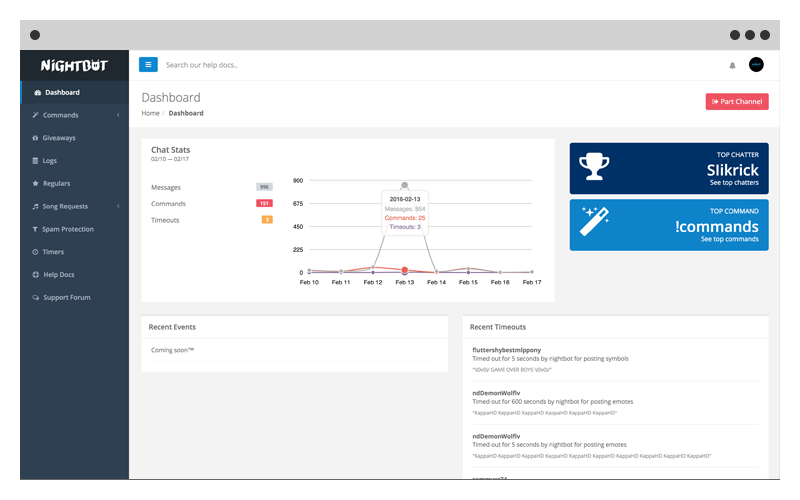 There are tons of bots available for Twitch and Chatbots are one specific category of bots that will help you efficiently manage your chat section. A lot of chatbots for Twitch come with this feature. For example, the chatbot, Nightbot can help you with this.
Once activated, the chatbot will start collecting all the chats and store them so that you can access them later and start reading them. The chatbot will be able to track all the comments on enabled streams and the best part is that you can use the search function to instantly find what you are looking for.
Chatty to Check Twitch Chat Log
There are some third-party applications that we can use to get the job done. Chatty is one such application that we can use to get access to all Twitch chats.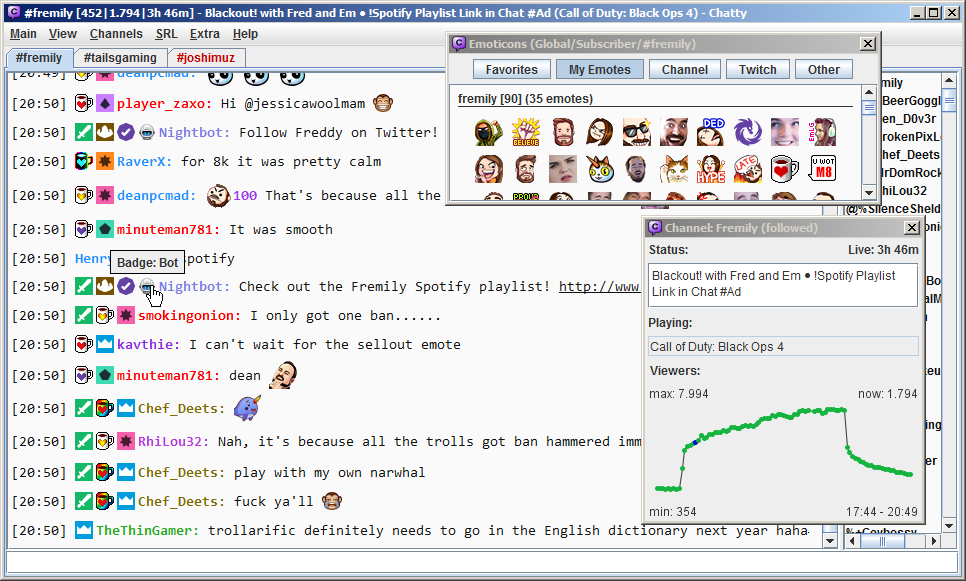 Chatty is a free and open-source application that you can use with Twitch to analyze the chat section of your channel. It is a java-based program and the user interface looks too old and boring but gets the job done. You can use the software to go through the chats and find what you are looking for. The software deletes the chat history after some time, so you should act quickly.
Setting up the software for the very first time involves some work and after that, you are all good to go. Then you can directly open the software start looking
You can download Chatty – Twitch Chat Client from GitHub directly.
Why Check Twitch Chat Log?
If you are not quite sure about the topic, the first question that pops in your mind has to be why you should be checking the Twitch Chat Log? There are a variety of reasons why you should be checking your Twitch chat log. Here, I will mention some of them.
Find Inappropriate Comments
No matter how hard you try to keep your live stream clean, there will be some people leaving trash comments, spamming, or using abusive messages in the comment section. Analyzing the twitch log will let you access this information and take necessary actions against them. If a user has been spamming your channel for a very long time, then it's time you should ban him/her.
Get Insightful Data from Audience
If you want to successfully deliver content that engages and the audience, you should know what exactly are they looking for. While you are in the live session, you might not get enough time to go through the live chat section. But analyzing it later after some time will let you see data like what your audience is looking for, what's the liking, what sort of content are they expecting from you, etc.
Some users will also leave some suggestions and ways by which you can improve your live streaming as well. So, analyzing the twitch log gives a whole of new information regarding your users.
Evaluate Disciplinary Actions
Chances are, you might have already assigned moderators on your channel to make the comment section as clean as possible. Moderators will remove all the spamming people, give them a warning and make the comment section as clean as possible. At times, the moderators might unknowingly remove genuine people who should not be removed in the first place.
If something like this has happened in your channel, analyzing and going through the Twitch Chat log will get the information you are looking for.
If you are gamer then also take a look at our guide on using BetterDiscord and applying BetterDiscord themes as well.
Does Twitch Store Chat Logs?
No. Twitch does not store or save your chat history/chat logs. It will affect user privacy and Twitch does not do this officially. If Twitch had some feature like this, things would have been way easier for us to retrieve chat logs.
Can We Get Chat Logs of Other Channels
Up till May 2020, there was a website called OverRustle Log. It was a simple website that allowed anyone to view chat logs of any channel of Twitch. It was against Twitch's guidelines and privacy policy. The website was working fine without any issues.
But the team behind the website was forced to shut down the site was Twitch Legal team asked them to take down the site as it breached the privacy policy of twitch. Ever since then, no websites like OverRustle Logs were found online. So, we are left with no luck. This take on this website put an end to the option for anyone to view any channels' chat logs.
Ways to get Twitch Chat Log
By now, you might have got all details regarding checking chat logs on Twitch. By far, viewers are the ones with limited controls to get access to the log. If you are a streamer or viewer then you can get access to the same by using the methods mentioned above.
There was a service that used to store all the chat logs of public streams. Any viewer would have visited the website and get access to the chat log. But that's no longer the case as the website was shut down back in May 2020. Ever since then it became hard for viewers to get access to the chat history. Users can only get data regarding their messages on the Twitch platform and not others.