Teleparty (Netflix Party) is a safe platform that allows people to remotely watch their favorite movies or shows together with friends. It is a tiny extension you can install on the Google Chrome or Edge web browser to host a watch party.
With over 10 million installations on the Google Chrome Web Store, Teleparty is one of the most used watch party platforms out there. One of the questions that many people keep asking is if they can use Teleparty on iPads or iPhones.
In this article, you will find if Teleparty works on iPad or iPhone and the workarounds to host a watch party on iPad or iPhone.
Teleparty does not work on iPhones or iPads. Teleparty comes as a Google Chrome extension, and Google Chrome for iPad and iPhone does not support the installation of extensions.
Can You Use Teleparty On iPad?
Teleparty is a chrome extension and won't work on iPads. Google Chrome web browser is available for iPad on the Apple App Store but does not support extensions. This means you cannot install and use Teleparty on Google Chrome on iPad.
If Teleparty was a standalone app or a website, the developers could have easily made it available for the iPad or iPhone. Since it is not the case, using Teleparty on iPad is impossible. But there are many other ways to host a watch party on your iPad. Find them below.
Teleparty is simple to use, and everyone likes its simple interface, but sadly, you will have to use a Teleparty alternative for iPad.
Does Teleparty Work On iPhone?
Teleparty does not work on iPhones. Since Teleparty comes as a Google Chrome extension and Google Chrome for iPhone does not support installations of extensions, one cannot use Teleparty on iPhones.
But this doesn't mean you cannot use Teleparty or host a watch party on your iPhone. There are several other methods to watch your favorite movie, shows, or TV series with your loved ones remotely.
So long story short, Teleparty only works on a computer.
How To Use Teleparty On iPad and iPhone?
Even though Teleparty does not work on iPhones and iPads, there are several other platforms that you can use to stream content with your friends.
Below are a couple of ways to watch movies or TV shows with your friends on iPads and iPhones.
Use Rave To Watch Shows/Movies Together
Rave is an app available for iPhone and iPad that lets you watch Netflix, Disney+, YouTube, Prime Video, HBO Max, and other streaming platforms with your friends while texting and talking.
One thing I like a lot about Rave is that it has an audio chat option where the people at the party can talk while watching the show.
As Rave watch party app is available for iPad, iPhone, and Android, you can watch shows together irrespective of the device everyone has.
First, you must download and install the Rave app on your iPad or iPad.
Once downloaded, you need to sign up on the app.
You should ask your friends to install the app as well.
Once both parties have the app, the person hosting the party should create a new watch party on the Rave app.
After creating the watch party, you will find an option to share the party link with your friends. Copy the link and share it with everyone who wants to be at the watch party.
As soon as the other person clicks on the link, it will directly open the Rave app and automatically join the watch party.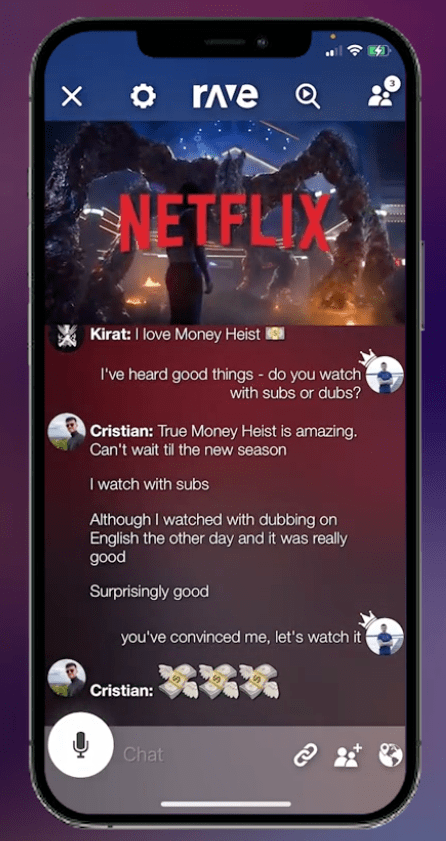 You can now start playing any content from your favorite streaming platform, and everyone can watch it together.
You have the option for both voice chat as well as text chat.
Host Watch Party On iPad and iPhone With Discord
A majority of you might be already aware of Discord. Discord is an instant voice, video, and text chatting platform mainly used by gamers for managing communities.
People on a particular Discord server can do voice chatting or video chatting. On top of all that, one can stream Netflix on Discord and all other people on the server can watch them.
Discord is not a watch party service, but since the screen sharing option is available on the platform, anyone can stream any content on Discord and others can join it.
People may turn on and do voice/video/text chatting alongside watching content on Discord.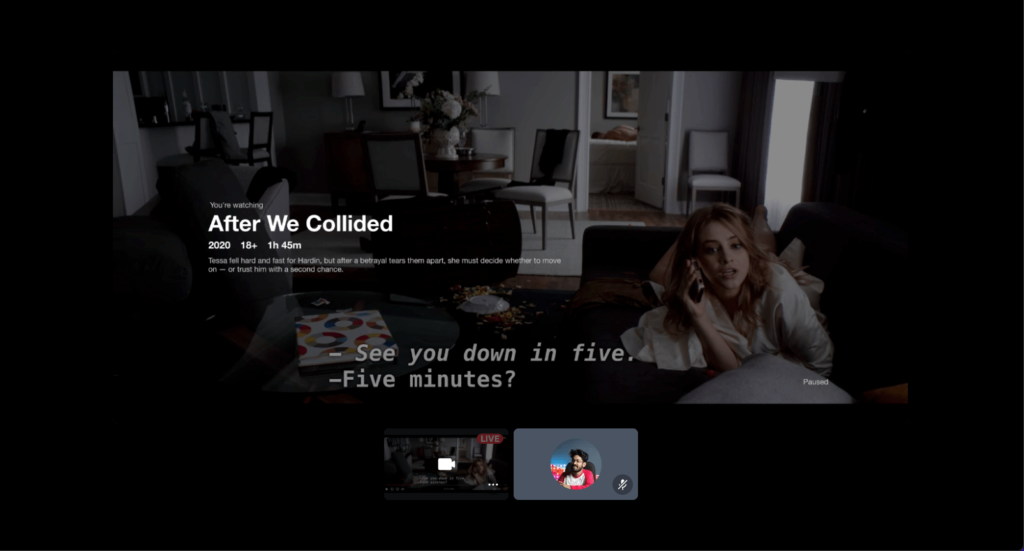 Using Discord, you may start a watch party for any website, including Prime Videos, Netflix, HBO Max, and more.
See the detailed guide on hosting a watch party on Discord.
Watch Party on Prime Video
No other streaming platform other than Amazon Prime Video has a built-in watch party option. Yes, you heard it right. The built-in watch party option on Amazon Prime Video lets you host a watch party without using any third-party app or service.
As of now, Prime Video watch party is only available in a few select countries. Furthermore, everyone needs to have a valid Amazon Prime subscription to host and join a watch party.
Follow the steps below to host an Amazon prime watch party on iPhone or iPad.
Open the Amazon Prime Video app on your iPhone or iPad.
Select a movie or show that you want to watch with your friends.
Tap the More button (three dots icon).
Tap Watch Party.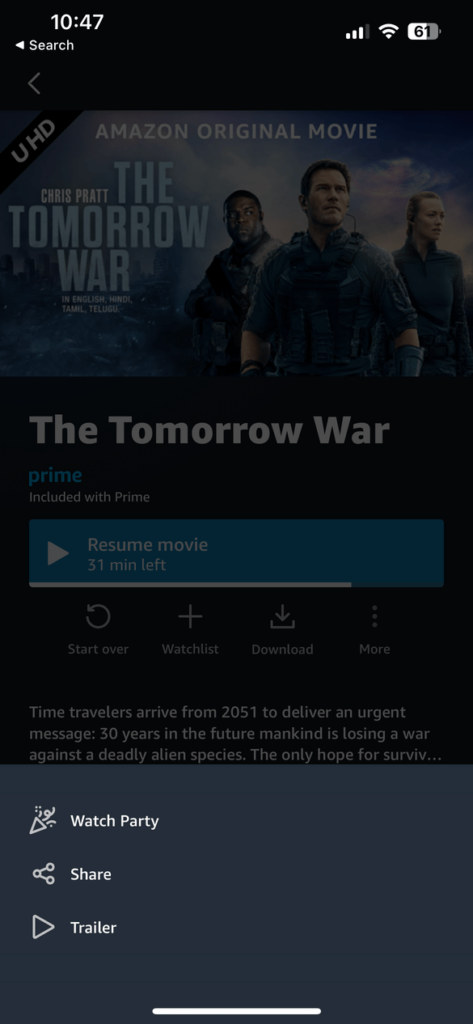 Enter a Chat name and tap the Create Watch Party button.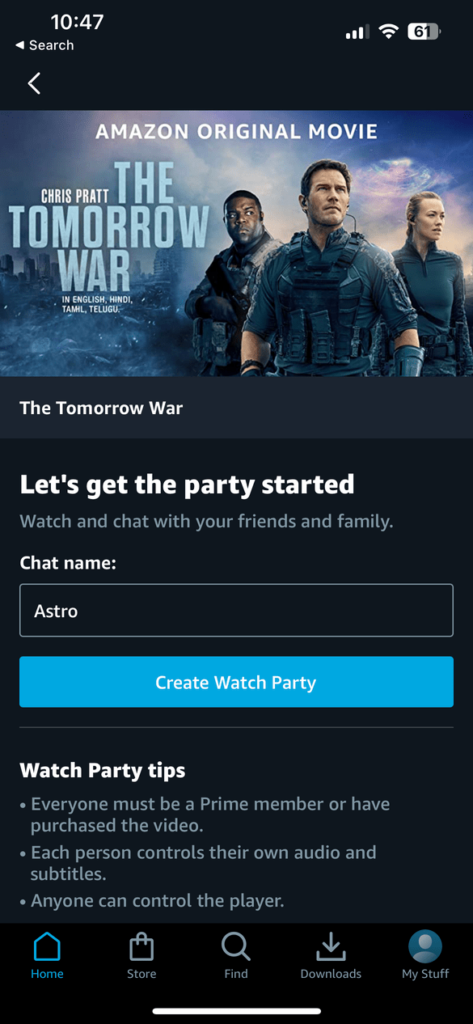 Tap the Share button to share the invite link with all your friends who you want to join the watch party.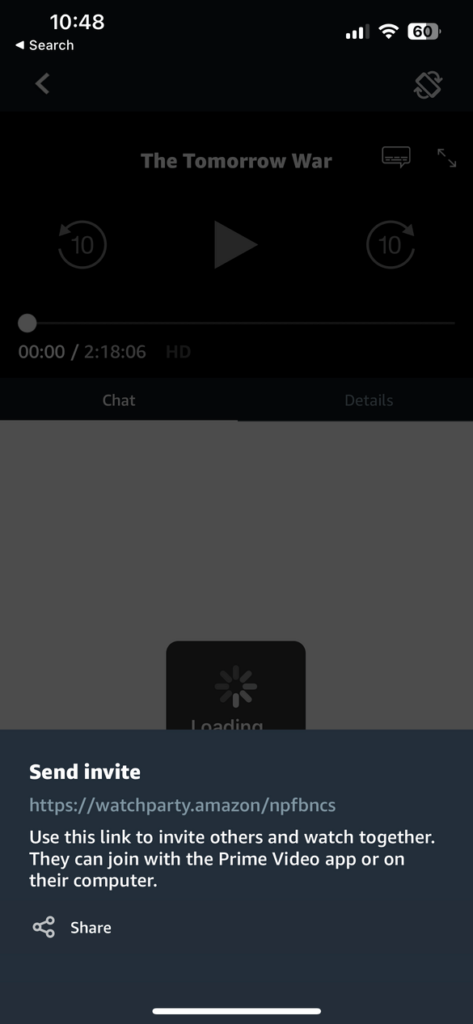 Now ask the other people to click the link and join the watch party. Once everyone is in, start the show and enjoy them with your friends.
Watch Party On Zoom
The popular video conferencing platform Zoom can also be used to host a watch party with your friends. Whether it be Netflix, Disney+, HBO Max, or Prime Video, you may stream it on Zoom and watch it with your friends.
If you don't already have Zoom, head to the official website and download it. Register for a new account and log in to the same.
Open any streaming platform of your choice and play a show or movie.
Once the playback starts, return to Zoom and start a new meeting.
Click the screen sharing option and select the streaming app or web browser tab.
Enable the audio option.
Share the invite link with your friends and ask them to join.
Enjoy the show.
Why Teleparty Is Not Available For iPad and iPhone?
As you might already know, Teleparty is a browser extension that can be installed on Google Chrome and Microsoft Edge. For starters, extensions can only be installed on Chrome and Edge on a desktop or laptop. The option to install extensions on Chrome on mobile devices is not available.
For the same reason, Teleparty is not available on iPad or iPhone. Google Chrome and Edge are available for iPad and iPhone but don't support extensions.
If Teleparty was a standalone app like Rave, the developers could've easily made it available on iPad and iPhone. Since it is not the case, you need to use Teleparty alternatives to host a watch party on your iPhone or iPad.
What's Next?
Teleparty's straightforward user interface and setup process make it a perfect watch-party service. But since it comes as a browser extension, it is not available on iPhone, iPad, or any other mobile/tablet devices.
There are many services similar to Teleparty that lets you host a watch party and watch shows or movies with your friends from anywhere.
Do keep an eye on Teleparty alternatives as you will need them when Teleparty does not work properly or you want to host watch party on iPad or iPhone.