Teleparty (formerly known as Netflix Party) is an excellent extension for web browsers that will let you watch your favorite movies or shows from Netflix, Disney, Hulu, Amazon Prime, etc, together with your friends remotely. Watching shows or movies with friends, family, or loved ones is getting popular day by day.
In this article, you will find more details about Teleparty and a guide to set up Teleparty so that you can watch Netflix or other shows together with anyone from anywhere. An exciting part about using Teleparty is that only one person needs an active OTT platform subscription. All other people who join the watch party can watch Netflix, Disney, Prime, Hulu, etc, without having a paid subscription.
What is Teleparty?
Earlier known as Netflix Party, Teleparty is an extension available for Google Chrome, Microsoft Edge & Opera. Once installed, it will let you watch TV online with your friends. It doesn't matter where your friends are from. You can host a watch party with people all around the globe. There is no sort of country-wise restriction on using Teleparty.
It is a lightweight extension that you can download by visiting the Extension Web Store.
We have already written a detailed guide on Is Teleparty Safe? If you are concerned about your privacy while using the Teleparty extension, then read the article to find more details about Teleparty and how the extension handles your details. You can find more about it on their privacy policy page.
Since the extension is for Google Chrome, Microsoft Edge & Opera web browser, it doesn't matter which operating system you have. Teleparty works well on Windows, macOS, Linux, ChromeOS, etc.
Teleparty supports the following online streaming platforms:
Netflix
Amazon Prime
Hulu
Disney
HBO
Alse see our guide on watching Netflix on Zoom as well.
Download and Install Teleparty on Chrome 2023
Installing Teleparty or Netflix Party on Google Chrome is a few mouse clicks away. As I mentioned earlier, the extension is already available on the Chrome Web Store. For the same reason, you can download it easily without having to visit any other third-party websites.
Note: Make sure you have Google Chrome, Microsoft Edge, or Opera web browser installed on your computer. At the time of writing this article, Teleparty is only available for a few Chromium-based browsers. If you don't have any of these installed on your computer, then head over to this link to download Chrome for your device.
First of all, go to Teleparty's Chrome web store page.
Once you are on the Chrome Web Store, click on the 'Add to Chrome' button.

A popup will appear asking if you want to install Teleparty on Google Chrome. Click on the 'Add extension' button.

Wait for a few seconds, and the extension will be installed.
How to host a watch party with Teleparty?
Now that we have installed Teleparty on our web browser, let us see how to host a watch party. Teleparty supports multiple streaming services like Netflix, Hulu, Disney, HBO, Amazon Prime, and more.
Click on the puzzle icon from the top right corner of Google Chrome, next to your Chrome profile icon.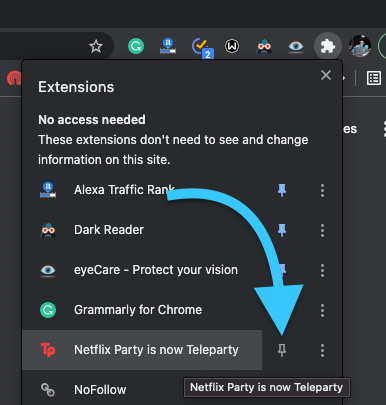 Just click on the Pin button next to Teleparty. This will pin the Teleparty icon on the extensions panel. It will open the list of all active extensions installed on Chrome. It will be easy for you to access the extension easily.
Now open any supported video streaming service. For example, if you want to watch a series from Amazon Prime together, head over to Amazon Prime and log in to your account. Now you need to play the series that you would like to watch with your friends.
Once the video playback starts, pause it and click on the Teleparty icon from the extensions panel.
Click on the Start the party button to begin.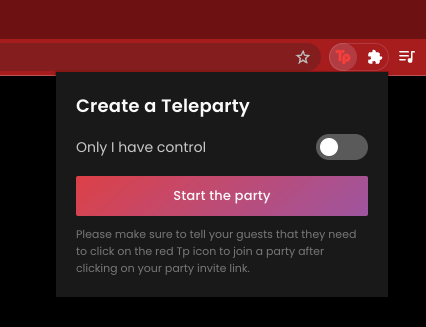 Now you need to accept and proceed with the agreement by clicking the 'Accept & Proceed' button.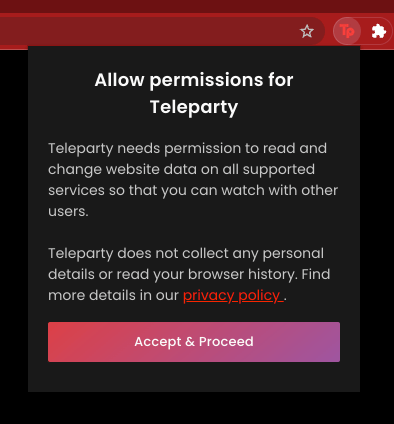 On the popup that appeared, click on Allow button.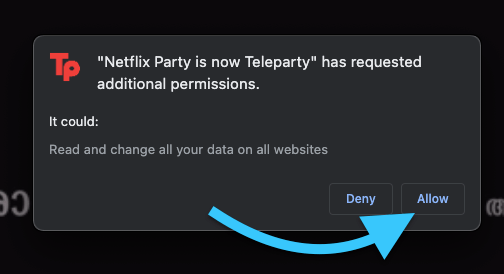 The Teleparty extension will provide you with an invite link that you need to share with your friends. Just click on the Copy URL button. You have the option to either enable or disable the chatting option.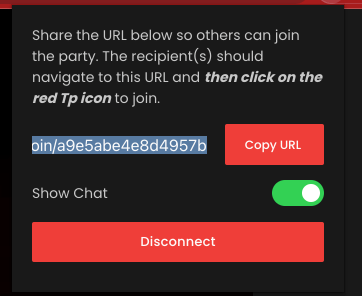 Share the link with people who you would like to watch the show together.
As soon as the other members click on the link, it will first ask them to install Teleparty on their browser. Follow the first few steps mentioned above to install Teleparty.
Now reload the link and click on the 'Join the Party' button.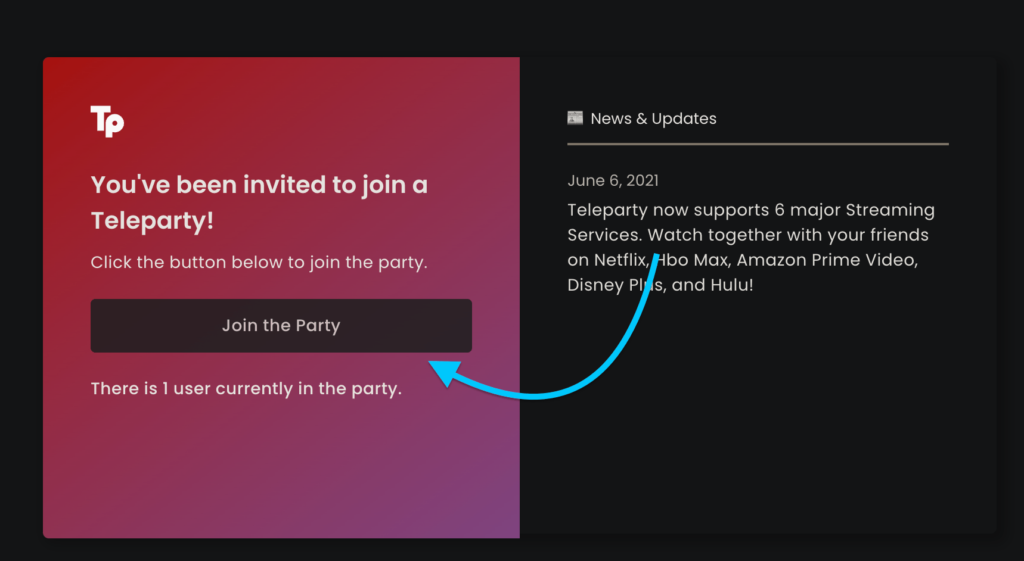 Click on the Accept and Proceed button to continue.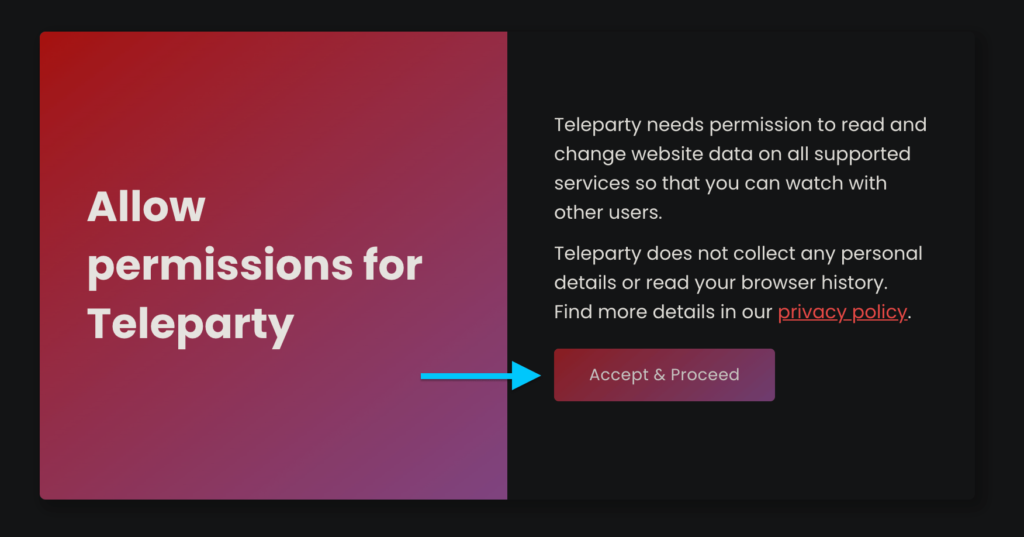 Now it opens the website and starts the video playback. Now all of the people in the watch party can together watch the show.
If you have enabled the Chat option, you can chat while watching the content as well.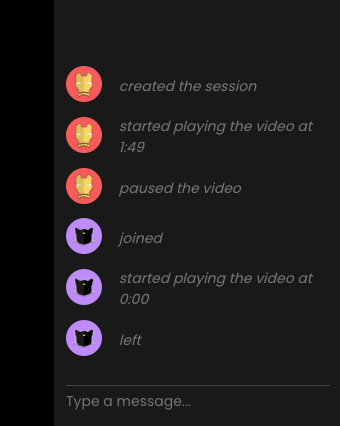 This is how easy it is to use Teleparty to host an online watch party to watch Netflix, Prime, etc., together with your friends remotely.
How to Voice Chat During the Party?
Teleparty only provides the option to do text chatting while watching the show. If you want to take it to the next level and make things even more interesting, you can use VoIP services such as Discord for the purpose.
If you have Discord, Skype, or any other VoIP application installed on your device, then you may make a group call and talk while watching the show together.
Just head over to Discord and create a server. Now create a new Voice channel to do voice chat. Invite all the friends over to the Discord server and continue enjoying the show.
Similar to Teleparty there are websites like Rabb.it that let us watch shows online together from anywhere. You are not required to install any browser extension to use such kind of websites.
Watch Movies/Shows Together Online
Teleparty is the best and easiest method when it comes to watching shows together online. Teleparty supports major OTT streaming platforms like Amazon Prime, Netflix, Hulu, Disney, HBO, etc.