Among Us is available for Android, iOS, and Windows but it is not readily available for macOS devices including Macs and MacBooks. But that doesn't mean that you can't play Among Us on Mac. In this article, we will find some methods by which you can download and play Among Us on your Mac easily. Depending on the Mac you have, there are multiple methods to follow.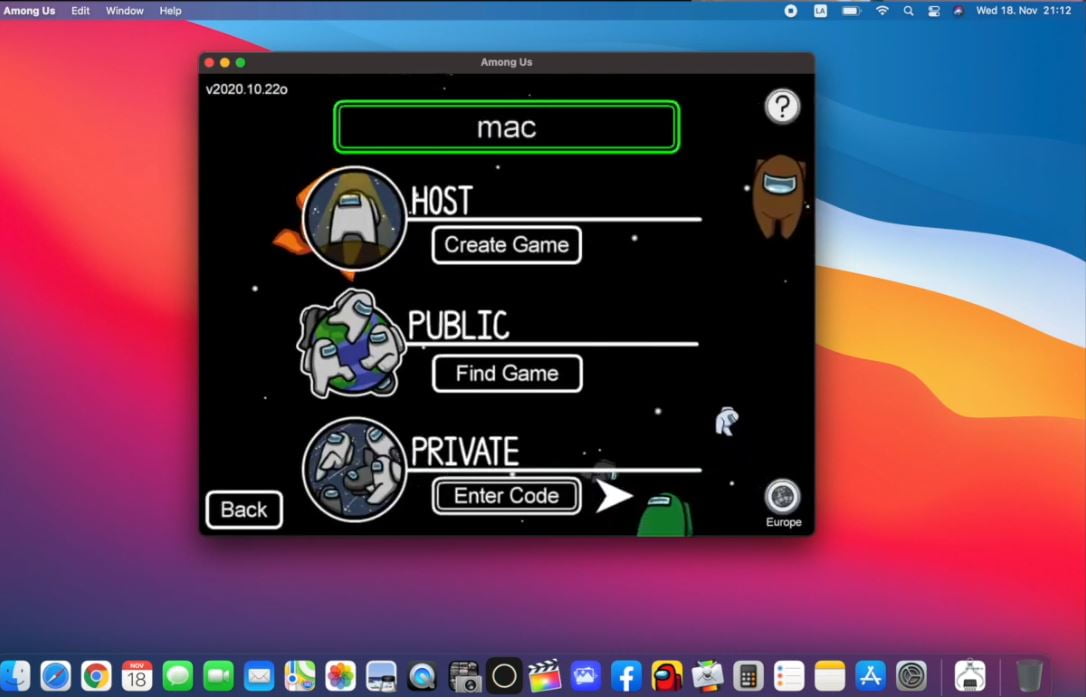 Among Us gained its popularity during the Coronavirus lockdown period. The sudden surge in the number of users made it a popular game and it took the industry by storm. Ever since then a lot of people are playing Among Us in their free time. It is a simple game with no high-end graphics and needs only decent system requirements.
Is Among Us Available for Mac?
As mentioned earlier, Among Us is officially available for Android, iOS, and Windows only. This means there is no official support for the Mac lineup of computers yet. But thankfully there are some workarounds that you can try to make it work on your Mac. If you own a MacBook running the latest Apple M1 chip then you can readily play Among Us by simply downloading it from the App Store. But if that's not the case, things will be a little bit complex, but gets the job done.
How to Install and Play Among Us on Mac
We are diving the method into two parts. Follow the first method if you own a new MacBook Air, MacBook Pro, or Mac Mini that comes with Apple M1 Chip. If you are having an older version of a Mac computer with an Intel CPU then follow the second method.
Install Among Us on Newer Mac Computers
As you might already know, then new Mac computers with Apple M1 chips will natively support all apps for iPhone and iPad. That means you can simply go to the App Store and install any app that you want. Not just with Among Us, this will work with any apps on the App Store. One of the biggest highlights of the new M1 chip powered Mac computers is the fact that it natively supports all the apps available for iOS and iPadOS.
As this is the case, it's just a piece of cake to install Among Us on your Mac. During the new M1 powered Apple Mac event, Apple stressed the fact that these new machines could natively run all iOS and iPadOS apps. Along with some other app icons shown on the list, Among Us icon was also there as well in the presentation.
Step 1: Open up App Store
Step 2: Head over to the search box and type "Among Us".
Step 3: On the top right section, you will be able to find two options – Mac Apps and iPhone and iPad Apps. Make sure to click on the second option for all apps to show.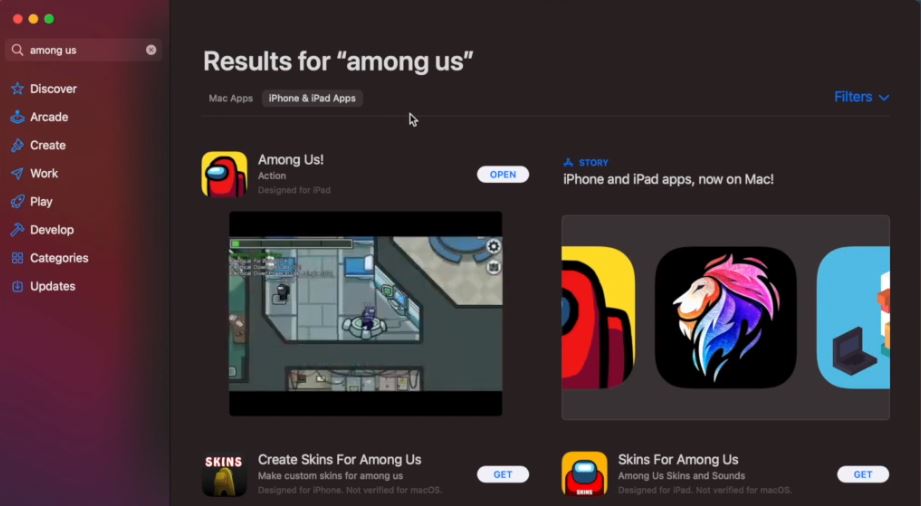 Step 4: Now, Among Us will be appear. Just hit the install button and wait until it gets installed.
Step 5: Once installed, open it up as you would normally do with any app.
Step 6: Setup your profile name and start playing Among Us on Mac without any third party software.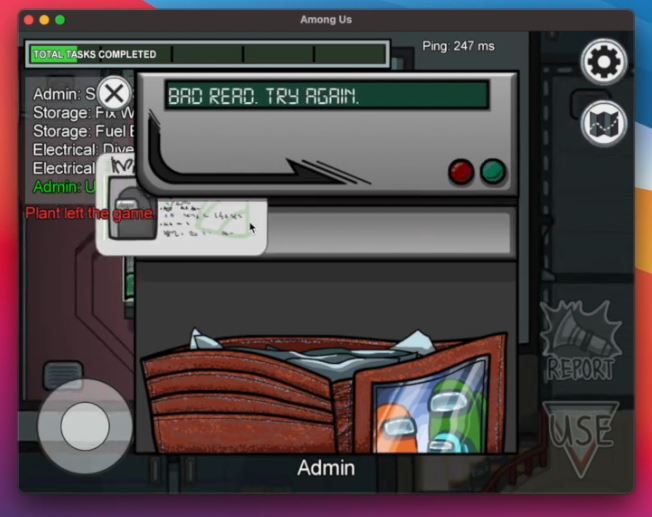 This is how we install and play Among Us game on MacBook or Mac computers powered by the Apple M1 chipset. This is the first generation of the M series chip from Apple. All future Mac computers to come with the Apple M series chip will definitely support all apps for iPhone and iPad of sure.
Play Among Us on Older Macs
Older Mac computers come with Intel-based CPUs. Apps for iPhone and iPad does not support Intel-powered machines. So to get things to work, we will need to use some additional software like Android Emulators to install Among Us on Mac. For first time users, things might look a little complex. But once everything is done, you can play any Android games on your Mac computer easily.
Step 1: For this method, first we need to download an Android Emulator for Mac. BlueStacks is the best Android Emulator for Mac computers as of now. I will be using Bluestacks to demonstrate the installation procedure, steps will be almost similar.
Step 2: After you are done downloading and installing Bluestacks on your Mac, open it up.
Step 3: Click on the Play Store icon to open up Google Play Store
Step4: It will ask you to log in to your Google account in order to use Play Store. Just click the login button and enter your login credentials to sign in to your account.
Step 5: Once Google Play Store is opened, click on the Search bar and type 'Among Us'.
Step 6: From the list of apps that just appeared, click on the original Among Us apps and click on the install button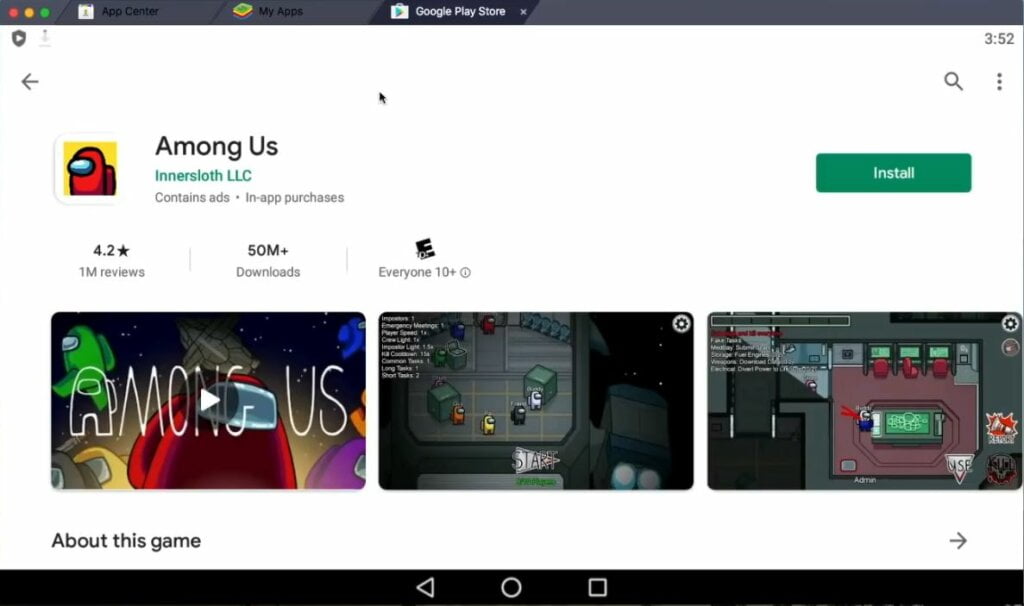 Step 7: Wait until the installation is done.
Step 8: Once Among Us is installed on Bluestacks, you will be able to find Among Us app icon on Bluestack's home screen. Clicking on the icon will launch the game and you can start playing it easily.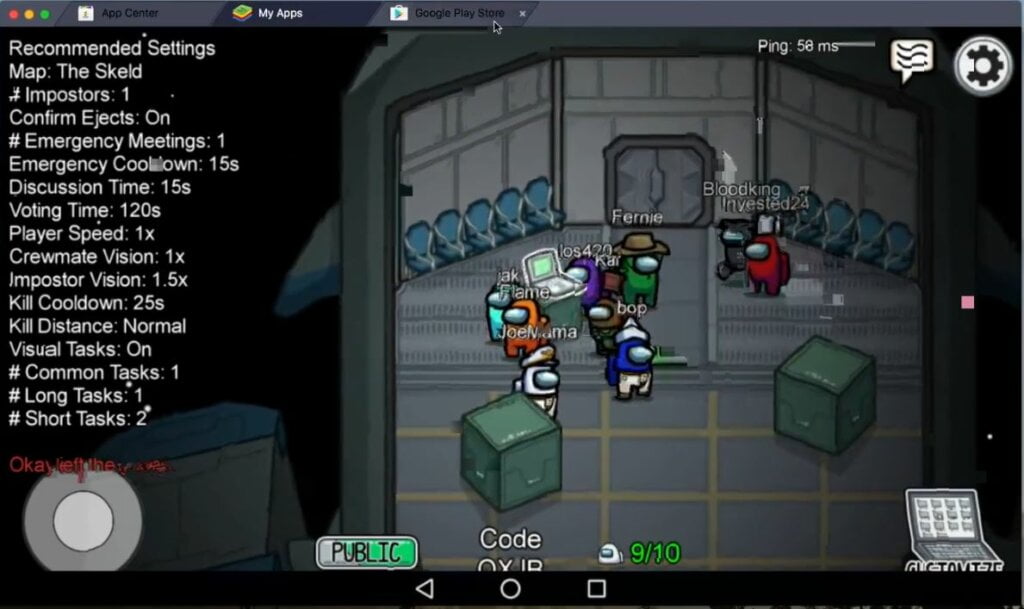 We have successfully installed Among Us on Mac computers running Intel chips.
Final Words
These are the two methods that will help you to install Among Us on your Mac computer easily. If you own a newer version of Mac computer that came out in 2020 or after, you may follow the first step itself as it is the simplest of simplest method ever. Or if you are using an older Mac computer with Intel CPU then you are required to use an Android Emulator to get the job done. In this case, you will have to follow the second method. Both the first and second method will work on M series chips powered computers.