Is your Facebook account blocked or banned due to policy violations? If yes, this is the article for you. Many people lose their Facebook accounts due to policy violations. They often end up doing something against the Facebook policy which results in account termination.
There are two types of account blocks. The first is a temporary block, and the second is a permanent block.
If your Facebook account is temporarily blocked, it is relatively easy to recover your account. On the other hand, if your account is permanently blocked, you need to get in touch with the Facebook support team and try to recover it.
You may follow the same steps below if your account was recently hacked and you can no longer log into it.
Why Facebook Disabled My Account?
It's important to know why Facebook blocked your account in the first place. Knowing the reason will help you not repeat the same mistake in the future.
If your Facebook account is blocked or disabled, you will find a message like the one below when you try to log into your account.
Your account has been disabled. If you have any questions or concerns, you can visit our FAQ page here.
If you see this message when you try to log into your Facebook account, it means Facebook has disabled your account due to policy violations.
If you go against Facebook community standards, they temporarily or permanently block your account. Once blocked, you cannot access your account or log into it.
You can find the Facebook community standards here. Go through the list and see if you have violated any policies.
Spamming is yet another reason why Facebook disable accounts. Like any other social media platform, Facebook, too, is suffering from spammers of all kinds. If you share malicious links, harass people over messages, send unwanted friend requests, share abusive or hateful content, etc, Facebook may block your account.
If you created your Facebook account without giving the original number or email, it becomes hard to recover it.
Similarly, if you have sent too many Facebook friend requests in a short span of time, it may trigger a flag as well. View all your sent friend requests and remove them.
Now that you know enough as to why your Facebook account was disabled, let's see how to get it back.
Types Of Facebook Account Blocks
There are two types of blocks on Facebook. The first one is a temporary block, and the other one is a permanent block. Depending on the severity of the policy violation, Facebook either temporarily blocks your account or permanently ban you from the platform.
Temporary Block: If your account is temporarily disabled, you can regain access. This type of account suspension is given to users as a warning. This means you will be able to get your account back after the given suspension period is over. The Facebook team decides the suspension period, and it varies anywhere from hours to weeks.
Permanent Block: Your account is deleted, and you never get it back. This is not a warning from Facebook but an actual account deactivation. After reviewing your Facebook account, the team decides not to give your account back. This may be due to spamming or other reasons that will be mentioned in the email that is sent to you by them. But, there is a possibility of getting your account back by contacting Facebook; anyways, let's see.
How to Unblock Facebook Account?
If your account is temporarily blocked, you can easily regain access to your account by answering some security questions or by uploading any legal ID Proof. If your account is permanently disabled, it will be hidden from Facebook, and no others can view it. In this case, you need to contact support.
Appealing For a Disabled/Blocked Facebook Account
There is a dedicated appeal portal for disabled Facebook accounts. You can visit the link given below and appeal for your account.
After a thorough review, you might get your account back, but again it's not 100% sure. It's worth giving a try. Whether your account is permanently blocked or temporarily blocked, give it a try and see if you get your block removed.
Go to Facebook's Appeal Page
Once you are on the appeal page, fill in the required details like Email Address, Your full name, and upload a scanned copy of any Government issued document like an ID Card, Passport, Driving Licence, or anything.
If you have anything else to share with Facebook, use the Advanced Info field box.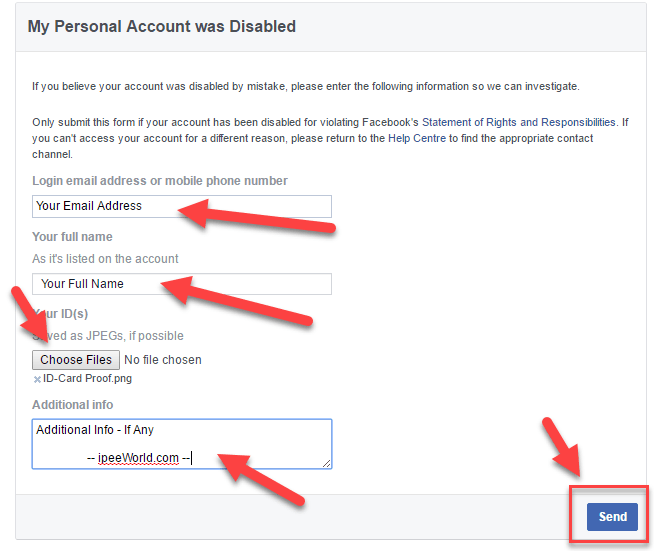 Once you are done, cross-check the information once again and finally click on the Send button.
Documents you can submit for Verification
Below are some documents that Facebook accepts for your account verification.
Voter ID Card
Driving Licence
Birth Certificate
or any other similar document with your Exact name as like in Facebook
Now you have successfully submitted an appeal to reactivate your disabled Facebook account.
Wait for 3 – 10 days to get a confirmation email regarding the account reactivation status. You will receive the email at the address you mentioned in the appeal form.
Be sure not to upload any fake proof, if they find it is fake, then your account is lost forever.
Can I Recover My Hacked Facebook Account?
When someone hacks into your account and changes your login credentials, you will get locked out of your account. In this case, you may contact Facebook to get your account back.
If the hacker changes the mobile number, email address, or password, you won't be able to log into your account. When the hacker performs suspicious activities or spams the platform, Facebook will automatically block your account.
Since your account is hacked, you can get your account back after contacting Facebook and submitting your original documents for verification.
What's Next?
It will take a few days to a couple of weeks for the Facebook team to review your appeal application and get back to you. Meanwhile, you may create a new account or wait for the application to be processed.
If the appeal is accepted, Facebook will reinstate your account. You can log into your account using the same login credentials. Once activated, you may send Facebook friend requests, send messages to others, and share updates.