Is your Facebook Account Banned or Disabled? Learn How to Unblock Facebook Account that is Disabled or Blocked due to policy violations. It's quite common that hundreds of thousands Facebook Accounts are unblocked daily. Are you one of their victim. If yes, Read and Find how to yourself unblock Accounts that are Blocked on Facebook.
There are certain types of Blocks. Usually, Facebook punishes users for doing stuff that is against Facebook Terms & Conditions. Temporary Block and Permanent Block are the two type of blocks usually on Facebook. If your Account is temporarily Blocked then you can easily recover it by doing a simple tweak mentioned below which is 100% Safe. And again if your Account is Permanently Blocked it is too hard to get it back. Most of the time, ayone won't get back accounts that are Permanently Blocked. But, still there are some possibility for getting Permanently blocked accounts back by Contactinf the FaceBook Team.
We all use Facebook every day and Facebook is an inevitable part of our life. On Facebook, we share various stuff like Pictures, videos, status, friends etc. We have thousands of friends that we know personally and just online relations, We chat with them and having a lot of fun. But suddenly one day, when you tried to log in to your Account, it shows that"
Your account has been disabled. If you have any questions or concerns, you can visit our FAQ page here.
Now, what will you do to Unblock Facebook Account that is Blocked? that's why you are here. Today in this Article I will share tips and tricks that will help you to recover any Disabled or Blocked Facebook Account.
Check: How To Convert Facebook Profile into Page
How to Unblock Facebook Account?
There are two types of disabled Facebook accounts, one is Temporary Block and the other one is Permanent block. If your account is temporarily blocked, then you can easily regain access to your account by answering some security questions or by uploading any legal ID Proof. If your account is Permanently disabled, your account will be hidden from Facebook and no others can view it.
Why Facebook Blocked my Facebook Account?
There are various reasons why Facebook block your account. They only disable an account that violates Facebook Terms & Conditions. For some type of violation, Facebook even won't inform about it to you. Facebook has the right to block any account without prior warning or notifications.
Different types of Block Account:
Temporary Block: You can regain access.
Permanent Block: Your account is deleted and never get it back.
So, if your account is permanently blocked, then there is no way to get it back but if your account is temporarily blocked then continue reading the article.
Read Facebook's Terms and Conditions, to know why Facebook disabled your Account.
Check: How To Access Files in PC With your Smartphone Wirelessly
Appealing For a Disabled/Blocked Facebook Account
  Appeal for Disabled Facebook Account
Once you are on the Appeal page, Fill the required details like Email Address, Your full name and upload a scanned copy of any Government issued document like ID Card, Passport, Driving Licence or anything
If you have anything else to share with facebook, then use the Advanced Infor field box.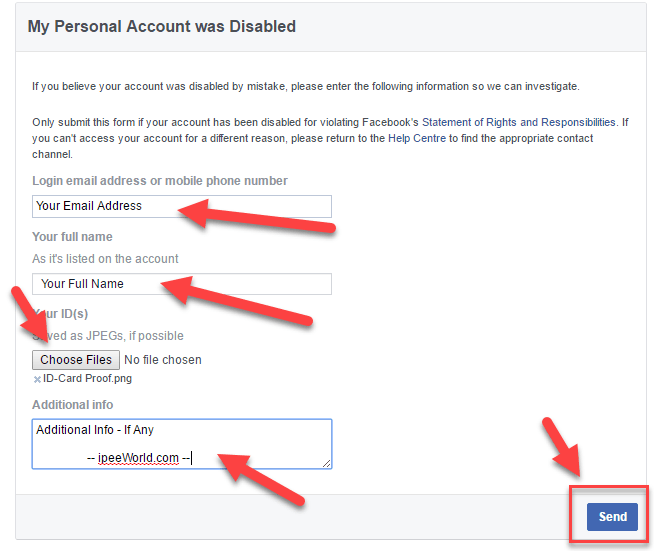 Once you are done, cross checks the information once again and finally click on the Send button.
Documents you can submit for Verification:
Voter ID Card
Driving Licence
Birth Certificate
or any other similar document with your Exact name as like in Facebook
Now you have successfully submitted an appeal to reactivate your Disabled Facebook Account.
Wait for 3 – 10 Days to get confirmation Email regarding the Account reactivation status. You will receive the Email in the address you mentioned in the Appeal form.
Be sure not to upload any Fake Proof, if they found it is fake, then your account is lost forever.
Final Words
This is how we can contact Facebook for reactivating a Disabled or Blocked Facebook account. Facebook usually disable accounts that do not adhere to their policy guidelines and are against Facebook terms & conditions.
Check: How to Get your Facebook Profile/Page Verified
Hope you will get your account reactivated.
Do comment down below if you have any doubt. Be sure to share this article on Facebook, Twitter, etc.