At times you might want to go offline or invisible on Discord without logging out. This is what we are about to discuss in this article. For me personally, there has been a lot of instances where I want to set my status as offline but want to do something else while staying logged in on Discord.
Discord is the go-to communication platform for almost all gamers out there and it boasts some really great features that come in handy for you. One such feature is called the Invisible mode on Discord.
Enabling Invisible mode will set your activity status as offline but you can keep using Discord without any distractions like messages from other people.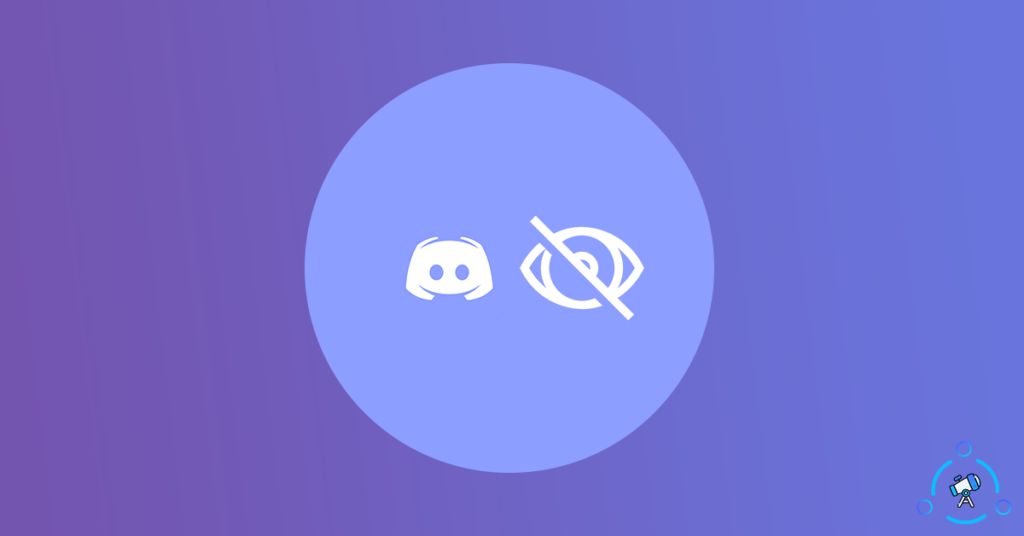 Types of Discord Status
As you might have seen already, there are 5 different statuses in Discord. Every status comes with a color and you can find a color dot indicating the same next to the username as well. At first, let's take a look at all the available Discord status and their color code.
| Indicator Color | Description |
| --- | --- |
| Green | First is Green, and this is the status dot color that will appear next to your Discord Avatar if you are online and using Discord. |
| Orange | Orange is for Idle. Idle status is generally set when you are away from your keyboard (AFK). There is a specific time duration for this status, after which it will change automatically. You can use a command to set AFK mode easily. |
| Red | Red stands for DND or Do Not Disturb. As the name itself suggests it is Do Not Disturb mode. Activating this mode will let all other people know that you are busy doing something and not to bother you. |
| Grey | Invisible – This is the status we are going to use to serve our purpose. As the name indicates, you can go invisible on Discord with this Discord Status. Once you have set this status. even if you are online, the online status won't show (The green light next to your name will not appear) |
| Custom | This is a cool feature in Discord that will let you set custom status. You name it whatever you want and also select a time duration as well. |
Discord Status
These are all the statuses available on Discord at the time of writing this article. Discord also gives you the option to set custom status as well.
Why Appear Offline on Discord?
There might be multiple reasons why you want to go offline on Discord. I have gone through a lot of situations where I want to do the same as well. Maybe you are working with something else on Discord and you don't want others to disturb you by messaging and mentioning you. Or maybe you are busy doing raids, etc.
See, there are tons of reasons why one wants to appear offline on Discord and the Invisible status option on Discord lets us do the same. It is a lifesaver for a lot of Discord users and let's how to use it to appear offline.
How to Appear Offline on Discord
Setting your status as Offline on Discord is pretty simple and can be done in a few clicks. Follow the steps mentioned below.
Step 1: Open Discord (In this case, I am using Discord Web. It will work with every version of Discord including the PTB Build and Canary version as well. You can even go offline in BetterDiscord as well.)
Step 2: Once opened, from the lower button section of the screen, simply click/tap on your Avatar. Now a bunch of options will appear.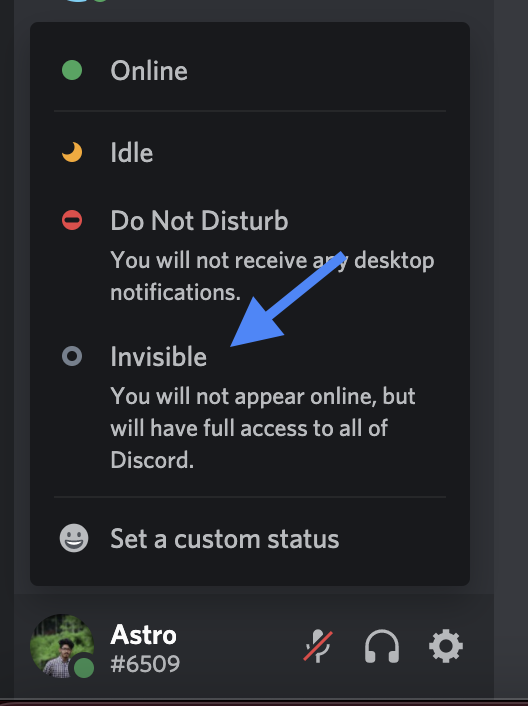 Step 3: The pop-up box will show you four statuses. They are Online, Idle, DND, Invisible, and Custom. A detailed explanation of every single Discord status is given in the above section.
Invisible is what we are going to use to serve our purpose. Just select Invisible from the list of options and you are good to go.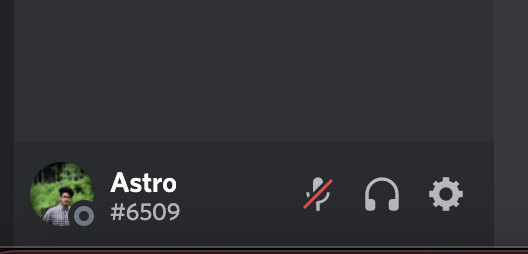 Once enabled, you can see that the green dot next to your avatar has disappeared. As the green light has gone away, no one can tell if you are online or not. Basically, you are offline now.
Set Invisible Status on Discord App
If you are using the Discord mobile app, here's how you can set invisible status so as to appear offline.
Open Discord Mobile app
From the options available on the bottom of the screen, click on your Discord Avatar
Under user settings, tap on the first option – Set Status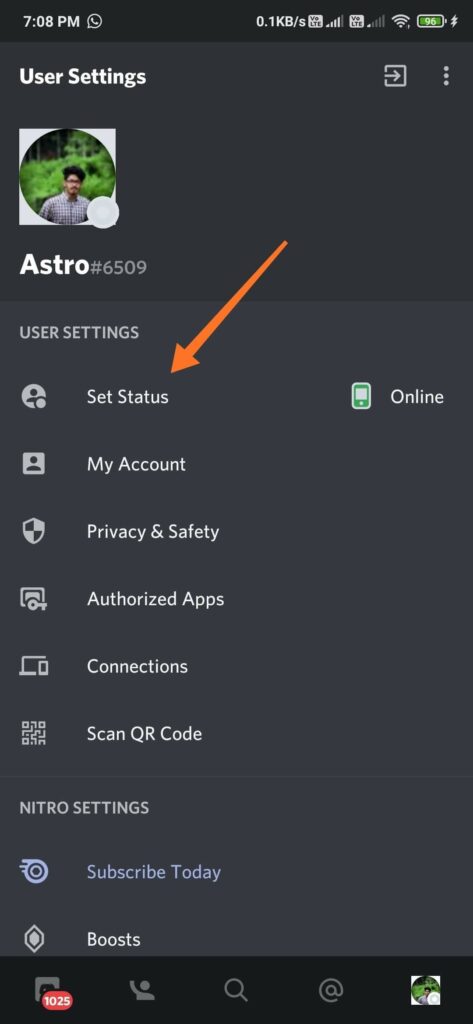 Tapping on it will reveal few options like Online, Idle, Do Not Disturb, Invisible, and Set a custom status. All you have to do is simply tap the Invisible button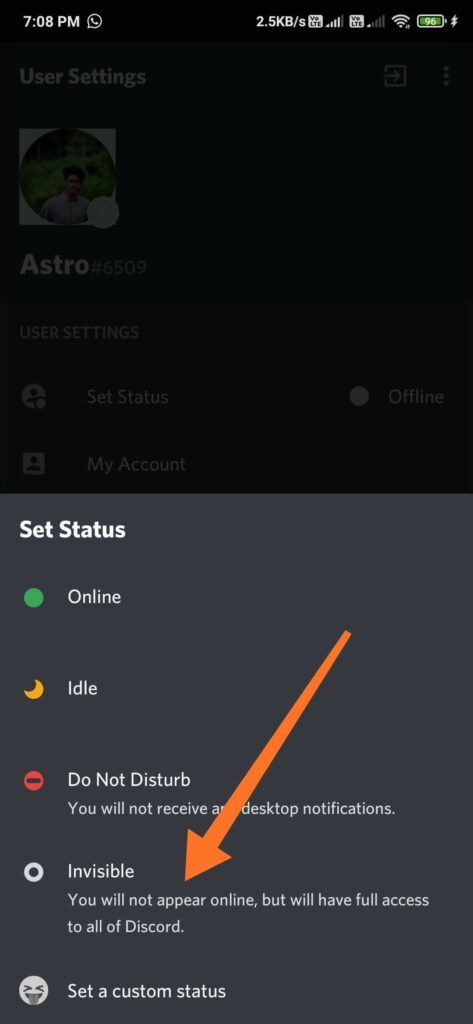 Now we have successfully set offline status in Discord mobile app.
This will work with both Android as well as iOS app.
Once you are done with the work you were doing, you can come back to the same settings section and turn it back to another status like Online, DND, Idle, etc. You can even use Custom status as well. Make sure to use the custom status option if you want to show a customized message to all users checking your profile.
Can I Set Offline Status for a Single Server Only?
No, as of now, Discord does not have that option where you can set the offline status for a particular server only. It would have come really handy if that option was available on DIscord but that's not the case. I have seen a lot of websites mentioning it is possible to set the offline status for selected servers only. But it's not true as you don't have that option on Discord yet.
We can expect Discord to introduce that feature in the future. For now, you can only universally apply for the invisible status. It means that all servers will see the same status only.
Appear Offline on Discord – FAQ
Here are some frequently asked questions regarding the Invisible option on Discord and some doubts you might have in your mind.
What status will other users see after setting Invisible Status?
By default, a green dot will be shown next to your avatar when you are online. But when the invisible option is enabled, it will show a grey icon. No status indication.
Can admins or mods find you are Invisible?
No, both admins and mods won't be able to know that you went invisible. No other users except you can see the original status.
Final Words
This is how we easily set offline status on Discord. Trust me, this is one such good feature that is available on Discord. In the future, you might encounter situations where you want to set your status as offline. This option will definitely come in handy for you at that point in time. It's also nice to see that Discord made this option available to all people including ones using the free version (Check the difference between Nitro and Nitro Classic).