If you are someone who loves listening to music, songs or give a lot of importance to the audio in general, then this article will help you to take your Audio or Song listening experience to a whole new level with the help of Best Audio Equalizer Apps for Android. Audio Equalizing is the process of adjusting different components of Audio including Bass, Treble, Frequency, Bitrate, Softening, etc to get the best experience.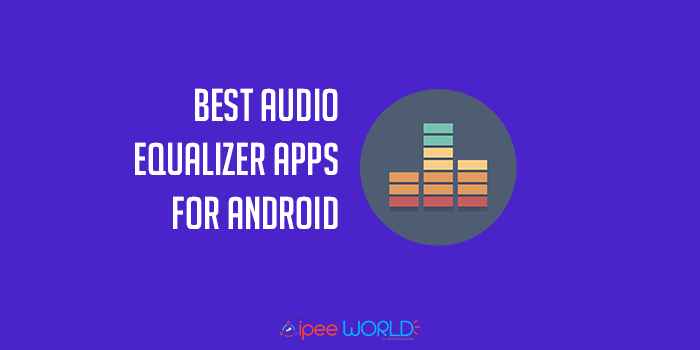 There are tons of Audio Equalizing Apps available for Android but finding the best one that works for you is a tough task, that's why we have compiled the list of Best Audio Equalizer Apps for Android. Every single EQ Apps mentioned in this article is 100% Free and you can download it via the link given below
Why you should use Audio Equalizer Apps to listen to music:
Adjust Bass, Treble, etc to get the best experience
Change the mood of a particular song of  your choice
Change the Frequency of songs
Increase audio quality
Experience magical essence of every music and hidden gems inside them
Read: 10 Best Legal Sites to Watch Hindi Movies Online
Best Audio Equalizer for Android
This list is not arranged in any particular order. All the apps are 100% free and come with optional in-app purchases. Some of them require root permission and others don't.
1. Viper4Android – Root only
Viper4Android is the most popular Audio Equalizing app for Android. The only thing that you need to know is, Viper4Android is only for rooted Android devices. So, If you do not have a Rooted device with you then skip this app and jump to the next one. Your device's bootloader should be unlocked so as to flash Viper4Android in your device.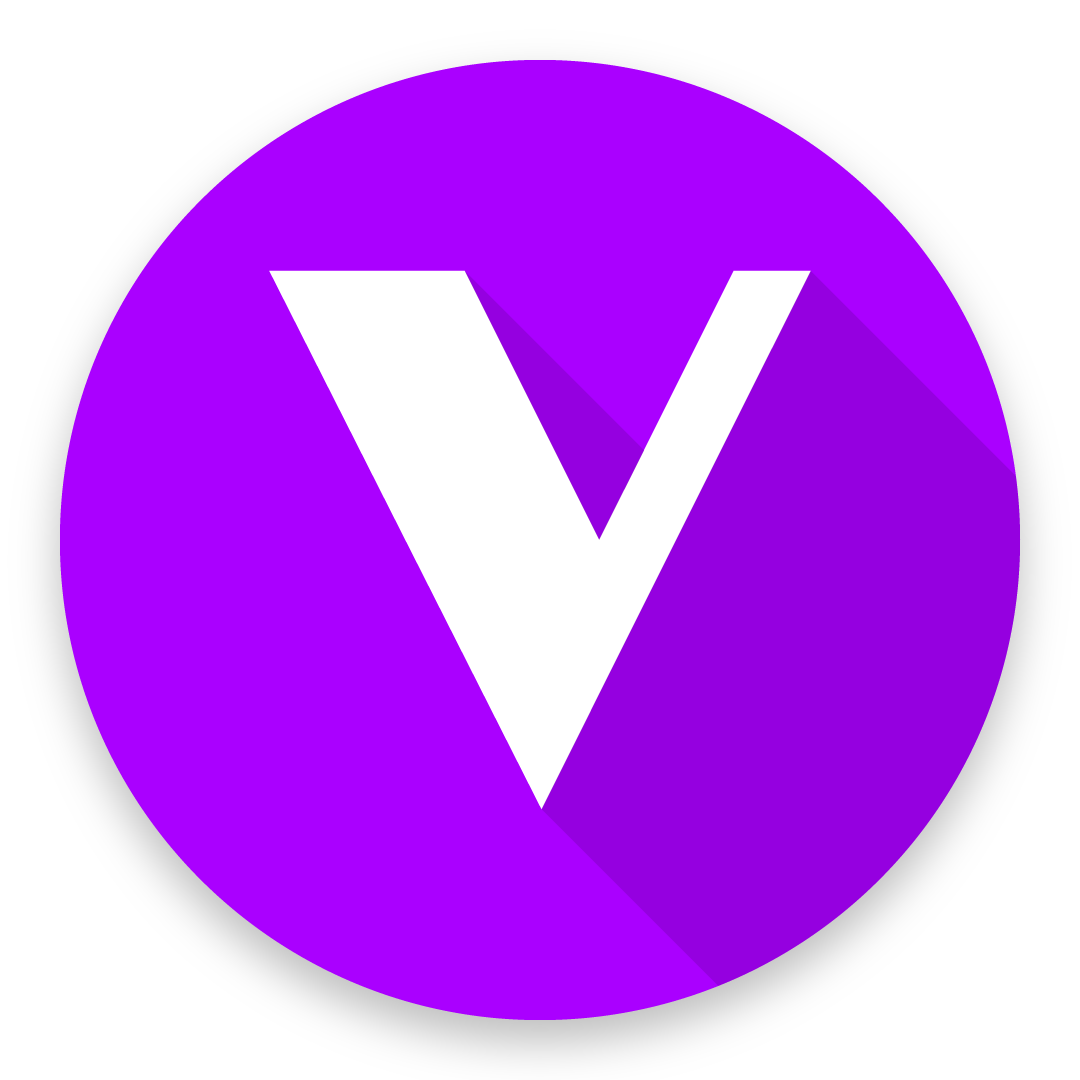 This particular app gives us a lot of controls over the EQ settings. You can adjust every single bit of tiny details with this app. Everything from adjusting Bass, Treble, Bitrate, etc can be done in a breeze. Apart from all these features, it also has pre-configured presets that can be readily applied by a single click. If you are not a pro in adjusting the settings then these presets can help you a lot. You can entirely change the mood of a song with Viper4Android.
Viper4Android
2. 10 Band Equalizer
As the name itself suggests, 10 Band Equalizer gives us control over ten different bands. It is universally available for all devices. Unlike Viper4Android, this app does not require any root access. So, you can install it in pretty much any device. It is available on the Google Play Store.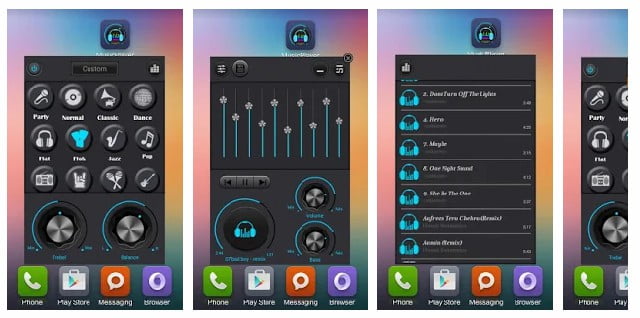 10 Band Equalizer comes with a built-in Music Player which will let you play any audio file from your device locally.  If you are looking for that accurate magical experience of music then be sure to play the song via 0 band app itself as it will be able to deliver the best experience.
10 Band Equalizer
Read: How To Get iPhone Emojis For Android 
3. Bass Booster & Equalizer
Bass Booster and Equalizer is a simple Audio Equalizer app for Android with five band controls. The interactive UI makes it easy for everyone to use the application. It is one of the simplest application that you will ever find for Bass boosting Audio or adjusting the frequency. Apart from EQ controls, the app has some other features like notification controls and a widget that you can use to activate Equalizer controls from the home screen itself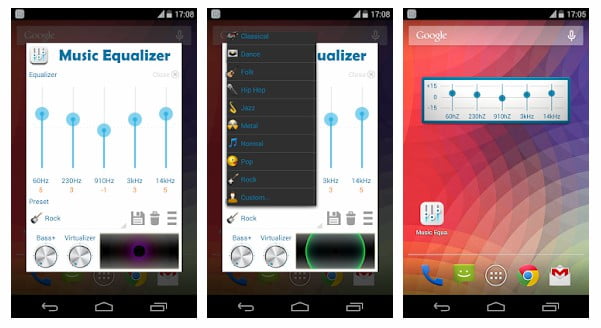 The app also comes bundled with 10 presets that you can enjoy in a click. Overall the app makes Equalization easier with presets and interactive UI.
Bass Booster & Equalizer
4. Equalizer FX
Equalizer FX is another great Equalization app for Android with a modern UI and easy to use interface. Like any other apps, it comes with built-in presets, five-band controls and good audio adjustment equalizers. It works well with almost all leading Online music streaming apps like Spotify, Play Music, etc.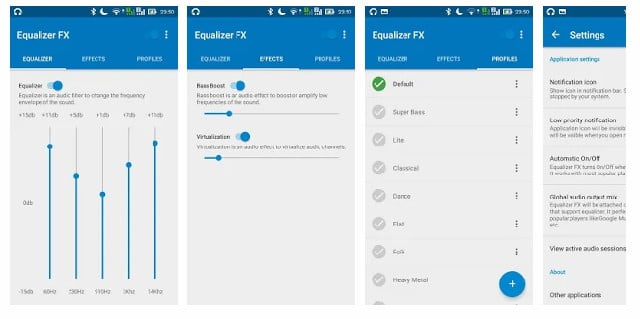 Equalizer FX App also comes with a widget that can be used to trigger various functions from the home screen itself. You can start using a preset in a single click and even make adjustments to the prests make it the way you want it to sound like, which is a handy little feature available in the app.
5. Dolby Atmos – Root only
You will be already aware of the edge cutting equalization options that are available in Dolby Atmos. Some smartphones like the Lenovo A700 etc comes with Dolby Atmos pre-installed with the device.  Atmos is a theatre level technology used to fine-tune audios to get better results. If you want everything to be automated then this is for you.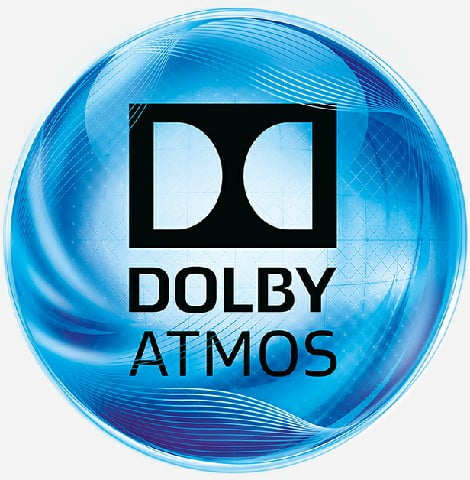 Presets make it extremely easy for us to adjust audio levels and the app can even do everything for you as per your requirements. Back in the days, Dolby Atmos was supplied with some smartphones, but nowadays you rarely find a device with built-in Dolby Atmos features.
Read::Best Methods to Mirror Android Screen to Your PC
6. Equalizer & Bass Booster
Equalizer & Bass Booster is a simple yet effective app to tune audio as well as improve the loudness and quality. As per the developer, you can increase the quality of audio via Equalizer & Bass Booster and get better output. The UI of the app is something that needs to be discussed. It looks something like a radio controller with retro fancy buttons.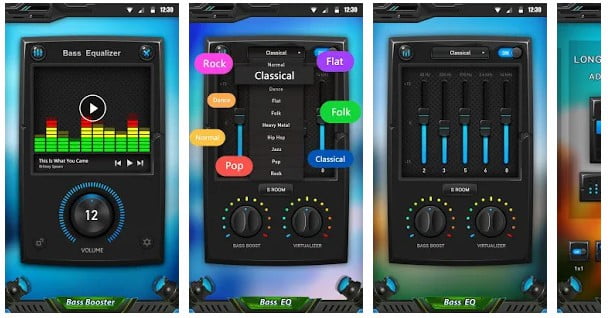 On top, you can find an on/off button and then you can find various buttons and toggles to control the audio. Various ready-made presets are available in the app and you can import them in a click. The retro old look of the app is one of the highlighted UI element and the overall features options look promising.
7. Music Volume EQ
Music Volume EQ helps us to equalize, amplify and boost Audio files easily. It is one of the most popular Android Audio Equalizing applications out there. In a way or the other, it is really different from many other apps in the play store. You get a 3D Virtualizer effect feature as well as the ability to amplify audio so as to get the maximum loudness.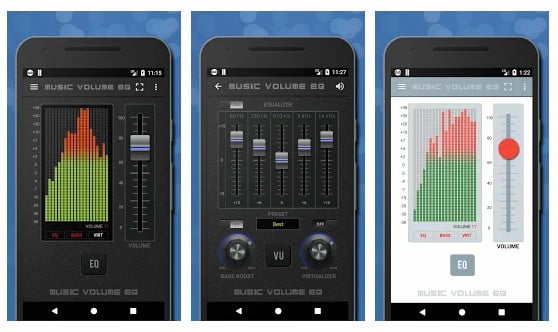 It works with many offline and online music app for Android and works like a charm. You can download them from play store with all it's features and 9 built-in presets for better audio quality. Moreover, you can even edit the preset and add your own customizations, too.
8. Neutralizer
Neutralizer works with almost all android smartphones that let us adjust and amplify audio eq settings. Everyone will have a unique sense of music and if you want to get the feel of your choice then this app can help you. Neutralizer helps us to boost various audio controls like Bass, Treble, etc to get the best truly immersive experience of listening to audio or songs.
This app is available at the Google Play Store and you can easily download it from there. This app does not require any root access, so it works well with almost all smartphones out there.
9. Music Equalizer – Bass Booster & Volume Booster
Music Equalizer is a great Music Equalization android app with Bass booster, Volume booster, and 3D Virtualizer effects. The built-in presets collection helps you to pick a base preset and then edit it as per your choice. It is a multi-purpose 5 band audio equalizer with a collection of 15 different themes for the app.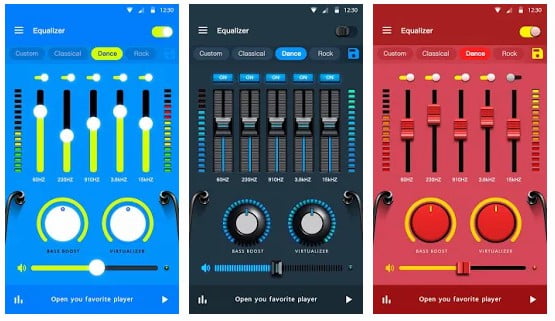 With the 15 themes available in the app you can set the UI of the app as per your choice and everything should work as it is. With 4.6 average ratings the app is available on the Google Play Store.
Read: How To Erase Data From Stolen or Lost Android Device Remotely
10. Equalizer Sound Booster
If you want effective controls over your music, songs or any audio files in general then Equalizer Sound Booster can help you a lot. You can use this app on any Android device with or without root access. Some of the highlighted features of the app are the ability to increase the volume to max 100%, the Audio player with visualizer, Themes, and advanced audio tuning features.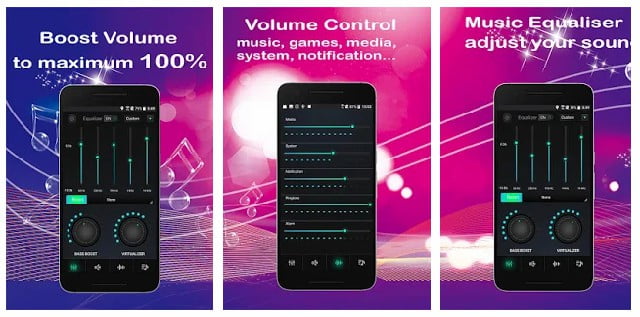 The app comes with Music Player that will support pretty much all audio formats out there and works pretty good.  It universally applies to every single element like Alarm, Message tone, Calls tone, Dialer, etc to get the effect everywhere on your phone.
Equalizer Sound Booster
Final Words
These are the top 10 Audio Equalizer apps that are available for android. It doesn't matter whether your device is rooted or not. It works pretty well both of then. We have also included some advanced app with root access as well. So, if you are having a rooted device then you can get even more features that you can't get from other apps for the non-rooted devices.